Arts Fuse critics select the best in film, dance, visual art, theater, music, and author events for the coming weeks.
Film
Making Waves: The Art of Cinematic Sound
Through November 20
Museum of Fine Arts Boston, MA
This documentary focuses on the first generation of professional sound designers, who mapped films with sound before a frame was ever shot. "Making Waves is about the evolution of film technology, yet the key to the documentary's appeal is that it revels in the holistic, aesthetic side of technology: not just buttons and dials and gizmos, but technology as an expression of something human. Making Waves is a brisk 94 minutes, the last half hour of which is a quick-study primer on the categories of movie sound." (Variety) Schedule of screenings
Boston Jewish Film Festival
November 17
Various Venues
The BJFF presents rich festival of screenings celebrating the richness of the Jewish experience through film and media. Many of the movies have multiple screening and appearances by writers and directors. Complete list of films.
The festival opens with Safe Spaces: Josh has a lot going on. His job as an adjunct writing professor is being threatened after a student accused him of being inappropriate in class, And his beloved grandmother (Lynn Cohen) is in the hospital, meaning his divorced parents (Fran Drescher, The Nanny, and Richard Schiff, The West Wing) and siblings (including Kate Berlant, Sorry to Bother You) need to all come together
The Closing Night Film is The Rabbi Goes West from Amy Geller and Arts Fuse critic Gerald Peary: When Rabbi Chaim Bruk moved from Brooklyn to Bozeman, Montana, he left a large Chabad Hasidic community. In all of Montana there are just 2,000 Jewish families. While Rabbi Chaim builds his community, becoming beloved by his congregants, some of the state's Jews believe he is a threat to the other denominations of Judaism. At the same time, threats of anti-Semitism, including from neo-Nazis, loom. Calendar And there is an Arts Fuse feature on The Rabbi Goes West.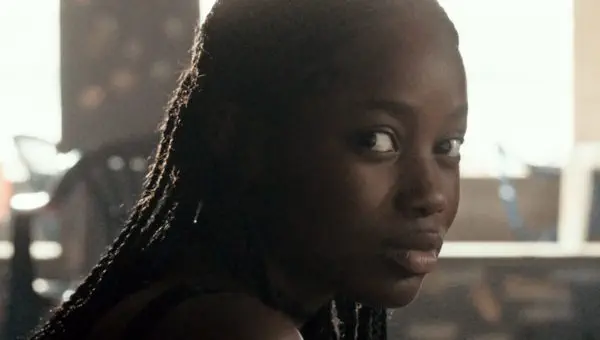 Atlantique
November 18 at 7 p.m.
Harvard Film Archives in Cambridge
The area premiere of director Mati Diop's bewitching tale of longing, which  focuses on a young Senegalese woman gripped by a forbidden love for an exploited construction worker who abruptly emigrates to Europe. Or does he? Melding an interest in the supernatural with a clear-eyed vision of the migrant crisis, Atlantique began as a documentary short examining an urgent issue currently reshaping communities across Europe and Africa. A surprising — but well-deserved  — winner of the coveted Grand Prix at the 2019 Cannes Film Festival.
The Boston Turkish Festival's Documentary and Short Film Competition 
November 15–24
Museum of Fine Arts in Boston
This competition, the first of its kind in North America, celebrates its 14th year in 2019. The festival has grown to the point that it is now receiving international attention. The competition opens with The Announcement, winner of Special Orizzonti Jury Prize at the Venice Film Festival. Following its screening, there will be a Q and A with the director and a reception in Taste with live music. More than 30 films are screening at this year's program. Complete Schedule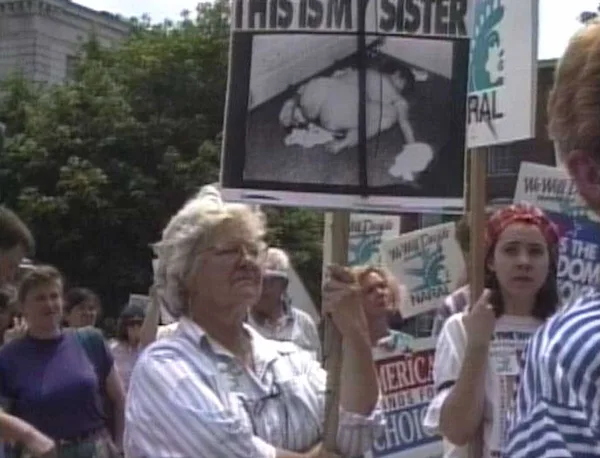 Leona's Sister Gerri
November 18
Brattle Theater in Cambridge
The DocYard presents local documentary filmmaker Jane Gillooly to discuss her latest film, which is about Gerri Santoro, a mother of two and the "real person" in the now famous photo of an anonymous woman on a motel floor, dead from an illegal abortion. Reprinted thousands of times on placards, and reproduced countless times in the media, this grisly photo has become a pro-choice icon. Should the media have used this image? What circumstances led to Gerri's tragic death? Powerfully addressing issues of reproductive rights and domestic violence, this film is a moving portrait of Santoro's life and society's response to her death. Q & A will follow.
The Legal Lens
November 21 at 6 p.m.
Brattle Theater in Cambridge
GlobeDocs presents five short films created by Harvard Law School students, followed by a Q&A with the filmmakers.  Complete descriptions.  The line-up:
Development for Whom (Gentrification)
The Cost of Motherhood (Pregnancy Discrimination in the Workplace0
Temporary American (Temporary Protected Status)
Disaster Waiting (Fence Line Communities)
Time Served (Incarceration)
Found Footage Festival, Volume 9
November 22 at 9:45 PM
Brattle Theater in Cambridge
This always riotous assembly of found footage returns to the Brattle Theatre with a live guided tour of  VHS finds, including the 1988 Miss Junior America Wisconsin pageant, a mysterious tape labeled "bonion sergery," home movies taken at a Canadian hose factory, and a training video for church ushers called "Blessed Usherance." Presented by Joe Pickett (The Onion) and Nick Prueher (The Colbert Report).
Recorder: The Marion Stokes Project 
November 29 – December 5
Museum of Fine Arts in Boston
Matt Wolf's unique documentary is about a lifelong African-American resident of Philadelphia, Marion Stokes. In the late '70s, she developed an obsession with making home recordings of TV news coverage. For 30 years, she kept 3 to 8 VCRs going round the clock, 24 hours a day, taping multiple channels. She kept every tape, cataloguing and storing it, creating a running diary of television news coverage, from mainstream networks to CNN to the cable channels that followed. These tapes became her purpose, her lifeblood, maybe even her identity. Schedule of screenings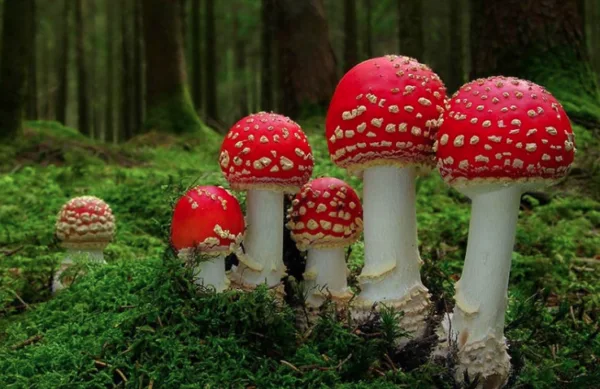 Fantastic Fungi
December 4 at 7  and 9:45 p.m.
Coolidge Corner Theater in Brookline
A consciousness-shifting film that takes us on an immersive journey through time and scale into the magical earth beneath our feet, an underground network that can heal and save our planet. Through the eyes of renowned scientists and mycologists such as Paul Stamets, best-selling authors Michael Pollan, Eugenia Bone, Andrew Weil and others, we are made aware of the beauty and intelligence of the the fungi kingdom — as well as the solutions it offers to some of our most pressing medical, therapeutic, and environmental challenges. Pollan will appear in person at the 7 p.m. show for a Q&A, moderated by executive producer Stephen Apkon, who will also introduce the 9:45 p.m. show.
— Tim Jackson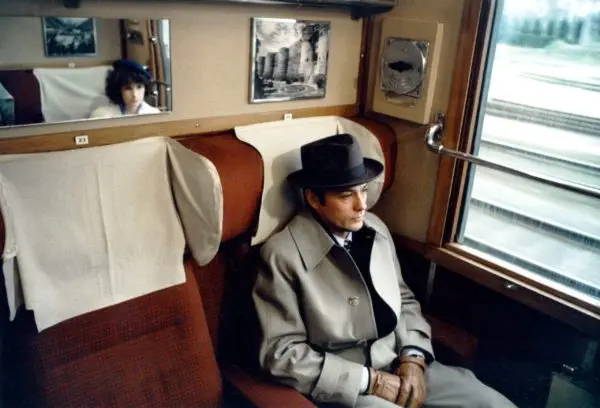 Mr Klein
Through November 30
At the Boston Museum of Fine Arts Boston.
A recent Anthony Lane review of a restoration of this 1976 Joseph Losey film in the New Yorker made me mighty curious. "Restored to its clammy glory," the movie stars Alain Delon and "shows the director as a connoisseur of dread as he dissects the anti-Semitism of Occupied France." The plot sounds as if this is a memorably lethal tale of "doubles" that fuses Nabokov (Despair) with Kafka.
— Bill Marx
---
Jazz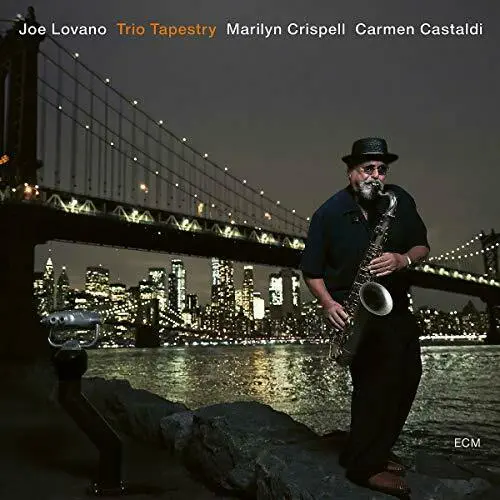 Joe Lovano Trio
November 22 and 23 at 7:30 p.m. and 10 p.m.
Regattabar, Cambridge MA
Master saxophonist Joe Lovano makes the Boston debut of the band from his 2019 ECM release, Trio Tapestry, with pianist Marilyn Crispell and percussionist Carmen Castaldi.
Allison Miller Trio
November 23 at 7 p.m.
Lilypad, Cambridge, MA.
Drummer and composer Allison Miller's quartet collaboration with violinist Jenny Scheinman, Parlour Game, has been one of the highlights of 2019. Miller — also known for her longstanding band Boom Tic Boom — hits the Lilypad with Parlour Game pianist Carmen Staaf and Boston trumpeter Jason Palmer.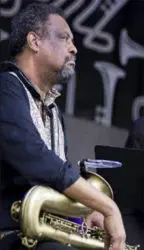 The Makanda Project feat. Chico Freeman
November 24 at 7 p.m.
Arlington High School Old Hall, Arlington, MA.
The long-running Boston ensemble the Makanda Project welcomes the charismatic, adventurous saxophonist and composer Chico Freeman — back in the US these past few years after more than a decade in Europe. The program will feature all Freeman compositions, in what the Makandas are billing as "the first big band adaptations of his work." The band will include saxophonists Kurtis Rivers, Arni Cheatham, Paavo Carey, Sean Berry, and Charlie Kohlhase; trumpeters Jerry Sabatini and Haneef Nelson; trombonists Ku-umba Frank Lacy, Alfred Patterson, and Bill Lowe (doubling on bass trombone and tuba); pianist John Kordalewski; bassist Avery Sharpe; and drummer Yoron Israel.
Eddie Palmieri
November 29 and 30 at 8 p.m. and 10 p.m.
Scullers Jazz Club, Boston, MA.
If you want a shorthand explanation of Eddie Palmieri: think prime McCoy Tyner leading a kick-ass salsa band. The Bronx-born pianist and composer, along with his brother Charlie, helped create a whole new way of playing Latin-jazz fusion. Now 82, Eddie will no doubt get the Scullers hopping in (and maybe out of) their seats.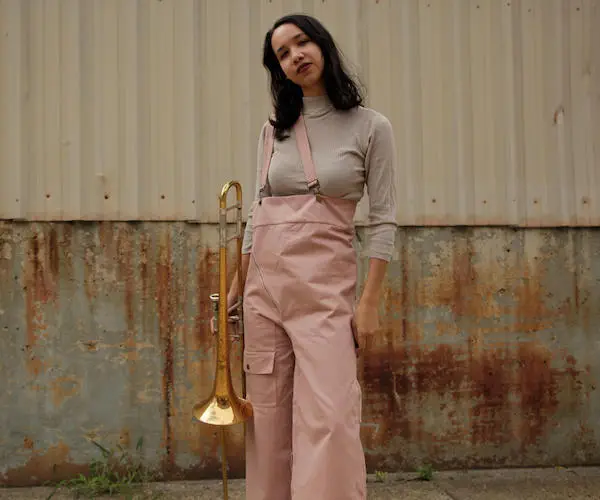 Kalia Vandever
December 5 at 8 p.m.
Q Division Studios, Somerville, MA.
The Brooklyn-based trombonist and composer Kalia Vandever makes her Boston-area debut as a leader, joined by
guitarist Lee Meadvin, bassist Nick Dunston, and drummer Connor Parks. Vandever's circle has included Herbie Hancock, Tyshawn Sorey, Darcy James Argue's Secret Society, the Jazz at Lincoln Center Orchestra, and the rapper Lizzo (with whom she played on "Full Frontal with Samantha Bee"). But her 2019 debut, In Bloom, deserves attention in its own right, not just for Vandever's assured, probing solo work, but also for the flow of her lyrical compositions and free interactions among the band.
Shelia Jordan
December 6 at 7 p.m. and 9 p.m.
The Mad Monkfish, Cambridge, MA.
Sheila Jordan's 10-minute "You Are My Sunshine" (1962) with George Russell is one of the landmark recordings in vocal jazz — emotionally and technically daring, a true collaboration between Jordan and the great jazz composer. Jordan has been an inspirational performer and teacher ever since. Now 91, she makes one of her regular stops at the Mad Monkfish (formerly Thelonious Monkfish) in Cambridge, backed by the Yoko Miwa Trio (with bassist Brad Barrett and drummer Scott Goulding). In addition to the Friday performance at Monkfish, Jordan will conduct a Saturday afternoon master class, 1 p.m. to 4 p.m.
— Jon Garelick
---
Visual Arts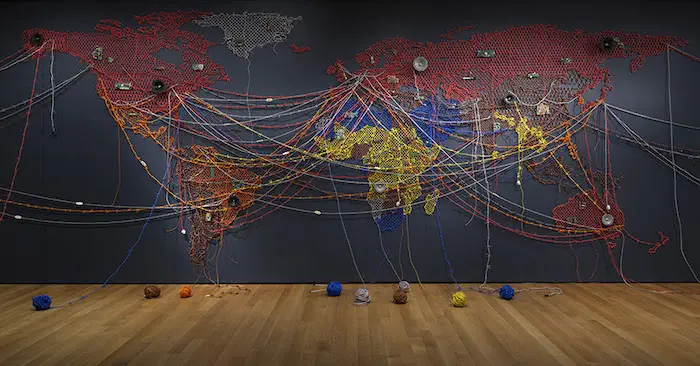 When Home Won't Let You Stay: Migration through Contemporary Art
ICA Boston
25 Harbor Shore Drive, Boston MA 02210
Through January 26
Borrowing its name from Somali-British poet Warsan Shire's poem "Home," this exhibit presents work by 20 artists from a myriad of countries, on the subject of migration and displacement. Currently witnessing the global movement of peoples on an unparalleled historical scale, artists like Kader Attia, Tania Bruguera, and Reena Saini Kallat respond to this exodus with highly diverse artwork, from poetic meditations to detailed individual accounts.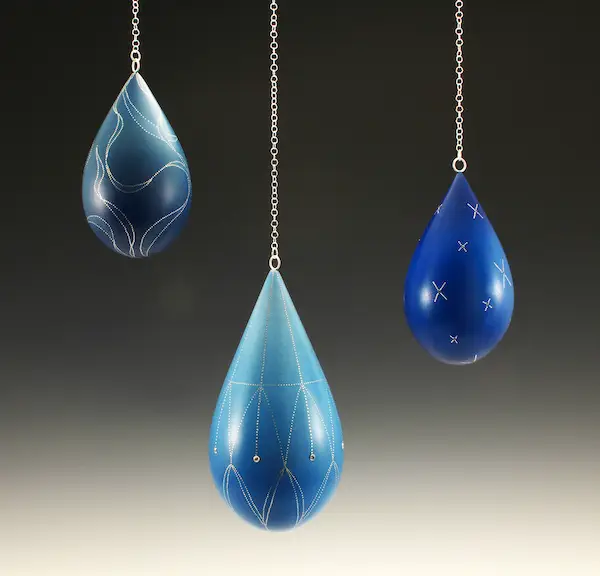 Human Impact: Stories of the Opioid Epidemic
Fuller Craft Museum
455 Oak Street, Brockton, MA 02301
Through May 3
This exhibit brings together 11 invited artists, who share perspectives on the opioid crisis from the viewpoint of those who are closest to the subject. Working in collaboration with families deeply affected by opiate use, these artists create works that communicate stories of pain, hope, and courage. Jodi Colella's "Once Was (Remembrance)" is a towering, monolithic poppy field, a monument to the lives lost to this epidemic, while another piece, John Anderson's "Sacrificial Lamb," an altar of prescription pill bottles and cage-like wire, illustrates the chaos unleashed by the force of addiction. The Fuller Craft Museum presents this show in cooperation with the District Attorney's office, Brockton Hospital, High Point Treatment Center, and Stonehill College, which advocate for the spread of awareness and information on this subject.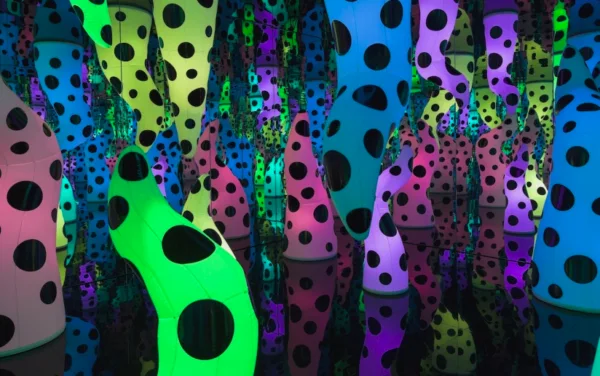 Yayoi Kusama: Love Is Calling
Through February 7, 2021
ICA Boston, 25 Harbor Shore Drive, Boston MA 02210
Premiering in Japan in 2013, and recently acquired as part of the ICA's permanent collection, "Love Is Calling" is one of Kusama's 20 infinity rooms. A darkened space, lined with mirrors and interspersed with repetitive, brightly colored sculptural forms, generates a kaleidoscopic effect that surrounds viewers as they traverse the visually crowded space. The experience is accompanied by a sound recording of the artist reciting her poem "Residing in a Castle of Shed Tears" in Japanese. This vibrant environment explores such themes as love, life, and death. It promises to be a remarkable experience.
Photo Revolution: Andy Warhol to Cindy Sherman
Worcester Art Museum
55 Salisbury Street, Worcester, MA
Through February, 2020
In the 1950s, once consumerism, television, and image-sharing became commonplace, a new era of photographic experimentation commenced. Photo Revolution presents a wide range of works at the center of this transformation, featuring a wide range of mediums, from artists whose work centered on photography, such as Chris Burden, Nan Goldin, John Baldessari, and many more. These artists used photography and video to make social and political statements, turning what was seen as a practical, secondary medium into the inspiration for new movements in art. Easy access to photo and video production led to a diversification of format, which stirred artists to not only make work using photography, but to make work about photography.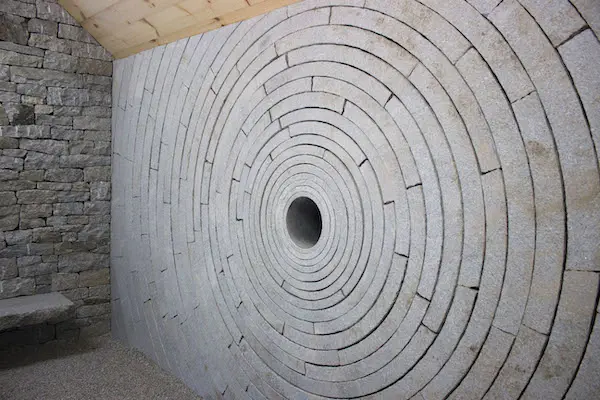 Andy Goldsworthy: Watershed
DeCordova Sculpture Park and Museum
51 Sandy Pond Road, Lincoln, MA 01773
This permanent, site-specific structure is installed in a hillside near the museum and pays structural homage to the homogeneous architectural style of New England. The granite stone installation is the latest in Goldsworthy's many works that explore the nature of water, weather, and related natural occurrences that affect a particular landscape. Because it emphasizes and utilizes the impact of groundwater runoff in the vicinity, visitors can see and hear the structure being activated and, over the years, altered by the water flowing through it when it rains.
Gordon Matta-Clark: Anarchitect
Through January 5
The Rose at Brandeis, 415 South Street, Waltham, MA
Gordon Matta-Clark coined the hybrid term "anarchitect" for his site-specific works erected in 1970s South Bronx. They have been celebrated as activist interventions within derelict urban communities. Trained as an architect, Matta-Clark critiqued the treatment of areas and people that capitalism had tragically failed. This exhibit focuses on the political content of these interventions, particularly his pioneering approach to social activism through art. Arts Fuse review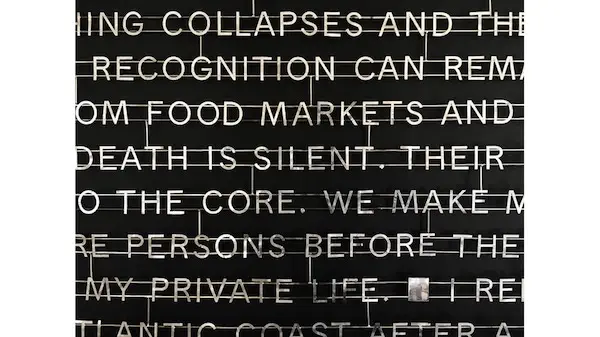 Jonathan Berger: An Introduction to Nameless Love
Through December 29
Carpenter Center for the Visual Arts
Harvard University
24 Quincy Street, Cambridge, MA
Commissioned by the Carpenter Center and PARTICIPANT INC, this exhibit presents an archive of several extraordinary relationships, each of which bears the characteristics of "true love," but rejects traditional romantic associations. Instead, each of the couplings is based on connections established by religion, friendship, or community. This body of work is the largest ever created by the artist, gathering together, via different mediums, various kinds of nonfiction and biographical narratives. Over a five-year correspondence with his subjects, Berger created large, intricate, text-based installations that honor the distinctive bonds formed by each relationship.
–- Rebekah Bonner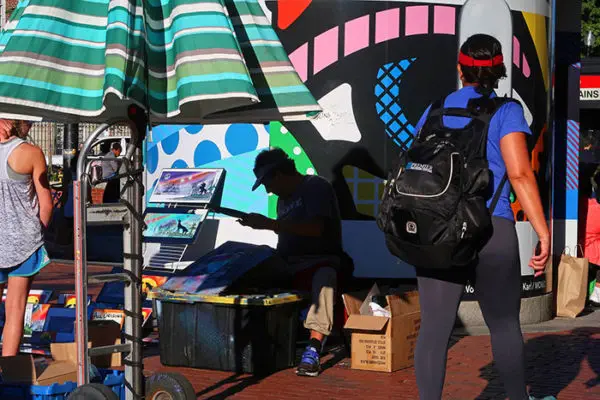 Mass Ave, Cambridge: Photos by Karl Baden
Through February 20, 2020
At Cambridge Arts' Gallery 344, 344 Broadway, Cambridge, MA
"Mass Ave, Cambridge began with a conversation between photographer Karl Baden and Lillian Hsu, Cambridge Arts' Director of Public Art and exhibitions. In recent years, Baden has developed a particular interest in the people, the serendipity, and the visual forms found along our streets and sidewalks. An idea for an exhibition sprung from what seemed like a simple objective: Karl could spend a year and a half recording life along Mass. Ave. from Arlington to the Charles River. But, of course, Mass. Ave. is vividly complex.
"Baden's resulting Mass. Ave. photos mix objective documentation and personal interpretation. The pictures show people walking down the street, people dancing, people stepping out for a smoke, people bundled up against falling snow, people out in summer shorts. There are smiles and pain and love. You'll recognize icons of the avenue—the Charles River, Out of Town News, Porter Square. There are dogs and buses, advertising signs, reflections in windows. Side by side, the photos add up to a portrait, unique to our time and place, of the jostle and jumble and life of the thoroughfare."
— Bill Marx
---
Dance
BODYTRAFFIC
November 17
Institute of Contemporary Art
Boston, MA
Global Arts Live brings the acclaimed BODYTRAFFIC back to Boston, a troupe that expertly merges contemporary, jazz, and ballet. Hailing from Los Angeles, BODYTRAFFIC performs "Resolve" by Wewolf, "George & Zalman" by Ohad Naharin, "Snap" by Micaela Taylor, and  "A Million Voices" by Matthew Neenan.
El Jaleo
November 21 at 7:30 p.m.
Boston Center for the Arts
Boston, MA
Taking inspiration from painter John Singer Sargent's travels in Spain, acclaimed flamenco dancer Isaac de los Reyes presents an imaginative take on Sargent's famous painting El Jaleo. Joining him on stage is his brother and fellow flamenco dancer Nino de los Reyes, among others. This project made possible in part by a Live Arts grant from the Boston Foundation.
Pravāha
November 23 at 7:30 p.m.
Boston Center for the Arts
Boston, MA
Supported in part by a Traditional Arts Apprenticeship awarded by the Massachusetts Cultural Council, Pravāha brings a full evening of classical Odissi Indian dance to the stage. Priya Bangal makes her Odissi debut in Artistic Director Shipra Mehrotra's work. Meaning "stream, flow, or current" in Sanskrit, Pravāha celebrates the art of Odissi, not seeing it as "surviving as stagnant pieces of antiquity."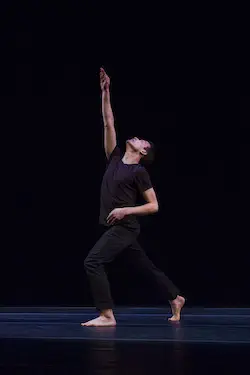 Duet & Marrow
November 30 at 8 p.m.
The Dance Complex
Cambridge, MA
Ian Spencer Bell presents two poignant works. Combining poetry and movement, Duet details Bell's struggles with another dancer who concealed his HIV positive status. Marrow draws on Bell's memories of "growing up queer" in Virginia in the '80s. Dancers Gary Champi and Joshua Tuason join Bell onstage. A talk with the artists follows the performance.
And further afield…
Newport Nutcracker at Rosecliff
November 27 through December 6
Rosecliff Mansion
Newport, RI
It's officially Nutcracker season, and with it comes this special, site-specific Newport Nutcracker at Rosecliff. Experience the magic of Rosecliff Mansion's magnificent ballrooms and staircases as this classic ballet unfolds around you. This production is presented in partnership with the Preservation Society of Newport County and features Island Moving Company, guest artists, and children from local Rhode Island schools.
— Merli V. Guerra
---
Roots and World Music
Daymé Arocena
Nov. 17
City Winery, Boston, MA
It's a return visit from this rising young Havana-bred Afro-Cuban diva
Robert Gordon with Chris Spedding
Nov. 21
ONCE Ballroom, Somerville, MA
One of the great voices of rockabilly, Gordon carried the torch for the big beat in the late '70s, playing with Link Wray and introducing roots music to the punks. He's retained both his Orbison-esque tone and his tradition of always having a killer guitar slinger in the band — namely longtime collaborator Chris Spedding, who also has a long ,lived and rather different musical relationship with Bryan Ferry and Roxy Music.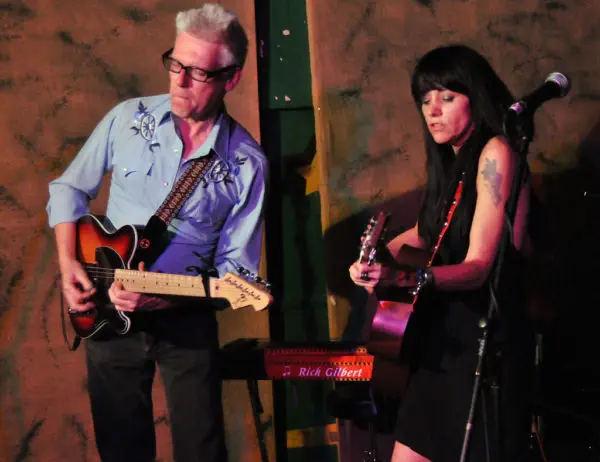 Eileen Rose and Rich Gilbert
Nov. 26
ONCE Lounge, Somerville, MA
If anyone is wondering what happened to Boston guitar great Rich Gilbert (Human Sexual Response, Zulus) the answer is that he's been living in Nashville, releasing some startlingly original instrumental albums, and collaborating with singer/songwriter (and spouse) Eileen Rose. They're taking a break from the honky tonks for a hometown trio show which promises some of Rose's rootsy originals, some Gilbert guitar freak-outs and some country classics.
Fabiola Méndez Trio
Nov. 30
Arlington Street Charuch, Boston
The Celebrity Series is celebrating the people, culture and music of Puerto Rico all season. Much of that programming is taking place as part of free events around the community, including this evening with cuatro virtuoso Méndez.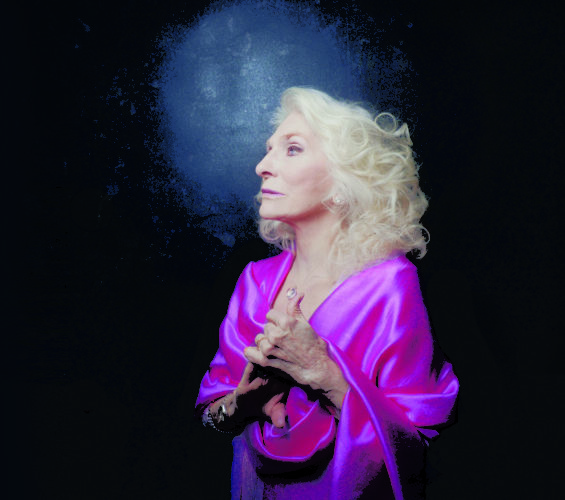 Judy Collins with Jonas Feld and Chatham County Line
Dec. 1
The Wilbur, Boston MA
Folk queen Judy Collins just turned 80 and she's as creative and active as ever. Fresh off her tour with Stephen Stills comes her new LP Winter Stories, which finds her joining forces with Norwegian singer/songwriter (and longtime Rick Danko collaborator) Jonas Feld, as well as the North Carolina bluegrass combo Chatham County Line. Collins has long stradled the line between folk and cabaret, but with its string band backing and songs from the likes of Stan Rogers and Joni Mitchell, Winter Stories is the rootsiest album in years from the singer, who got her start at the Greenwich Village hootenannies.
— Noah Schaffer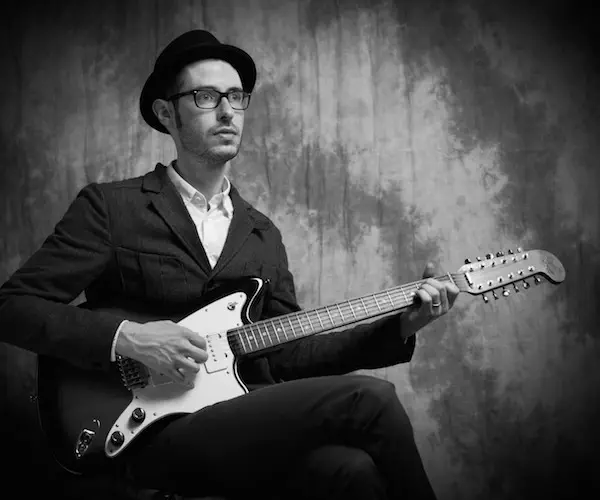 Ryan Lee Crosby with opener Ilana Katz Katz.
November 22 6 p.m/ 7 p.m. show
At City Winery, Haymarket Lounge, at 80 Beverly Street, Boston, MA.
An appearance in town by one of the magazine's very favorite blues performers (and a fine contributor as well). An enraptured Matt Hanson wrote that his latest album, River Music, was "innovatively lyrical" and "quite danceable."
— Bill Marx
---
Theater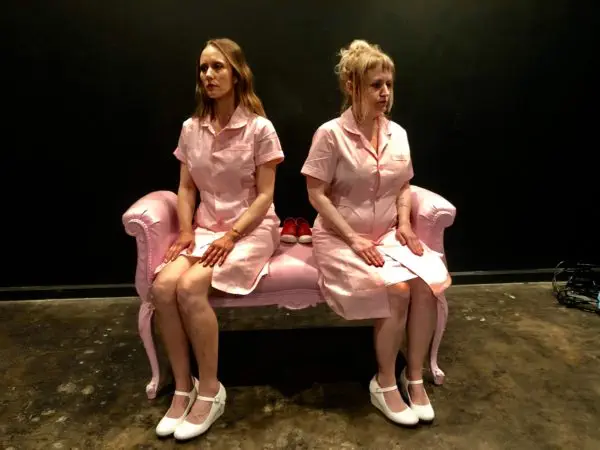 The Institute for The Opposite of Longing, written, directed, and starring Lindsay Beamish and Vanessa Peters. At Chelsea Theatre Works in their Black Box Theater, 189 Winnisimmet St. Chelsea, MA, through November 22
"This show is the inaugural performance of Apollinaire Theatre's new Resident Artist Program, which was funded by a significant grant from the Boston Foundation's Open Door Grants program, and is intended to bring new voices to the Boston theatre scene." We could sure use new voices. Billed as the smash hit and critical darling of the 2019 Hollywood Fringe Festival, this two-person show "explores the condition of chronic yearning via a fictional 'institute' where people come to have the thing they can't let go of enacted with the Institute's owners — who play the parts of the longed for. But the owners of the Institute are secretly harboring a loss of their own, and are trapped in an endless longing cycle in which they can't stop reenacting and replaying their last day with the son they once had."
Admissions by Joshua Harmon. Directed by Paul Daigneault. Staged by SpeakEasy Stage Company at the South End / Calderwood Pavilion at the Boston Center for the Arts, Boston, MA, through November 30.
A New England premiere: "The plot centers on Sherri Rosen-Mason and her headmaster husband Bill, who have worked hard to expand the racial diversity of the student body at the small New England prep school where they work. But when their son's Ivy League dreams are on the line, personal ambition and progressive values collide in this no-holds-barred look at privilege, power, and the perils of hypocrisy." The cast includes Marianna Bassham, Michael Kaye, Maureen Keiller, Nathan Malin, and Cheryl McMahon. Arts Fuse review
The Seagull by A Chekhov. Directed by Igor Golyak. An original adaptation staged by the Arlekin Players Theatre at 368 Hillside Ave, Needham, MA, through December 8.
Part of a message from the director: "Through this production, Arlekin seeks to bridge the world of Chekhov to today's contemporary theatre scene, exploring how the timeless work speaks to artists of all cultures. By mixing different languages, and delving into Chekhov's world through his journals, letters, and the play itself, we seek answers to our own struggles as artists, and as people in the 21st century." Don't expect the conventional … Arts Fuse review
the smuggler written and directed by Ronán Noone. Staged by the Boston Playwrights Theatre at 949 Commonwealth Avenue, Boston, MA, through November 24.
"The solo piece centers on Irish immigrant Tim Finnegan, a bartender on the fictional New England island of Amity, who has ambitions to be a writer but finds a darker side of the American dream instead. Playwright Noone received the Best Playwright Award for the play, which is written in rhyme, at Origin Theatre's 1st Irish Festival last spring. The role of Tim Finnegan is played by award-winning actor Billy Meleady."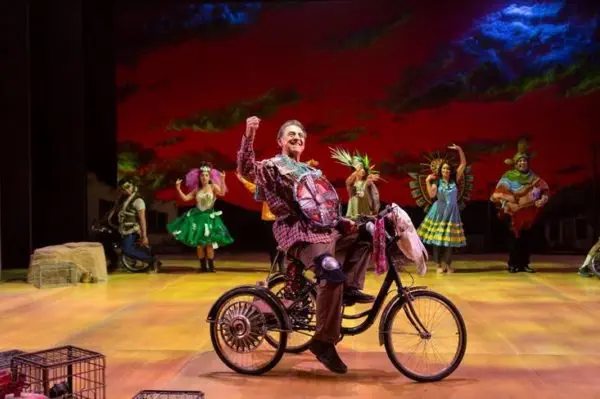 Quixote Nuevo by Octavio Solis. Directed by KJ Sanchez. Staged by the Huntington Theatre Company at the Avenue of the Arts, Huntington Avenue Theatre, Boston, MA, through December 8.
"A hilarious and imaginative adaption of the classic novel, Don Quixote. Transported to a border town in Texas, the eccentric, brilliant knight embarks on a cross-desert quest to reunite with a long-lost love. Chased by Death himself – in the form of roving bands of guitar-playing Calacas – Quixote always leads with his heart in a world of people led astray by their brains." Emilio Delgado stars. Arts Fuse review
Agatha Christe's Murder on the Orient Express, Adapted by Ken Ludwig. Directed by Spiro Veloudos. Staged by the Lyric Stage of Boston at 140 Clarendon Street, 2nd Floor, Boston, MA, November 22 through December 22.
There was a time when theaters produced Christe mystery plays on a fairly regular basis — though they have fallen out of fashion over the last decade or so. That makes this effort, as a piece of colorful holiday entertainment, worth a look. Lots of fine local actors will be riding on this who-dun-it train, including Remo Airaldi, Will McGarrahan, and Rosa Procaccino. Arts Fuse review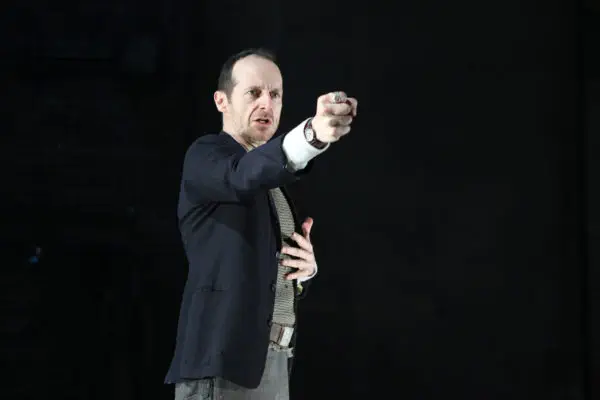 An Iliad: Homer's Coat Directed by Lisa Peterson. Presented by Emerson Paramount Center, Robert J. Orchard Stage, 559 Washington Street, Boston, MA, November 20 through 24.
Back after six years, this show "unfurls the final weeks of a legendary, decade-long siege where Greek legends mercilessly battled over the fall of Troy. This Obie Award–winning adaptation of Homer's epic poem places one man on a bare stage with a simple question to ask: Has anything really changed since the Trojan War? " Performed by Denis O'Hare.
The Plot by Will Eno. Directed by Oliver Butler. Stage by Yale Rep at the Yale Repertory Theatre, 1120 Chapel Street, New Haven, CT, November 29 through December 21.
The plot (pun no doubt intended by the playwright) of this world premiere from an admired contemporary dramatist (The Realistic Joneses): "a moving, mysterious, at times hilarious story of a tiny plot of land and some people with grand and incompatible designs on it."
Oliver!, book, music and lyrics by Lionel Bart. Directed and choreographed by  Michael J Bobbitt. Staged by New Rep on its MainStage Theater the Mosesian Center for the Arts, 321 Arsenal Street, Watertown, MA, December 2 through 29.
Let's hope something invigorating is done to this chestnut of a musical. "Still relevant today, this Victorian-era tale explores the contrast between the rich and poor, the struggles of the Industrial Revolution, and the results of an absent middle class and no upward mobility." Well, yes — but this version is a sentimentalized version of the Dickens novel. And how about Fagin and antisemitism?
The Boomer Boys, Book and Lyrics by Billy Van Zandt and Jane Milmore. Music by Wayland Pickard. Directed by Van Zandt.  At the Regent Stage, Arlington, MA, on November 23 at 8 p.m.
A touring musical comedy revue about "middle-aged men [who] realize that the best way to deal with getting older is to laugh about it with your friends. That's exactly what these guys do as they navigate everything from the depths of expanding waistlines to the heights of performance-enhancing pills " The show features such pointed songs as "My Prostate is the Size of a Buick," "My God I Am My Father," "My Get Up and Go Just Got Up and Went," and "Noises in the Night." Hey, I turn 66 this December — figured I would offer a pick for my age bracket.
Ruthless! The Musical, by Joel Paley and Marvin Laird . Directed by Russell R. Greene. Staged by Theater UnCorked in the Carol G. Deane Hall at the Calderwook Pavilion at the Boston Center for the Arts, Boston, MA, November 21 through 24.
The Off-Broadway hit show "tells the story of a naïve 1950's housewife Judy Denmark and her adorable but sociopathic 8-year-old daughter Tina, who will do ANYTHING to be a star! "
— Bill Marx
---
Classical Music
Henry Purcell Society of Boston
November 17 at 4 p.m.
St. Paul's Episcopal Church Brookline, 15 St. Paul Street, Brookline, MA
On the program: Mad Songs, Dialogues, and Trios."With songs fixating on madness, sexual obsession and at times, sheer lunacy, soprano Teresa Wakim will be joined by baritone Jake Cooper, soprano MaryRuth Lown and a continuo section and a string trio led by Susanna Ogata. Our program features the vocal works of Eccles, Blow and Purcell, along with the string trios of William Boyce, showcasing England's great musical heritage. Boyce's appealing and well balanced fugues for string trio will balance the volatile mad songs with sweet harmonies."
Chamber Series: Eclectic Duos and Trios
November 22 at 8 p.m.
A Seully Hall, 8 Fenway, Boston, MA
"Boston Conservatory faculty members present an eclectic program of chamber music ranging from baroque to 20th-century repertoire as represented by Leclair and Ravel, while also exploring Mendelssohn's work as the bridge between the classical and Romantic periods, and the full Romanticism of Dvořák."
Spectrum Singers presents: Bravura Bach!
November 23 at 8 p.m.
First Church in Cambridge, 11 Garden Street, Cambridge, MA
On the program: No 19: Es erhub sich ein Streit (opening chorus); No 50: Nun ist das Heil und die Kraft; No 130: Herr Gott, dich loben alle wir; Magnificat in D
Boston Early Music Festival
November 29 at 8 p.m.
December 1 at 3 p.m.
Jordan Hall/New England Conservatory, 30 Gainsborough Street, Boston, MA
Countertenor Philippe Jaroussky & soprano Amanda Forsythe perform La storia di Orfeo: Music of Sartorio, Monteverdi, and Rossi.
Faculty Recital: pianists Aleksandr Poliykov and Janice Weber
December 1 at 8 p.m.
Seully Hall, 8 Fenway, Boston, MA
Boston Conservatory at Berklee presents a concert featuring works by Maurice Ravel, Anton Arensky, and Sergei Prokofiev.
— Susan Miron
Fellow Travelers
Presented by Boston Lyric Opera
November 17 at 3 p.m.
Cutler Majestic Theater, Boston, MA
BLO presents composer Gregory Spears' and librettist Greg Pierce's adaptation of Thomas Mallon's eponymous novel about a same-sex love affair at the height of the McCarthy era. Jesse Darden, Jesse Blumberg, and Chelsea Basler headline the cast.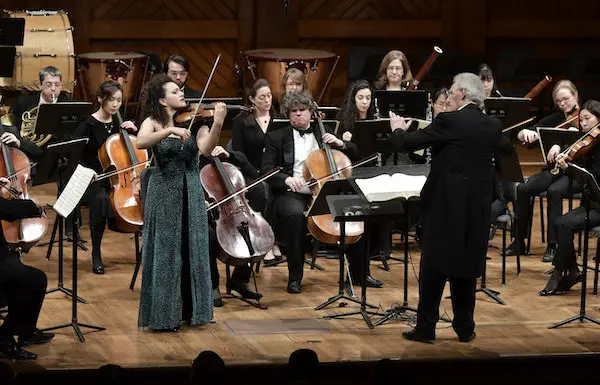 Liza Ferschtman plays Beethoven
Presented by Boston Philharmonic Orchestra
November 17 at 3 p.m.
At Sanders Theater, Cambridge, MA
Violinist Ferschtman is the soloist in Beethoven's familiar Concerto – though with Benjamin Zander on the podium, you can expect that this will be anything but mundane. Carl Nielsen's radiant Helios Overture and Rachmaninoff's sweeping Symphonic Dances round out the concert. Arts Fuse review.
Hope & Harmony
Presented by Mistral Music
November 17, 7:30 p.m.
Jordan Hall, Boston, MA
Mistral's benefit concert for underserved women fighting breast cancer brings Sir Simon Rattle to Jordan Hall to lead an orchestra made of players from the Philadelphia Orchestra, Boston Symphony, and Metropolitan Opera Orchestra (among others) in favorites by Mozart, Beethoven, and Brahms.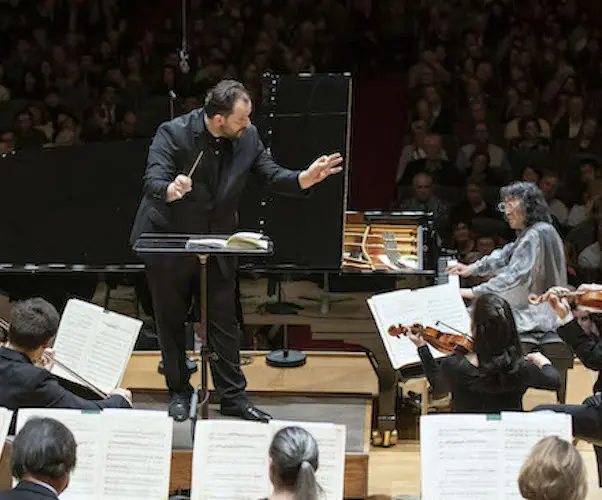 Shostakovich's Symphony no. 2
Presented by Boston Symphony Orchestra
November 21-23 and 26, 8 p.m.
Symphony Hall, Boston, MA
The BSO give their first-ever performances of Shostakovich's hymn to the 10th anniversary of the Bolshevik Revolution. The world premiere of Artur Maskats' "My River runs to thee…" (Homage to Emily Dickinson), Galina Grigorjeva's On Leaving, and Tchaikovsky's Violin Concerto (with Daniel Lozakovich) round out the evening.
Los Angeles Philharmonic plays Ginastera, Adams, and Stravinsky
Presented by Celebrity Series
November 23, 2 p.m.
Symphony Hall, Boston, MA
Gustavo Dudamel and the LAPO return to Symphony Hall for what promises to be one of the year's best concerts. The program certainly can't be topped: it ends with Stravinsky's The Rite of Spring, starts with Alberto Ginastera's Variaciones Concertantes, and, in between, features the Boston premiere of John Adams' Must the Devil Have All the Good Tunes? (with Yuja Wang).
Klezmer Madness
Presented by Boston Modern Orchestra Project
November 23, 8 p.m.
Jordan Hall, Boston, MA
Clarinetist David Krakauer joins BMOP as the soloist in Mathew Rosenblum's Lament/Witches'Sabbath and Wlad Marhulets' Concerto for Klezmer Clarinet. Framing those works are a pair of scores by Avner Dorman: Uriah and Ellef Symphony. Gil Rose conducts.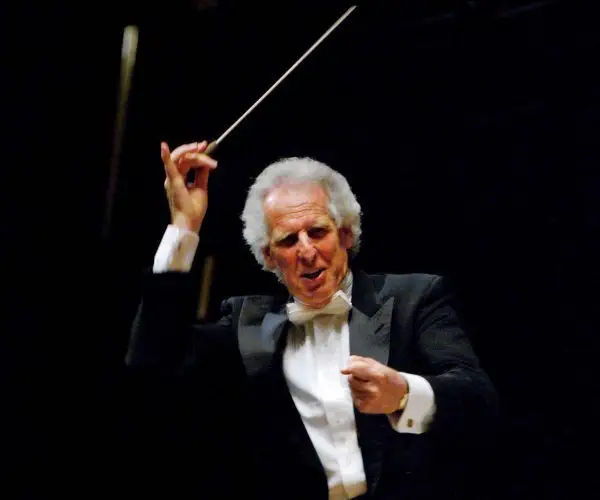 Boston Philharmonic Youth Orchestra plays Mahler
Presented by Boston Philharmonic Orchestra
November 24, 3 p.m.
Symphony Hall, Boston, MA
The BPYO returns to Symphony Hall with Mahler's Symphony no. 1 in tow. Also on the docket is Verdi's Overture to La forza del destino and Stefan Jackiw playing Mendelssohn's Violin Concerto.
— Jonathan Blumhofer
---
Author
Christopher Boucher and Robert Coover
November 17 at 7 p.m.
Location TBD- RSVP First
"Porter Square Books' Salon reading series is a new endeavor aiming to revive the salons of old — events where people would invite artists, writers, musicians, and other intellectuals into their homes and then invite their friends or their community in for an evening of performance, discussion, and conversation." This installment will feature two legendary writers sitting down to discuss their work — Christopher Boucher is the author of several acclaimed novels like Golden Delicious and How To Keep Your Volkswagon Alive and Robert Coover has been writing brilliantly subversive fiction for decades, including The Public Burning and The Origin of the Brunists, which I've just started and is terrific.
Ta-Nehisi Coates
The Water Dancer
November 18 at 7:30 p.m.
Chevalier Theatre, Medford Square MA
Tickets are $45, including a copy of the book
"From the National Book Award-winning author of Between the World and Me comes a debut novel that brings home the most intimate evil of enslavement: the cleaving and separation of families. Young Hiram Walker was born into bondage. When his mother was sold away, Hiram was robbed of all memory of her—but was gifted with a mysterious power. Years later, when Hiram almost drowns in a river, that same power saves his life. This brush with death births an urgency in Hiram and a daring scheme: to escape from the only home he's ever known."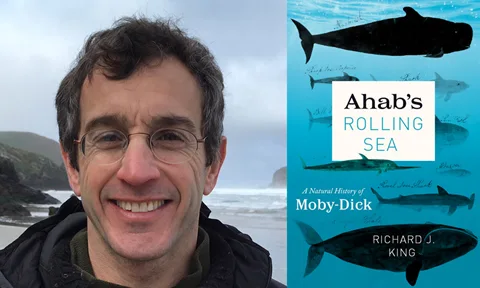 Richard J King
Ahab's Rolling Sea: A Natural History of Moby-Dick
November 21 at 7 p.m.
Harvard Book Store, Cambridge MA
Free
"A revelation for Moby-Dick devotees and neophytes alike, Ahab's Rolling Sea is a chronological journey through the natural history of Melville's novel. From white whales to whale intelligence, giant squids, barnacles, albatross, and sharks, Richard J. King examines what Melville knew from his own experiences and the sources available to a reader in the mid-1800s, exploring how and why Melville might have twisted what was known to serve his fiction. King then climbs to the crow's nest, setting Melville in the context of the American perception of the ocean in 1851—at the very start of the Industrial Revolution and just before the publication of On the Origin of Species. King compares Ahab's and Ishmael's worldviews to how we see the ocean today: an expanse still immortal and sublime, but also in crisis. And although the concept of stewardship of the sea would have been entirely foreign, if not absurd, to Melville, King argues that Melville's narrator Ishmael reveals his own tendencies toward what we would now call environmentalism."
Theresia Enzensberger
Blueprint
November 21 at 7 p.m.
Boston University Pardee School of Global Studies, 121 Bay State Road (First Floor), Boston MA
Free
"Theresia Enzensberger's entertaining debut, Blueprint is set in 1920s Germany. The young and inquisitive Luise Schilling arrives at Weimar's Bauhaus University at the beginning of the turbulent twenties. From technology to art, communism to the avant-garde, populism to the youth movement, Luise encounters the social utopias that still shape us to the present day. Enzensberger's highly readable novel is a celebration of student life at the Bauhaus school, an enlightening introduction to the aesthetic and political debates of the modernist avant-garde, and a reflection on the new opportunities and challenges for female artists in Weimar Germany."
Suzanne McConnell
Pity The Reader: On Writing With Style
November 22 at 7 p.m.
Brookline Booksmith, Coolidge Corner MA
Free
"Author, editor and writing teacher Suzanne McConnell was a student of Kurt Vonnegut's at the Iowa Writer's Workshop during its heyday, the period from 1965-67, when Vonnegut, along with Nelson Algren and other notable authors were in residence. This was also the period when Vonnegut was writing his masterpiece, Slaughterhouse-Five, and had a lot to say about the writing process. Vonnegut and McConnell became friends, and stayed in touch over the years. She has published short memoirs of him in The Brooklyn Rail and The Writer's Digest, and led a panel at the 2014 AWP conference titled "Vonnegut's Legacy: Writing about War and Other Debacles of the Human Condition."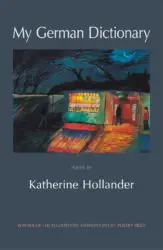 Katherine Hollander and Tanya Larkin
My German Dictionary
November 23 at 3 p.m.
Porter Square Books, Cambridge MA
Free
My German Dictionary, which was awarded the 14th annual Anthony Hecht Poetry Prize by former USA Poet Laureate Charles Wright, is a guide to an idiosyncratic interior country, a map of the experience of absorbing and being absorbed by Central European language, culture, aesthetics, and history. It is a catalogue of small beloved things inflected by massive horrors. The poems are home to and haunted by Franz Marc's horses, ETA Hoffmann's tales, the Great War, Bertolt Brecht, Rosa Luxemburg, enchanted bears, Weimar Berlin, and vanished relatives, along with an entire alphabet of mishearings, mnemonics, and valentines for the German language. These are the poems of an historian wrestling with mastery of the unmasterable, the histories in miniature of a poet.
— Matt Hanson
Writing Family Stories with Helen Epstein
November 24
At Kerem Shalomm 659 Elm St., Concord, MA, 1 to 3 p.m.
Lexington author (and Arts Fuse critic) Helen Epstein, whose books include Children of the Holocaust: Conversations with Sons and Daughters of Survivors and Where She Came From: A Daughter's Search for her Mother's History, "will discuss her research and the process she used to recreate the lives of three generations in her family of Central European Jewish women. She will also discuss A Jewish Athlete and how she traced her paternal family history including her father, who was an Olympic athlete right before the Holocaust."
— Bill Marx
---
Rock, Pop, and Folk
Mikal Cronin
November 19 (doors at 8:30, show at 9:15)
Great Scott, Allston, MA
This year's Seeker is the third in a fine run of Merge Records releases by multi-instrumentalist Mikal Cronin. This album was produced by Papercuts leader Jason Quever, whose 2019 credits include LPs by Cass McCombs and The Essex Green's Sasha Bell. Among the guest artists on Seeker are Shannon Lay, William Tyler, and Cronin's once and likely future collaborator Ty Segall. To describe the single "I've Got Reason" as Beatles-esque would be an understatement, but the harder-rocking moments suffice to give it its own character. Cronin returns to Great Scott four years after his last stop there on Tuesday.
Angel Olsen with Vagabon
November 19 (doors at 7, show at 8)
Royale, Boston, MA
St. Louis native-turned-Chicagoan and based in Asheville, NC since 2014, Angel Olsen has been transfixing and delighting fans and critics alike since her 2013 debut, Strange Cacti. Her October release All Mirrors nearly matched her highest charting entry among Billboard's Top 200 Albums and Metacritic's calculations have it as her most acclaimed record yet. Having played the Museum of Fine Arts, The Sinclair, and House of Blues in previous years, Olsen will set up camp at Royale when her current tour routes through Boston on Tuesday.
Suzanne Vega with Poez the Poet: SOLD OUT
November 22 (show at 8)
Me & Thee Coffeehouse, Marblehead, MA
The fact that this show is sold out does nothing to diminish the worthiness of its inclusion on this list of noteworthy upcoming shows. While Suzanne Vega has not been prolific in the 2000s, her catalog remains a vital one, and her live performances are important events — even if new material is not forthcoming. Good on smaller North Shore venues such as Larcom Theatre (here is the interview that I did before that 2016 show) and Me & Thee Coffeehouse — where she will be on Friday — for hosting her.
Jesca Hoop with Chloe Foy
November 23 (doors at 6, show at 7:30)
City Winery (Haymarket Lounge), Boston, MA
On a 2014 live EP, Jesca Hoop introduces a song by saying, "Warning, this song contains morbidity." If the audience knew that the title was "D.N.R.," that probably would have been an ample caveat. Either way, newcomers should consider themselves cautioned. Morbidity notwithstanding, Hoop is one of several multi-talented female recording artists who are cementing their reputations with one solid offering after another. The fact that her upcoming Boston gig is at the 75-person capacity Haymarket Lounge is indicative of the less than meteoric rise of her profile. However, she has clearly hit a stride, even if she is yet to peak. Her LP Stonechild came out in July and was produced by John Parish, who worked with PJ Harvey as far back as 1995 and as recently as 2016.
Robyn Hitchcock
November 24 (doors at 5, show at 7)
City Winery, Boston, MA
Londoner-turned-Nashvillian Robyn Hitchcock played four Massachusetts dates last year. An April date in Newburyport has been the lone one so far this year, but another is on its way to City Winery. One is unlikely to find every song that he or she would could hope on any given night's setlist, but that is a non-issue  — by the time he plays a dozen or so gems that only he could write. Hitchcock's last full-length offering was his eponymous 2017 LP. More recently, he had a song — "Sunday Never Comes" — commissioned for the 2018 movie Juliet, Naked (directed by Cambridge native Jesse Peretz) and recorded a four-track EP with XTC's Andy Partridge called Planet England. The man keeps busy, and the music world is better for it. His November 24 visit will surely not be the last chance you get to see him, but it is as good of an opportunity as any to see him for the first (or second or third or fourth…) time.
— Blake Maddux