By Bill Marx
Octavio Solis's Quixote Nuevo, is a genial, and very American, riff on Don Quixote.
Quixote Nuevo by Octavio Solis. Directed by KJ Sanchez. Staged by the Huntington Theatre Company at the Avenue of the Arts, Huntington Avenue Theatre, Boston, MA, through December 8.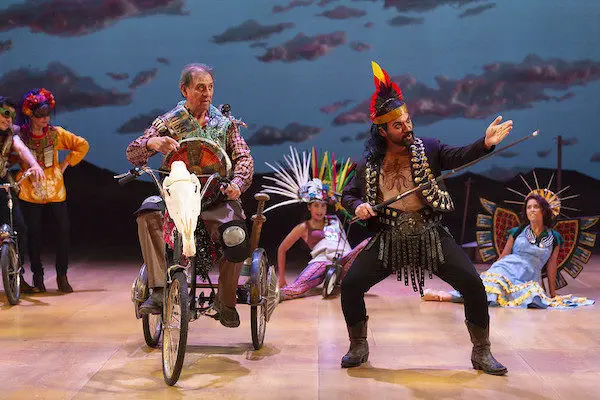 One of my favorite books on Cervantes's masterpiece is Vladimir Nabokov's Lectures on Don Quixote, in which the novelist makes wry use of his genius for sardonically reversing expectations. For centuries, readers and critics have romanticized the adventures of Don Quixote and Sancho Panza, seeing them as (almost saintly) testaments to keeping faith with an ideal. Nabokov will have none of it:
We are going to speak about cruelty. The author seems to plan it thus: Come with me ungentle reader, who enjoys seeing a live dog inflated and kicked around like a soccer ball, who likes on a Sunday morning, on his way to or from church, to poke his stick or direct his spittle at a poor rogue in the stocks; come ungentle reader, with me and consider into what ingenious and cruel hands I shall place my ridiculously vulnerable hero. And I hope you will be amused at what I have to offer.
Nabokov even includes a wonderful chapter-by-chapter, blow-by-blow countdown of the book's various beat downs, sadistic blowups, and cudgels on the head, totting up when Quixote wins and when he loses. Of course, he eventually comes around, admiring Cervantes's buffoon: "We do not laugh at him any longer. His blazon is pity, his banner is beauty. He stands for everything that is gentle, forlorn, pure, unselfish, and gallant." Still, Nabokov's emphasis on the story's darkness is valuable to keep in mind, not just as a reminder of how humor was a nasty business when it was written, but a warning that it does not do the book  justice to mollycoddle it. We end up sentimentalizing cruelty, excusing the barbarism that infuses the society Quixote rides through. After all, the novel ends with Quixote's well-meaning friends, concerned that others not catch the crazy old man's illness, burning his books. Sometimes, they say, you have to destroy the good with the bad. This was written at a time, as Cervantes knew, that Jewish books were being burned around Spain, including at universities.
I am bringing this up because Octavio Solis's Quixote Nuevo, a pleasing contemporary riff on Don Quixote, tries to straddle the dichotomy. Set in La Plancha, Texas, there are welcome moments of toughness, when the cruelty of American society (particularly toward Mexican immigrants) is grimly noted and lampooned, particularly when our modern day Quixote and Sancho Panza are beaten by a brutal border control agent. (A very funny scene, in which our Quixote slices and dices a US border drone, features a gargantuan visual punch line.) There are moments of pathos along the way, such as a ghostly immigrant remembering his vanished family. Yet there is also too much easy sentimentality — and broad rather than pointed japes — that play against the essential point of Cervantes's satire: it makes us laugh at ourselves about the cruelty that we all perpetrate, or passively aid and abet. Don Quixote's well-intentioned friends — not the enchanters — are the ones who are into burning books.
José Quijano (Emilio Delgado) is a retired Cervantes scholar on the ropes. He has led a disappointing life; as he moves toward dementia he is being being taken care of by his exasperated but concerned sister. His response to the dying of his mental light is to turn into his literary hero, mounting a tricycle with the skull of Rocinante on the front and pedaling off, with a bedpan for a helmet. A priest, a shrink, and frazzled family members go in hot pursuit. But this is an American Quixote, so Quijano is not just about righting wrongs and searching for Dulcinea — the guy is grappling with his longtime guilt over his treatment of a Mexican girl, an illegal, who he loved in his youth. So the story increasingly becomes about his working out his psychological trauma as he turns toward a life in assisted living. Along the way he meets up with Manny Diaz (Juan Manuel Amador), a proprietor of a mobile ice cream cart, who becomes his knockabout Sancho Panza. As in the book, Panza learns, painfully, that it is best to keep a firm eye on reality at all times.
Once you accept the diminishment of the novel via domestication and psychobabble-ish sentiment (there are — purposely?– cheesy touches here worthy of Man of La Mancha), the production can be appreciated for its picturesque pizazz. Delgado's Quixote is gung ho throughout, though I wish the performer proffered more rhetorical range — anger, haplessness, depression, inspired visions, they are all delivered in the same vocal register. Amador's Panza is solidly comic, but we don't see in this performance the character's growth, his final synthesis of admiration for idealism but embrace of pragmatism.
The ensemble, under the jaunty direction of KJ Sanchez, are impressively versatile. Though I am not convinced that the inventively garbed enchanters (Rachel Anne Healy's costumes — zoot suits, etc — are robustly technicolor as is Takeshi Kata set design) should be written in as a chorus fit for a musical. Their singing is fine and the music inviting but, aside from momentary spurts of hostility from the head sprite, these otherworldly types (even if considered illusions of Quixote) come off as cuddly rather than threatening. The most sadistic character here is, understandably, the rampaging border patrol agent. But Cervantes filled the book with tormentors who were not obvious villains — in fact, they were more like us. But that would cut too close to home. (Note: Those without Spanish may become a bit frustrated at times, though dialogue in Spanish is usually followed by the lines in English.) Overall, Quixote Nuevo is an entertainment that has the merits and demerits of being "brought up to date" at a time that the theater is seen as a respite from the cruelty around us — the savage becomes the genial.
---
Bill Marx is the editor-in-chief of The Arts Fuse. For over three decades, he has written about arts and culture for print, broadcast, and online. He has regularly reviewed theater for National Public Radio Station WBUR and The Boston Globe. He created and edited WBUR Online Arts, a cultural webzine that in 2004 won an Online Journalism Award for Specialty Journalism. In 2007 he created The Arts Fuse, an online magazine dedicated to covering arts and culture in Boston and throughout New England.