By Jonathan Blumhofer
A noteworthy recording of Ernst von Dohnányi's Symphony no. 1; as usual, Harry Christophers and the Handel & Haydn Society play Haydn with their customary elegance and character; a celebration of British composer Eric Coates – his music's impossibly fresh tunefulness, striking progressions, and vividly idiomatic orchestrations.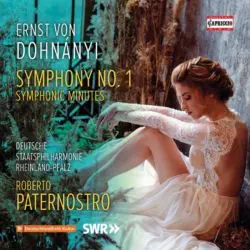 These days, if you're familiar with Ernst von Dohnányi, it's probably thanks to the reputation of his grandson, the eminent conductor Christoph. A contemporary of Bartók's, Dohnányi remained, essentially, a conservative composer throughout his long life (he died in his 80s in 1960). His orchestral output is almost entirely neglected, which makes the new recording of his 1901 Symphony no. 1 with the Staatsphilharmonie Rheinland-Pfalz particularly noteworthy.
The piece itself is, in some ways, maybe what you'd expect from a 24-year-old symphonist at the dawn of the 20th century. Which is to say it's fairly serious and Germanic-sounding – something of a cross between Bruckner and tonal Schoenberg. Its five movements all embrace traditional forms: the last, in particular, is a theme and variations that ends with a big fugue.
But it's hardly all dry, imitative, and/or pedantic. Even at an early age, Dohnányi seemed to know what he wanted to get out of this genre. That last movement, for instance, is maybe redolent of Beethoven and Brahms, but its detail-work (like the busy, chromatic fugue subject) suggests a composer trying to do something new within the confines of convention.
And a lot of the piece actually works. There's always a sense of direction in Dohnányi's writing in the opening movement. The second is downright lovely and features some beautiful solo woodwind scoring. If the scherzo ends in a Korngold-like finale cadence, where's the harm? There are plenty of harmonic and rhythmic quirks before that to keep the ear awake – and, on top of that, the closing gesture works. What's more, the interlude-like fourth movement is short and sweet, with a big viola solo thrown in to boot.
The Staatsphilharmonie gives a thoroughly creditable reading of the Symphony, the work's first new recording in two decades. Conductor Roberto Paternostro draws characterful playing from his band (the scherzo is especially biting and energetic) and ensures that balances are, by and large, carefully calibrated. The various solos soar, particularly in the second and fourth movements, and, if the finale's concluding peroration still sounds a mite trite, well, that's not the ensemble's fault.
In fact, the orchestra impresses even more in Dohnányi's Symphonic Minutes, a charming set of five miniatures that fill out the album. The opening "Capriccio" (which seems to owe a debt to Stravinsky) is playful and delicate. Sumptuous oboe and clarinet solos mark the "Rapsodia." The "Scherzo" is fervent, "Tema con variazioni" refined, and the concluding "Rondo" dances with spunk.
---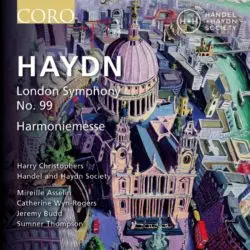 Harry Christophers and the Handel & Haydn Society (H&H) continue their survey of Haydn symphonies with a new release pairing the E-flat-major Symphony no. 99 with the Mass no. 14 in B-flat major (Harmoniemesse).
As usual, Christophers draws playing of elegance and character from his instrumental forces in the Symphony. The opening movement is, on the whole, graceful – even, at times, a bit balletic – its episodes of dotted rhythms always tautly played. Woodwind solos in the slow second movement are pristine: warm, pure-toned, and perfectly balanced. The third, if taken at a rather breathless tempo, is rollicking, though taking all the repeats on the "da capo" pushes the minuet to the breaking point.
Oddly, the finale veers in the other direction, feeling a mite held back. It's lively and clean-textured, certainly, but lacking a degree of carefree abandon it ought to possess.
The Mass comes over wonderfully. Christophers's choral forces are among the best in Boston and they sound like it here, singing with resplendent color, true intonation, rich tone, and an athleticism that's simply breathtaking. They're matched and winningly complemented by soloists Mireille Asselin, Catherine Wyn-Rogers, Jeremy Budd, and Sumner Thompson.
Throughout the performance, Christophers revels in Haydn's melodic invention, be that the Mass's unfolding solo lyrical lines (like the "Gratias agimus tibi" and "Et incarnatus est") or the score's lithe contrapuntal displays (the "Et vitam venturi" at the end of the "Credo" is simply a blast). The result is a fresh, spirited performance that is both weighty and nimble, serene and dramatic.
As in the Symphony, the Mass's woodwind solos (notably those in the "Et incarnatus est," "Agnus Dei," and "Dona nobis pacem") shine.
---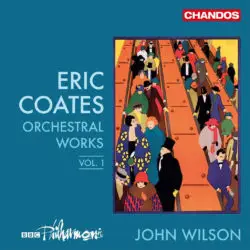 You might not hear much Eric Coates in the concert hall these days, but his catalogue of works has been well-served on disc. Out now is the first volume of a projected full-cycle of the British composer's orchestral works performed by the BBC Philharmonic and conducted by John Wilson.
This first installment includes a couple of Coates's biggest hits, including By the Sleepy Lagoon and the London Suite (both composed in the early-1930s).
But the bulk of it comprises less-familiar fare. There's the six-movement suite from an imagined ballet called The Jester at the Wedding that Coates and his wife, Phyllis, crafted together. It's unfailingly tuneful stuff, lushly scored, and, by just about every measure, a winning effort.
So are the two Symphonic Rhapsodies on popular songs, which date from 1933. Would it help to be familiar with "I Pitch My Lonely Caravan," "Birdsongs at Eventide," and "I Heard You Singing" to make better sense of the pair? Perhaps. But the sweeping, vaguely Arabian gestures of the first Rhapsody are plenty catching on their own, and the rich harmonies of the second charm easily enough.
Indeed, this album celebrates the best qualities of Coates's music – its impossibly fresh tunefulness, striking progressions, and vividly idiomatic orchestrations – and makes them really gleam. If it doesn't quite tone down the sometimes-insistent brightness of a piece like Dancing Nights, well, there's always something like Coates's haunting Ballad to provide a chaser.
Wilson and his BBC players seem to be having a ball playing this music. Their performances have all the sweep and style you want to hear in Coates, as well as a degree of technical polish that's radiant. Suffice it to say, you won't hear this music played – or recorded – better. Bring on Volume Two!
---
Jonathan Blumhofer is a composer and violist who has been active in the greater Boston area since 2004. His music has received numerous awards and been performed by various ensembles, including the American Composers Orchestra, Kiev Philharmonic, Camerata Chicago, Xanthos Ensemble, and Juventas New Music Group. Since receiving his doctorate from Boston University in 2010, Jon has taught at Clark University, Worcester Polytechnic Institute, and online for the University of Phoenix, in addition to writing music criticism for the Worcester Telegram & Gazette.