By Michael Ullman
The sound on these discs couldn't be more clear or precise; the music is low-key, thoughtful, and resolutely melodious.
Newvelle Muri: Gilad Hekselman, Eyes of the World; Nadje Noordhuis Quintet, Gullfoss; Eric Harland,  Supa Nova; FORQ, Aargau; Marta Gómez and Andres Rotsmistrovksy Duo, Un Silencio Que Llegó de Lejos; Gadi Lehavi, Wishes.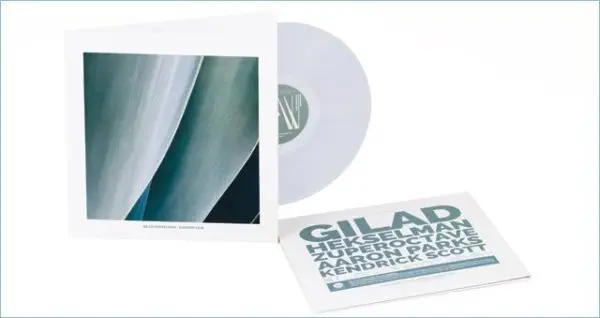 Every year for the past five, Newvelle Records has put out an extravagantly elegant box of six LPs, pressed on 180 gram vinyl.  The Parisian company calls its annual issues Seasons, and the five previous releases include many fascinating musicians. Among the leaders on the Newville records I own: Jack DeJohnette, Dave Liebman, John Patitucci, Kenny Werner, Ben Allison, and Noah Preminger. Though it is just as elegantly packaged — and beautifully recorded — this new "season," Newvelle Muri, differs from what has come before. The six records included here are the brainchildren (and no doubt reflect the tastes) of producer Stephan Diethelm, who directs the Music im Plegidach concerts hosted by the small town of Muri in the Swiss canton of Aargau. (Hence the title of the LP from the cooperatively led band FORQ).
The recordings are the highlights from three nights of live concerts Diethelm staged in Aargau, the location of what must be a wonderful performance space, a natural sound stage. The sound couldn't be more clear or precise. Right now, I am listening to a drum solo by JT Thomas on the LP Aargau. The drums are center stage and set back a little, as they would be live: the guitar riffs from Snark Puppy's Michael League and the contributions from keyboardist Henry Hey are a little to his right and left and forward. One hears each part precisely; yet the ensemble feels like a coherent whole. I wish I had been at these concerts: the audience is silent until the end of each set, the music is low-key, thoughtful, and strikingly lyrical. What ties these LPs together, I surmise, is the adventurous, sure-footed taste of their producer. Each LP comes with one of six parts of a short story by Michel Mettler, with art by Marilyn Clark.
It's the music that gets me. FORQ is a quintet with, unusually, two basses, Michael League and Kevin Scott, along with its founder, keyboardist Henry Hey, guitarist Chris McQueen, and drummer JT Thomas. Their set is the closest thing Newvelle has produced to rock, though this is rock of a pristine kind — there's nothing here that is overplayed or merely showy. "635 South" begins at extremes: there's a bluesy riff that comes from deep in the bass over which we hear the tinkle of a synthesizer chiming out bell-like sounds. Then guitarist League plays a countryish theme before Hey's jumpy organ solo: at times he seems to be trying to sneak little phrases in between the drum beats. The band beings to thunder along — and then something striking occurs: the volume drops to a whisper, with guitar and keyboard conversing. The piece is bifurcated — in an invigorating way.
I had never heard of Australian trumpeter Nadje Noordhuis before her LP Gullfoss arrived. I was immediately taken in by her seductive music: the broad tones of her trumpet, her relaxed lyricism. She barely plays anything faster than an eighth note during this set, but the results are lovely as well as relaxing. Her band is distinctive: she is accompanied by harpist Maeve Gilchrist, as well as guitarist Jesse Davis, bassist Ike Sturm, and drummer James Shipp. "Indian Pacific" begins with the lightest possible tapping of a quick rhythm on snare, then a repeated pattern on harp follows before Noordhuis enters, her expansive tone at the service of serene phrases. The intensity builds gradually, but patiently. "Killarney" begins with harp over a drone: here Noordhuis's long tones are set against a kind of submerged, almost creepy background. In contrast, "Laneway" sounds as innocent as a child's song.
Many jazz listeners will be acquainted with drummer Eric Harland. I've heard him with McCoy Tyner, as well as with Charles Lloyd, Chris Potter, and Julian Lage. I've never heard him presented as he is on Supa Nova. Three cheers for producer Diethelm for offering Harland the chance to perform in duet with electronic sounds that the drummer (himself) has programmed. He serves as his own accompanist and interlocutor. The electronic sounds are varied. On "Leaving" we hear rounded, bell-like tones in a repeated pattern, over which comes a bright, birdlike series of rhythmic squeaks and mild-mannered declarations. Later, a more conventional synthesized string sound emerges — as a kind of wash over the music's surface. Meanwhile, Harland — the live musician — is improvising something that could be described an an "interweaving" — of solos and  accompaniments. He knows just how he wants to shape the sounds he is playing with; he is ready to change a broad cymbal hit to some rim-shot chatter at the drop of a hat. I don't know anything quite like Supa Nova. At times, and this is my only criticism, I wish the live drums were more prominently recorded. One rarely, I'll add, has to say that about drums these days.
I've been listening to Israeli guitarist Gilad Hekselman's album Further Chaos since it came out earlier this year, so I welcome this Newvelle LP, Eyes of the World, which features Hekselman, pianist Aaron Parks, and drummer Kendrick Scott.  The bass-less trio (named ZuperOctave) plays a restrained set. "Eyes of the World" is a slow, almost dreamy country song: I hope someone puts lyrics to it. "Lullaby to Myself" is just as gently tuneful. "The Way There," though, is more restless: it's as if drummer Scott were moving on his own underneath Hekselman's lazily melodic phrases.
Twenty-three year old Israeli pianist Gadi Lehavi is the newcomer in this round-up. He's gone a more traditional developmental route, spending a summer at the Berklee College of Music, then hanging in New York where he sat in with Ravi Coltrane among others. He cites as his (unsurprising) influences Keith Jarrett, Herbie Hancock, and Chick Corea. He begins his acoustic set, titled Wishes (Romeu Tristão is on bass and Daniel Dor is on drums) with a genially rhapsodic piece simply called "Intro." "Wishes" feels as simple and wistful as a folk song. If Lehavi is channeling Jarrett here, his bass player may be doing with same with Charlie Haden: he gives lyrical weight to each note he plays. "From Silence" emerges from Dor's resonant drum solo, initially all tom-toms and bass drum.
I've saved the best for last. Un Silencio Que Llegó de Lejos is a series of duets between Colombian singer Marta Gómez and the brilliant bass guitarist Andres Rotmistrovsky. Gómez characterizes their collaboration in the LP's notes: "Andres and I have played together for a long time, but always in larger formations. From time to time we only played single pieces in pairs in these sets. It was Stephan's idea that we could expand the duo. The recordings in Muri were such a wonderful experience that we now pursue this idea." We are so lucky she did. Gómez's voice is perfect for this intimate setting: rich, personalized, touching without devolving into sentimentality. Her vocal control is remarkable; hers is the kind of nuanced artistry that conceals itself.  Gómez seems to be telling little stories in the most unaffected way, introducing just a hint of brass to "Plegaria Para un Niño Dormido." She restrains herself on held tones, adds just the right amount of vibrato, and can intensify a soaring phrase through the use of a beautifully timed diminuendo. This is exquisite singing and playing. Proud producer Diethelm introduces the playful "Cancion en Sol" on a glass harmonica.
---
Michael Ullman studied classical clarinet and was educated at Harvard, the University of Chicago, and the U. of Michigan, from which he received a PhD in English. The author or co-author of two books on jazz, he has written on jazz and classical music for The Atlantic Monthly, The New Republic, High Fidelity, Stereophile, The Boston Phoenix, The Boston Globe, and other venues. His articles on Dickens, Joyce, Kipling, and others have appeared in academic journals. For over 20 years, he has written a bi-monthly jazz column for Fanfare Magazine, for which he also reviews classical music. At Tufts University, he teaches mostly modernist writers in the English Department and jazz and blues history in the Music Department. He plays piano badly.