By Blake Maddux
"Honest weight" has more to do with, like, karats of gold, maybe. The "weight" being the value of something. It kind of alludes to that a little bit.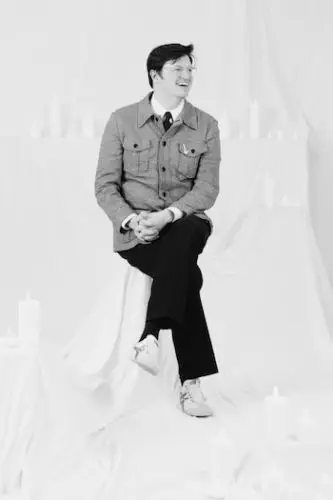 Mike Adams is a singer-songwriter, multi-instrumentalist, and cable access TV show host who lives in Bloomington, IN. His current band is called Mike Adams At His Honest Weight. While that name might furrow one's brow (as it did mine), one listen to the first song from his new album should suffice to smother all skepticism. If not, track 2 will do the trick.
There Is No Feeling Better, a title that can be interpreted negatively or positively, is MAAHHW's third LP on the Indianapolis-based Joyful Noise Recordings and their fourth overall.
At various points throughout the album, one detects Colin Meloy-esque vocals, '70s-inspired musical coatings, and vocal harmonies not far removed from The Beach Boys.
Unsurprisingly, the musical wells from which Adams has drawn as a listener have been disparate. From youth to adulthood, he has found himself immersed in – among others – Dion, the Christian punk band Blaster the Rocket Man, and the hybrid genre rock group Starflyer 59, whom he calls his "favorite band of all time. Ever."
Adams recently spoke by phone to The Arts Fuse from a van en route to Cleveland, the first stop in a nine-city tour that includes a show at O'Brien's in Allston, MA, on September 22.
---
The Arts Fuse: How did you arrive at the name Mike Adams At His Honest Weight?
Mike Adams: I had been playing in a band [Husband & Wife] prior to this for about 10 years. And I kind of made this solo record, basically, but it felt like a band still. So I didn't want to just call it "Mike Adams." That felt disingenuous to me somehow. But then giving it a mysterious name felt a little bit like lying. So my buddy and I kind of brainstormed until I came up with that. It felt like a good middle ground to me.
"Honest weight" has more to do with, like, karats of gold, maybe. The "weight" being the value of something. It kind of alludes to that a little bit.
AF: Was it always your plan A to be a professional musician?
MA: I hoped to be able to always do it, whatever that meant. I have a day job now, and I like it and it kind of allows me to keep doing the music thing. So for me that's the sweet spot. Not that I would decline a full-time music job, but I feel really good about what I've got going on. I work for a community access TV station, mostly recording government proceedings.
AF: For newcomers, how does There Is No Feeling Better reflect the established sound of the band, and in what ways is it a progression?
MA: I didn't default to a lot of the sort of production tricks that I usually do. The songwriting is still very much the same vein that I write in, but the actual making of this album was way different than anything I'd done before. It had a lot more fingers on it. I think what ties it to the others is just the sensibility, but hopefully what's new about it keeps it fresh and interesting.
Typically, it's just me and my buddy Adam. I record everything and play everything and he does all the mixing. But this time around, the guys who have been playing in the live band for the last five years or so all contributed to the recordings, which is unusual.
AF: How did Adam Jessup, whom you just mentioned, become your go-to producer?
MA: He and I were coworkers at the TV station before he moved, and we were just fast friends. He was an audio engineer and I was a songwriter, and we spent a lot of time working together and knew we like similar things and appreciated the way each of us liked different things, if that makes sense. The first album, I recorded it quickly and handed it over to him and said, "Hey, do whatever you want with these recordings." I didn't really have a plan for them at all. It was just something I made for fun. I told him that I didn't want to hear it until he was finished. And that's kind of been the way we work ever since then. It's unusual and really kind of an exciting way for me to work. I trust every decision that he makes. He's kind of a secret weapon of mine.
AF: What were the first musical recordings that you owned and did they influence you at all?
MA: The first tape that I ever had that was mine, it was a Christmas gift, was Mariah Carey's Music Box when I was in third grade, which was pretty great. The first CD that I ever bought for myself with my own money was the self-titled Jars of Clay album. (laughs) Pretty great stuff! Neither of those albums, though they were my firsts, left quite the impression on me that you would think. My tastes grew out of there pretty quickly.
AF: Have you played Boston before?
MA: Yeah. We've played O'Brien's before, actually. Maybe the last two times we've been there. I can't remember for sure. When I was with that band in the past, we played . . . is it the Middle East, is that the place? I've played there in the past. But O'Brien's has been our spot for this band. I remember one time we came through and we played in, like, a yoga studio. That show was great. I wish I could remember the name of that place.
AF: Fill in the blank: "I wish that I were half the singer-songwriter that _________ is?"
Oh, Jeff Lynne. That's the answer. He doesn't write bad songs.
---
Blake Maddux is a freelance journalist who regularly contributes to the Arts Fuse, the Somerville Times, and the Beverly Citizen. He has also written for DigBoston, the ARTery, Lynn Happens, the Providence Journal, The Onion's A.V. Club, and the Columbus Dispatch. A native Ohioan, he moved to Boston in 2002 and currently lives with his wife and one-year-old twins–Elliot Samuel and Xander Jackson–in Salem, Massachusetts.