By Clea Simon
This album lacks the desperation, the immediacy, the sheer power that made Sleater-Kinney essential in its original decade.
The Center Won't Hold, Sleater-Kinney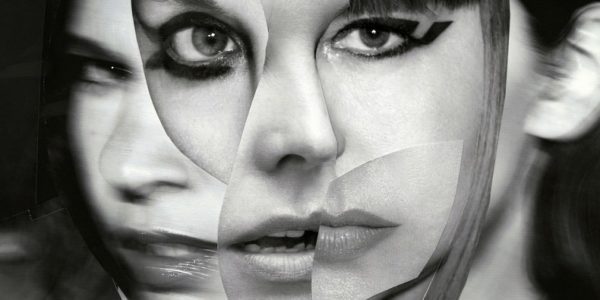 Everything changes. That could be the message of The Center Won't Hold, both globally — Yeats referring  (in "The Second Coming") to post-World War I Europe — and in the very specific world of Sleater-Kinney.  This ninth studio outing will be the last album to feature the original Olympia, WA, trio. On July 1, drummer Janet Weiss announced her departure, explaining in a statement, "The band is moving in a new direction, and it's time for me to move on."
Listening to this new album, it is hard to blame her. This is not the Sleater-Kinney that crashed into college radio like an avalanche with its eponymous 1995 debut, a band that communicated unchecked emotion in sound so raw that when "Turn It On," from its third album, 1997's Dig Me Out (Weiss's debut with the band), came on it forced me to pull off the road.
This new release (out Friday) is appetitive, sure, and at times ridiculously hummable. But this time out, that desire is not the ravaging beast Yeats might have recognized. Instead, it's domesticated — packaged for the dance floor. The result lacks the desperation, the immediacy, the sheer power that made the band essential in its original decade (the group went on hiatus in 2006), an alchemy the trio successfully revived for its 2014 reunion, the searing No Cities to Love.
Despite its heavy industrial beat, opener "The Center Won't Hold," is the most recognizable track on the new 11-song release, Corin Tucker's yelping vocals as desperate and unsettling as ever. By the next track, "Hurry on Home," that snarl has been noticeably tamed, sliding a bit too easily into a slinky effect to gild the rhythms, despite lyrics that declare the singer "unfuckable, unlovable, unlistenable, unwatchable."  The result recalls Nine Inch Nails, undeniably catchy, but much less idiosyncratic than before. Ditto for the other heavy industrial dance track "Ruins," at 5:18, the longest cut on the release. Weiss is credited as playing on this album, but even on these beat-heavy tracks neither her massive drive or imaginative fills are in evidence. These beats are propulsive, but they might as well have been generated by a machine.
In large part, this new direction may be due to the band's collaboration with St. Vincent (Annie Clark), whose own danceable tunes have been described as "dark disco." She's likely responsible not only for the club-friendly thrust of the rhythms — that inescapable thump — but for the new focus on singer as frontwoman, forcing the vocals farther up in front in what sounds like Sleater-Kinney's most produced album ever.
These shifts may make Center the band's most accessible. It is also the most oddly derivative – oddly, because those influences come through as undigested or unabsorbed, as if Sleater-Kinney were covering other artists. With the reverb playing up its simple, romantic melody, "Reach Out," for example, could be a Bryan Ferry/Roxy Music jam, were it not for the Sleater-Kinney lyrics, "when I looked down I was a mess." One of Carrie Brownstein's trademark spikey guitar solos injects a welcome note of barbed dissonance in the Roxy richness, but it's too brief and, ultimately, too tame, its prickly cascading arpeggios too soon becoming another strand in the hummable refrain.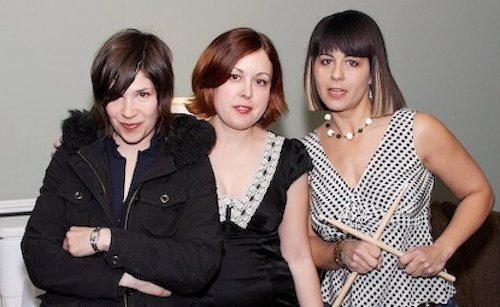 "Can I Go On," meanwhile, could be a Yeah Yeah Yeahs song. Even with Tucker's warped wailing, the suggestive lyric "my desire is contagious" resembles a Karen O joint more than the old band, while the mournful almost-ballad "Restless" recalls later X, only without the barbed-wire harmonies.  "Broken," the closer, sets those vocals against piano, as if Sleater-Kinney were trying to become some other band entirely, the political impact of their profoundly personal songs lost in the remix.
"Do you feast on nostalgia?," sings Tucker in "Restless." "Take pleasure from pain?" Well, yes, in this case I do. At any rate, I'd like more guitar in the mix. More more in the mix.
Because, thanks largely to this odd production, the songs on Center sound simplified. This might seem like quite a feat considering that Sleater-Kinney started as pure punk, raw riot grrrl lust and rage in a classic rock and roll power trio format. But simple doesn't mean basic. It's not as good. In effect, these club-ready arrangements, and perhaps these songs themselves, have not only neutered the beat, they have turned two crucial elements of the band's signature sound – Tucker's snarl and Brownstein's guitar – into ornaments. A dash of punk spice for the dance floor.
The result is not unenjoyable. Much of Center holds pleasure for the listener. But it is overly predictable. Generic, even. And for a band that broke through by sounding like nobody but itself, that's a disappointment.
---
Clea Simon's most recent novel is A Spell of Murder. She can be reached at www.CleaSimon.com.