By Paul Robicheau
"It's not something to be tolerated," saxophonist Kamasi Washington said. "It's something to be celebrated."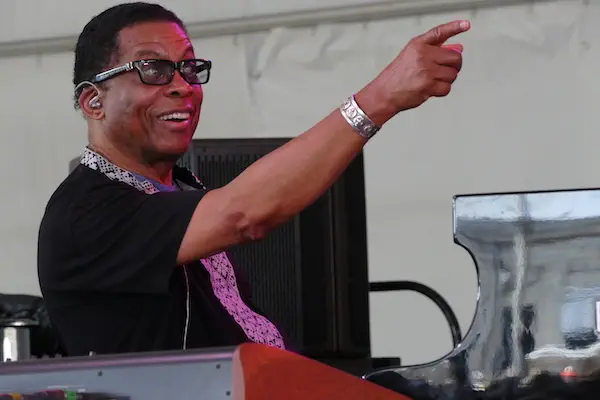 Halfway through Kamasi Washington's headlining set at the Newport Jazz Festival on Saturday, the budding saxophone colossus – bedecked in a gold dashiki – shared what has become his regular manifesto about diversity. "It's not something to be tolerated," he said. "It's something to be celebrated."
In turn, the diversity of what constitutes jazz was on display at the 65th edition of Rhode Island's famed jazz fest, which — like its folk sibling the weekend before – enjoyed a rare three days of glorious if hot weather at Fort Adams State Park to stretch its boundaries. Friday was a bit heavy with big bands, yet swung from the avant-garde pageantry of the Sun Ra Arkestra to the salsa scintillation of the Spanish Harlem Orchestra. While guitar-led fusion was practically absent in this year's lineup, both pianists (from 13-year-old wonder Brandon Goldberg to 79-year-old pioneer Herbie Hancock) and vocalists were everywhere. Yet vocals on Sunday alone ranged from Cecile McLorin Salvant's elegant virtuosity to Tank and the Bangas singer/rapper Tarriona Ball's funky eccentricity. Positive and popular rapper (and TV commercial pitchman) Common even closed the festival.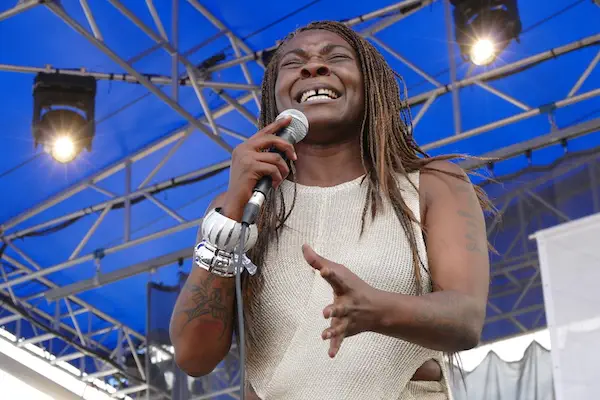 Saturday's impressive slate featured three female singers on the main stage, and they likewise pursued variations in form and repertoire beyond traditional jazz – with extra-watt smiles. Dee Dee Bridgewater fronted her Memphis Soulphony, an R&B-rooted octet with horns and backup singers that enlivened songs by Al Green and the Staple Singers that she heard on the radio in her youth. And Bridgewater shimmied and danced like that little girl as she growled and cooed in the right places. A Spanish-born singer of African parents, Buika was surely more of a revelation to many in the crowd, unleashing an ecstatic, multilingual blend of soul, jazz, and flamenco. The now-Miami-based singer dug into emotive corners and surged in spine-tingling waves, deftly backed by an all-female band.
Dianne Reeves, who expressed love and admiration for both of those singers in her scat-laced delivery, took a more interpretive approach at the start. She wove from the music of Fleetwood Mac (languidly recasting the rhythm and melody of "Dreams" while putting emphasis on key words) to Pat Metheny, lending robust vocal icing to Latin-tinged jazz. And Saturday began with Sheila Jordan, still sharp with her scat-singing at age 90, joining vocal quartet the Royal Bopsters.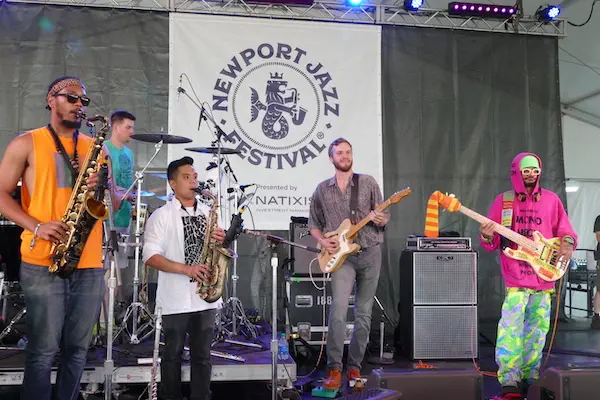 Bebop also took a hard turn with drummer Ralph Peterson and the Messenger Legacy (including Boston saxophonist Bill Pierce), paying tribute to their late mentor Art Blakey with a sublimely phrased "Caravan," while acoustic bass master Ron Carter, now 82, nodded to the old guard as well with his classy, sublime trio on the small harbor-side stage. Alas, no fan could soak it all in without missing something else.
Hancock, who worked with Carter in Miles Davis' 1960s quintet, followed a Friday main-stage turn by his electric band with a novel set on the Fort's middle stage that boasted his peerless drummer Vinnie Colaiuta and acoustic bassist Christian McBride, artistic director for Newport Jazz. The pianist told the overflow crowd that he hadn't performed with a trio for a long time, and the results were loose from the start, enticing if not quite adding up to the sum of the parts. McBride graced Wayne Shorter's "Footprints" with lithe upper plucking that resolved in an anchoring riff to Hancock's shifting clusters and Colaiuta's deliberate patterns. Jazz swing isn't Colaiuta's forte as much as rock fusion, but Hancock pointed to the drummer to egg him into solos of rolls and accents that encouraged his independence.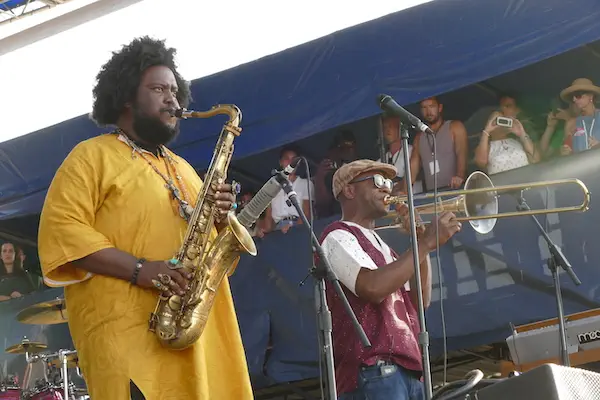 Makaya McCraven also intrigued on the drums, drawing on hip-hop and rock as well as jazz. McCraven slowly built "Young Genius" from churning undertow to chopping overtow for soloists in his group (including the brightly punctuating vibes upstart Joel Ross, who earlier led his own band)  to weave over and under with penetrating turns. In turn, Jenny Scheinman and Allison Miller's Parlour Game not only revolved around the keening gypsy-styled violin lines of Scheinman (best known for her work with Bill Frisell) but Miller's prominent, crackling joy at the drum kit. And fusion broke into loudly chaotic funk vamps with Ghost-Note, a group founded by the percussionists from Snarky Puppy and featuring a visually off-kilter lineup of session musicians, including day-glo bassist MonoNeon (you couldn't miss the name all over his clothes and sock-capped instrument).
Kamasi Washington has surged in popularity by bringing young people into the jazz fold through straddling the jazz and hip-hop worlds (he arranged and played with rapper Kendrick Lamar). But he's also a physical force on tenor sax, evoking the days of John Coltrane and Sonny Rollins. And he leads a band with a similar mix of power and spirituality that made for a smart choice to headline Saturday's main stage. Washington took a couple of solos that cycled waves of sax into split-tone squalls like a titanic teapot, and he spread the love with his bandmates. He brought out his father Ricky to blow soprano sax for most of the set. The group overlapped five melodies in "Truth," topped by gorgeous wordless harmonies from singer/dancer Patrice Quinn. Acoustic bassist Miles Mosley fired up the crowd with exhortations around a bowed solo. Ronald Bruner, Jr. (whose brother Stephen performed as Thundercat on Friday) and Tony Austin provided a killer tandem on drums, though it was not enough to sustain a late 10-minute duel for an audience that was pretty much done taking in and baking in a highly satiating weekend of jazz.
---
Paul Robicheau served as the contributing editor for music in The Improper Bostonian in addition to writing and photography for The Boston Globe, Rolling Stone and other publications.