By Michael Ullman
A sense of promise remains a hallmark of the Montreal Jazz Festival — always end by looking forward.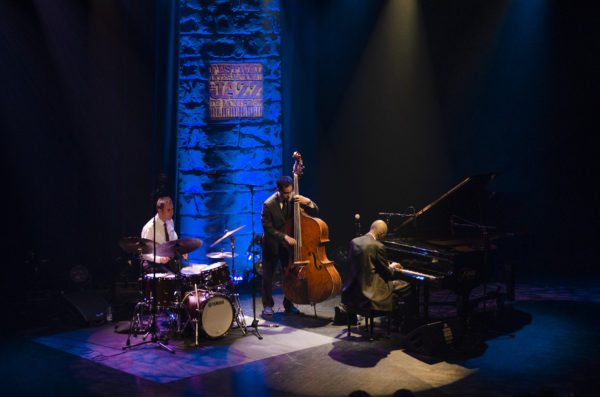 With its wide range of music…you could fashion a Latin music festival for yourself out of its schedule, or a Canadian jazz fest, or for that matter, a celebration of women in jazz—this fortieth Montreal Jazz  Festival was also a time for goodbyes. For its long time leader and guiding spirit André Ménard, it was the culmination of forty years of planning, scheming, and joyous listening. At his press conference on the last day of the festival, July 6th, Ménard began by breaking down in tears. But then he (and the current management) told us about some of the things they were proud of. They focused on the community spirit of the crowds and the performers. It's an international festival, but the producers always keep an eye on the locals. Vice President Laurent Saulnier noted that the festival has always begun and ended with Montreal musicians.  Ménard said it wasn't being back stage that moved him: it was the music and way his massive staff put things together. He touted the many free, open-air concerts the festival has presented annually. The warm weather helped: huge crowds jammed the closed-off streets every evening. Amateur pianists sat down at a piano left open on St. Catherine Street. The festival became something like a party — for all ages, from parents wheeling sleepy children to thousands of dancing, prancing, and wandering others. There were innovations this year: there was what the new director called (in French) a satellite site in the town of Verdun. More such venues were promised.  
Ménard wasn't the only one saying goodbye. At his mini-press conference, veteran rocker Peter Frampton announced that he was on what he hopes to be the first of his final tours. It was a joke about a serious subject: he has a degenerative muscle condition, and doesn't know when he will be forced to stop playing. Frampton talked about his career and his rationale for being at a jazz festival. He is considered a pop star, but he has now talked himself into thinking of himself as he was before stardom — an improvising musician. Frampton will continue as long as he can perform. 
Some musicians seem able to go on forever. One of the delights of my festival was the set by the 88 year old pianist Wray Downes, who was a disciple of the great Canadian pianist Oscar Peterson. Before his concert began, the festival presented him with its Oscar Peterson award. Stony-faced but witty, he refused to improvise a response. "My brain is toast," he told us before he read his acceptance speech. At one point, Downes looked up and said "This is the first of eleven pages." It wasn't: he sat down at the piano to do "what I THINK I do best." He then opened with two pieces by Peterson that were composed to honor his native country: "Wheatland" from Canadiana Suite and "Open Spaces" from Trail of Dreams: A Canadian Suite. Downes was remarkable — fluent, graceful, and eventful. He played a blues, "Jaden," dedicated to his grandson. The performance was marked by the pianist's still evident virtuosity, and by his increasingly forceful swing and tasteful funkiness. Downes' repertoire was guided by his taste and his wide-ranging knowledge of jazz history: he didn't make obvious choices. He played Milt Jackson's "Compassion" (from Jackson's Reverence and Compassion before moving on to Blossom Dearie's "Inside a Silent Tear." He also ran through Oscar Pettiford's once famous bebop number, "Tricotism." Downes never cracked a smile but he didn't need to — his music welcomed us.  He was, I note as an aside, virtually the only pianist I heard in the festival who did not at some time stand up and stroke the strings like a harp. This was music in the Oscar Peterson tradition — sophisticated and swinging. 
Now 74 (a relative youngster), Swedish pianist Bobo Stenson has been a mainstay on the European scene, playing with mainstream players and such uncategorizable figures as trumpeter Don Cherry. Stenson's latest album is called, amusingly, Contra la indecision. (He's against indecision, but one of his compositions is "Doubt Thou the Stars.") His solo concert was a thoughtful, perpetually careful, uninterrupted series of what I take to be his original tunes. Stenson is attentive to the construction of his sound — even during his free improvisation there's a sense of structure and continuity. Nothing could be further from that sound than Nik Bärtsch's Ronin, which he calls a "zen-funk" quartet. His website explains the band's name: "There are two paths a samurai can walk: that of a clan member, and that of a lonely warrior. The former is highly esteemed in Japan, the latter is bitterly detested."  If Bärtsch set out to be 'bitterly contested,' then he failed. The Swiss pianist, born in 1971, performs with his group what I would call a kind of manic minimalism. He produces, usually on piano, mini-themes that he calls modules; the band plays them, or around them, eventually reaching high volume and plenty of dramatic insistence. The modules are sufficiently distinguished to create what (minimalists) would consider variety. They stop and start, the drummer decorates the recurrent motions — there are solos within the tightly wrapped structure. At times, the music could be almost entrancing.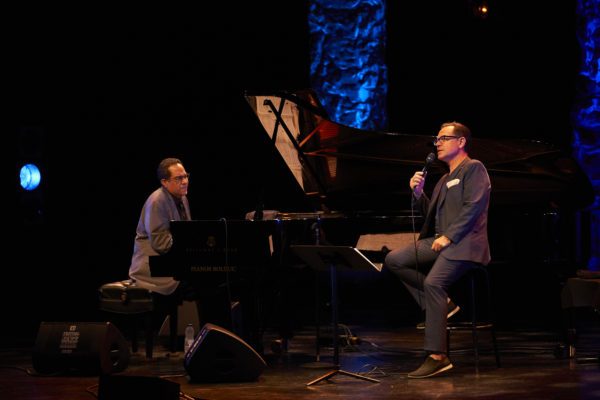 At Montreal, singer Kurt Elling is a superstar. And, in my world, so is his accompanist, Panama-born pianist Danilo Perez. When Elling walked on stage he sat for a while and then sang a single syllable. It sounded as if he were testing the mike; instead, he was initiating a wordless improvisation with Perez. The pianist answered with some childlike figures, tentative and rather sweet. Soon, though, they were ripping, with Elling scatting and Perez both answering and suggesting new ideas. Elling said afterwards, "We are experimenting."  His soul, though, at least in my estimation, is in bebop. On the huge stage of the Salle Ludger-Duvernay, he told rhymed stories, scatted, but also served up a brilliantly elaborated version of  Thelonious Monk's "In Walked Bud." It was fascinating to watch Perez, who at times controlled the direction of Elling's improvisations. They pulled off a beautifully sensitive version of Duke Ellington's "Come Sunday," as well as a playful rendition of Monk's "Pannonica." Elling is a literate singer with wide-ranging interests — as well as perfect pitch and rhythmic sense. His 2007 disc Nightmoves includes poems by Theodore Roethke and Walt Whitman set to music. 
Just as dramatic, and even more playful, was the set (I didn't get to hear it all) by veteran bluesman Buddy Guy, whom I first heard in the 1960s behind Muddy Waters. Waters is still on his mind. Guy bounded on stage, twirled his guitar, and sang such Waters classics as "Hoochie Coochie Man" and "Nineteen Years Old." He interrupted the latter to tell us that he didn't write the song, whose theme is the unstoppable attraction of a young girl. At the age of 82, Guy is still on his game, goofing around by first whacking the strings against his chest and then picking a chorus of perfectly articulated blues. A huge and appreciative audience meant that the show wasn't going to be particularly intimate or serious. But it was perfect for the occasion, giving us Guy the master entertainer as well as blues man.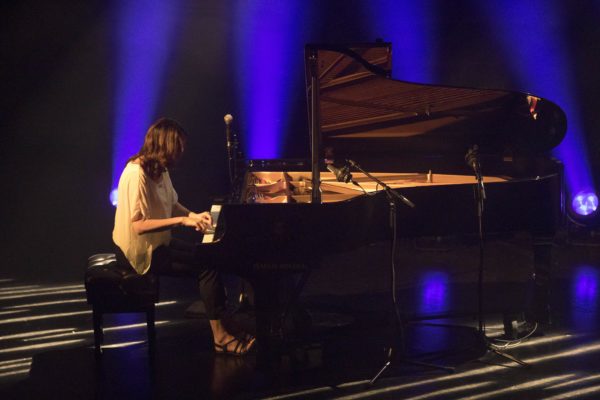 For me, the festival ended on a resonate note of intimacy. Pianist Kris Davis played a challenging, fascinating solo set at the converted church, Le Gèsu. One of her tunes is "Too Tinkerbell" which, at least to this listener, sums up her interest in generating light, fairy-like sounds. Revealingly, one of her first numbers was dedicated to the late Cecil Taylor: her playing here seemed to be a dialogue with that departed master. She established sweet floating phrases, suggestive melodies — and then brought in darting runs and clusters that must have come to her by way of Taylor. Still, she said her first number was influenced by György Ligeti. At one point, she started playing a series of percussive phrases, pausing in between. I wrote in my notes that I imagined that this is what Thelonious Monk sounded like — when he was composing. I got something right: after hinting at stride piano (and "Tea for Two"), Davis launched into a gorgeous, innovative version of Monk's ballad "Pannonica." Davis's range of interests, her earnestness and inventiveness, make her a musician to watch. This sense of promise is a hallmark of the  Montreal Jazz Festival — always end by looking forward.   
---
Michael Ullman studied classical clarinet and was educated at Harvard, the University of Chicago, and the U. of Michigan, from which he received a PhD in English. The author or co-author of two books on jazz, he has written on jazz and classical music for The Atlantic Monthly, The New Republic, High Fidelity, Stereophile, The Boston Phoenix, The Boston Globe, and other venues. His articles on Dickens, Joyce, Kipling, and others have appeared in academic journals. For over 20 years, he has written a bi-monthly jazz column for Fanfare Magazine, for which he also reviews classical music. At Tufts University, he teaches mostly modernist writers in the English Department and jazz and blues history in the Music Department. He plays piano badly.