By Mary Paula Hunter
Here was another (all-too) typical example of ballet companies reinforcing a patriarchy that hardly reflects the number of women in their ranks.
BalletX, presented by World Music/CRASH ARTS at the Institute of Contemporary Art, Boston, 25 Harbor Shore Drive, MA, (closed)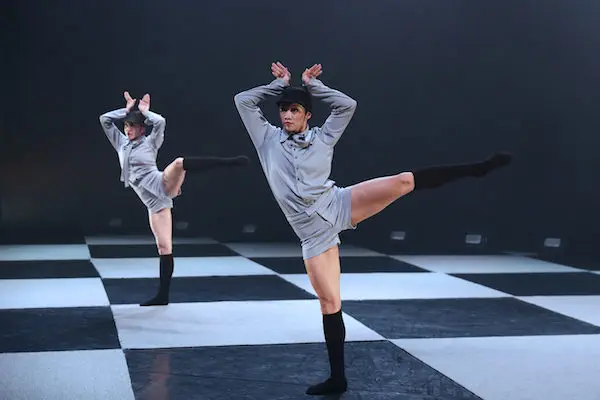 BalletX, Philadelphia's spunky ballet company, recalls the spirited approach of the beloved Joffrey Ballet of the 1960's.  Unabashed enthusiasm for full-range movement and a spirit of egalitarianism characterized both small companies, as well as a commitment to chamber ballet.  BalletX brought a nicely varied program of three such ballets to the ICA, but they showcased the work of male choreographers exclusively. Here was another (all-too) typical example of ballet companies reinforcing a patriarchy that hardly reflects the number of women in their ranks.
Schmachmatt (German for checkmate), created by Spanish choreographer Cayetano Soto, began in the pitch dark.  Slowly intensifying light revealed ten dancers moving in a tight unison. Perhaps we were watching dancers in the midst of a secret ritual at daybreak? Or was this a military exercise on a continuous loop? The setting was not clear, but there was energetic mystery aplenty, marked by full throttle dancing that made for a brilliant, attention-getting opening.
Fans of Bob Fosse will recognize the pelvic thrust and gestural isolations of hand, fingers, and knees that dominate Schmachmatt. The superb dancers glide, strut, and hold impossible positions — Soto loves the attitude side (bent leg) in a parallel position. The performers moved around the stage with the court finesse of NBA players.
And yet, where was the breakout moment, an escape from a drill team routine into a choreographic free flight? Despite seven different musical selections — from J'attendrai by Rina Ketty to Lo Dudo by Los Panchos — the choreography never broke ranks. The steps always matched the music, beat for beat.
Like a run-on sentence, with no internal logic or development, Schmachmatt became dull and predictable by its end.
If Soto's piece withered under a limiting concept, the second work (Increasing by BalletX co-founder Matthew Neenan) struggled within the confines of its musical accompaniment: the Allegro Ma Non Troppo movement from Schubert's well known String Quintet in C Major.
In his Choreographer's Note, Neenan admits to creating a dance that "sprang entirely from the music."  Not a bad source of inspiration if the music provides the necessary variety of tone and rhythm — a rarity in a single movement. Certainly there were times within the fast-paced segment that Neenan managed to find moments of breath and hesitation.  Barefoot dancers slipped in and out of partnerships, stage patterns changed smoothly, and idiosyncratic movements blended effortlessly with a classical vocabulary.
Yet, midway through the dense piece, an exhaustion settled over the stage and the dancers' brave effort to keep the piece afloat became apparent. They pranced, pivoted, bounced, and wove in and out of duets and ensembles. The extreme turnout, now a given movement among elite ballet dancers, wasn't present here.  Instead, myriad steps and hasty extensions of the leg — particularly grand ronde de jambe — as well as full body movements came one after another. By its end, Increasing came across like an overpacked suitcase about to explode. This was a work that was much too controlled by its music.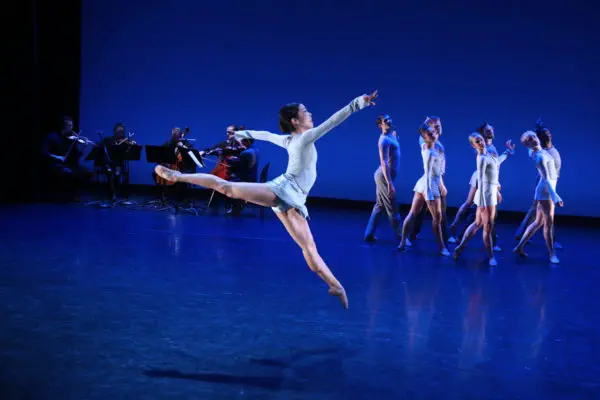 The final offering, Steep Drop, Euphoric by Nicolo Fonte unfolded in parts, each with its own internal logic. Set to three dramatic works — two by composer Ezio Bosso, a third by Olafur Arnalds — the ballet began as a journey for a dancer and ends with her ascension into another world.
The opening tableau established the foreboding tone of the poem's nature. At one corner of the stage, a white column of fabric hung from ceiling to floor — it looked like a beam of light or a path to another world. A solo female dancer, terrified perhaps by the column's intimations of the unknown, hesitated in front of the image. She was soon joined by other dancers who wove about each other via taut plunging lunges.  One by one they lined up to face her.
At that point, her superb counterpart entered and an extended pas de deux ensued. Other dancers paired off — same sex and opposite — creating a collage of changing relationships.  Dancers lingered in balancés, their extensions stretched like pulled taffy. The only piece on the program danced en pointe, this was a study in tensile movement.
At a critical moment deep into Steep Drop, Euphoric, the solo dancer unspooled the fabric along the floor. She laid down and re-rolled herself in the material, as if she was enacting a kind of reverse metamorphosis. The lights focused on the dancers as they lifted her upward in a frieze of bodies: the image lingered long after the lights dimmed. Had she departed the community into another realm? Who will journey next to the unknown?
---
Mary Paula Hunter lives in Providence, RI. She's the 2014 Pell Award Winner for service to the Arts in RI. She is a choreographer and a writer who creates and performs her own text-based movement pieces.