Run time: 59:59
Download & subscribe:
---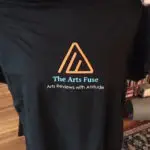 The boys (Lucas Spiro and Matt Hanson) are joined once again by Arts Fuse editor-in-chief Bill Marx. The trio talks about the struggles of Boston's small theaters, the most recent case coming at the arrival of a developer who has bought space in Boston's Fenway neighborhood, which includes The Machine nightclub. When construction begins, the Gold Dust Orphans may well be without a home. The crew then discusses Paula Vogel's play Indecent, currently being staged by the Huntington Theatre Company. Vogel's play was the subject of a debate between two critics in the pages of the magazine — one lauding the script as a success, while the other called the writing obvious to the point of verging on Holocaust porn. Finally, Matt tries (and fails) to convince Bill and Lucas to watch Game of Thrones.
The Arts Fuse turns 12 in June, so we're having our annual spring appeal. Please visit our website or on social media to help support our continued coverage of the arts.
$100 dollars or more gets you a snazzy t-shirt!
To contribute to The Arts Fuse via PayPal:
PayPal
To contribute to The Arts Fuse via Mightycause
To contribute to The Arts Fuse on Facebook
To mail a donation, please make out your check out to Global Narratives, Inc. and send it to:
The Arts Fuse
103 Highland Road
#2
Somerville, MA 02144
Include your email and snail mail address with your check.
---
Lucas Spiro is a writer living outside Boston. He studied Irish literature at Trinity College Dublin and his fiction has appeared in the Watermark. Generally, he despairs. Occasionally, he is joyous.