By Christopher Caggiano
James Graham's new play almost evokes sympathy for the devil. Almost.
Ink by James Graham. Directed by Rupert Goold. Manhattan Theatre Club production at the Samuel J. Friedman Theatre, New York, New York, through July 7.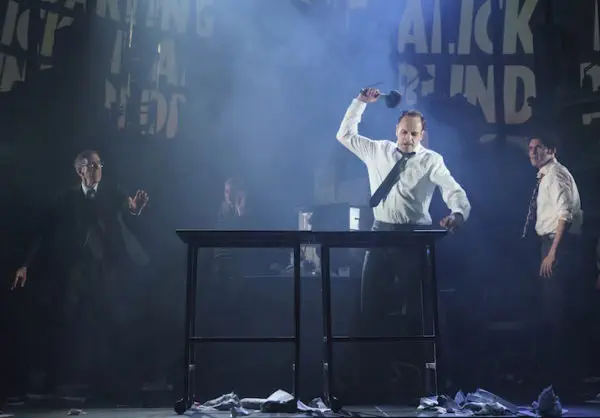 Think about the journalistic moment in which we find ourselves. Magazines and newspapers gasping for breath. TV networks preying upon our baser instincts in a frantic grasp for viewers. Web sites using shameless clickbait headlines in search of ever more elusive page views.
Arguably, sensational journalism has been with us since the days of Gutenberg, but the modern media melee arguably began in the 1960s with the ascendancy of communications mogul Rupert Murdoch.
Today, we know Murdoch as the magnate behind Fox News and the owner of such subtlety-deprived publications as the New York Post and the now defunct News of the World (shuttered after a scandal involving News staffers hacking into the cell phones of private citizens). But everybody has to start somewhere, and Murdoch's formative years were spent turning the failing British broadsheet The Sun into a tabloid powerhouse.
Playwright James Graham's Ink, which recently premiered on Broadway after a successful London run, focuses on that formative period in Murdoch's career. After buying the struggling Sun, Murdoch hires editor Larry Lamb and sets the goal of having the readership of The Sun surpass that of top seller The Daily Mirror by the relaunched paper's one-year anniversary.
What follows is a race to the journalistic bottom as Lamb and his staff pursue readers by any means necessary. Graham gives us a bit of insight into Murdoch's founding philosophy: wrest the reins of the media from the hands of the "elite" and give voice to the people, however coarse and sordid.
Rupert Goold's flashy direction for Ink is certainly in keeping with the whiz-bang style of The Sun. But it makes it hard to really care about anybody on stage. Bunny Christie's scenic design features a suitably oppressive mountain of newsroom detritus, which adds to the grimy, soulless feel of the production.
Graham's only previous Broadway credit is the horrendous and best-forgotten musical Finding Neverland. (Could we maybe forgive Graham for the execrable quality of that show and force now-disgraced producer Harvey Weinstein to shoulder the blame? I mean, I'm OK with that.) But Graham was also represented Off-Broadway in 2014 with Privacy, an intriguing but clunky play about how our personal information on the Web can be accessed and exploited.
With Ink, Graham seems intent on putting human faces on these legendary characters. The goal appears to set up a polarizing figure and — perhaps — generate some empathy for Lucifer. However, Graham's intent is somewhat undercut by Bertie Carvel's affected portrayal of Murdoch. Perhaps the problem is that whenever Carvel spoke, I couldn't get the voice of Miss Trunchbull (his Tony-nominated role in the musical Matilda) out of my head, but I never got the sense that Carvel's Murdoch was anything more than a set of mannerisms and a nasal, high-pitched vocal delivery.
Jonny Lee Miller fares a bit better than Carvel as Larry Lamb, and sports a creditable Yorkshire accent in the process. But, in Graham's telling, the character feels sapped and depleted by the end of the story. Lamb keeps upping the stakes to reach Murdoch's readership challenge, until he takes one final step in a moment of desperation. The moment is not so much triumphant as nauseating, which is perhaps what Graham is going for — but it makes for an unsettling trip to the theater.
Editor's Note: Perhaps time for a revival of 1985's Pravda, Howard Brenton and David Hare's satiric dissection of Murdoch. It received a production in Chicago in 2005.
---
Christopher Caggiano is a writer and teacher based in Boston. He serves as Associate Professor of Theater at the Boston Conservatory at Berklee. His writing has appeared in American Theatre and Dramatics magazines, and on TheaterMania.com and ZEALnyc.com.