The Comedy of Errors by William Shakespeare. Directed by Steve Maler. Presented by Commonwealth Shakespeare Company at the Boston Common Parkman Bandstand, through August 16.
Reviewed by Bill Marx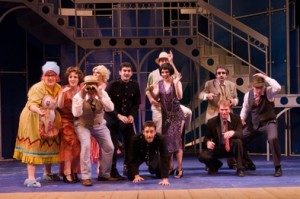 Shakespeare can be punished by his own success. In "The Comedy of Errors" he juggles two sets of identical twins on stage with the dizzying aplomb of the Flying Karamazov Brothers. Thus the play has been pretty well doomed to be treated, by most stage companies, as no more than a zany flyweight farce. And the piece works as an agreeable laugh machine, though underneath the giggly gearshifts the Bard plants, here and there, green shoots of pathos and poetry.
After all, the impossibly long expository tale of woe told by the father, Egeon, about losing his wife and their identical twin boys moves the duke in Ephesus, sworn to hate anyone from Syracuse, to bestow mercy. Lines such as "I to the world am like a drop of water/ that in the ocean seeks another drop" raise questions of identity that Shakespeare's later plays will probe in greater depth.
None of those tantalizing pockets of substance are picked in the Commonwealth Shakespeare Company's snappy outdoor production, which is set in a stylized 1930s Miami. Director Steve Maler treats "The Comedy of Errors" as if it is a running-shoe farce and, underneath the stars on the Boston Common, it makes for breezy, if at times hyper-ventilating, entertainment.
Fred Sullivan Jr.'s Egeon sets the production's brash tone, trumpeting his tribulations with showbiz verve, a broad wink-and-a-nod. With undercurrents of melancholy banished, Maler goes on to ward off the intrusion of quiet or low-key moments – the pacing approaches Keystone gangbusters, the cast's decibel level flies sky high, and the out-and-out mugging is unflagging (nobody says the word "chase" without miming a mini-run).
I have noticed this same whipped-up steam engine treatment in comedies staged at the Huntington Theatre Company and elsewhere lately. The approach bows to the cliché that the audience's attention span is shrinking (because of film and TV, remote control and the web) so stage rhythms must be hopped up, especially in comedies. The problem is that the script's invitations to calm down the action before the next explosion of mirth are trampled; a breathless production is not necessarily a funnier one.
Maler's energetic contraption is stitched together by choreographed interludes presenting the glamorous decadence of Miami beach and club life. More could have been done with mining the multicultural trappings of Miami, digging underneath the campy 1930s cliches to fantasize more imaginatively about what the culture of the city might have been like. Revealingly, the evening ends with a tacked-on rendition of a Cole Porter classic rather than a Latin American or Caribbean inspired extravaganza – despite the exotic setting, including some colorful costumes and a playful set, the production is reluctant to move away from the tired-and-true.
Maler's emphasis on hijinks puts the pressure on the performers playing the comic servants, the identical Dromios, to cavort with skillful gusto. The roly-poly pair, Larry Coen and Remo Airaldi, work hard to amuse, generously doling out the bumbling shtick. Coen brings welcome variety to his comic readings and physical business – he even manages to sneak in homage to the theme song from "Gilligan's Island." Airaldi tends to fall back — far too often — on a shrill note of fussy hysteria.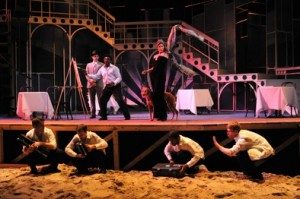 As for the other set of twins, Josh Stamell and Dan Roach make for boisterous Antipholuses while Jennifer Ellis brings a mordant grace to the role of Antipholus of Ephesus's wife. There are no glimpses of pain or eroticism, but the performers provide a smooth picture of anarchy.
"The Comedy of Errors" provides a pleasing evening of fun, but does the staging, along with the touring production of "Jersey Boys," presented by the Citi Performing Arts Center at the Shubert Theatre, signal that Boston's downtown theater district may be inching toward a performing arts renaissance? After admitting that the fall schedule of touring productions doesn't look all that exciting, writer Ed Siegel dreams of such a resurgence in a recent opinion piece in "The Boston Globe":
Still, it would be nice to think that "Jersey Boys'' and "The Comedy of Errors'' – together with Broadway Across America, the Cutler Majestic, and the Stuart Street Playhouse – represent the beginning of a performing arts renaissance downtown. And there's still the reopening of the Paramount, sometime in the future. Citi is now part of a consortium investing in new theatrical shows that, presumably, will make their way to Boston.
What a difference two years make! In August 2007 a Boston Globe editorial called for CPAC honcho Josiah Spaulding to step down because of a huge deficit, a gargantuan bonus (1.265 million) for himself, and the uncertain fate of CPAC's support for free Shakespeare and the CSC. At the time, CPAC, a non-profit, assured us via publicity releases it would be reinventing itself over the coming years, striking out on a "visionary" limb, offering "a new business model" that might become "a national model for other cities."
Instead, the CSC and Spaulding sever their relationship and CPAC brings in "Jersey Boys" and "The Color Purple." For Siegel, this positions Spaulding as a potential hero, a contributor to a possible renaissance, which appears to mean helping to fill downtown restaurants. How much creative know-how or imagination does it take to bring in a touring production of a Broadway hit? Do you think any knowledgeable person in New York, Washington D.C., or Chicago would seriously believe that their downtown theater districts had been rejuvenated due to productions of "Jersey Boys" and "The Comedy of Errors?"
This is the kind of chamber-of-commerce-approved mush that the "Globe" used to push because some believed that it made an impact on bank accounts. Now, with the "Globe" rapidly setting in the west, the absurd pitch carries much less power and convinces fewer and fewer.
The truth is that those hoping for a performing arts renaissance are wasting their time if they think Spaulding and CPAC will be part of it. Spaulding represents the old guard, preservers of the cobwebbed corporate dream that Boston's downtown theater district will become some sort of Disneyland, a profitable tourist haven.
If there is to be an artistic rebirth in Boston theater it will be inspired by people with innovative ideas and approaches, by those willing to experiment with ways to make the stage exciting for younger audiences. Those who offer that kind of promise are the new artistic directors in town, such as Diane Paulus at the American Repertory Theatre, Peter DuBois at the Huntington Theatre Company, and Kate Warner at the New Rep. They are troupes such as Company One, who are willing to take risks on fresh work. And it will depend on the fortunes of directors such as Steve Maler — no longer lodged within the CPAC machine — who are searching for ingenious ways to make classic plays appealing to contemporary audiences. Spaulding and his competitors (Broadway Across America) will offer a slate of 'hit" touring shows with an occasional newbie – rich men trying to make money out of a poor man's performing arts renaissance.