By Steve Provizer
When it comes to jazz, you can be pretty confident that when you put excellent players together — whether they know each other or not — something very good will happen. And it did.
Monterey Jazz Festival on Tour at the Berklee Performance Center, Boston, MA.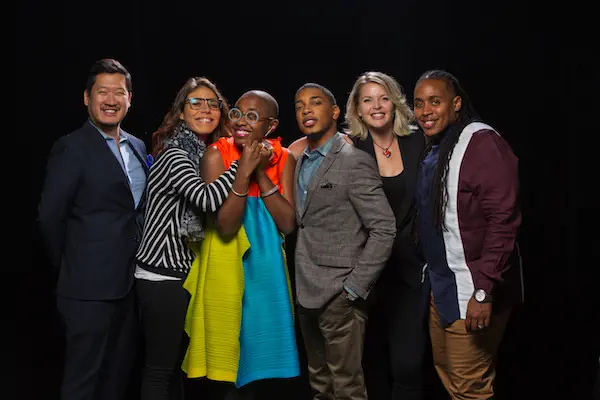 This is the fifth incarnation of a kind of "superband" put together to "spread the word" about the Monterey Jazz Festival. It's comprised of musicians who have each been featured at the Festival. Although she is the biggest "name" on the tour, and is featured prominently in its publicity, singer Cécile McLorin Salvant does not dominate the sextet. Each member of the group has established his or her own career, and no single musician dominates the proceedings, although the largest role is played by pianist/music director Christian Sands, who also put the group together. He plays on every tune and MC's the show.
Apart from Sands and Salvant, members include Bria Skonberg on trumpet (who also sings briefly), Yasushi Nakamura on bass, Melissa Aldana on tenor sax, and Jamison Ross on drums and vocals. As noted, each member is given ample solo time and compositions by  many of the musicians are performed in the course of the evening.
I have already made my case that Salvant is a master vocalist (Arts Fuse review). In Boston she performed four songs: "I Can't Help It" by Betty Carter and three of her own compositions, "Fog," "Splendor," and "Moon Song." Her rendition of the Carter tune was swinging and convincing; reminiscent of the way Carter sang it in the earlier part of her career, though Salvant provided a few more baroque forays. The evening's tunes that were similar to "I Can't Help It" — straight swing with straight changes — brought out the best in trumpeter Skonberg's soloing. The piano solo by Sands in this song immediately showed off his skill with a wide range of styles. He has an impressive range of jazz keyboard techniques at this disposal, from stride to bop and beyond.
"Fog" and "Splendor" both featured very slow and quiet intros by Salvant, accompanied by Sands. They then moved into medium-up tempos. In both cases, the mood of the music fit the tune's dreamy lyrics quite well. "Fog" displayed the group's nuanced sensitivity to dynamics. This strength manifested throughout the evening, no matter how the group was configured.  "Splendor" proffered affecting solos by Skonberg and Sands. The arrangement for "Moonsong" initially gave us tenor player Aldana playing an adept a capella solo, a la Sonny Rollins. She then swung into a full sax solo chorus with the rhythm section, which led to Salvant's entrance. Bass and drums sat out and with this tune, Salvant probably established her most intimate connection with the audience.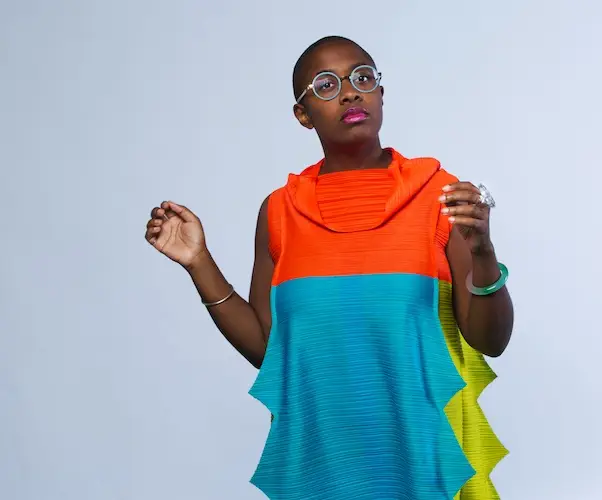 "Acceptance" was written by sax player Aldana. It features a fairly complicated line, played by sax and trumpet, mostly in a modal vein, with some harmonic variety. Along with each solo came a steady build by the rhythm section that pushed up the energy level of the tenor and piano soloists, which then subsided when the next soloist came along. Along the way, drummer Ross provided a very interesting variety of counter-rhythms that generally fell into the Latin category.
Ross then introduced a song of his own that he then sang, citing drummer/vocalist Grady Tate as his model. "Sack Full of Dreams" was very enjoyable. Ross has a solid, expressive, and pliable tenor voice that is filled with color and conviction. Nice background lines were provided by sax and muted trumpet while Nakamura soloed well on bass. The tune has a compelling structure; with contrasting sections that maintain the basic mood. The lyrics I would characterize as being questionably optimistic — the final section pays homage to "What a Wonderful World," a song made famous by Louis Armstrong.
Pianist Sands stepped out front to perform his version of an aria, "E lucevan le stele" from Puccini's Tosca, accompanied by bass and drums. Sands played the aria fairly straightforwardly at first, providing some ornamentation, then expanded his approach, building in more improvisatory content and intensity before returning to a quiet close. Ross used mallets on drums, a suitable dramatic backdrop. It was a intriguing departure in the evening's program.
Sands wrote "Oye Me," a fast Latin tune, in the wake of a trip to Cuba. Several trademark elements in the island's music are present — an ostinato in the bass along with locked hands and octave runs on the keyboard. Ross played a drum solo with enormous rhythmic variety but, unusual for drum solos these days, it never went outside the time. A romp.
"Yasugaloo," the final, pre-encore tune of the night, was written by bassist Nakamura. It's a bugaloo, in the lineage of Lee Morgan tunes such "Speedball" and "Sidewinder." It gave Nakamura a good opportunity to show off his chops  — and for the band to showcase its funky side. For its encore, the full group performed "Ghost of Our Long Lost Love," written by Salvant, which featured a beautiful two-part harmony sung by Salvant and Skonberg.
Some of the musicians in the group have played together before,some haven't. But, in putting this particular group together, Sands showed considerable prescience. The group has developed an unassailable sense of  'internal' communication that has blossomed into an invaluable flexibility regarding time and dynamics. Of course, Sands wasn't really taking all that much of a chance. When it comes to jazz, you can be pretty confident that, when you put excellent players together — whether they know each other or not — something very good will happen. And it did.
---
Steve Provizer is a brass player and bandleader who has been blogging about jazz for 15 years and written about the music for many publications.