By Jonathan Blumhofer
Anniversaries are both the bane and the lifeblood of the classical music industry as, for better or worse, three new box sets remind.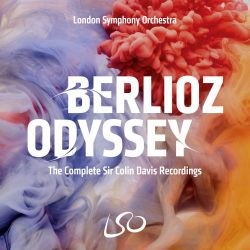 Twenty-nineteen marks the sesquicentennial of Hector Berlioz's death. Aside from providing an excuse for a spate of new and repackaged Berlioz recordings, does it matter? Not really: color me cynical, but we probably won't hear (or think of) Berlioz much differently in twelve months than we do now thanks to this year's commemoration.
Still, an early highlight of this anniversary is a pretty good one: LSO Live's Berlioz Odyssey, collecting under one roof (as it were) Sir Colin Davis's final recorded thoughts, taped between 2000 and 2013, on the visionary French composer. Davis documented all of this music earlier in his career; his first cycle of it with the London Symphony (LSO) dates from the 1960s and '70s and still packs a punch. This last one, even as it's got a few conspicuous omissions (no La mort de Cléopâtre or Symphonie funebre et triomphale, for instance), has aged rather well, too.
True, there are some misses. Davis's final Benvenuto Cellini here sounds rather discombobulated: the LSO plays with wondrous energy and dexterity (the Overture's brilliantly light on its feet), but the casting – led by Laura Claycomb's rhythmically limp Teresa and Gregory Kunde's worn-sounding Cellini – leaves something to be desired. Additionally, the LSO Chorus does itself no favors with its uneven execution of Berlioz's choral writing.
Similarly, there's nothing particularly special about Davis's Symphonie fantastique. Only the "Witches' Sabbath" consistently blazes to life. The rest veers from the dull (the opening of "Rêveries – Passions") to the adequate ("Scène aux champs") and in between; there's nothing approaching the excitement of Michael Tilson Thomas's near-contemporaneous account with the San Francisco Symphony.
That said, when Davis gets things to click, he's second-to-none.
His Roméo et Juliette is electrifying: focused, intense, and exciting in the Introduction, "Grand Fête chez Capulet," and Queen Mab Scherzo; intensely passionate in the "Scène d'amour"; noble and stirring in the first-part strophes and third-part "Convoi funebre." La damnation de Faust and Béatrice et Bénédict, despite some stodgy acoustics, are likewise first-rate: Michele Pertusi's Méphistophélès and Giuseppe Sabbatini's Faust are strongly etched in the former, while the latter's subtleties shimmer (like the mesmerizing account of Act 1's concluding "Nuit plaisible et sereine!").
The operatic crown jewel of this set is, without a doubt, Davis's stirring Les Troyens, which offers the same pacing and command of the musical drama you find in his classic 1969 account. The biggest advantage here is much-improved recorded sound. Otherwise, the LSO's still in faultless form and the cast's just as good as Vickers, Veasey, and Co. were, this time led by a prime-voiced Ben Heppner as Aeneas, Petra Lang tremendously intense Cassandre, and Michelle DeYoung's magnetic Didon.
Other highlights include a galvanic Harold in Italy (with Tabea Zimmermann) and invigorating traversals of Berlioz's three major sacred scores.
This L'Enfance du Christ is anchored, like Les Troyens, in a fine vocal cast (Yann Beuron, Kenneth Tarver, and Susan Gritton; the Tenebrae Choir) and Davis's strong understanding of the music's character: everything brims with personality and feeling. So does the Te Deum, a piece whose unpredictable turns of harmony and texture come over with winning brashness.
In the Grand messe de morts, the cavernous acoustic of St. Paul's Cathedral takes a bit of the rhythmic edge off of some of the work's biggest moments (notably, the explosive episodes in the "Dies irae" and "Lacrymosa"). But the score's epic scope is powerfully articulated, while its intimate and devotional moments (like the "Quaerens me" and "Hostias") come over strongly. Barry Banks sings his "Sanctus" solos beautifully, if from a bit of a distance.
While none of these recordings have been out of print, it's nice to get them all together in a single set. And, six years after Davis's death, this is a collection that, at its best, reminds of the conductor's formidable command of (and sympathy with) Berlioz's style.
---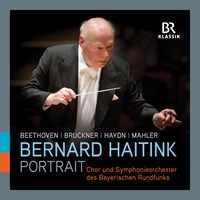 Then there's an 11-disc set from the Bavarian Radio Symphony Orchestra's (BRSO) label BR Klassik that commemorates Bernard Haitink's 90th birthday this year.
The best of what's here is very fine indeed. Haitink's Mahler is, by and large, superb. There are world-beating performances of the Third and Ninth Symphonies on offer – rhythmically tight, bracingly colored, expressively potent – and a very good one of the Fourth, as well (a too-laid back first movement being its only really detriment; soprano Juliane Banse's account of the finale is picture-perfect).
There's also a great Bruckner Sixth Symphony – taut, driven, never lacking direction or excitement – and a wonderful account of Haydn's Die Schöpfung: if ever you wanted proof that modern orchestras still own this score that seems to have lately veered into the domain of period ensembles, well, here it is.
At the same time, Haitink's propensity to be, if not exactly a pedestrian conductor, then a stolid, run-of-the-mill one, is also in evidence.
His interpretation of Beethoven's Missa solemnis is beautifully sung: the BRSO Chorus and a fine stable of soloists (Genia Kühmeier, Elisabeth Kulman, Mark Padmore, and Hanno Müller-Brachmann) aren't once thrown by Beethoven's challenging vocal writing. But too much of the reading feels deliberate and is lacking in the sense of mystery and/or wonder that the score demands. Only parts of the "Benedictus" and "Agnus Dei" reach above the commonplace; too much of the performance feels self-conscious and reminds you of the Missa's not-inconsiderable duration.
Similar problems dog Haitink's take of Bruckner's Fifth Symphony. Again, it's beautifully played (parts of the slow movement are downright sumptuous), but often stodgy and wanting for excitement. You'd likely never guess, from Haitink's shapeless, dull account of the finale, for instance, that this movement is one of the greatest things Bruckner wrote.
Haitink's account of Haydn's Die Jahreszeiten, the composer's often-chimerical sequel to Die Schöpfung, fares a bit better, but not so well as one might like. The soloists are excellent: Julie Kaufmann, Herbert Lippert, and Alan Titus, all in terrific voice. And the BRSO plays with character, if not with the same visceral thrill with which they imbue Die Schöpfung (the chorus of frogs and chirping birds at the end of "Summer" come across particularly nicely). The chorus, though, too often sounds like it's singing from a plaza outside the concert hall, distant and muffled, which is jarring and proves a major distraction.
Perhaps that owes more to the limitations of late-1990s recording technology (dating from 1997, this is the oldest recording included in the set). Or maybe something else was going on. Regardless, to have such an unevenly-engineered recording at the heart of this collection (and framed by some lackluster Beethoven and slack Bruckner), leaves a bit of a sour taste.
---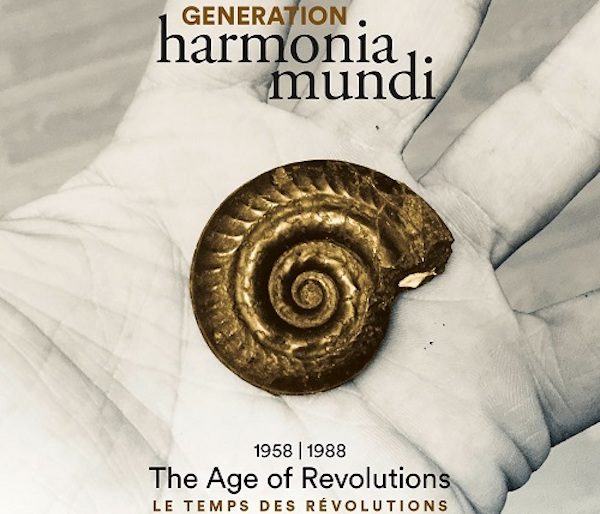 No such qualms mar Harmonia mundi's (HM) The Age of Revolutions, a 16-CD collection that (with the 18-disc The Family Spirit) marks the labels sixtieth birthday last year. Revolutions covers HM's first three decades, with recordings spanning 1958 to '88.
During those years, HM was the go-to label for the burgeoning historically-informed performance movement, gamely recording either hitherto unknown or forgotten repertoire (basically lots of music that predated, say, 1750). Appropriately, much of Revolutions commemorates this.
There are, for example, two discs devoted to organ music of the 16th– and 17th-centuries, which demonstrate both the expressive depths and stylistic riches of the era. Raw, spunky, athletic fare from Spain – works by the likes of Nicolas Gombert, Josquin Desprez, Francisco Soto de Langa, and Antonia de Cabézon – provide a striking contrast to Georg Muffat's majestic, Frankish toccatas.
Similarly, pieces by the Italian Girolamo Frescobaldi, with their gleaming textures and contrapuntal rigor, offer a lively foil to Johann Pachelbel's occasionally dour Germanic scores. (Though Pachelbel does come across here a far more interesting composer than his overfamiliar "Canon" might make him out to be: his Ciacona in F minor is lovely, the Ricercar in C minor's chromaticism is winsome, and the Partita on "Was Gott tut, das ist wohlgetan" is roundly charming). Helmut Winter play the Pachelbel selections emphatically, while René Saorgin's accounts of the remainder are warmly colored.
Vocal music figures prominently in the set. One disc is devoted to madrigals by Luca Marenzo and Carlo Gesualdo, as well as lute songs by Giulio Caccini, Ercole Bottrigari, and Claudio Monteverdi. Elsewhere are lute songs by John Dowland (affectingly sung by Alfred Deller).
So is theatrical music: there's a lively recording of Monteverdi's Il combattimento di Tancredi e Clorinda (featuring the Clemencic Consort and René Clemencic), as well as Henry Purcell's King Arthur (with Deller leading the Deller Consort and The King's Musick). Also to be found are excerpts from Pietro Antonio Cesti's Orontea and Jean-Baptiste Lully's Atys.
Sacred works by Schütz – the Kleine geistliche Konzerte & Symphoniae sacrae and Musikalische Exequien – Bach (a pert reading of the Magnificat and René Jacobs singing "Erbarme dich" from the St. Matthew Passion), Pergolesi (his Stabat Mater), and Marc-Antoine Charpentier (Te Deum) fill up much of the remainder of the Baroque selections in this series.
Among the instrumental fare from that period is Lully's lively incidental music from Le Bourgeois Gentilhomme (brilliantly played by the London Oboe Band and percussionist Marie-Ange Petit); La Simphonie du Marais' and Hugo Reyne's engaging account of selections from Michel-Richard de Lalande's Symphonies pour les Soupers du Roy; and a rich, weighty reading of Jean-Philippe Rameau's Les Indes galantes from Kenneth Gilbert.
When it comes to more recent eras, what HM has here is anything but predictable.
There's some Mozart, sure – but he's represented by his seven Sonatas for two violins, organ, cello & bass (who knew?): fine, lyrical pieces, all of them, lovingly played by the London Baroque. Beethoven's here, too, with his Eroica Symphony. Only it's in Liszt's slightly unwieldy piano transcription, gamely – if not entirely symphonically – rendered by Georges Pludermacher.
Franz Schobert (not to be confused with Schubert) turns up with his limpid, F-minor Piano Quartet. Ernest Chausson's Concerto for Violin, Piano, and String Quartet gets a grand and stirring outing, led by soloists Régis Pasquier and Jean-Claude Pennetier. Felicity Lott sings Victor Hugo settings by Gounod, Bizet, Delibes, Franck, and Fauré with sumptuous ease and floating tone. Additionally, Philippe Herreweghe leads a warm account of Fauré's Requiem and two sets of Brahms motets.
The 20th century is showcased by two of its harder-edged protagonists: Arnold Schoenberg and Luciano Berio. Claude Helffer's takes on four of the former's piano works are dry and, sometimes, droll (check out the op. 19 Six Pieces). Meanwhile, Berio's Laborintus 2 offers a mix of wild theatricality (speaker, three soloists, choir, and ensemble) and, in its employment of early electronic instruments, antiquated sonorities (its "Duxième partie" sounds a bit like the soundtrack to an Italian sci-fi film from the '50s).
Two further CDs – one devoted to music from Ancient Greece, Gaul, and the world of chant; the other focusing on world music – round out the box. The latter, with Djamchid Chemirani's hypnotic improvisations from Iran, realizations of early music from Spain, polyphonic Corsican songs, as well as songs from Italy, proves a cathartic closer. Especially in some of those Italian songs, which refer to earlier pieces and styles documented in this set, there's a strong sense of coming full circle across these sixteen albums.
More than that, if you take this cycle as a whole, there's a real feeling of interconnectedness between these disparate musics, styles, instrumentations, and whatnot. Surely, that wasn't HM's aim when the label began sixty years ago. But it's a pretty powerful legacy for the company to reflect upon, celebrate, and aspire to continue as it looks to its next six decades.
---
Jonathan Blumhofer is a composer and violist who has been active in the greater Boston area since 2004. His music has received numerous awards and been performed by various ensembles, including the American Composers Orchestra, Kiev Philharmonic, Camerata Chicago, Xanthos Ensemble, and Juventas New Music Group. Since receiving his doctorate from Boston University in 2010, Jon has taught at Clark University, Worcester Polytechnic Institute, and online for the University of Phoenix, in addition to writing music criticism for the Worcester Telegram & Gazette.