Arts Fuse critics select the best in film, dance, visual art, theater, music, and author events for the coming weeks.
By The Arts Fuse Staff
Film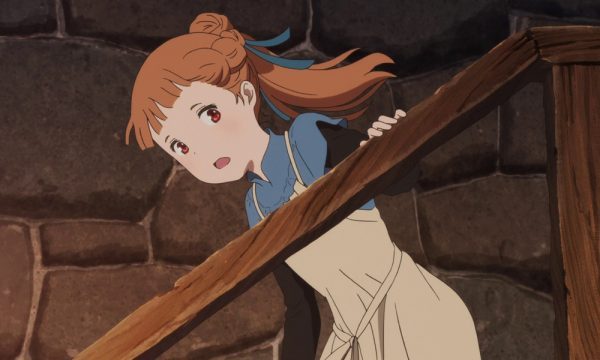 Festival of Films from Japan
Through February 28
The Museum of Fine Arts, Boston, MA
This year's lineup gives you another chance to see Hirokazu Kore-eda's brilliant film The Third Murder and his 2018 Cannes Festival winner Shoplifters. Also included in an excellent lineup are Masaaki Yuasa's animated adventure The Night Is Short, Mari Okada's anime Maquia, When the Promised Flower Blooms, about an immortal girl who has the power to weave her thoughts and emotions into fabric. Documentary subjects include prolific film composer Ryuichi Sakamoto, the top-selling female artist in the world, Yayoi Kusama, and the great filmmaker and animator, Hayao Miyazaki.
Down and Dirty in Gower Gulch: Poverty Row Films Preserved by UCLA
Through February 27
At the Museum of Fine Arts in Boston, MA
Despite their exceedingly low budgets, tight shooting schedules, cheesy sets, and over-the-top acting, the so-called "poverty row" films had a surprising degree of freedom to tackle controversial subject matter that the majors would not have touched. Arts Fuse Review of one of the films in the series, Edgar G. Ulmer's Damaged Lives. Complete Schedule
The Competition (La Concours)
February 25 at 7 p.m
At the Brattle Theater in Cambridge, MA
Director Claire Simon goes behind closed doors during the months-long admissions period at France's most selective film school, La Fémis, where thousands of hopefuls apply for only 40 available slots. The state-run institution, which teaches aspiring filmmakers their craft through hands-on training with working professionals, also turns to the latter to evaluate applicants. (Winner of the Best Documentary on Cinema Award at the Venice Film Festival.) Filmmaker Claire Simon will attend in person for discussion with local filmmaker Ross McElwee.
The Image Book
March 1 through 21
Museum of Fine Arts in Boston
The legendary Jean-Luc Godard adds to his influential, iconoclastic legacy with this provocative collage film essay, a vast ontological inquiry into the history of the moving image which also comments on the contemporary world. Winner of the first Special Palme d'Or. The issues the director raises have to do with the legacy of the last century and its horrors: the immensity of Hiroshima and Auschwitz, events that coincided with cinema but have somehow eluded its gaze, along with reflections on orientalism and the Arab world. Trailer.
It's Criminal
March 1 at 7 p.m.
BU Cinemateque at 640 Commonwealth Ave., Room 101
It's Criminal highlights the economic and social inequities that divide the United States, offering a vision of how separated communities can learn to speak to each other. Poignant and personal, the 80-minute feature documentary shares the life-changing journeys shared by incarcerated women and Dartmouth College students who were tasked with working together to write and perform an original play that explores the often painful and troubled paths that landed the women behind bars. The drama also shares some of their fragile visions for the future. Director Signe Taylor appears in person and promises some surprise special guests! Free and open to the public.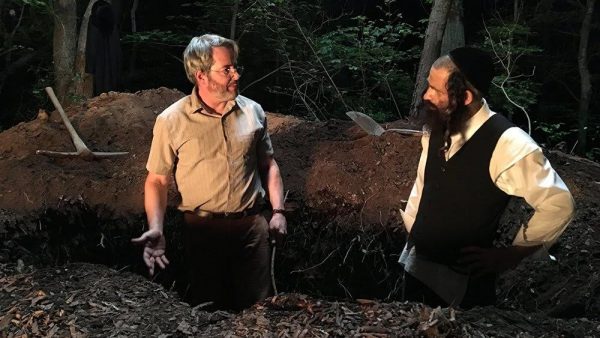 To Dust
March 3 at 2 p.m.
Coolidge Corner Theater in Brookline
Hasidic cantor in upstate New York, distraught by the untimely death of his wife, befriends a local community college biology professor (Matthew Broderick). The two embark on an increasingly literal quest into the underworld. Producers Alessandro Nivola and Emily Mortimer will appear in person for a Q&A after the 2 p.m. screening.
Of Fathers and Sons
March 11 at 7 p.m.
Brattle Theatre in Cambridge, MA
Winner of the World Cinema Grand Jury Prize Documentary at the Sundance Film Festival. Syrian direction Talal Derki returned to his homeland where he gained the trust of a radical Islamist family, sharing their daily life for over two years. His camera focuses mainly on the children, providing rare insight into what it means to grow up with a father whose only dream is to establish an Islamic Caliphate. The film captures the moment when the children have to let go of their youth and are finally turned into Jihadi fighters. No matter how close the war comes, they've already learned one thing: they must not cry. Arts Fuse interview with the director. Derki will attend via Skype for a post-screening discussion. Trailer.
2019 Oscar-Nominated Short Films
At the Institute of Contemporary Art in Boston
Through March 10.
The ICA presents a series of programs featuring short Oscar nominated films from all genres. Arts Fuse review of Documentary Shorts. Arts Fuse review of Animation Short. Arts Fuse review of Live Action Shorts.
Schedule of Screenings:
Sun, Feb 24, 3 p.m. | Live Action
Sat, Mar 2, 1 p.m. | Animation
Sat, Mar 2, 3 p.m. | Live Action
Sun, Mar 3, 1 p.m. | Documentary Program A
Sun, Mar 3, 3 p.m. | Documentary Program B
Sun, Mar 10, 1 p.m. | Animation
Sun, Mar 10, 3 p.m. | Live Action
— Tim Jackson
---
Jazz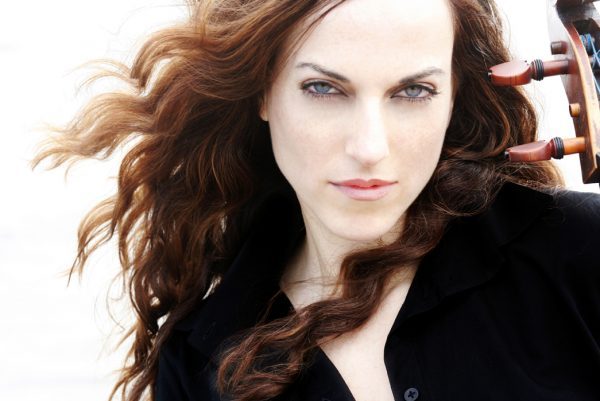 Maya Beiser (cello) and the Ambient Orchestra, playing Evan Ziporyn's cello concerto based on David Bowie's Blackstar at the Calderwood Hall at the Isabella Stewart Gardner Museum, on February 28 at 6 and 8 p.m.
Cello soloist Beiser is already an icon of sorts in the classical world, with a considerable rep as a technician and as a charismatic stage presence. Composer Ziporyn has bridged many cultural divides, and he's doing it again here, transforming material from David Bowie's final album into an orchestral piece and conducting the performance. He has reimagined the entire album, with some co-arranging help from another esteemed composer, Jamshied Sharifi.
The 34-person Ambient Orchestra includes players that Ziporyn describes as "some of Boston's best classical musicians" — trumpeter Jonah Kappraff, flutist Sarah Brady, cellist Leo Eguchi, and violinist Sasha Callahan — and includes "fantastic musicians from the Boston Conservatory's Contemporary Music Performance program." Beiser and Ziporyn performed the work several times last year — at MIT, in New York, and on a European tour — but that's all the more reason to hear it in this performance, since not too many ensembles get the chance to work on a big score repeatedly and season it over time. In addition, this show has a new element — "immersive multimedia (lyrics and images) specially designed for the performance by Harmonix Music Systems, the people who invented and developed Guitar Hero and Rock Band."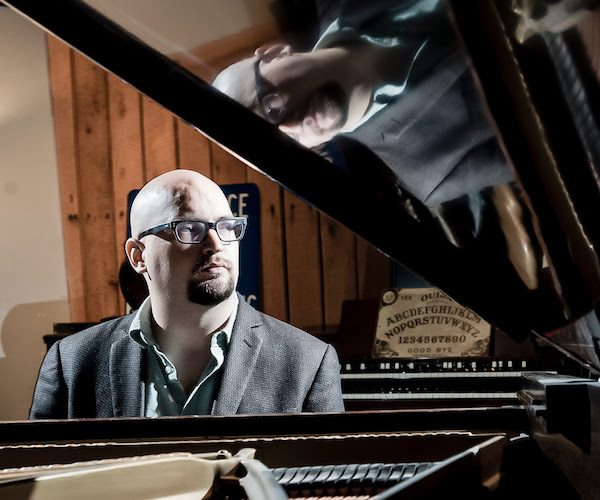 NEC Jazz Orchestra, led by Ken Schaphorst, featuring Ethan Iverson (p / arr), Bud Powell in the 21stCentury at Jordan Hall, Boston, on February 28, 7:30 p.m. FREE.
Never underestimate the student ensembles led by Ken Schaphorst, chair of NEC's Jazz Studies and Improvisation Department; their level of professionalism rivals that of the top young players anywhere. This concert spotlights new charts and solo work by pianist Ethan Iverson, who has arranged a great menu of compositions by bebop giant Powell, whose tunes still merit greater attention, even after more than half a century. Some of the tunes will be played by the big band (including "Celia," "Tempus Fugit," and "Un Poco Loco") and some by small ensembles (including "Glass Enclosure," "Wail," and "Dance of the Infidels"). Don't miss this rare chance to hear Bud's music in live performance.
Miguel Zenón (as), w. Luis Perdomo (p), Hans Glawischnig (b), Henry Cole (dm), at The Regattabar, Boston, MA, on March 7 at 7:30 p.m.
Saxophonist – composer Zenon is one of the most serious artists on the scene, which doesn't mean his performances lack any fire. This is guaranteed to be a night of thoughtful and exciting music.
— Steve Elman
Revolutionary Snake Ensemble with Alonzo Demetrius and Brian Richburg Jr.
Tuesday, March 5, 7:30 p.m.
Regattabar, Cambridge, MA
In what has become a welcome annual tradition, saxophonist Ken Field again brings his Somerville second line to the Regattabar for a blast of Mardi Gras phantasmagoria. The ensemble is joined this year by trumpeter Alonzo Demetrius and New Orleans drummer Brian Richburg Jr.
Aaron Goldberg Trio
Friday, March 8, 7:30 p.m.
Regattabar, Cambridge, MA
Pianist Aaron Goldberg reunites after two decades with the innovative colorist of the drum kit, Leon Parker. They'll be joined by bassist Matt Penman for what promises to be a memorable evening of subtle interplay.
Cyrille Aimée
Saturday, March 9, 8 & 10 p.m.
Scullers, Boston, MA
Sunday, March 10, 8 p.m.
Shalin Liu Performance Center, Rockport, MA
Aside from the ubiquitous "Send in the Clowns," jazz performers have perplexingly shied away from the music of Stephen Sondheim. Fortunately, French vocalist Cyrille Aimée has tackled this overlooked repertoire with a gem of a new album, Move On: A Sondheim Adventure. Taking this music on a road show (as it were), she'll make stops in Boston and Rockport with her excellent band.
— J. R. Carroll
---
Dance
arruquito
March 2 at 8 p.m.
Berklee Performance Center
Boston, MA
World Music/CRASHarts presents Farruquito — heir to Spain's legendary Farruco dynasty, and world-renowned flamenco dancer. Regarded as one of the truest representatives of flamenco puro and hailed by The New York Times as "one of the great flamenco dancers of this century," Farruquito's performances are authentic and viscerally dynamic. For this new self-titled program, he is joined by three singers, four musicians, and three additional guest dancers as he unveils his "most personal side."
Salomé: Woman of Valor
March 13 at 7:30 p.m.
Oberon, Cambridge, MA
The Jewish Arts Collaborative presents the U.S. premiere of Salomé: Woman of Valor, which combines video, dance, a live Jewish-Punjabi klezmer-bhangra music score by Grammy-awardee Frank London, and a libretto by spoken word artist/poet Adeena Karasick. The result is a rich multi-media experience. The culmination of a five-year collaboration between Karasick and London, Salomé aims to debunk the famed Oscar Wilde rendition of Salomé's story, which London and company believe amounts to a misogynistic and anti-Semitic interpretation. Instead, using ancient Jewish texts, Salomé: Woman of Valor strives to "recapture her rightful place in Jewish history as a powerful revolutionary matriarch." An artist talkback follows the performance.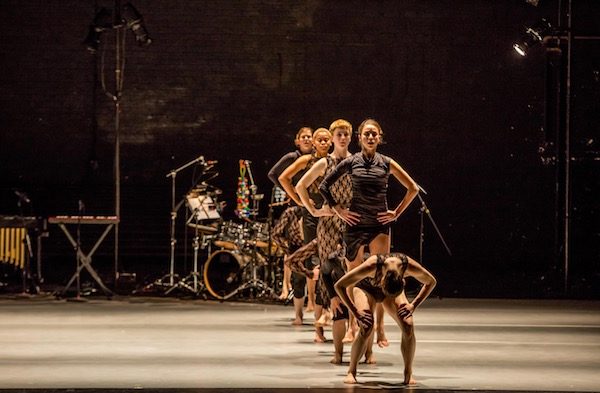 calling glenn
March 8 & 9 at 8 p.m.
The Institute of Contemporary Art/Boston
Boston, MA
Another World Music/CRASHarts presentation this month: the Boston debut of Ate9 Dance Company and its new work calling glenn, which features live music by Wilco percussionist Glenn Kotche. Led by Danielle Agami — an award-winning choreographer and former member of Israel's world-renowned Batsheva Dance Company — Ate9 hails from Los Angeles. calling glenn marks the company's first collaboration with Kotche. The result will be a captivating performance marked by physical and rhythmic precision.
— Merli V. Guerra
---
Visual Arts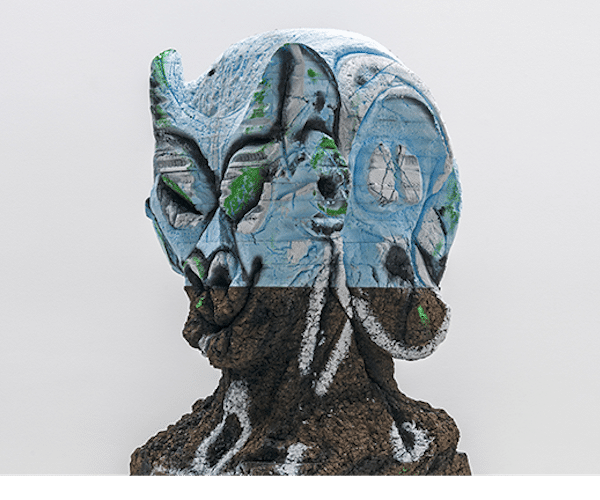 Huma Bhabha: They Live
At the ICA/Boston
Through December 3, 2019
Using styrofoam, bronze, bricks, wood, and various other found materials, Huma Bhabha transforms familiar materials into unsettling objects. Hybridity is a central theme in the artist's work, exploring the many expressive capabilities of the figure via a plethora of intersex, multi-ethnic forms. Animal, alien, and hybrid bodies suggest a post-apocalyptic existence; the grotesque forms take up themes such as war, religion, and memory. This retrospective is Bhabha's largest collection of work to date, occupying multiple rooms at the ICA and featuring nearly 50 works, including drawing, sculpture, and photography.
Magnus Johnstone: Larger Works & More
Nave Gallery
155 Powder House Blvd,
Somerville, MA
March 9 through 17
The works in this exhibit by the late Boston artist Magnus Johnstone have not been seen in the Boston area since the early '90s. The bright colors and undulating patterns in these mixed media paintings reflect the artist's bright personality and influential career. His work as a local DJ broke ground by featuring regional hip-hip artists and multi-cultural sounds. Driven by the music, as well as by such diverse influences as surrealism, sci-fi literature, and comic art of the '60s and '70s, Johnstone's psychedelic paintings present a dreamlike, futuristic world. All proceeds from the exhibit will go towards safely storing, maintaining, and promoting Johnstone's legacy.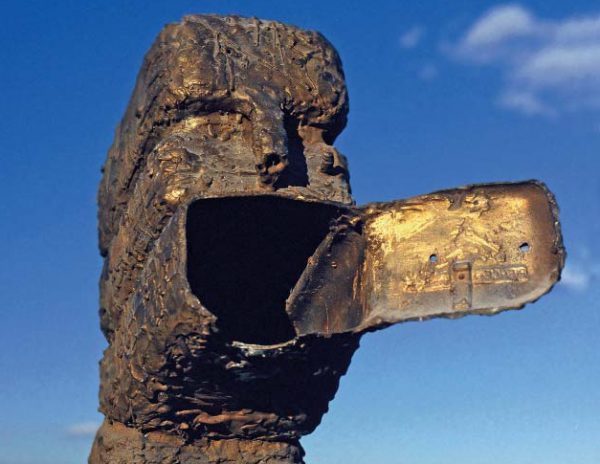 Konstantin Simun: The Sacred in the Profane
Museum of Russian Icons
203 Union Street
Clinton, MA
Through June 30
Seeing the sacred in the most mundane of materials, Konstantin Simun draws parallels between discarded consumer objects and religious icons. He was deeply affected by American consumer culture after he arrived (in 1988) in the U.S.; the Russian-born artist was fascinated with the colorful plethora of plastic strewn in city streets. Since then, Simun has worked primarily with this medium. Removing plastic containers and objects from the environments of their intended uses, he alters and presents them as elevated icons, asking us to consider the formal qualities of their molded forms, and questioning our criteria for determining the sacred from the profane.
Howardena Pindell: What Remains to Be Seen
Rose Art Museum
415 South Street, Waltham, MA
Through May 19
Featuring work that spans the artist's 50+ year career, this exhibition looks at the many styles, materials, and investigations of Howardena Pindell. Constantly challenging the tradition of painting in which she was trained, Pindell broke new ground in the art world both as a painter and a woman of color. Much of her work involves a simultaneous deconstruction and reconstruction of both materials and ideas, as she contemplates issues such as racism, feminism, equality, and exploitation. Also featuring work in film, photography, and performance, this exhibit is the most comprehensive retrospective of Pindell's career so far.
Recent Acquisitions: Photography and Abstraction
David Winton Bell Gallery, List Art Building
Brown University, 64 College Street, Providence, RI
Through May 26
Featuring such giants as Aaron Siskind, Marilyn Bridges, and Hiroshi Sugimoto, this collection showcases the beginnings of abstraction as a photographic style, alongside its contemporary expansions. Whether paring down a physical subject in pursuit of pure form, or manipulating materials in-camera, these photographers investigate methods of expression beyond representation. Part of a series of upcoming exhibits featuring Bell Gallery photo acquisitions, this collection promises to be an intriguing look at photo abstraction throughout Western history.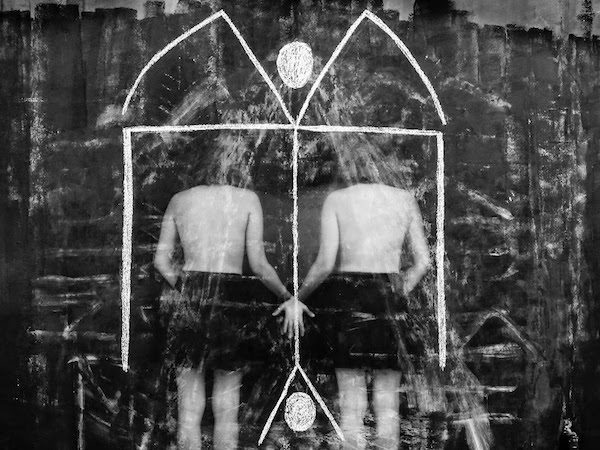 Looking Out, Looking In: Contemporary Artists from Morocco
Stone Gallery, Boston University Art Galleries
855 Commonwealth Avenue, Boston, MA
Through March 31
Bringing together seven Moroccan photographers and video artists, this exhibit hopes to generate discussion around such issues as truth, politics, and the subjectivity of seeing. The artists consider how Moroccan society is perceived by outsiders, internal issues between nation-states, political oppression, and the experience of viewing oneself through the lens of contemporary social issues.
The Bauhaus and Harvard
Harvard Art Museums
32 Quincy Street, Cambridge, MA
Through July 28
Just in time for the 100th anniversary of the Bauhaus school, this exhibit highlights significant connections between the school and Harvard University, which became the center for Bauhaus activity during the '30s. The works are drawn primarily from the Busch-Reisinger Museum collection (the largest Bauhaus collection outside of Germany); the collection began as a collaborative effort between artist and museum to preserve the legacy of the school. Highlighting over 70 artists, such as Anni and Josef Albers and Paul Klee, the exhibit presents artworks across many different mediums. Viewers are encouraged to attend the many events organized by Harvard in celebration of the Bauhaus centennial.
–- Rebekah Bonner
---
Roots and World Music
Busted Jug Band
March 1, 6 p.m.
Sally O'Brien's, Somerville MA
This spirited and good-humored fivesome revives both urban and rural music from the early 20th century with verve. Their new LP showcases blues, hillbilly, swing, and vaudeville from an era in which music meant entertainment. (The band was also kind enough to permit us to use their music in the Arts Fuse podcast!- Matt Hanson)
Mardi Gras Ball
March 2
ONCE Ballroom, Somerville MA
Shawn Wolf Wortis and his sprawling Legendary Vudu Krewe celebrates its 26th Mardi Gras bash with an all-star cast that will play Crescent City R&B all night. This year's revue includes the fine Boston soul man Leon Beal as well as Tom Kenny, the voice of Spongebob Squarepants and vintage rock aficionado. Proceeds go to Respond, which helps domestic violence victims.
Wall of Grass
March 9, 1 p.m.
Club Passim, Cambridge MA
Another all-star benefit takes place a week later as local percussionist Joe Donnelly revives his Wall of Grass project with proceeds going to the Animal Rescue League. At press time the list of local luminaries slated to take part exceeded 25.
Derek Gripper
March 9
First Parish Unitarian, Cambridge MA
Guitarist Gripper has created his own sound by transposing to the six-string guitar the intricate melodies of Malian kora music. After performing a widely praised solo show last year he returns with Congolese guitarist Jaja Bashengezi and Ugandan multi-instrumentalist Kinobe.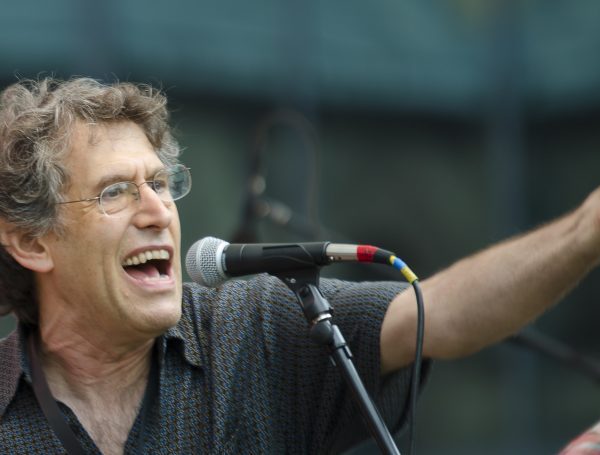 Klezmerpalooza
March 9 and 10
New England Conservatory, 255 St Botolph St. Boston MA
These days it's not hard to find a klezmer band leading joyful dancers at a Bar Mitzvah or Jewish wedding. But 40 years ago the music was nearly extinct. Then a group of New England Conservatory students and faculty held some klezmer jam sessions, and these played a major role in kickstarting a strong revival of Yiddish music. This weekend celebrates the NEC's role in the Klezmer resurrgence, starting with a Saturday night concert as well as Sunday workshops and, of course, a dance party. NEC's Contemporary Improvisation Department co-chair Hankus Netsky was there at the beginning and still leads the Klezmer Conservatory Band. He'll be at the helm, performing along with Nathaniel Seelen of Ezekiel's Wheels Klezmer Band, klezmer hot shot Michael Winograd, and many others.
— Noah Schaffer
Alt Fat Tuesday: Club Bohemia Style at the Lilypad, Cambridge, MA, on March 5 at 7 p.m.
Get ready to jump and shout! "Club Bohemia hits the road — actually just heading down the street — from their home base at the Cantab to celebrate Mardi Gras on a Club Bohemia "off-night." The other musical partygoers: Club Bohemia's hero Mickey Bliss, a true diehard fan of Fat Tuesday, will MC this rag tag bunch of Club Bohemia musical diehards: Dirty Water Brass Band, Lynne Taylor, and The Rollo Tomasi Quartet.
— Bill Marx
---
Theater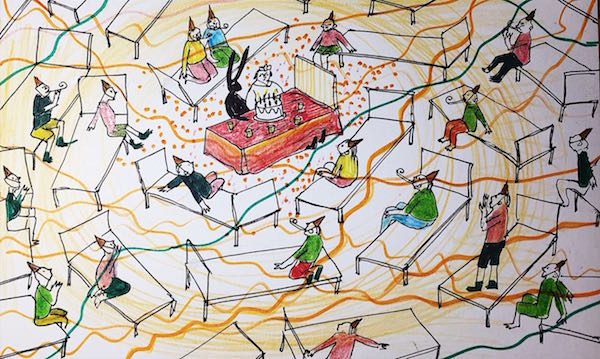 The Miraculous Journey of Edward Tulane, an original adaptation written and directed by Alexander Huh. Staged by the Arlekin Players at 368 Hillside Avenue, Needham, MA, through March 3.
"This unique production is presented in Russian and English simultaneously. The ability to love can either be a gift or a curse. What brings us together or prevents us from understanding each other? These are the challenging questions that our main character, a porcelain rabbit, will grapple with on his miraculous journey." Arts Fuse review
bare stage by Michael Walker. Directed by A. Nora Long. Presented by the Festival Theatre at the Plaza Theatre at the Boston Center for the Arts, 539 Tremont Street, Boston, MA, through March 2.
The world premiere of a play that deals with the bare facts. The script "enters on the difficulties and pressures faced by two young actresses when they are faced with the choice to accept roles with nudity in a Broadway-bound play, or not work. How will playing these roles affect their family, friends and lovers? Is the on-stage nudity powerful and critically necessary, or is it added just sensationalism tacked on to increase ticket sales? Censorship, artistic freedom, exploitation and body-shaming are called into question in this world-premiere drama presented without intermission." Note: There is brief nudity in the show. Anyone under 16 will not be admitted unless attended by an adult 21 or older.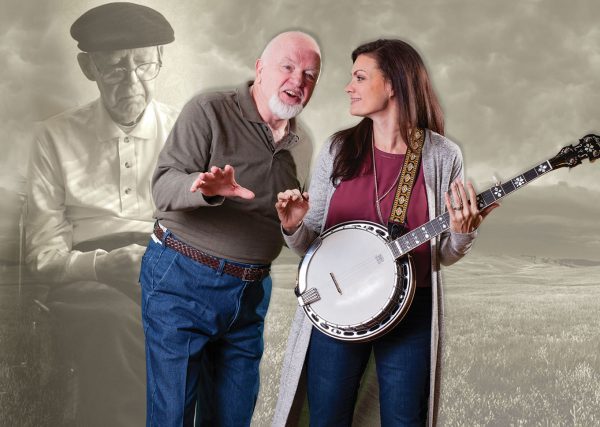 The Heath by Lauren Gunderson. Directed by Sean Daniels. Staged by the Merrimack Repertory Theatre at 50 East Merrimack Street, Lowell, MA, through March 10.
The world premiere of a new play with music about the dramatist's relationship with her grandfather. The production includes banjo, four original songs, and several traditional tunes. Arts Fuse review
Endlings by Celine Song. Directed by Sammi Cannold. At the Loeb Drama Center, 64 Brattle Street, Harvard Square, Cambridge, MA, through March 17.
A rare non-musical staged by the A.R.T. "On the Korean island of Man-Jae, three elderly haenyeos—sea women—spend their dying days diving into the ocean to harvest seafood. They have no heirs to their millennia-old way of life. Across the globe on the island of Manhattan, a Korean-Canadian playwright, twice an immigrant, spends her days wrestling with the expectation that she write "authentic" stories about her identity. But what, exactly, is her identity? And how can she write about it without selling her own skin?"
Red Bike by Caridad Svich. Directed by Kate Bergstrom. A National New Play Network Rolling World Premiere, staged by the Wilbury Theatre Group at Studio W, 40 Sonoma Court, ​Providence, RI, through March 3.
"A story of gentrification, hope, and resilience," the play "is the visually rich and highly kinetic story of changing cities and the fears we face on the precipice of the big wide world."
The Little Foxes by Lillian Hellman. Directed by Scott Edmiston. Staged by the Lyric Stage at 140 Clarendon Street, Copley Square, Boston, MA, through March 17.
A good time for a play about American rapacity run rampant. "Lillian Hellman's classic drama captures the riveting story of how a family's vicious pursuit of financial success destroys the American Dream. In the post-Civil War South, Regina Giddens and her scheming brothers, Oscar and Ben, want to partner on a business deal to exploit the poor and increase their already substantial wealth."
Laughs in Spanish by Alexis Scheer. Directed by Sara Katzoff. A BU New Play Initiative production, produced by Boston Playwrights' Theatre and the Boston University College of Fine Arts at the Boston Playwrights' Theatre, 949 Commonwealth Avenue, Boston, MA Boston, MA, through March 3.
"Set in Miami's Wynwood Arts District—known for its galleries, murals, craft breweries and bistro," the script "centers on the relationship between gallery owner Mariana and her movie-star mother Estella…with the pandemonium of the annual international art fair Art Basel as the backdrop."
Still Standing, written and performed by Anita Hollander. Staged by New Repertory Theatre in the BlackBox Theater at the Mosesian Center for the Arts, 321 Arsenal Street, Watertown, MA, through March 3.
"Anita Hollander lost her leg to cancer in 1977. Still Standing details her story from diagnosis to the very moment of performance. Her leg will not grow back, but her mind, spirit and soul have grown to more than compensate. With songs, wit, understatement, great dollops of humor, but not a smidgen of self-pity, Hollander reaches out to every member of the audience."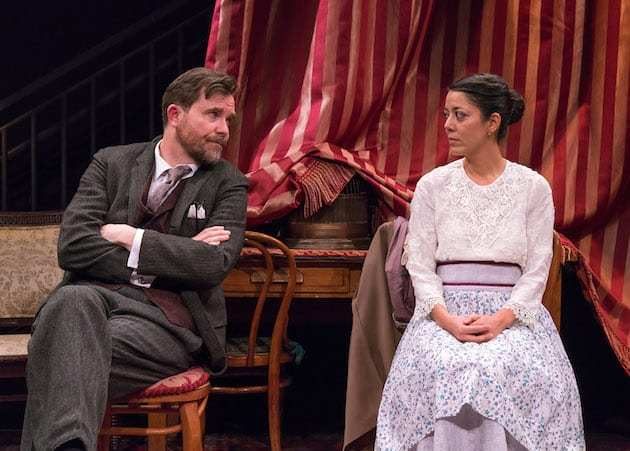 Bedlam's Pygmalion by George Bernard Shaw. Directed by Eric Tucker. The Bedlam production presented by the Underground Railway Theatre at Central Square Theatre, Cambridge, MA, through March 3.
The always imaginative Bedlam, who delivered a powerhouse Saint Joan a few years ago, comes into town with its adaptation of another GBS milestone. "The production brings Eliza Doolittle, Professor Higgins (performed by Tucker), and a cast of characters to life with just six actors. Immerse yourself in this gritty, fresh interpretation of George Bernard Shaw's classic, exploring the negotiation of power through sexual politics." Arts Fuse review
Birdy, adapted by Naomi Wallace from the novel by William Wharton. Directed by Steven Maler. Staged by Commonwealth Shakespeare Company at the Carling-Sorenson Theater, Babson College, Wellesley, MA, February 27 through March 17.
The script "examines the effects of war on young lives, a topic that is just as relevant today as it was decades ago. The story also offers hope in the possibility of powerful friendships to heal the psychological wounds of war after the physical wounds have healed."
Romeo and Juliet by William Shakespeare. Directed by Peter DuBois. Staged by the Huntington Theatre Company at the Avenue of the Arts / Huntington Avenue Theatre (264 Huntington Avenue, Boston), March 1 through 31.
"Impassioned young lovers are caught between the violence and intolerance of their feuding families in one of Shakespeare's most famous plays, Romeo and Juliet. A tale that shifts blame between fate and collective responsibility, Romeo and Juliet illuminates the consequences of reckless love and reckless hate in this pop-centric, contemporary production that pairs Shakespearean verse with modern design, themes, fashion, and music."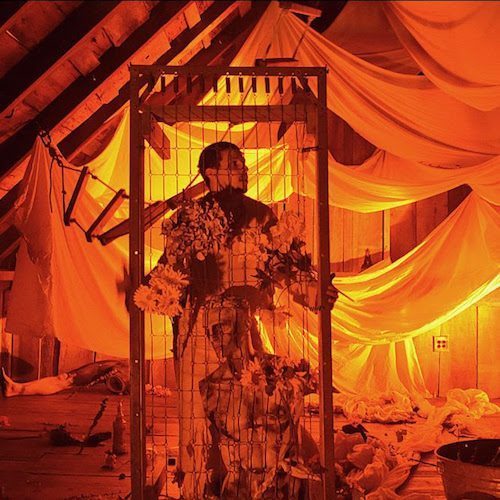 SUGA, conceived, created, and performed by Travis Coe. Directed by Stacy Klein. Presented by Double Edge Theatre at 948 Conway Rd, Ashfield, MA, March 6 through 10.
This solo performance piece is "an investigation of freedom, and the bounds—personal, artistic, societal, and political—one must break through to achieve that end. As a caretaker of a museum of memory, Coe touches/reveals/remixes all the aspects of himself—as Queer, Black, Latino, and American, to find the path to sing, fly, run – toward Freedom."
Once, book by Enda Walsh, and music and lyrics by Glen Hansard and Markéta Irglová. Directed by Paul Melone. Staged by SpeakEasy Stage Company in the Roberts Studio Theatre in the Stanford Calderwood Pavilion at the Boston Center for the Arts, 527 Tremont St., Boston, MA, March 1 through 30.
The Boston regional theatre premiere of the Tony Award-winning musical, which "employs an exceptional ensemble of actor/musicians to tell the story of an unlikely romance between a down-on-his-luck Dublin street musician and a determined Czech immigrant who inspires him to dream."
— Bill Marx
---
Classical Music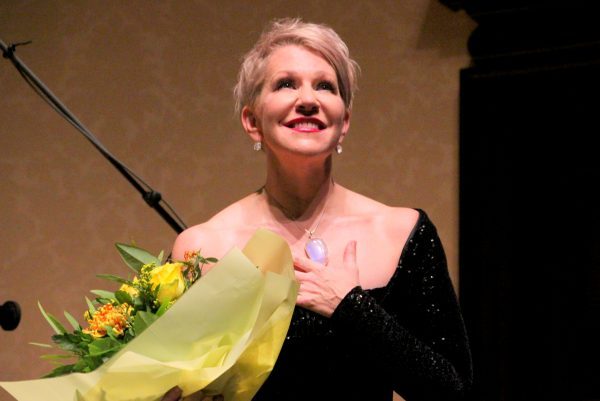 Joyce DiDonato, mezzo-soprano: SONGPLAY
March 1 at 8 p.m.
At Jordan Hall/New England Conservatory, 30 Gainsborough Street, Boston, MA
The singer is "a proud Kansan, a fierce arts advocate, a charismatic social media standout (follow her @JoyceDiDonato), and one of the most exciting and sought-after stars in opera, bringing fire and intelligence to Baroque, bel canto, and contemporary heroines. For her much-anticipated Boston recital debut, she and her five-piece ensemble will perform a broad range of improvisation-forward musical styles – ranging from Italian old-style art songs to jazz."
Esther: A Hebrew-Language Oratorio for Soloists, Chamber Chorus, and Orchestra
March 2 at 7 p.m.
At Emmanuel Church, 15 Newbury Street, Boston, MA
March 3 at 4 p.m.
At Temple Beth Elohim, 10 Bethel Road, Wellesley, MA
MIRYAM presents the East Coast premiere "of a stunning baroque oratorio written for the Jewish Community of Amsterdam in 1774. It was lost for centuries," and now it is being performed in Boston. "Cristiano Giuseppe Lidarti's oratorio tells the biblical story of how Queen Esther rescued the Jews of Persia from King Ahasuerus (Xerxes) and his scheming advisor, Haman."
John Rutter's "Gloria" and American and British music for chorus, brass, and organ
March 3 at 3 p.m.
At the Old South Church, 645 Boylston Street, Boston, MA
Join Masterworks Chorale for John Rutter's exuberant Gloria and other works by American and British composers for chorus, brass, and organ. The concert features organist Ross Wood and the music of Henry Purcell, Ralph Vaughan Williams, Hubert Parry, Charles Villiers Stanford, Randall Thompson, Dominick Argento, and Steven Sametz.
Rachmaninoff: Vespers
March 9 at 8 p.m.
At St. Paul's Church, Cambridge, 29 Mt. Auburn Street, Cambridge, MA
Back Bay Chorale presents "a masterwork of the rich choral tradition of the Russian Orthodox Church Rachmaninoff's a capella "All-Night Vigil" is a soul-stirring portrayal of intense devotion.
Missa Prolationum: Ockeghem@600, Concert 9
March 9 at 8 p.m.
First Church in Cambridge, Congregational, 11 Garden Street, Cambridge, MA
Blue Heron continues its Ockeghem series "with one of his most celebrated works, the astoundingly complex yet captivatingly beautiful Missa Prolationum, constructed (like Bach's Goldberg Variations) as a series of canons at different intervals—but Ockeghem's are double canons, in which four sung parts are generated from two written ones."
An Evening of Brahms
March 9 at 8 p.m. and March 10 at 3 p.m.
First Baptist Church in Newton, 848 Beacon Street, Newton Center, Newton, MA
The New Philharmonia Orchestra presents an all-Brahms evening: Piano Concerto No. 1 (with Michael Lewin, piano soloist) and Symphony No. 4.
— Susan Miron
From Bruckner to the Moon
Presented by New England Philharmonic
March 2, 8 p.m.
Tsai Performance Center, Boston, MA
Richard Pittman and the NEP play Anton Bruckner's Symphony no. 3 in, essentially, a new version – thirty-eight measures in the finale have, evidently, never been played before. Before the Bruckner comes Francis Poulenc's brilliant Concerto for Two Pianos and Orchestra and Melinda Wagner's Proceed, Moon.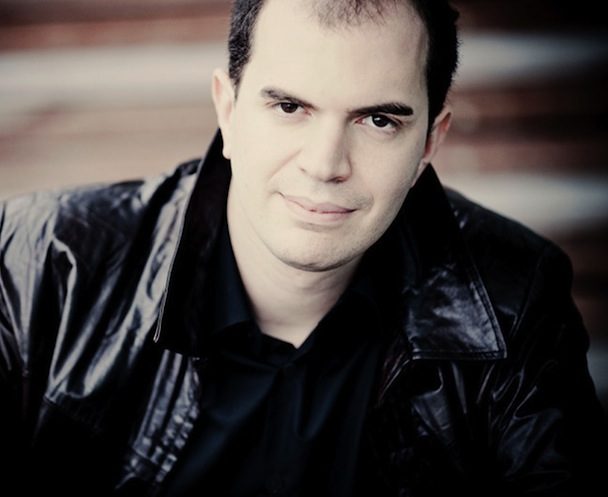 Thomas Adès' Piano Concerto
Presented by Boston Symphony Orchestra
March 7-9, 8 p.m. (1:30 p.m. on Friday)
Symphony Hall, Boston, MA
The BSO's artistic partner leads the world premiere of his Piano Concerto, along with works by Liszt and Tchaikovsky. Kirill Gerstein, who requested the piece from Adès, is the soloist.
Patrick Greene's Druddigon
Presented by Boston Musica Viva
March 10, 3 p.m.
Tsai Performance Center, Boston, MA
BMV's annual Family Concert features the world premiere of Greene's new ballet plus a repeat performance of Hale Smith's Ayobami and a pair of new bagatelles for the ensemble by Bernard Hoffer and Andy Vores.
Britten's The Rape of Lucretia
Presented by Boston Lyric Opera
March 11-17, 7:30 p.m. (5 p.m. on Sunday)
Artists for Humanity EpiCenter, Boston, MA
BLO presents Sarna Lapine's production of Britten's 1946 tragic chamber opera. Kelley O'Connor sings the title role, David Angus conducts.
— Jonathan Blumhofer
---
Author Events
Sandor Jaszberenyi
In Conversation with William Pierce
The Most Beautiful Night of the Soul
February 26 at 7 p.m.
Brookline Booksmith, Coolidge Corner MA
Free
"Set mostly in contemporary Cairo and Iraq, as well as Israel, London, and Hungary, these twelve short stories are a staggering follow-up to those in the acclaimed collection The Devil Is a Black Dog by leading Hungarian writer/photojournalist Sándor Jászberényi. Told from the perspective of Cairo-based European war correspondent Daniel Marosh, The Most Beautiful Night of the Soul is, above all, about a journalist examining some of today's most pressing Middle East conflicts and the lives of others even while forced to question his own assumptions and haunted by his own demons."
Shing-Tung Yau and Steve Nadis
The Shape of a Life: One Mathematician's Search for the Universe's Hidden Geometry
February 26 at 7 p.m.
Harvard Book Store, Cambridge MA
Free
"Harvard geometer and Fields medalist Shing-Tung Yau has provided a mathematical foundation for string theory, offered new insights into black holes, and mathematically demonstrated the stability of our universe. In this autobiography, Yau reflects on his improbable journey to becoming one of the world's most distinguished mathematicians. Beginning with an impoverished childhood in China and Hong Kong, Yau takes readers through his doctoral studies at Berkeley during the height of the Vietnam War protests, his Fields Medal–winning proof of the Calabi conjecture, his return to China, and his pioneering work in geometric analysis."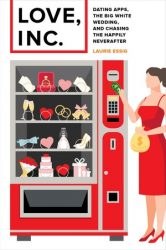 Laurie Essig
Love, Inc: Dating Apps, the Big White Wedding, and Chasing the Happily Neverafter
March 4 at 7 p.m.
Porter Square Books, Cambridge MA
Free
"The notion of 'happily ever after' has been ingrained in many of us since childhood–meet someone, date, have the big white wedding, and enjoy your well-deserved future. But why do we buy into this idea? Is love really all we need? Author Laurie Essig invites us to flip this concept of romance on its head and see it for what it really is — an ideology that we desperately cling to as a way to cope with the fact that we believe we cannot control or affect the societal, economic, and political structures around us."
Tina Cassidy
Mr. President, How Long Must We Wait?: Alice Paul, Woodrow Wilson, and the Fight for the Right to Vote
March 5 at 7 p.m.
Brookline Booksmith, Coolidge Corner MA
Free
"An eye-opening, inspiring, and timely account of the complex relationship between notable suffragist Alice Paul and President Woodrow Wilson in Alice's fight for women's equality. From solitary confinement, hunger strikes, and mental institutions to sitting right across from President Wilson, Mr. President, How Long Must We Wait? reveals the inspiring, near-death journey it took, spearheaded in no small part by Paul's leadership, to grant women the right to vote in America."
Patrick Radden Keefe
Say Nothing: A True Story of Murder and Memory in Northern Ireland
March 8 at 7 p.m.
Harvard Book Store, Cambridge MA
Free
"Patrick Radden Keefe's mesmerizing book on the bitter conflict in Northern Ireland and its aftermath uses the McConville case as a starting point for the tale of a society wracked by a violent guerrilla war, a war whose consequences have never been reckoned with. The brutal violence seared not only people like the McConville children, but also I.R.A. members embittered by a peace that fell far short of the goal of a united Ireland, and left them wondering whether the killings they committed were not justified acts of war, but simple murders."
Whitney Scharer
The Age of Light: A Novel
March 12 at 7 p.m.
Newtonville Books, West Newton MA
Free
"Lee's journey takes us from the cabarets of bohemian Paris to the battlefields of war-torn Europe during WWII, from discovering radical new photography techniques to documenting the liberation of the concentration camps as one of the first female war correspondents. Through it all, Lee must grapple with the question of whether it's possible to reconcile romantic desire with artistic ambition-and what she will have to sacrifice to do so."
— Matt Hanson
---
Rock, Pop, and Folk
Deerhunter with Mary Lattimore
February 24 (doors at 7, show at 8)
Royale, Boston, MA
Deerhunter's eighth album since 2004 (click here for Austen R. Walsh's Arts Fuse review of 2013's Monomania) shows that Bradford Cox has avoided becoming either stale and predictable or enjoyable but a tad too familiar. Rather, he continues to find new ways to stimulate, disturb, and impress. On Why Hasn't Everything Already Disappeared?, which came out on January 18, the psychedelic-folk of songs like the Belle & Sebastian-esque What Happens to People? and Futurism is reinforced by Cox's Donovan-esque vocals. Elsewhere, he employs dance beats ("Futurism" and "Plains"), laments the environment with a seemingly pointed reference to "orange clouds" ("Elemental"), and provides a bouncy musical backdrop to the lyrics "They were in hills/They were in factories/They are in graves now" ("Death in the Midsummer"). (And oh yeah, don't let his singing on "Nocture" make you think that you received a defective copy.) If all of this sounds good, and I assure you that it is, make your way over to 279 Tremont St. on February 24 to celebrate Cox's entire catalog at Royale.
The Beths and Bad Bad Hats
February 28 (doors at 8, show at 9)
Brighton Music Hall, Allston, MA
This Thursday night co-headlining show at Brighton Music Hall includes one band that I have heard of and one that I haven't. Still, The Beths would be reason enough for me to be there. Although I did not list my favorite albums of 2018 in the order of how much I liked them, the New Zealand trio's Future Me Hates Me would definitely be in the top tier if I had. Having just given a quick listen to Bad Bad Hats' album Lightning Round, I cannot say for sure that it would have been among my 2018 faves. However, they and The Beths should definitely sound great when the one plays right after the other.
The Monochrome Set with The Very and The Milling Gowns
March 1 (doors 7:30, show at 8)
ONCE Ballroom, Somerville, MA
Guitarist Lester Square (not his real name) was a member of The Ants for a very brief time before they became the early '80s icons Adam & the Ants. He later formed The Monochrome Set with vocalist Ganesh "Bid" Seshardi. The band released four albums of taut, wiry new wave between 1980 and 1985, distinguished by Bid's Lou Reed/Jonathan Richman-esque vocals. Square left after the 1982 genre classic Eligible Bachelors, and the band split shortly after the release of The Lost Weekend in 1985. After reuniting and recording five more albums in the 1990s, the band broke up again before Bid, Square, and original bassist Andy Warren got back together in 2010. Square left after 2015's Spaces Everywhere, but the Monochrome Set's output during this decade — which includes 2018's Maisieworld — sufficiently constitutes a creative resuscitation. On Friday, Bid, Warren, keyboardist John Paul Moran, and drummer Mike Slocombe will play their first US date in five years at ONCE Ballroom. (Two Boston bands will open, so get there in time to support local musicians.)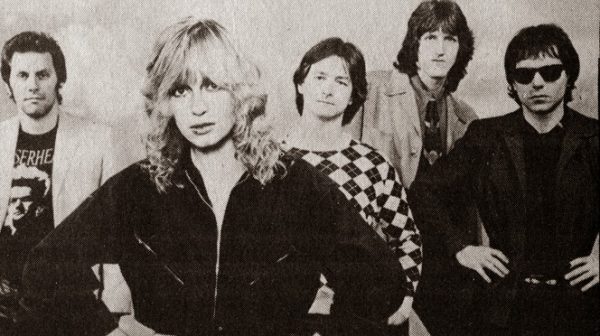 Robin Lane & The Chartbusters
March 3 (show at 4; March 2 show is sold out)
The Burren, Somerville, MA
March 1 will see the release of Many Years Ago: The Complete Robin Lane & The Chartbusters Collection. The 3-CD set will contain remastered versions of the two LPs and one EP that the Boston band recorded in the early '80s as well as more than 25 previously unavailable recordings. To celebrate, the band — which includes drummer, Arts Fuse film critic, and Robin Lane documentarian Tim Jackson — will do an in-store appearance at Newbury Comics (Newbury Street) on Friday and play two shows in the Burren Backroom on Saturday night and Sunday afternoon.
A Bowie Celebration: The David Bowie Alumni Tour
March 3 (show at 8)
The Wilbur, Boston, MA
Nothing can replace David Bowie the singer and performer. But if his songs are to be faithfully replicated live, who better than a group of musicians who — among the lot of them — toured with Bowie as early as 1972 and as recently as 2004 and played on albums released between 1973 and 2013? That is what the David Bowie Alumni Tour offers: Bowie accompanists Mike Garson (keyboards), Earl Slick (guitar), Gerry Leonard (guitar), and Carmine Rojas (bass) all on stage together — joined by drummer Lee John and singers such as Corey Glove and Bernard Fowler — to perform Bowie's hits, fan favorites, and deep cuts. Join in the celebration at The Wilbur on March 3.
Mike Krol with Savak and earthquake party!
March 4 (doors at 8:30, show at 9:15)
Great Scott, Allston, MA
Milwaukee-born singer and guitarist Mike Krol's cool is more akin to Weezer's RIvers Cuomo than Julian Casablancas of The Strokes. On his appropriately title new album, Power Chords, Krol successfully melds the crunchy guitars of the former with the highly distorted vocals of the latter and adds lyrics that reflect his peculiar worldview. The result is what is probably the best of the four releases that he has put out on Merge Records since 2011. Most of Krol's songs clock in at less than three minutes (and frequently less than two), so attendees of his Monday night show at Great Scott can probably expect to be treated to a generous amount of his catalog. (Boston's earthquake party! will be the first of the evening's two opening acts.)
— Blake Maddux