By Tim Jackson
Despite the soap opera details, Everybody Knows never becomes implausible.
Everybody Knows, directed by Asghar Farhadi. Screening at the Kendall Square Cinema, beginning on February 14.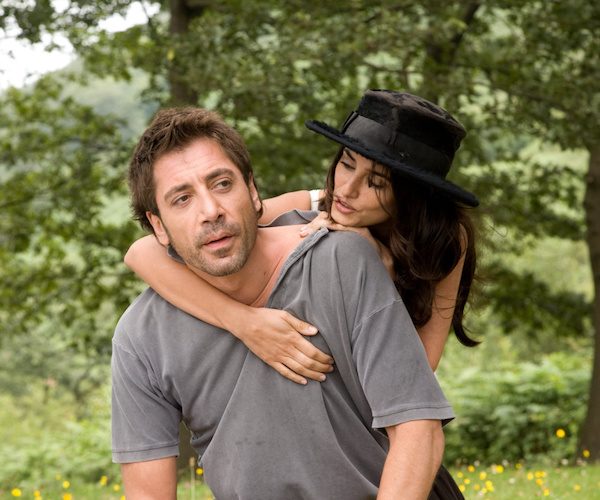 The films of Asghar Farhadi, About Elly and the award-winning Salesman and A Separation, push against the constraints of Iranian society by digging beneath its surfaces, building suspense through the slow revelation of details about the ambiguous backgrounds and motivations of his characters. In his most recent film, Everybody Knows, he is aiming at a broader global audience. It is set in Spain, near Madrid, features Javier Bardem and Penélope Cruz, and takes the form of  a domestic detective story. The director spent weeks in Spain learning the language and soaking up the culture before shooting.
Laura (Cruz), with her young son and teenage daughter, has returned to her hometown from Argentina for a family wedding. Her husband Alejandro, played by Argentine actor Ricardo Darín (Wild Tales), has stayed in the area for reasons that are not clear. The daughter goes on to have a flirtatious relationship with the nephew of Paco (Bardem), a local vineyard owner. The early wedding scenes are full of convivial singing, dancing, and drinking. A video drone circles above, filming the party. Yet there is a sense of unease that becomes increasingly foreboding. The daughter, suddenly feeling queasy, goes upstairs to lie down. Laura goes to check on her and finds that she is gone. In her place there's a clipping from an earlier news story about a young girl's kidnapping, ransom, and murder.  A cellphone text message arrives: "Don't contact the police or we will kill the girl."  It is decided to not go to the police — family members are questioned. It turns out that, in the past, Paco had been Laura's lover. His vineyards were once owned by Laura's family, which for her aging and alcoholic father has been a long standing source of resentment.
I am not dishing out spoilers. Much more is revealed about past relationships and grudges in Everyone Knows. None of the twists feel overly melodramatic — though there are enough to fill a mini-series. Family members question one another, listen to town gossip, carefully survey the drone wedding footage, and seek the advice of a retired detective, who raises questions about possible motives. Why did the girl's father stay at home? Who knew that Laura and Paco had been lovers? What were believed to be secrets may have been common knowledge in this small town.
Of course, the title is a teaser — "Everybody Knows." Interestingly, according to the director, the film's original title was "Nobody Knows." Who knows what about who heightens our curiosity as tension inevitably rises and the stakes become higher. The kidnapped daughter has asthma and is without her medication. Time to rescue her grows short and, despite what the kidnappers might think, no one has the money for a ransom. The kidnappers' demands come by phone text which, inexplicably, go to Laura as well as Paco. Why? Paco tries to do everything he can to help, hampered by the complication that everyone suspects everyone else. Why is Paco is so invested in the rescue of his former lover's daughter. Could the crime be a family affair? Are these (perhaps) the same criminals who kidnapped the girl in the clipping? Who is scamming who? And how long with it take before repressed anger, frustration, and despair take over?
Everybody Knows is more of a straight thriller than Farhadi's previous films, but an excellent cast and a well-constructed story serves the genre well. The director relies on extension improvisation with actors during rehearses in order to establish a strong sense of backstory and relationship. As a result, cast members have created a connection to one another and to the world of the story. The quietest scenes have an insinuating tingle. Bardem and Cruz, who are real-life husband and wife, are charming actors, convincing as ordinary people thrown into desperate situations that test their integrity and honor. Despite the soap opera details, the story never becomes implausible. The narrative withholds information, hints at facts, and slowly divulges personal details that push the plot forward. The film's final twists may or may not come as a surprise — but the story is not neatly wrapped up. Farhadi is too good a storyteller not to leave us with plenty to unravel for ourselves.
---
Tim Jackson was an assistant professor of Digital Film and Video for 20 years. His music career in Boston began in the 1970s and includes some 20 groups, recordings, national and international tours, and contributions to film soundtracks. He studied theater and English as an undergraduate, and has also has worked helter skelter as an actor and member of SAG and AFTRA since the 1980s. He has directed three feature documentaries: Chaos and Order: Making American Theater about the American Repertory Theater; Radical Jesters, which profiles the practices of 11 interventionist artists and agit-prop performance groups; When Things Go Wrong: The Robin Lane Story, and the short film The American Gurner. He is a member of the Boston Society of Film Critics. You can read more of his work on his blog.