By Marcia B. Siegel
I thought I'd never seen such a thrilling example of how dance and music can combine and feed each other.
Dorrance Dance, sponsored by World Music/CRASHarts at the Emerson/Cutler Majestic Theater, Boston, MA,  January 19 and 20.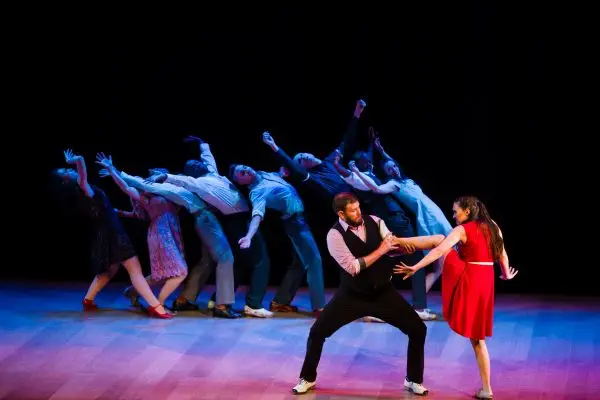 Toward the end of Dorrance Dance's performance last weekend, the ensemble of eight dancers and five musicians were charging away, trading and embellishing riffs, passing the phrase from one to another, coming together to land on downbeats. I thought I'd never seen such a thrilling example of how dance and music can combine and feed each other.
Michelle Dorrance and company returned to Boston with a show comprised of two brief works and an expanded version of Myelination, the seeds of which they showed at the Emerson two years ago. The two short pieces, Jungle Blues (2012) and Three to One (2011), served to introduce the company and their surprising tap strategies. Dorrance herself wields the tap idiom in a personal way; she also encourages the company members to perform their own dances and music. So each piece is a kind of dance show of its own: specialty numbers alternating with choruses and few stops in between.
Jungle Blues looks kind of conventional, with unison lines and duets. But Dorrance's group pieces don't look like showbiz chorus lines. There's nothing about specific characters or incidents, but all the dancers have their own styles, clothes, hairdos. To Jelly Roll Morton's 1920s jazz, you get a generous dose of rhythm tap, standard fast, individualized footwork, with nonstandard slides, falls, suspensions, and other variations on the music. And Dorrance makes the lines move horizontally across the stage, only occasionally turning to show off by facing the audience.
Three to One begins with a dramatic blackout. A low shaft of light picks out three pairs of legs and feet, one pair in tap shoes and two pairs bare: Dorrance, flanked by Byron Tittle and Matthew "Megawatt" West. They all wear black quasi-romper suits, with short bottoms and shoulderless tops. At first there's silence; then you hear a quiet ticking, some soft plucking sounds, a kalimba, then a xylophone. The trio foot-dances in place, pinned down by the slice of side light. The men leave and the sound becomes a low thrumming and a man's voice crooning words I can't make out. In full stage light, Dorrance accompanies it with intricate tapping that modulates from fast to slow, loud to soft, without hesitations in between. After a few minutes she retreats upstage and disappears as the lights go down.
With no intermission, the program continued into Myelination. It opens on a reprise of the legs-in-the-spotlight effect, accompanied by a steady low drumbeat, like a heartbeat. When the other dancers appear, the tempo speeds them into a unison number. A stream of varied exhibition numbers is led off by two break dancers, Ephrat Asherie and Matthew "Megawatt" West. Working mainly on the floor, they could be engaging in a combative, changeable romance, but their dancing is angular, tight, and made of rapidly changing shapes. Not much adapted to embracing.
I think Dorrance would like to add some interpersonal drama to the essentially presentational feeling of tap. Warren Craft, with shaven head and a black suit, does a long tap solo with expressionistic overtones against a red-lit background and ominous shadows. His hands curve up in plaintive gestures, his upper body curls and twists and reaches. He ends tensely crouched just above the floor. He looks like an old-fashioned modern dancer. Asherie has joined him by the end, but they're so different there's no telling what they mean to each other. After the red lights dim, Craft is standing in near-darkness and someone hands him a guitar; he joins the band.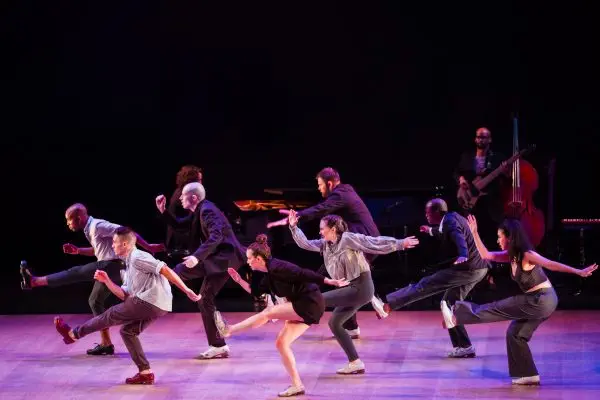 It's in the tap solos and duets through which the most compelling narratives get told. They're about how dancing and music interweave and influence each other. Dorrance's ensemble numbers are choreographed and rehearsed, but the solos, jazzlike, are substantially improvised. Christopher Broughton begins dancing in silence, creating odd accents in his blue and white tap shoes, using the outsides of his feet as well as the toes and heels. After he's ramped up a storm, the band joins in, joyfully copying and expanding on his ideas.
Dorrance makes room for duet sections where the dancers can match and try to outdo each other. Claudia Rahardjanoto and Elizabeth Burke stride across, their steps woven with rapid taps, and Dorrance joins them. She's opened up tap's inherent verticality to locomotion by seamlessly inserting forward and backward slides into the tapping. The band is playing something in measures of 5 and the dancers suspend their moves over the beats. Still later, Dorrance confronts breaker West, both of them in tap shoes, and shares his moves on the floor, his elastic body in contrast to her spiky one.
Throughout the dance, the musicians produce a many-textured score, trading places with instruments and vocals, so they seem like a bigger group. Donovan Dorrance (piano/clarinet) and Gregory Richardson (bass/clarinet) made the score, with Aaron Marcellus (vocals/keyboards). Dancer Nicholas Van Young played percussion for this piece, along with Warren Craft on the guitar. Supporting the dancers with clicks, stomps, thuds, whooshes, and clatter as well as juicy harmonics, this music is not "Tea for Two."
---
Internationally known writer, lecturer, and teacher Marcia B. Siegel covered dance for 16 years at The Boston Phoenix. She is a contributing editor for The Hudson Review. The fourth collection of Siegel's reviews and essays, Mirrors and Scrims—The Life and Afterlife of Ballet, won the 2010 Selma Jeanne Cohen prize from the American Society for Aesthetics. Her other books include studies of Twyla Tharp, Doris Humphrey, and American choreography. From 1983 to 1996, Siegel was a member of the resident faculty of the Department of Performance Studies, Tisch School of the Arts, New York University. She has contributed two selections to Dance in America, the latest edition in the Library of America's "Reader's Anthology" series.