I strongly advise you to explore the wizardry of Manual Cinema — its potential is considerable.
By Bill Marx
The End of TV,  Screenplay by Kyle Vegter and Ben Kauffman. Direction and Storyboards, Julia Vanarsdale Miller. Adapted for the screen by Lizi Breit, Drew Dir, Sarah Fornace, and Julia Vanarsdale Miller.Performed by Manuel Cinema at the Emerson Paramount Center, Robert J. Orchard Stage, 559 Washington Street, Boston, MA, through January 27.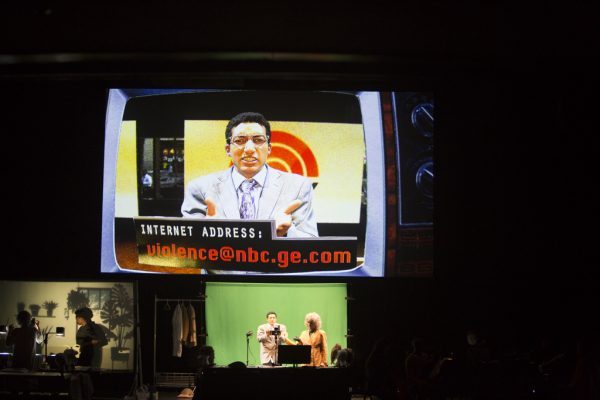 Can artistic lightning strike twice and take out TV in the bargain? That hope ran through my mind during the opening moments of the Chicago-based Manual Cinema's compelling The End of TV. When the troupe visited Arts Emerson last January with its show Ada/Ava, I was wowed by its innovative synthesis of puppets, people, and technology. The approach wasn't emptily chic or dehumanizing, as it can be so often, but revelatory.
As I wrote then, Manual Cinema's fancy schmancy mechanics don't undermine theatricality because it makes "the men (and women) behind the technological curtain an integral part of its productions. Ada/Ava turns out to be an inspired re-invention of silent cinema/animation, as well as a refreshing modernization of the venerable art of shadow puppetry. Live musicians perform during the deft creation of a 'film' right before our eyes — the result of a dazzling number of visual layers (hundreds of shadow puppets as well as live-action silhouettes) projected (in reverse) on a screen onstage and then projected (turned around) on a large overhead screen. In truth, I am not quite sure I have described the group's creative set-up adequately — but you are invited on stage to talk to the artists after the show to discuss just how they did what they did." That warning remains — I still not sure how to describe all that is going on adequately. I strongly advise you to explore the wizardry of Manual Cinema — its potential is considerable.
My major reservation about the group's earlier show was its thin narrative, an exercise in New England Gothicism that came off as far too tidy compared to the playfulness of the shadow puppets, the dance of the puppeteers, and the startling changes in the film's visual perspectives. I am happy to report that the plot of The End of TV has more meat on the bones, weaving together (somewhat unevenly) satire and pathos in a fable that has American consumerism in its sights.
Set in a "fictional Midwestern city" (looks like Chicago to me), we are introduced to two women in crisis. The aging and isolated Flo, who was a riveter in a plant during World War II, has settled into a state of dementia, aided and abetted by hours of non-stop TV watching, specifically QVC. She has turned into a hoarder, filling up her home with boxes of junk merchandise she cannot afford. (She is way behind in paying her mortgage.) Worse, increasingly she is fritzing into a pop art-ish colored nightmare world lorded over by the Jolly Green Giant. As she drifts farther from reality, a young black woman, Louise, is smacked in the face with the closing of the factory where she works. She too drifts, estranged from her father and struggling to find employment, until a job delivering "Meals on Wheels" brings about a friendship with Flo.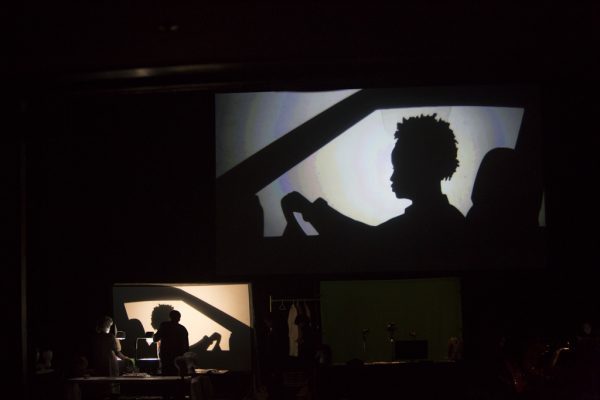 Manual Cinema's lampooning of TV commercials and programming (the examples seem to date from the '70s and '80s) is amusing but broad. (Perhaps more upscale examples of materialism would make theater audiences uncomfortable?)  Still, the critique is made: the ghastly omnipresence of marketing is driving Americans mad via its encouragement of our primal directive to consume. It is also detaching those who still have their marbles from an active involvement in the world. The response to consumerist estrangement takes two directions — a withdrawal into a fantasy world or a return to creating community, to connecting with nature, to making things rather than purchasing them.
The TV parodies may be cartoonish, but Manual Cinema's visuals provide, as before, plenty of impish spectacle, particularly the surreal friskiness of Flo's hallucinations, with their floating cars and Jolly Green God. I can't tell if this is meant on purpose, but this time around the fast-moving choreography of the puppeteers (Kara Davidson, Sharaina L. Turnage, Vanessa S. Valliere, and Jeffery Paschal) as they whisk from set to set, performing before or behind the camera, is on the rough side. (Ada/Ava's movements were ultra-smooth.) There are miscues here — but might these be on purpose? An intended reflection of a chaotic world? Also, the story is a bit messy told; there are two, maybe three, endings. And the final fade out is a real puzzle: Is this the End of TV? Or the Birth of the Computer as the hypnotic fount of consumerism? Finally, perhaps Manual Cinema has reached the point in which silent cinema is no longer sufficient to serve increasingly complex plot lines. As the company evolves, the shadow puppets/performers might need to talk.
All this is to say that Manual Cinema continues to deliver, along with its distinctive theatrical/filmic satisfactions, plenty of tantalizing promise. The original score is a powerful fusion of R&B funkiness and string quartet stateliness, well performed and beautifully sung by five musicians — though it is difficult to make out the lyrics. For me, The End of TV is a Brechtian parable about the value of being hands-on, a homage to the power of making and growing things. (Rather than buying them.) Of course, it is a celebration of the company itself. In a world obsessed with the 'magic" of technology, we watch Manual Cinema constructing its performances on site.
---
Bill Marx is the editor-in-chief of The Arts Fuse. For over three decades, he has written about arts and culture for print, broadcast, and online. He has regularly reviewed theater for National Public Radio Station WBUR and The Boston Globe. He created and edited WBUR Online Arts, a cultural webzine that in 2004 won an Online Journalism Award for Specialty Journalism. In 2007 he created The Arts Fuse, an online magazine dedicated to covering arts and culture in Boston and throughout New England.