By Helen Epstein
The Barefoot Woman is lyrical but also informative and ethnographic, as much a memoir of a mother as it is of her way of life.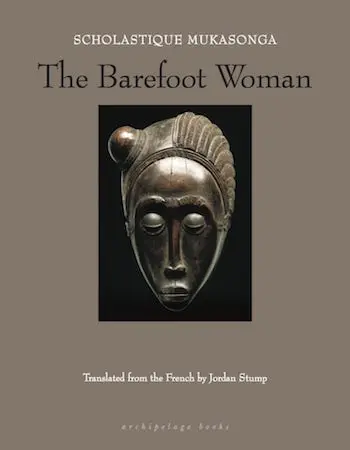 The Barefoot Woman by Scholastique Mukasonga. Translated from the French by Jordan Stump.  archipelago books, 146 pp., $14-$16.
"Often, in the middle of one of those neverending chores that fill a woman's day (sweeping the yard, shelling and sorting beans, wedding the sorghum patch, tilling the soil, digging sweet potatoes, peeling and cooking bananas…), my mother would pause…" recalls Scholastique Mukasonga, a Rwandan author who writes in French and lives in Normandy. "And in a voice that didn't sound like hers, that seemed like something from another world a voice that filled us with terror, he would say: 'When I die, when you see me lying dead before you, you'll have to cover my body."
Mukasonga never saw her mother's corpse, or her grave. She had moved to Burundi and then to France in 1992, two years before the Rwandan genocide in which her mother and 26 other members of her Tutsi family were murdered. The Barefoot Woman is a beautifully-composed and evocative survivor's eulogy. As she writes, "Mama, I wasn't there to cover your body, and all I have left is words – words in a language you didn't understand – to do as you asked…my sentences weave a shroud for your missing body."
The Barefoot Woman was published in France in 2008 and is the second of a trilogy of memoirs, following Inyenzi ou les Cafards (2006) translated as Cockroaches and published by archipelago books in 2016 (Arts Fuse review). The third volume, L'Iguifou (2010) is yet to be published in English.
In Cockroaches, Mukasonga narrated the history and background of the Rwandan genocide that determined the life and death of her family. For readers of Holocaust literature, it is an all-too-familiar trajectory and iconography. Living in the southwest of Rwanda at the edge of a rain forest, Mukasonga's Tutsi family was subject to discrimination, sporadic attacks, and increasing dehumanization. When Scholastique was three, "the first pogrom against the Tutsis" was organized on All Saints' Day, 1959. "The machinery of the genocide had been set in motion," she recalls, though it would not reach its apex until 25 years later. Her family was herded onto a truck with other Tutsis by men with machetes. Their non-Tutsi neighbors spat on them; some of their homes were set on fire. There is a long trip with no food or water, then arrival in a desolate place. They were told they were in Bugesera Province, near the border with Burundi.
Life there was unfamiliar, difficult, and dangerous. "It was an almost unpopulated savannah," she writes in Cockroaches, "home to big wild animals, infested by tsetse flies," and inhabited by strangers, including Tutsis who had already been deported from other parts of Rwanda. In this rural Rwandan version of a reservation or ghetto patrolled by the army, Mukasonga's family cleared a patch of land, and built a hut. Her father Cosma, a book-keeper, believed that the only thing that might save his children's lives was school and insisted that his sons and Scholastique attend, even before she was eligible.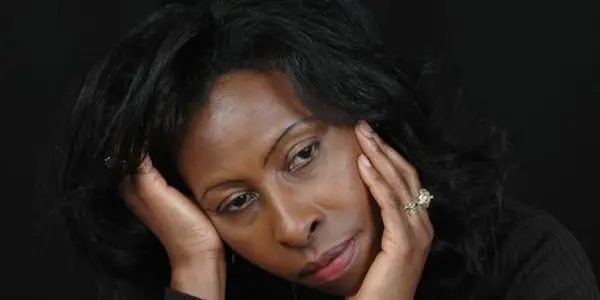 The Barefoot Woman moves away from this historical narrative to a meditative, ethnographic series of vignettes describing the daily lives of women and girls in captivity. If you start reading the trilogy, as I did, with this second volume, you may be confused by references to unfamiliar names and places. While I'd recommend reading Cockroaches first, disorientation and a constant state of anxiety, I think, are part of the atmosphere that Mukasonga wishes to evoke. "My mother had only one thought in her head, one single project day in and day out," she writes, "saving her children." Mukasonga shows us close up how her mother brings to this project her intelligence and ingenuity as well as the traditions of her culture.
Stefania, like her children Jeanne, Julienne, Alexia, Andre, Antoine, and Scholastique, goes by her baptismal name, but she is not what her daughter ironically calls "evolved." That means not only that she has not had a western education, but that she has only partially accepted the Catholic missionaries' god. Mukasonga celebrates her approach to survival under detention in practical, detailed, storytelling chapters about omens ("the tears of the moon"), medicine (aspirin and cough syrup are the only ones locally available), sorghum ("a true Rwandan"), bread, friendship, matchmaking, and Tutsi ideals of feminine beauty. The Barefoot Woman is lyrical but also informative and ethnographic, as much a memoir of a mother as it is of her way of life.
I particularly liked Mukasonga's discussion of Rwandan ideals of beauty among women who do not even have access to mirrors. "Your only mirror was other people," she writes. "Your mother's admiring glances or sighs of distress, your big sister's or schoolmates' observations and appraisals, and then the village chatter, which would inevitably end up finding its way to you: who's beautiful? Who's not?" Rwandan beauty standards, according to the author, include light skin, plush hair, a high forehead, a straight nose ("the little nose that meant death for so many Rwandans"), black gums (a sign of good ancestry) and gapped teeth. Very straight legs were the ideal, with no bulge at the calf; small delicate feet with long, slender toes.
Delicate feet are, of course, an impossibility for girls and women who have no shoes and must walk everywhere barefoot. Mukasonga describes this and almost all of what she remembers of her girlhood with a quiet yet acid specificity. Her narrative voice breaks only once, at the very end of her memoir, when she describes a recurring nightmare: "Do the spirits of the dead speak to us through our dreams? I'd so like to think they do…." In the dream she is with her friend Candida and other schoolmates, going on an outing to pick white flowers for the Feast of Corpus Christi. Then, instead of a pile of white flowers at the alter, she sees a pile of bones. "Do you recognize them?" Candida asks me. "Look closely, they're here, and I'm with them, and your family, and Stefania, do you recognize them?"
In this memoir, Mukasonga has done far more than remembering and recognizing the human beings she grew up with; she has immortalized them.
---
Helen Epstein is the author of Where She Came From: A Daughter's Search for her Mother's History and Children of the Holocaust. Her work can be found at Plunkettlakepress.com