By Erik Nikander
While the push for diversity in casting is admirable, it's not enough to resuscitate a script that feels dated, even regressive in its approach to historical storytelling.
1776, Music and Lyrics by Sherman Edwards, Book by Peter Stone. Co-directors Austin Pendleton and Kelli Edwards. Staged by the New Repertory Theatre at the Mainstage Theater at the Mosesian Center for the Arts, 321 Arsenal Street, Watertown, MA, through December 30.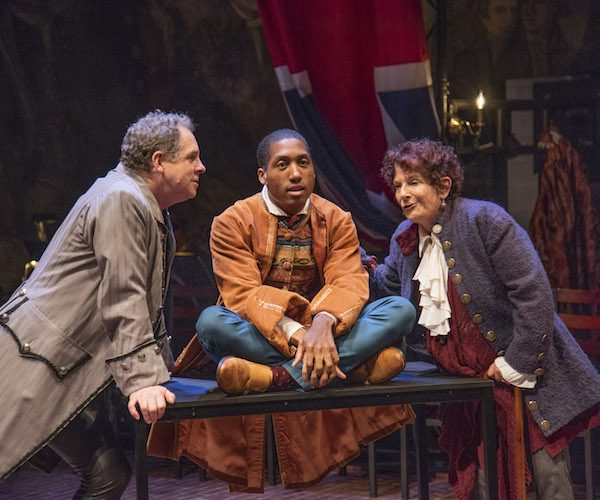 The musical 1776 is just shy of fifty years old. Despite New Repertory Theatre's best efforts to revitalize the show, to make it fresh and current, it more than feels its age. This production's boldest attempt to modernize the show, written originally by Peter Stone with music and lyrics by Sherman Edwards, was to cast it Hamilton-style, re-imagining the white, male founding fathers as a diverse group including plenty of women and people of color. While the push for diversity in casting is admirable, it's not enough to resuscitate a script that feels dated, even regressive in its approach to historical storytelling. The company's good intentions are palpable, but it's hard not to feel they miscalculated how well 1776 would resonate in 2018.
1776 chronicles the plight of John Adams (Benjamin Evett) as he pushes the squabbling representatives of Great Britain's thirteen American colonies to break from the empire that founded them and create a new nation. Despite his passion and clear-minded rhetoric, Adams is widely considered to be an obnoxious prat by his peers. He depends on alliances with such towering figures as Benjamin Franklin (Bobbie Steinbach), Richard Henry Lee (Pier Lamia Porter), and Thomas Jefferson (KP Powell). Despite the stifling Philadelphia heat, Adams and his compatriots must somehow convince the disparate colonies to vote for independence.
The called-for ensemble is huge; it includes over twenty actors, and during the Congress scenes most of them are on-stage. While the performances aren't all spot-on, there are several standouts that make the book's rougher spots of the easier to deal with. Evett captures Adams's frustration and stubborn convictions while Steinbach is clearly having a ball as the ornery Franklin. Porter digs into Lee's arrogance and flamboyance with relish, Dan Prior is sweet and lively as Thomas Jefferson's wife Martha, and Carolyn Saxon, who is double cast as Abigail Adams and Roger Sherman, has a stunning singing voice that the production doesn't draw on nearly enough.
In many ways, the New Rep cast is the evening's single best asset, but co-directors Austin Pendleton and Kelli Edwards don't always quite know how to utilize their rich resources. Some of the musical numbers, especially the opening, are choreographed well. But the segments in between the songs, in which the colonists bicker and debate, tend to drag when they should sizzle. In some ways 1776 feels more like a straight play with music sprinkled in, rather than a true musical. The segments dedicated to dialogue don't feel immediate or dramatic enough to sustain themselves.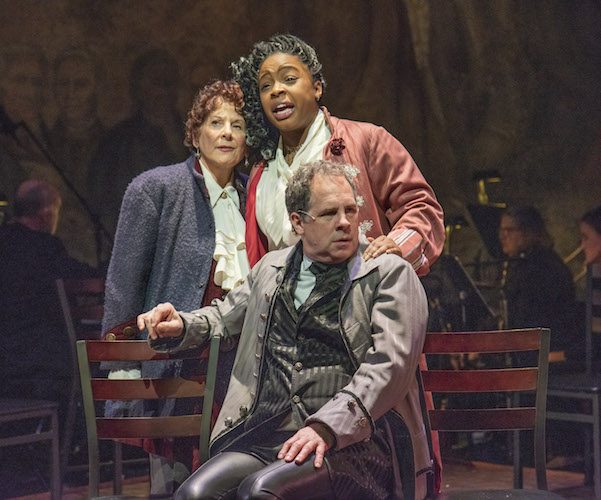 Another problem is that the play's conception of the Founding Fathers feels archaic. With very few exceptions, nearly every scene of the play focuses in tight on the Congressmen, barely providing a glimpse of the world outside, apart from one short scene and some vague platitudes from Adams about "the people." Set aside the diversity of 21st century casting aside and there is a crucial reality: nearly every character in this play is a straight, white, wealthy, property-owning man. For many of them, including some of our heroes, that "property" included human beings. There is little sense of what independence means to anyone outside of the 'elite" — so this picture of 1776 America comes off as myopic and one-dimensional.
Worse by far than its homogenization is the play's handling of slavery in early America, particularly regarding Thomas Jefferson. The script portrays Jefferson as intending to end slavery in America through legislative means, which is accurate enough: Jefferson spoke out against slavery often. However, he also owned hundreds of slaves throughout his life and fathered six children with a slave named Sally Hemings. This was an inherently coercive relationship: Hemings, owned by Jefferson, was not exactly able to give her consent. The scene in which Adams brings in Jefferson's wife for a conjugal visit — so he can finish the Declaration of Independence (and toss a little sex into the Broadway mix) — looks a lot less charming and silly in this light. In the era of #MeToo, this kind of air-brushing of history ranks as downright irresponsible.
The irony of the New Rep's diverse casting is that it makes it easier to ignore the racial and gender inequities of the period. The same criticism could be levied against Hamilton, and it has been. Unlike Hamilton, though, 1776 tackles the issue of the slave trade dead-on, and the results are disastrous. This thread of the plot culminates in "Molasses to Rum," a bizarre musical number in which the pro-slavery Edward Rutledge (Shannon Lee Jones) belts out a song about the horrors of the slave trade while the rest of Congress stares guiltily at the floor. The message being that, yes, the Founding Fathers allowed slavery to be a part of America from its inception, but it was a necessary compromise! Besides, they felt very bad about it. Isn't that enough?
This insistence on focusing on only the honorable things our Founding Fathers did while glossing over the ugliness is. above all else, what makes 1776 feel dated. It was a well-meaning show back in 1969, but its good intentions are hard to credit now, given that its biases and blind spots are so easy to see. Other, more minor issues, weight down the production: for instance, the exhausting run-time (just shy of three hours) and the odd aesthetic choice to use anachronistic props and costumes in some scenes but not others. But the core question remains: Why now? What makes 1776 worth reviving in 2018? Despite New Rep's modern approach to casting, that question is left hanging.
---
Erik Nikander is a critic, playwright, and filmmaker based in the New England area. His film criticism can be read on Medium and his video reviews on a variety of topics can be viewed on Youtube at EWN Reviews.