By Neil Giordano
Shoplifters is a masterpiece about the underclass that effortlessly explores emotional complexity amid moral contradictions.
Shoplifters, directed by Hirokazu Kore-eda. Screening at Kendall Square Cinema and Coolidge Corner Theater.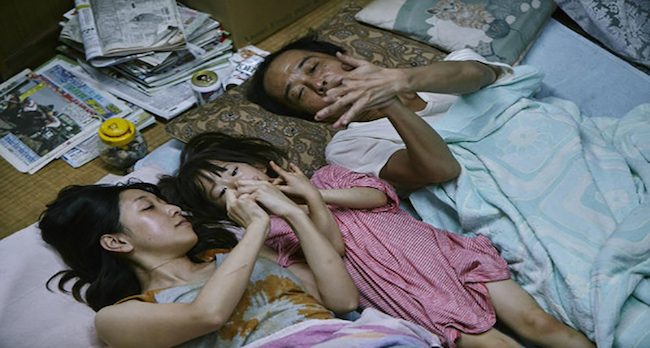 A new Hirokazu Kore-eda film is always a gift, not only for the eyes but for the soul. He explores our common humanity with unpredictable and heartbreaking stories of human frailty and redemption, set to the quotidian rhythms of everyday life. Even in these increasingly cold times (apologies to Climate Change) Kore-eda's compassion manages to maintain its warmth.
His latest film, Shoplifters, winner of the Cannes Palm d'Or earlier this year, is a masterpiece about the underclass that effortlessly explores emotional complexity amid moral contradictions. Drawing less on the naturalistic style of his countryman Yasujiro Ozu (to whom he's often compared) than British social dramatist Ken Loach, Kore-eda forces us to question 'what is family' with a peek into the lives of a makeshift clan: a group of outcasts and lost souls in Tokyo's forgotten bottom rung, brought together mostly by circumstance, who find respite, kinship, and maybe love for as long as they can make it last.
The family, as it were, lives in the small apartment of the aging pensioner "grandma" Hatsue (Kore-eda favorite Kirin Kiki, in a tremendous performance, sadly her final role), hiding from the welfare system that prohibits them living all together. Among them are Hatsue's seamstress daughter, Nobuyo, her husband, Osamu, and their son, the preteen Shota. The latter two are the titular shoplifters, gleaning what they can from local markets. Also among them is young Aki, who plies her trade as a sex worker in a peep show booth downtown. Finally, their newest family member, Juri, sets the story in motion when Osamu and Nobuyo come upon her one chilly night, neglected by her abusive mother. They take her home; she becomes another wondrously resilient but damaged soul in the family.
Given the large acting ensemble and small confines of the apartment, Kore-eda works his customary magic. He transforms their tiny space into an expansive canvas, teeming with intimate moments that make up ordinary family life, filled with both sadness and joy. Over a meager dinner of shoplifted noodles, the family converses, comforts, and breathes together. As Nobuyo gives Juri a bath, they discuss the little one's bruises. When Aki comes home from work, she pores over the sadness and yearning she sees in her customers' faces, men she can only touch if they can pay extra. These melancholy episodes are leavened with moments of joy. A sex scene surprises a character as well as viewers, not so much for its plausibility as for its natural intimacy. The group flourishes under the careful eye of Hatsue, who seems content to be the family's quiet and providing matriarch.
But are they a family? What responsibilities do they have to one another? And is what they have enough to sustain more than survival? The questions mount as truths peek out from behind the subterfuge: hints of something malevolent in Noboyu's past; the puzzling emotional distance of Shota, who refuses to use the word "father" in relation to Osamu; Hatsue's enigmatic meeting with a well-to-do Tokyo professional couple who gives her an envelope of cash.
As the narrative's secrets are uncovered, Shoplifter's intimacy gives way to uneasiness. The growing moral ambiguity is echoed in the rationalizations by which the group lives. Osamu claims shoplifting is not stealing if no one owns the items yet. There's the ethically dubious claim that Juri wasn't kidnapped because there hasn't been a request for ransom. While the family's amoral calculus might be excused by their hard-pressed circumstances, the director wants us to question their choices, even though we hope against hope that these scrappy survivors are doing the right thing. The last act is filled with the inevitable revelations punctuated by an unforgettably decisive final scene between Osamu and Shota, reminiscent of the windup in last year's The Florida Project (which plumbed similar social territory). But here there is a deeper plunge into the warm but impossible promises posed by our worship of 'true' family.
---
Neil Giordano teaches film and creative writing in Newton. His work as an editor, writer, and photographer has appeared in Harper's, Newsday, Literal Mind, and other publications. Giordano previously was on the original editorial staff of DoubleTake magazine and taught at the Center for Documentary Studies at Duke University.