By Peg Aloi
The Other Side of the Wind may inspire brooding melancholy in some, but it's also pretty damned fine.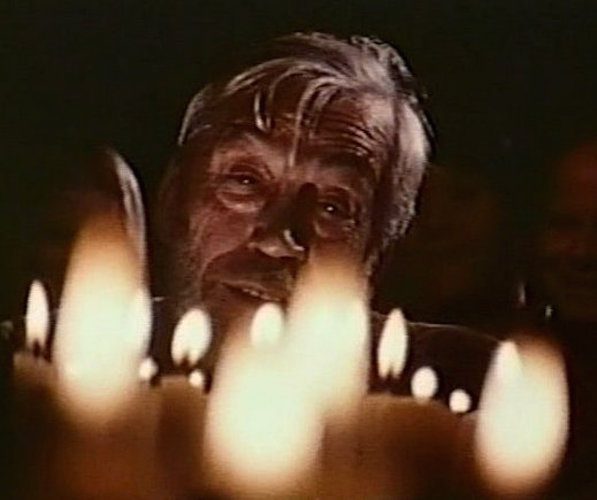 It was inevitable that at some point someone would have edited the footage from Orson Welles' unfinished film The Other Side of the Wind, filmed off and on during the early 1970s. Perhaps unsurprisingly, Netflix, the de facto locus of cinema for homebody film buffs, came up with the funding to complete the project, with the technical help of a number of Welles' former collaborators. The collaborative effort premiered recently to the delight (and chagrin, in some cases) of film critics everywhere.
Still, the question remains: why didn't Welles' collaborators and compatriots find the wherewithal to do this sooner? The experimental work consumed a great deal of Welles's energy, time, and money for four decades and languished amid struggles to acquire the funds to finish it. Welles's death in 1985 felt untimely for many reasons;  everyone knew he had major projects he was working on that had been in progress for many years. The Other Side of the Wind was the most talked-about of his efforts.
Documentarians have tackled Welles' eccentric legacy before. Orson Welles: The One Man Band (1995) is a delightful contribution; it is an exploration of the filmmaker's numerous unfinished projects, helmed by his partner Oja Kodar, who is featured in The Other Side of the Wind. Interestingly, Welles himself seemed to be leaning more towards documentary style in his later years. In The Other Side of the Wind, we see Welles discussing the idea of having the film consist only of other people talking about the film — he seems entranced and excited by this approach.
That conversation is featured in the new Netflix documentary They'll Love Me When I'm Dead, an apt companion piece to Welles' newly-finished late career effort. I felt a number of emotions during my evening of viewing Welles' film, followed by the documentary. You may decide to watch them in reverse order and that would work very well, especially for those who'd like to have some background on Welles' uncompleted work. The Other Side of the Wind is presented to the viewer as a sort of fictional documentary, structured as a found footage piece before the "found footage" genre had been invented. Welles was ever the innovator; his genre-busting approach came decades before mockumentaries became a household word. My first reaction, after elation at finally being able to see the film, was a gloomy sadness. Welles, once considered among the greatest filmmakers of all time (mainly because of his early career triumph Citizen Kane, followed by masterworks such as The Magnificent Ambersons, Touch of Evil, and The Lady of Shanghai) ,found himself struggling to make art in later life.
Of course, it's unclear why Welles' creative output fizzled out in his later years. Was it a self-imposed imposter syndrome? Was it his inability to raise funds or unwillingness to seek financial assistance? Was it procrastination, lack of discipline, and hapless organization? Some of these questions are taken up in They'll Love Me When I'm Dead but, in the end, no definitive answers arise. In one scene, Welles is quietly emotional; he seems very nearly on the verge of tears when describing his battle to raise enough money to do the kind of work he wants to do. His plaintive manner seems to be the driven by a sort of incredulous frustration, a realization that his once-celebrated genius as an artist faded as the years passed — and that Hollywood had redefined what a 'great' filmmaker was.
The Other Side of the Wind may inspire brooding melancholy in some, but it's also pretty damned fine. Innovative even by today's standards, Welles posits a sort of autobiographical portrait (much of it filmed in black and white, to emphasize the footage captured by wandering amateurs who meander in and out of scenes) of an iconic filmmaker named Hannaford, played by John Huston. He is a director furiously working on a final project, desperately seeking funds to finish it. Ironically, Huston also accepted a special career-honoring  1971 Academy Award for Welles, who pretended to be unavailable for the ceremony. Peter Bogdanovich is in the role of Hannaford's arrogant protégé, a role Bogdanovich knew intimately, having been mentored by Welles in real life. In this way, the casting feels meta-intimate. The choppy storyline follows Hannaford as he works tirelessly — shooting by day and socializing reluctantly at night.
The color film-within-the-film (also titled The Other Side of the Wind) stars Huston's lover (and Welles' actual partner) Oja Kodar. Hannaford's film in progress uses an impressionistic European style that one might expect from '60s-era arthouse darlings such as Antonioni or Pasolini. We see a few short segments being filmed; what is included is quite beguilingly beautiful, as well as rather sexually explicit. Equally eye-popping is a sprawling party scene, by turns gregarious and maudlin, during which Hannaford reluctantly celebrates his 70th birthday. The unfinished film is eventually projected at an abandoned drive-in theatre: a fitting metaphorical setting that underscores Welles' desperate bid for support and the fading glitter of his once momentous stardom. His cinema once had some mass appeal — except when it didn't.
As a work of cinema, it's perhaps fitting that The Other Side of the Wind feels uneven, flashes of cinematic brilliance blazing in rough-hewn sequences that try very hard to come off as real and authentic. The ironic twist? They are real and authentic, and have a thrilling time-capsule appeal today. These are DVD extras made before the genre became reduced to canned interviews and over-produced behind-the-scenes travelogues. "Oh, look, there's so and so," the viewer might murmur for time to time, vaguely recognizing the faces of the celebrity wielders of 16mm cameras and sloshing cocktails, ghostlike vestiges of a dead era in the movies that was once thought to be magical. They'll Love Me When I'm Dead is also a compelling film, a more technically-sophisticated work. But its glossy fullness is nowhere near as enchanting as Welles' swan song, cobbled together by friends who, wisely, let the cracks remain, through which some bits of light shine and cold swirls of wind escape.
---
Peg Aloi is a former film critic for The Boston Phoenix. She taught film and TV studies for ten years at Emerson College. Her reviews also appear regularly online for The Orlando Weekly, Crooked Marquee, and Diabolique. Her long-running media blog "The Witching Hour" can be found at at themediawitch.com.