By Peg Aloi
The Ballad of Buster Scruggs demonstrates the Coens' consummate skill for reinventing classic genre tropes, dovetailing deep affection with inspired re-interpretation.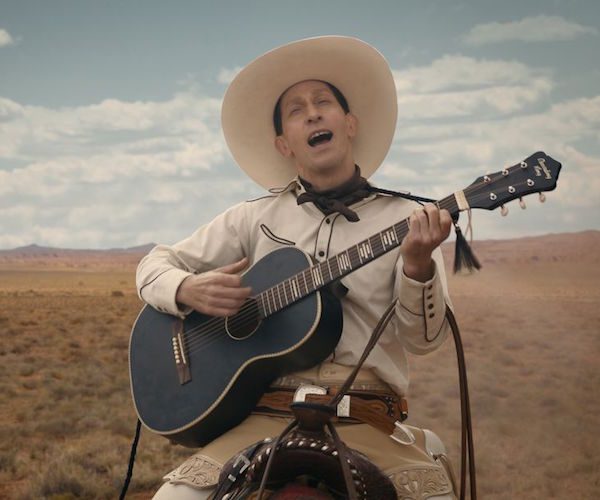 I recall thinking, after I first saw the Coen Brothers' 2010 remake of True Grit, that the Western genre was really a perfect vehicle for their talents. They took a chance by remaking a 1969 film that starred the only marginally-talented John Wayne in a career-crowning role, in a story adapted from Charles Portis' novel published in 1968. His limited gifts were stretched and it yielded his most memorable performance. But the Coens' vision stretched far beyond the original effort: the movie's stunning cinematography and inspired casting (Jeff Bridges was a perfect choice for Wayne's role) generated a brilliant film that tapped into the novel's original vision: this is a sad, gritty story of reluctant heroism. I was shocked the film won no major awards, despite many nominations. But it was a significant moment; it was as if an entire genre has been rebranded by the Coens' trademark blend of absurdity, brutality, and beauty.
Of course, the notion of a reimagined western (one that could be mad, cruel and gorgeous) made its iconoclastic debut in 1995 with Jim Jarmusch's Dead Man. Shot in stark black and white, with a spare but languorous score by Neil Young, the film redefined what a Western could be. But Jarmusch was interested in making a Western look like something else (more in the mode of horror or film noir), whereas the Coens magnify, amplify, and polish the expected tropes and imagery until they shine with renewed vigor and context. They have now followed up their True Grit remake with a stunning anthology of six shorts, The Ballad of Buster Scruggs, now showing in theaters (Landmark Embassy Cinema in Waltham) and on Netflix.
Thank goodness that Netflix is bringing this film into peoples' living rooms. But if it's possible for you to see this on the big screen, I certainly recommend doing so, if only because the cinematography and sound are both so captivating. Netflix viewers who find the first short, "The Ballad of Buster Scruggs," too silly for their taste (it was my least favorite of the six) should resist the urge to click over to something else. The five stories that follow feature some of the finest acting seen on screen this year, thanks to some imaginative casting choices. The eponymous story, which is also the title of a vintage book whose illustrated color plates provide an introduction to each segment, is entertaining enough. It features the same sort of over-the-top characterizations and operatic, heavy-handed violence seen in earlier Coen Brothers' films such as Barton Fink or Miller's Crossing. Buster Scruggs (Tim Blake Nelson, who was also in O Brother Where Art Thou?) is a singing cowboy who plays his guitar and croons while walking or riding his horse. He's a crack shot; he skillfully dispatches anyone who gives him any guff. The segment is somewhat ridiculous, but the yarn features some great special effects, providing a light-hearted (if violent) opening to the more serious stories to follow. Favorite cameo in this one: Clancy Brown.
The next entry is "Near Algodones" in which a would-be bank robber (James Franco) is apprehended and sentenced to hang. A sudden attack by a group of Native American warriors interrupts the proceedings. The robber, still perched on his horse with a noose around his neck, seems to have gotten a reprieve — but events intervene. This segment highlights the existential themes that figure strongly in this anthology: fate, hardship, and death. Best cameo here: Ralph Ineson (of The Witch).
In "Meal Ticket," Liam Neeson is a traveling impresario who sets up a mini-theater (stage and lights) to feature a performance by a gifted quadruple amputee (Harry Potter's Harry Melling, in an astounding performance). The shows include impassioned recitations of poetry, Shakespearean sonnets, the Gettysburg address, and even parts of the Bible. Their small audiences clap politely, but the numbers dwindle as the team travels on. The impresario rarely speaks but gently cares for his performer's physical needs. There is very little communication between them; it is a relationship of companionable acquiescence. For me, this segment was the most horrific and haunting, with Neeson giving a subtle yet powerful performance.
The next story, "All Gold Canyon," stars Tom Waits as an aging prospector who stumbles into a pastoral valley in which he's convinced he'll find a rich store of gold. Patiently panning chunks of soil in the creek,  as his trusty mule stands by, it becomes clear that he values the journey as well as the green peace of his surroundings more than any wealth he might discover. The epic scenery stars here, but Waits is charming as a singing, devil-may-care fortune-seeker who doesn't seem to worry himself about too much of anything.
"The Gal Who Got Rattled" features Zoe Kazan (The Big Sick) as a young woman who is about to join a wagon train crossing Wyoming in order to resettle in Oregon. The scene where she enjoys one last meal in her boarding house presents a masterful array of quirky characters among the mostly elderly residents. Intelligent but dependent on men to negotiate the perils of her journey, she suddenly finds herself alone and destitute, but she is helped by one of the kindly wagon train rustlers (Bill Heck) who is contemplating changing careers. Kazan's luminous performance is the high point in this tale of bad timing and good intentions.
"The Mortal Remains" is a strange and dark capper to the anthology. The story takes place almost entirely in a stagecoach whose passengers include a grizzly old trapper who can't stop talking once he awakes (Chelcie Ross, who played Conrad Hilton in Mad Men), a "proper" lady meeting her husband after a long absence (the inimitable Tyne Daly), a loquacious but judgmental "Frenchman" (Saul Rubinek), and two men whose cargo consists of a dead body riding on top of the coach. They are an "Englishman" (Jongo O'Neill) and an "Irishman" (Brendan Gleeson) who cheerily describe their occupation (they seem to be a combination of hired assassins and undertakers). The pair gently engage the others in conversation. Gleeson has a brilliant moment when he sings a traditional Irish song; he overwhelms his fellow passengers into silence as the journey comes to an end.
High quality cinematography, flawless production design, and superb performances  at the service of the Western genre may or may not please long time Coen Brothers fans. But The Ballad of Buster Scruggs continues the cinematic verve displayed in True Grit, demonstrating the Coens' consummate skill for reinventing classic genre tropes, dovetailing deep affection with inspired re-interpretation.
---
Peg Aloi is a former film critic for The Boston Phoenix. She taught film and TV studies for ten years at Emerson College. Her reviews also appear regularly online for The Orlando Weekly, Crooked Marquee, and Diabolique. Her long-running media blog "The Witching Hour" can be found at at themediawitch.com.