Maniac is mind-bending entertainment that's also an invitation to muse on infinite possibilities.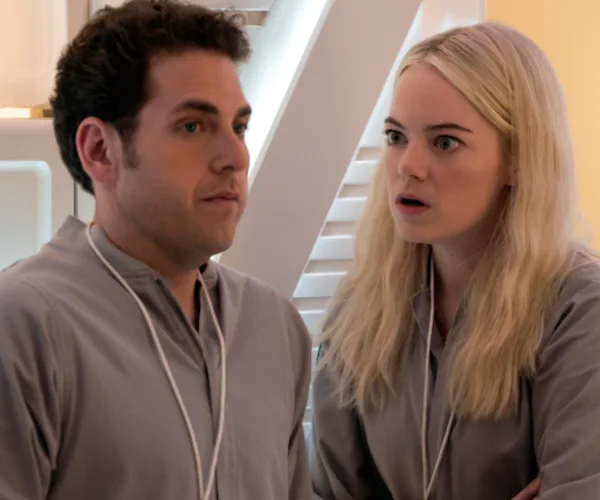 By Peg Aloi
There's so much to love about Cary Joji Fukunaga's limited series Maniac that it's hard to know where to begin. His relatively short yet prestigious career has been full of awards and accolades. The director's previous foray into television came after two impressive features: the Spanish language Mexican drug cartel thriller Sin Nombre, and a stunning adaptation of Jane Eyre starring Michael Fassbender and Mia Wasikowska. Then came the first season of True Detective, an intense, intelligent, and entertaining character-driven police procedural starring Woody Harrelson and Matthew McConaughey that wowed critics and audiences alike. Soon after came Fukunaga's third cinema feature, the surreal, offbeat Beasts of the Southern Wild. The director, writer, and producer doesn't seem to follow a predictable rulebook, working with big stars as easily as with unknown actors, envisioning romance as effectively as a murder mystery.
In Maniac, Fukunaga tackles a somewhat new landscape: speculative fiction. Inspired by a 2014 Norwegian series by the same name, this ten-episode serial was co-created with Patrick Somerville, whose recent dystopian series The Leftovers was a critically acclaimed hit that ran for three seasons. Starring Jonah Hill, Emma Stone, Justin Theroux, and Sally Field, the story is multifaceted and wildly inventive. It also jumps back and forth in time along with switching between alternate realities: viewers need to be on their cerebral toes from the get go. The series pays homage to a number of futuristic and dystopian narratives, including Blade Runner, Logan's Run, 2001: A Space Odyssey, and others.
Stone plays Annie, an independent young woman struggling to get by. She makes use of a commonplace system (in this strange society) known as "Ad Buddies" to help her pay for necessities. People can hire "friends" who pretend to share memories and experiences. Through one of these hired companions, Annie becomes part of a paid research study and drug trial, where she will have access to a drug she has been using illegally for some time. The drug trial draws on three different substances to induce different psychological states. The researchers are interested in the results in so far as they relate to psychological profiling. But Annie is interested in only one of the substances: it allows its users to continually re-live past trauma.
If that seems like a lot of information for the first episode, it is. But it barely covers one character's back story. There's also Owen (Hill), a troubled young man recovering from a nervous breakdown. His family is wealthy and privileged. His brother Jed (The Big Short's Billy Magnussen) is about to go on trial for a crime for which, he hopes, Owen will provide an alibi, thereby exonerating him. The legal proceedings generate an enormous amount of stress for Owen, who soon finds himself at the same facility as Annie, taking part in the drug trial.
From the start, the study is beset with difficulty. An accidental death forces one of the trial's head doctors, Azumi Fujita (Crazy Rich Asians' Sonoya Mizuno), to contact the drug's inventor James Mantelray (Justin Theroux, in a brilliant madcap performance). He had previously been removed from the company's payroll due to "creative differences" (to put it mildly) with other researchers. Mantelray eagerly accepts the chance to get back to work, though he has issues with his mother (Sally Field), a prominent psychologist whose fame and new age philosophy undermine his attempts to legitimize his own scientific work.
Did I mention there are alternate realities? Yes! Because of a malfunction, or perhaps an act of fate, the part of the experiment where subjects are meant to reinvent their own existence by way of a controlled meditative dream state goes wildly awry. Annie and Owen, who are both dealing with recent traumatic events, find themselves entering each other's dreams, where they end up being repeatedly thrown together. The dreams come off as less perilous than their real lives, sometimes taking the form of Hollywood-themed scenarios, such as soap opera or film noir. This cinematic journey calls for some wonderfully creative design elements and opportunities for outlandish costuming, accents, and plot twists. And, of course, these alternate planes of existence offer karmic lessons aplenty and metaphors galore.
I find this series to be utterly absorbing, though slightly difficult to follow, at least at first. I found that rewatching the first three episodes a second time — before continuing to the fourth — helped me connect the narrative's many threads. Many of us are strung out by taking in too much streaming media; Maniac suggests we need to slow down in order to appreciate and comprehend the bewitchingly intricate. I found myself thinking that the show was designed with just that lesson in mind: it is a story of two individuals struggling with their inner demons, who are forced to sleep and then dream their way out of their psychological blockages. Maniac is mind-bending entertainment that is also an invitation to muse on infinite possibilities.
---
Peg Aloi is a former film critic for The Boston Phoenix. She taught film and TV studies for ten years at Emerson College. Her reviews also appear regularly online for The Orlando Weekly, Crooked Marquee, and Diabolique. Her long-running media blog "The Witching Hour" can be found at at themediawitch.com.