Arts Fuse critics select the best in film, dance, visual art, theater, music, and author events for the coming weeks.
By The Arts Fuse Staff
Film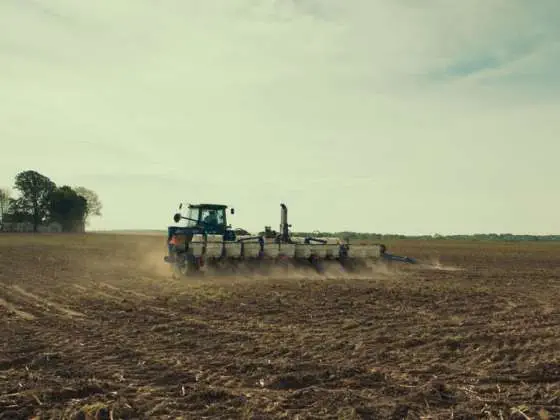 Monrovia, Indiana
Through November 24
Museum of Fine Arts, Boston, MA
"Welcome to Monrovia, Indiana. With a dwindling population of 1,083, the small town, first founded in 1834 as one of many farming communities that served as the backbone of early America, is a compelling new subject for prolific documentarian Frederick Wiseman's latest look inside the kind of places, people, and systems that make up the country."(IMDB) Arts Fuse review
Boston Jewish Film Festival
November 7 through 19
At Multiple Venues
One of the most robust and well curated festivals in the Boston area features contemporary films (from around the world) that explore Jewish identity, the current Jewish experience, and the richness of Jewish culture in a diverse world. Features, shorts, documentaries, and conversations with visiting artists. The festival opens on Wednesday the 7th with Sammy Davis, Jr.: I've Gotta Be Me at the Coolidge Corner Theater. Highlights include: The City Without Jews, a 1924 film that was 'rediscovered' in a Paris flea market in 2015; Echo, which is about a man who secretly records his wife's affair, and Satan & Adam, which chronicles a 23 year odyssey of music and friendship between a Jewish harmonica player and a black bluesman. Brochure & Schedule
BU Cinematheque Presents: An Evening with Jennifer Fox
November 9 at 7 p.m.
B.U. College of Communication, 640 Commonwealth Avenue, Boston, MA
One of America's most important independent film voices, Fox has generated a considerable  audience interest with her courageous and controversial HBO hit The Tale, an autobiographical story of her sexual exploitation at age 13. Warning: this Laura Dern-starring drama contains psychologically challenging sexual content. Free to the public.
Buy Me, Boston
November 11 at 7 p.m. and 9:30 p.m.
Brattle Theatre, Cambridge, MA
Something different — The official launch of Brian Coleman's visual history of Boston advertising from the '60s throughthe '80s, culled from original sources, local archives and collectors. This will be a multi-media event, with hours of rarely seen Boston-centric videos, a slideshow, and a panel discussion. There will be two separate showings at 7 p.m. and 9:30. Choose one presentation, or stay for the entire night. A slideshow, featuring images chosen from nearly 400 pieces of Boston visual history will include a panel discussion at 8:30 moderated by Brian Coleman and will feature David Bieber (WFNX), Prince Charles Alexander (musician, producer, engineer), Blowfish (from Boston Groupie News), and Dart Adams (Dart Against Humanity podcast)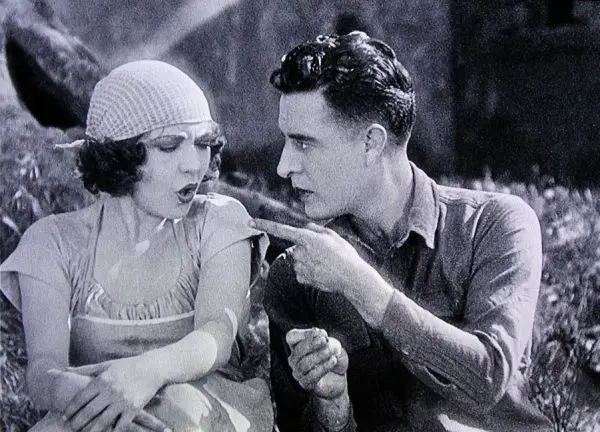 The Big Parade
November 11 at 2 p.m.
Somerville Theater in Davis Square, Somerville, MA
On of the most celebrated of silent films, The Big Parade stars John Gilbert as young idler Jim Apperson, who enlists during the early days of World War I — to the worry of his mother and the pride of his father. He is sent to the front lines in the French countryside where he bonds with his working-class bunkmates and falls in love with young French farm girl Melisande, despite having a girlfriend back home. But the romance of war is soon shattered for good. With live music by Jeff Rapsis!
Reel Rock Film Tour
November 14 at 7 p.m.
Somerville Theater in Davis Square, Somerville, MA
The 13th Reel Rock's collection of the year's best climbing films delivers plenty of jaw-dropping action, soulful journeying, and rollicking humor. This year's edition takes viewers on a wild ride from the frigid Antarctic to the Bedouin Canyonlands of the Middle East. This assemblage of films is one of the annual treats for international climbing communities.
Northampton Film Festival
November 15 through 18
Northampton, MA
This festival presents 48 films screened among 9 venues in downtown Northampton. "This unique festival crosses lines of genre, geography, and medium. It involves the collaboration of a number of community partners like the City of Northampton, the Arts Council, Good Nights Sleep (an experimental film collective), Forbes Library, Historic Northampton, and many other partners." Complete Schedule
Boston International Kids Film Festival
November 16 through 18
Screening at Somerville Theatre, Lesley University College of Art and Design, and MIT
The Festival features over 50 films for, about, and by kids (representing 16 countries). There are workshops and mentoring opportunities as well. Highlights include a special screening of Science Fair at MIT with cast members attending; Eighth Grade with actress Catherine Oliviere attending for a Q&A, and Wally's Opening Day, an animated special for baseball fans of all ages with a line-up of special guests that include executive producer Linda Henry as well as Wally & his sister Tessie. Student-made films will be screened on Saturday, November 17 at 1:30pm and will be live-judged. For children ages 10 and up. Schedule
— Tim Jackson
---
Jazz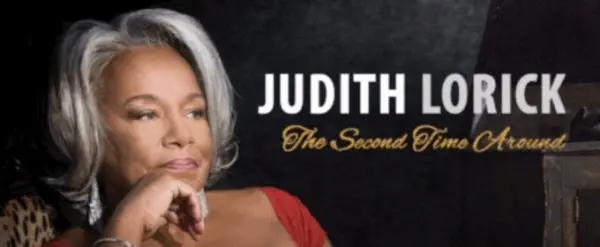 Judith Lorick
November 8 at 7:30 p.m.
Regattabar, Cambridge, MA
Singer Judith Lorick has been in and around music since her days as a Swarthmore undergraduate and an appearance with the Stan Kenton band — her life since then has mixed music with motherhood and corporate jobs. The new The Second Time Around is only her second album (the first was 1998's Songs for My Mother). An all-ballad disc built around the theme of lost and regained love (the title track is the Jimmy Van Heusen and Sammy Cahn tune), it shows off her rich, horn-like sound and phrasing, as well as a stellar band. She brings some of them to this show at the Regattabar — pianist (and musical director) Eric Reed, trumpeter Jeremy Pelt, and drummer McClenty Hunter, plus bassist Dave Baron.
Kamasi Washington
November 8 at 9 p.m.
Royale, Boston, MA
Los Angeles tenor saxophonist and composer Kamasi Washington achieved crossover popularity with his epic-length three-disc debut, The Epic (2015), its expansive throw-back vibe of accessible melodies, grooves, and vocals (my first impression back then: Pharoah Sanders with Leon Thomas), and an overall ethos of uplift. (A featured role in Kendrick Lamar's To Pimp a Butterfly didn't hurt either.) Washington's touring band isn't hefty as on his orchestral-conceived albums (the latest is Heaven and Earth), but it's still a pretty good-sized crew, and the revivalist steez should be evident.
Luciana Souza/The Yellowjackets
November 9 at 8 p.m.
Berklee Performance Center, Boston, MA
This double bill pairs the superb Brazilian-born singer and songwriter Luciana Souza and her trio (with guitarist Chico Pinheiro and bassist Scott Colley) with fusion-esque veterans the Yellowjackets. Souza and her band to play music from her very fine new CD, The Book of Longing, which mixes her settings of poetry by Leonard Cohen, Emily Dickinson, Edna St. Vincent Millay, Christina Rossetti, and her originals. Souza will also join the Yellowjackets for a few numbers, as she does on their new, Brazilian-leaning Raising Our Voice.
Joey Alexander Trio
November 11 at 7 p.m.
Cabot Theatre, Beverly, MA
Balinese piano prodigy Joey Alexander released his first album in 2015 at age 11. Gigs have included the Newport Jazz Festival and Jazz at Lincoln Center. Alexander is now 15 and just released his third album, with bassist Reuben Rogers and drummer Eric Harland. Arts Fuse preview.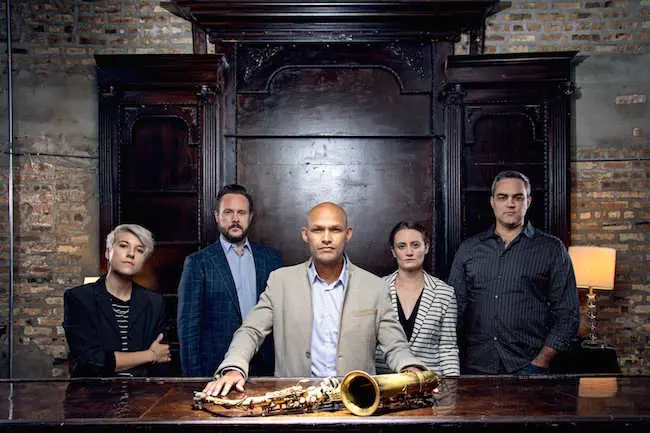 Miguel Zenón & Spektral Quartet
November 15 at 7 p.m.
First Church Boston (Marlborough Street), Boston, MA
Alto saxophonist, composer, New England Conservatory teacher, and MacArthur Fellow Miguel Zenón continues his ongoing exploration of the music and culture of his native Puerto Rico in a new suite for saxophone and string quartet, "Yo Soy La Tradición," reviewed by the Arts Fuse. Zenón's writing is as detailed and forthright as his playing, and one has the feeling that this will be a rare chance to hear the piece as conceived, for the Spektral Quartet. The show is being presented by Boston's Villa Victoria Center for the Arts.
Kenny Barron
November 16 and 17 at 7:30 and 10 p.m.
Regattabar, Cambridge, MA
Late in his career, Stan Getz famously said, "There are only three pianists left — Tommy, Hank, and Kenny." Depending on how you look at it, that just leaves Kenny. Barron, that is. Getz's longtime accompanist, a vastly accomplished artist, comes to the Regattabar for four shows, with trumpeter Mike Rodriguez, saxophonist Dayna Stephens, bassist Kiyoshi Kitagawa, and drummer Jonathan Blake.
— Jon Garelick
Boston Symphony Orchestra, conducted by Andris Nelsons, playing the US premiere of Mark-Anthony Turnage's "Remembering: In Memoriam Evan Scofield" – Symphony Hall, Boston, MA, November 6 at 8 p.m.
Nelsons has professed an interest in jazz, and this program may be the first indication that he's bringing that interest into his music direction. "Remembering: In Memoriam Evan Scofield" is a new piece, co-commissioned by the BSO, commemorating the son of guitarist John Scofield, with whom Turnage has a long friendship. Look for Sco in the hall on one of those nights. Arts Fuse review
Tetrapych [Bert Seager (p), Hery Paz (ts), Max Ridley (b), Dor Herskovits (dm)]. At The Lilypad, November 7 at 7:30 p.m.. Tuneful free playing . . . is it possible? And how. Read the Arts Fuse review and and then go see Bert's terrific quartet.
Juanito Pascual (g) Trio with Stan Strickland (ts/ss/vo) at the Regattabar, November 7 at 7: 30 p.m. Pascual is a flamenco guitarist with beautiful technique. Hearing Strickland mesh with him should be ear-opening. Below is a sample of Pascual playing solo.
Semenya McCord (vo) Sextet, with Bobby Tynes (reeds), Frank Wilkins (p), Jeff Lockhart (g), Daniel Day (b), Alvin Terry (dm) at the Peabody Hall, Church of All Saints, 209 Ashmont Street, Dorchester,  November 8 at 7:30 p.m. One of Boston's long-time treasures, McCord is a comprehensive singer – a fine song interpreter, a clever improviser, and an assured bandleader. She has moved to Illinois, so this gig is something of a homecoming. The presence of Frank Wilkins on the stand ensures that the backing will be top-class.
Yoko Miwa (p), with other players to be announced – At Scullers, November 9 at 8 p.m.. Just because this fine pianist gets consistent work in the area doesn't mean that you should put off seeing her. Miwa plays regularly on Fridays at Thelonious Monkfish, and she also works on Saturdays at Les Zygomates. But this is a chance to see her in one of the big rooms, with a more attentive crowd.
Natraj [Phil Scarff (ss / sopranino saxophone), Rohan Gregory (v/vla), John Funkhouser (b), Jerry Leake (table / per), Bertram Lehmann, dm / per)] at St. John's Episcopal Church, 1 Roanoke Avenue, Jamaica Plain, November 9 at 8 p.m. Scarff is one of the pioneers of world music – jazz fusion, and his ensemble Natraj has been working both sides of that particular musical street for decades. This is not experimental music – it is fully-formed and well-seasoned.
Javon Jackson (ts), probably with Jeremy Manasia (p), David Williams (b) and McClenty Hunter (dm) – At Scullers, November 10, 8 p.m. & 10 p.m. No support personnel have been announced for this gig, but Jackson is touring in support of his new CD, For You, and the three above are the players on board for that one. Jackson is what you might call a pure player – someone who chooses tunes because they complement his sound and approach, who isn't afraid to show his respect for Joe Henderson and Wayne Shorter, and who works with excellent side players. Below is a YouTube posting of a live performance of Shorter's "One By One" that will surely warm up your ears.
Joe Locke (vib), Jim Ridl (kb), Lorin Cohen (e-b), Samvel Sarkisyan (dm) – At Scullers, November 17, 8 p.m. & 10 p.m.. Locke has chosen to play vibes with four mallets, in the Gary Burton tradition, but he is his own man on the instrument, and this quartet has been working together long enough to develop a real partnership. I've never heard Ridl live, but on the strength of the band's recorded work, I think he's a player to watch. This link has a pair of clips from a gig the band did last year at Dizzy's Club Coca-Cola in Manhattan.
— Steve Elman
Roseanna Vitro
November 15, 8 p.m.
Scullers Jazz Club, Boston, MA
On her new album, Tell Me the Truth, versatile jazz vocalist Roseanna Vitro takes a soulful tour of her native South, with a terrific selection of songs that all in some way address the sea of lies and trouble we've been swimming in for the past two years. Vitro and her crack Southern Roots band bring the groove to songs composed or made famous by the likes of Allen Toussaint, Mose Allison, the Staples Singers, and the Everly Brothers. The title tune, by the late, great Jon Hendricks, is a killer. I'm betting the show will be, too.
— Evelyn Rosenthal
---
Dance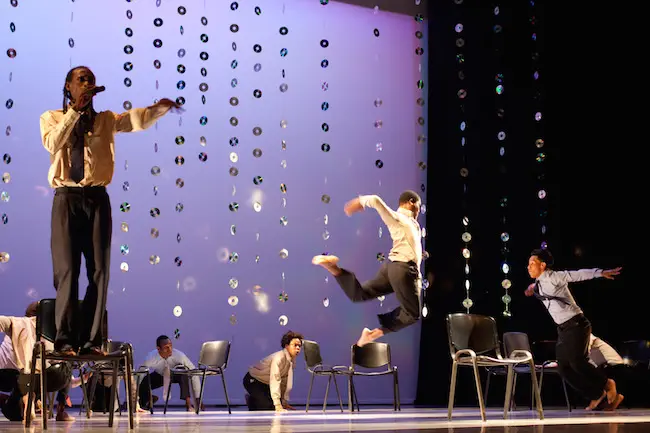 The City of Others
November 4 at 8 p.m.
Plimpton Shattuck Black Box Theatre, New England Conservatory, Boston, MA
Hailing from Colombia — which boasts the second largest Afro-descent population found in Latin America — Sankofa Danzafro brings its riveting production The City of Others to the New England Conservatory, presented by the Celebrity Series of Boston. Showcasing powerful Afro-Colombian and Afro-contemporary dance with live drumming and singing, the production examines issues of wealth, gender, sexual orientation, and lack of opportunity affecting minority communities in Colombia.
Abby Z and the New Utility
November 9 & 10 at 8 p.m.
Institute of Contemporary Art
Boston, MA
Recognized with the 2017 Juried Bessie Award for her "unique and utterly authentic movement vocabulary in complex and demanding structures," choreographer Abby Zbikowski brings her dynamic choreographic style to Boston, performing in an abandoned playground at the ICA. Zbikowski merges hip-hop, tap, West African, postmodern, and punk aesthetic to push her nine dancers to the brink of endurance.
Kicking & Screening
November 15 at 7 p.m.
The Jamestown Arts Center
Jamestown, RI
Ali Kenner Brodsky and Andy Russ present "Kicking & Screening", an evening of short experimental dances-on-camera films. The screening proffers a diverse range of cultural backgrounds and artistic languages, linked only by the overarching theme of capturing the moving body within the moving frame. Enjoy seven films (sourced locally, nationally, and internationally), each with its own unique world, from the abstract to the alien.
another piece apart
November 17 at 8 p.m. & 18 at 7 p.m.
The Dance Complex
Cambridge, MA
Bessie Award-winning performers and former Bill T. Jones/Arnie Zane Company dancers Jennifer Nugent and Paul Matteson bring their renowned partnering work to Cambridge. Known for the intensity and passion of their duets, this new work, titled another piece apart, makes its Boston debut, reflecting on a history of a "fractured togetherness and blurred boundaries."
Boston Bhangra
November 17 at 6 p.m.
Orpheum Theatre
Boston, MA
Celebrating its 15th year, the annual Boston Bhangra Competition brings the best bhangra teams from across North America to a local stage — each vying to be crowned the Boston Bhangra Champion. This year's event features a guest performance by upcoming Bhangra artist G. Sidhu.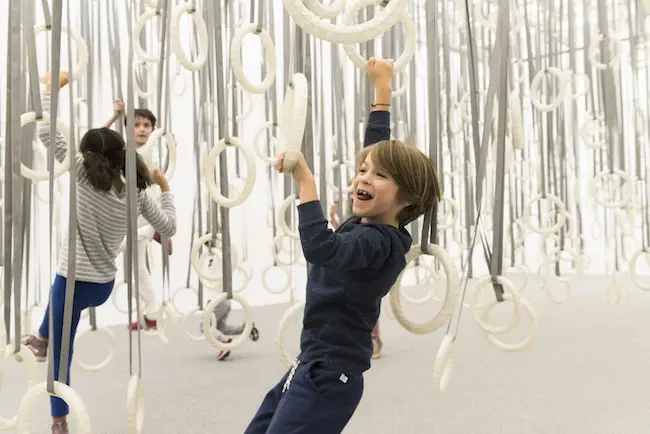 William Forsythe: Choreographic Objects
Through February 24, 2019
Institute of Contemporary Art/Boston , Boston, MA
Whether you're a long-time fan of William Forsythe's world-reknowned choreographic works or hearing his name for the first time, the ICA encourages you to step inside his choreographic world through this unique installation (the first of its kind in the U.S.). Spanning over two decades, this major exhibition includes room-size interactive sculptures, participatory objects, and video installations inviting viewers to confront and engage with the fundamental principles of choreography, which Forsythe calls "Choreographic Objects." This exhibition was organized by Eva Respini, Barbara Lee Chief Curator, with Jeffrey De Blois, Assistant Curator. Arts Fuse review
— Merli V. Guerra
---
Visual Arts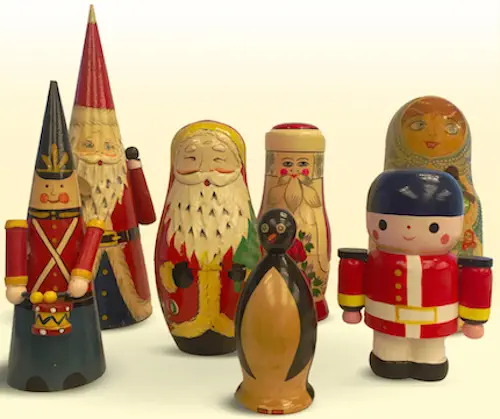 Corncobs to Cosmonauts:Redefining the Holidays during the Soviet Era
November 9 through January 27
West Gallery, Museum of Russian Icons, 203 Union Street, Clinton, MA
The museum's West Gallery has been transformed into a glistening winter wonderland. 150 Soviet Era ornaments sit alongside festively adorned "New Year's trees" and holiday toys, books, and cards. After the 1917 Russian Revolution, the anti-religious Bolsheviks discouraged the frivolities of Christmas, seeking to promote the achievements of the state. Donated to the museum by collector Frank Sciacca, these limited edition ornaments depict a wide variety of unexpected inspirations for decoration: including grapes, corncobs, folk heroes, chubby babies, airplanes, and cosmonauts.
Mira Cantor: Promiseland
Through December 2
Kingston Gallery, 450 Harrison Avenue #43, Boston, MA
A fascinating exhibition that crowds the gallery space with an installation of large scale charcoal and acrylic drawings and life size caricatures. The bold and gutsy work depicts people of all different colors and walks of life. Life size figures hang suspended from the ceiling and are loosely constructed from recycled materials and canvases that have been sewn and stuffed. A mini-retrospective of the artist's work as a metaphor for hope, the show urges viewers to think about their own place in the human condition.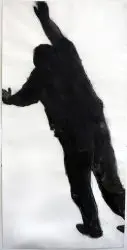 Constanza Aguirre: Wandering in the Land of Oblivion
November 9 through January 11
Urbano Project, 29 Germania Street, Jamaica Plain, MA
"The Wandering is the displacement in space and time of thousands of individuals. This gives rise to a loss; a loss of references, the loss of knowledge, trades, and a loss of history. This wandering can only be reclaimed through creating as a process of individuation."
A powerful series of large scale black and white works that depict darkly silhouetted figures gesturing in movements of work and labor. In her work, this Colombian (but Paris-based) artist investigates the possibilities of emancipation and reclamation through the elevating powers of creativity and making.
Paul Rousso: Recent Works
Through November 30
450 Harrison Avenue #31, Boston, MA
This brightly colored 21st century pop art show is an ambitious study of the swiftly diminishing presence of paper in our modern society. The artist's search for "what comes next" includes larger-than-life crumpled re-compositions of candy wrappers, money, newspapers, and cereal boxes. Humorous titles such as "Fruit Loops Fun Size #5" add just one more dimension to this incisive yet playful show.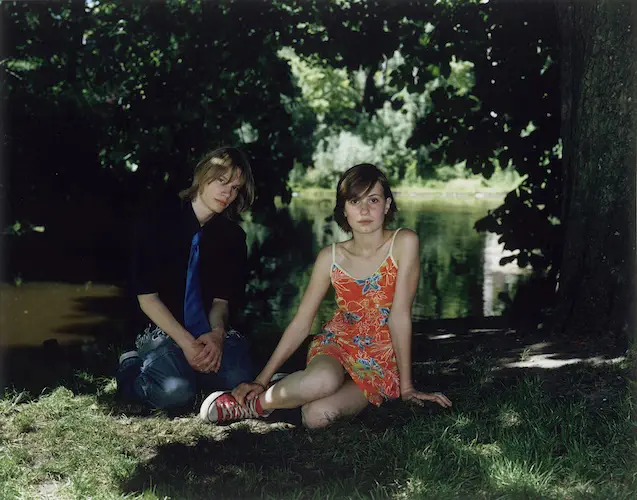 Rineke Dijkstra
Through January 21
Museum of Fine Arts, Avenue of the Arts, 465 Huntington Avenue, Boston, MA
Full of subtle contemporary nuances, Dutch portraitist Rineke Dijkstra's hypnotic work deserves concentrated examination. Her famed artistry looks at quiet yet powerful moments of transition and change. On display in this show are seven full length portraits from her Park series, which presents photographs of children in major urban parks around the globe.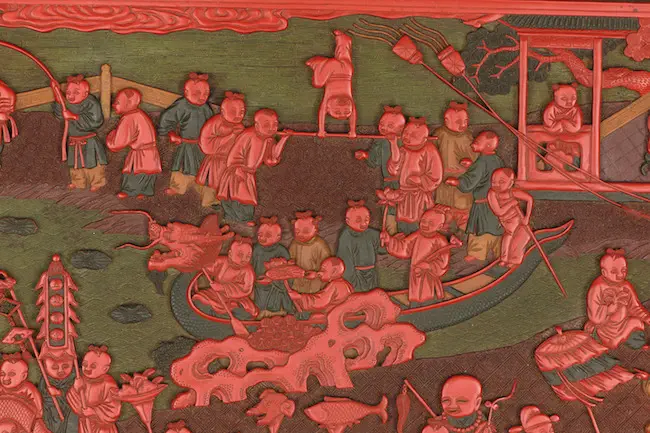 Empresses of China's Forbidden City
Peabody Essex Museum, East India Square, 161 Essex Street, Salem, MA
Through February 10
200 spectacular objects tell the untold stories of the Forbidden City's hidden empresses and how they shaped China's last dynasty — the Quing dynasty — from 1644 to 1912. This priceless collection of sumptuous treasures illuminates their contributions to the famed court's politics, art, and religion.
– Aimee Cotnoir
---
Theater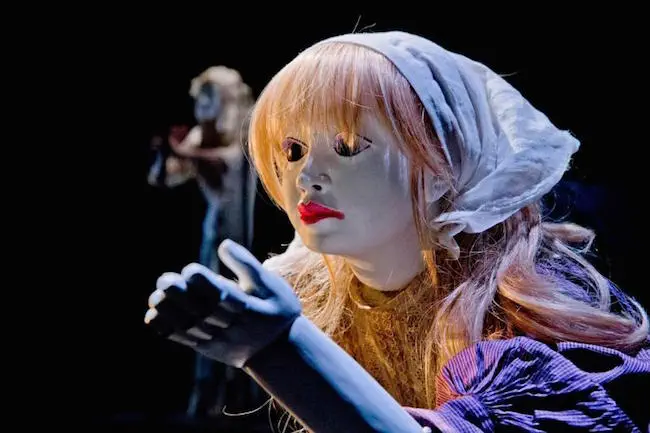 the little match girl passion, a collaborative staging of the David Lang's opera between Maine's Figures of Speech Theater and the Holy Cross Chamber Singers under the direction of Allegra Martin. At the College of Holy Cross, Fenwick Theatre, Worcester, MA, November 15 and 16, at 7:30 p.m.
This one-of-a kind performance, part of the innovative Arts Transcending Borders initiative, will combine haunting shadow projections, masked dance, and puppetry (via Figures of Speech Theater) with Holy Cross' select auditioned choir of sixteen performers for an evening of that will celebrate and honor the humanity and spirituality of Hans Christian Anderson's beloved story of the suffering girl who lights matches to keep warm.
— David Greenham
Equivocation by Bill Cain. Directed by Christopher V. Edwards. Staged by Actors' Shakespeare Project at the United Parish in Brookline, 210 Harvard Street, Brookline, MA, through November 20.
"It is England,1605, and a terrorist plot to assassinate the King of England, James I, and blow up Parliament with barrels of gunpowder has been foiled. Prime Minister Robert Cecil commissions William Shakespeare to write a lasting history of the failed plot. King James wants a play and he wants witches. As Shakespeare wrestles with the dilemma of being a propagandist playwright in service to the Crown, his company of fellow actors at the Globe Theatre explore the new play and find the story might just be a political cover."
Will Ben Jonson make an appearance in this play? He was personally involved in the events surrounding the Gunpowder Plot. The playwright was seen in the company of plotters in the month before the events of November 1605. Fans of Ben will be curious.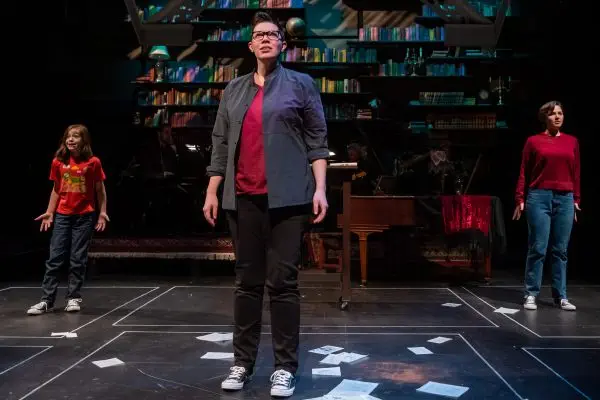 Fun Home Music by Jeanine Tesori, Book and Lyrics by Lisa Kron. Based on the graphic novel by Alison Bechdel. Staged by SpeakEasy Stage Company at the Calderwood Pavilion at the Boston Center for the Arts, 527 Tremont Street in Boston, MA, through November 24.
The show won five Tony Awards, including Best Musical. Featuring music by Jeanine Tesori, and a book and lyrics by Lisa Kron, this "is a landmark musical about seeing one's parents through grown-up eyes. Based on Ms. Bechdel's best-selling memoir of the same name, this groundbreaking musical introduces us to Alison at three different ages, revealing memories that celebrate the curiousity of childhood, the challenges of coming out, and the complexities of family." Arts Fuse review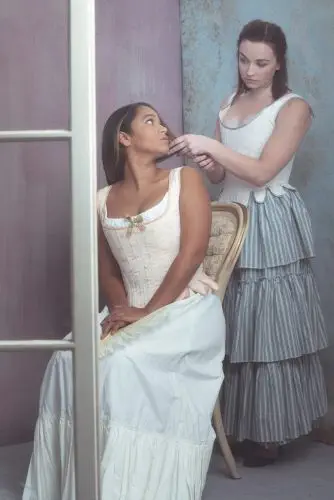 The Salonnières by Liz Duffy Adams. Directed by Weylin Symes. Staged by the Greater Boston Stage Company at 395 Main Street, Stoneham, MA, through November 11.
The world premiere production of a play "set in pre-Revolutionary Paris" — "it is an evening filled with fairytales, facades, and the feminist revolution."  "In pre-Revolutionary Paris, a young girl promised in marriage to a Duke to pay off her father's debts flees to the literary salon of her late mother's friends: aristocratic women who conceal radical politics within reinvented folk tales." The cast includes Lisa Joyce, Laura Latreille, Elainy Mata, Bill Mootos, and Sarah Newhouse.
Peter and The Starcatcher, text by Rick Elice, music by Wayner Barker. Directed by Sarah Gazdowicz. Staged by Hub Theatre Company of Boston at the First Church Boston, 66 Marlborough Street, Boston, MA, through November 18.
Can you have too much about Peter Pan? I think so, but theatergoers are proving me very wrong. "Before Wendy, before Tinkerbell, and before The Lost Boys, there was a friendless boy, a determined girl, and a journey that would change them both forever. Filled with music, mermaids, mayhem, and magic, this Tony Award-winning prequel to Peter Pan tells the incredible story of how a lonely orphan became the boy who never grew up and a precocious young girl taught everyone to believe." Arts Fuse review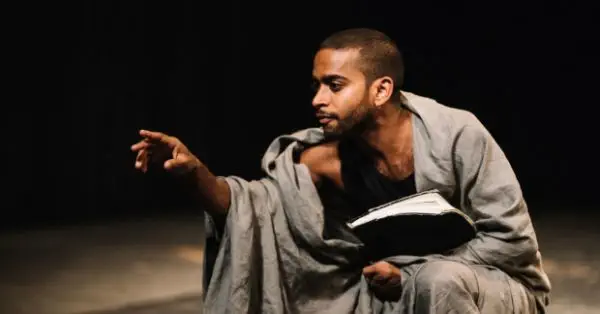 The Prisoner, text and stage direction by Peter Brook and Marie-Hélène Estienne. Presented by Yale Repertory Theatre at Yale Repertory Theatre, 1120 Chapel Street, New Haven, CT, through November 17.
One of the great living directors, Peter Brook is still making theater at the age of 93. Here is the America premiere of a show (created with longtime collaborator Marie-Hélène Estienne) that examines "the complexities of crime, justice, and compassion in a breathtaking new international production. A man sits outside a prison. Who is he, and what is he doing there? Is he free, or is he the prisoner?"
The Roommate by Jen Silverman. Directed by Spiro Veloudos. Staged by the Lyric Stage Company of Boston, 140 Clarendon Street, Copley Square, Boston, MA, through November 18.
"Sharon, a sheltered divorcee from Iowa takes in a roommate: Robyn, a free-spirited, mysterious, lesbian slam poet from the Bronx who is looking to completely change her life. As Sharon begins to uncover Robyn's secrets, while sharing music, books, and an occasional toke, she discovers a deep-seated desire to transform her own life." Featuring two of Boston's finest actors, Adrianne Krstansky & Paula Plum.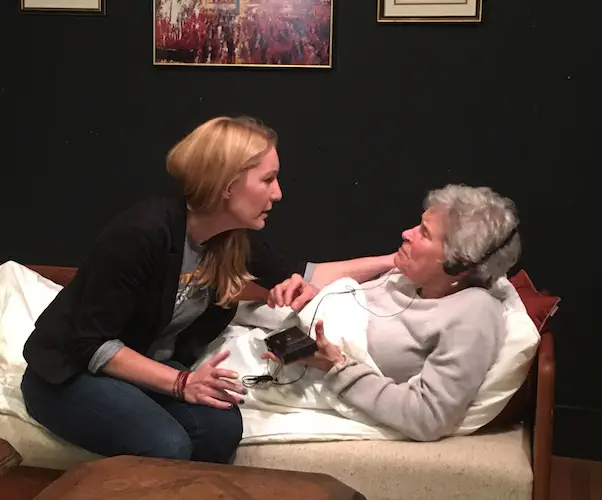 Mother Butterfly: A Daughter's Memoir, written and directed by Paul Dervis. Staged by Storm Warnings Repertory Theater at the Brick Store Museum Performing Arts Center, Kennebunk, ME, through November 17.
A new play that revolves around a female stand-up comedian remembering life with her dysfunctional family; she had to deal with a mother battling depression and a father unable to show emotion. Arts Fuse review
Universe Rushing Apart: Blue Kettle & Here we Go by Caryl Churchill. Directed by Bryn Boice. Staged by Commonwealth Shakespeare Company at the Black Box Theater, Sorenson Center for the Arts Babson College, 231 Forest Street, Wellesley, MA, November 7 through 18.
"Commonalities with a surrealist bent are explored in two one-acts by renowned playwright Caryl Churchill. In Blue Kettle, anxieties emerge and language is tested when a troubled man claims to be the long lost son of several different women. In Here We Go a funeral party for a man with an adventurous past forces a group of women to capture flickering moments of their own lives as they grapple with their own mortality."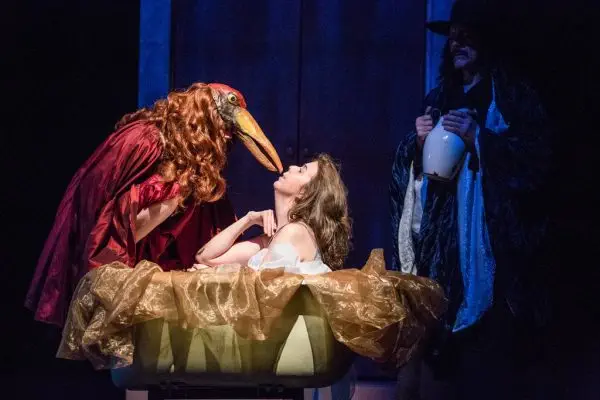 Leonora & Alejandro: La Maga y El Maestro written by Double Edge Theatre and directed by Stacy Klein. Staged by Double Edge Theatre at The Farm, 948 Conway Rd. Ashfield MA, November 9 through 18.
"Drawn from the art and life of British-born Mexican artist Leonora Carrington and her encounter with the Chilean Jewish filmmaker and writer Alejandro Jodorowsky, this surreal performance is steeped in magic and reveals not only the alchemical melding between great seers but also their spiritual tug of war."
WET: A DACAmented JOURNEY written and performed by Presented by Arts Emerson at the Emerson Paramount Center, Jackie Liebergott Black Box, Boston, MA, November 8 through 25.
The show "rockets between hilarity and heartbreak—will instantly humanize the headlines and take audiences inside the realities of striving for a better life under the extreme conditions of living life as a political football. Alpharaoh, a social worker who knows firsthand the mental, emotional and psychological hardship of this unending process, risks his own freedom to share his story in this nationwide tour."
Loss of Breath: The Unfinished Life and Death of Edgar Allan Poe, an original play written and directed by Wesley Savick with puppet creation by Puppet Showplace Theater. Presented by the Suffolk University Theatre Department at The Modern Theatre, 525 Washington St., Boston, MA, November 15 through 18.
Yes, a student production. But it sounds pretty intriguing. The production weaves together Poe's stories and biography with sideshow illusion, puppetry, and Japanese Noh Theatre.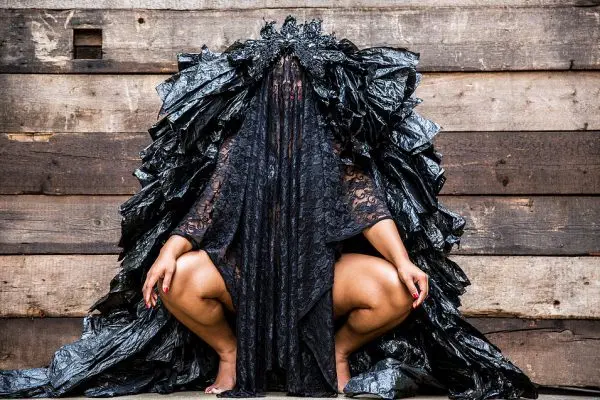 The Bag Lady Manifesta by Taja Lindley. Directed by Tanisha Christie. Presented by the American Repertory Theatre as part of Afterglow @ OBERON, 2 Arrow Street, Cambridge, MA, November 15.
The show features "an immersive installation of memory followed by a participatory performance ritual where audiences are invited to (re)consider what to let go of, and what to remember—individually and collectively. Through dynamic movement, burlesque, text, soundscapes, ritual, and projection Lindley adorns and activates her Black, queer, female body with trash bags to traverse the dumping grounds and shadow side(s) of herself, the audience, and the United States. There will be a post-show discussion immediately following the performance."
— Bill Marx
---
Classical Music
Nelsons conducts Shostakovich
Presented by Boston Symphony Orchestra
November 8-10 and 13, 8 p.m. (1:30 p.m. on Friday)
Symphony Hall, Boston, MA
Nelsons and the BSO continue their complete-Shostakovich symphonies series with the brilliant Symphony no. 1. Filling out the program is the American premiere of Andris Dzenītis' Māra and Act 2 of Tchaikovsky's The Nutcracker.
Le Médicin Malgré Lui
Presented by Odyssey Opera
November 9 (at 7:30 p.m.) and 11 (at 2 p.m.)
Huntington Avenue Theater, Boston, MA
Odyssey continues its season with the Boston premiere of Charles Gounod's comic opera. Stephen Salters is Sganarelle, Tasha Anderson sings Jacqueline, and Gil Rose conducts.
Robert Levin plays Beethoven
Presented by Handel & Haydn Society
November 9 (at 7:30 p.m.) and 11 (at 3 p.m.)
Symphony Hall, Boston, MA
Keyboard virtuoso Levin joins H&H for performances of Beethoven's Emperor Concerto. Richard Egarr also conducts Schubert's sunny, brilliant Symphony no. 9.
Audubon
Presented by Chorus pro Musica
November 9, 8 p.m.
Jordan Hall, Boston, MA
CpM kicks off its 70th-anniversary season with the world premiere of James Kallembach's Audubon: a Multimedia Oratorio. Sumner Thompson is the baritone soloist and Jamie Kirsch conducts the performance, which promises "visual projections of Audubon's art and the natural world he loved."
Seven Joys
Presented by Back Bay Chorale
November 10, 8 p.m.
Jordan Hall, Boston, MA
BBC presents the Boston premiere of Pulitzer Prize-winner Caroline Shaw's Seven Joys, alongside pieces by Jonathan Dove, Gorecki, Britten, Barber, Elgar, and Gabrielli. Scott Allen Jarrett conducts.
West Side Story
Presented by Cambridge Symphony Orchestra
November 11, 4 p.m.
Kresge Auditorium, Cambridge, MA
The CSO offers a concert performance of the great Bernstein-Sondheim-Laurents-Robbins collaboration. Carelle Flores sings Maria; Javier Abreu, Tony; Stephanie Scarcella, Anita; and Ray Bauwens, Riff.
Schoenberg in Hollywood
Presented by Boston Lyric Opera
November 14-18, 7:30 p.m. (3 p.m. on Sunday)
Emerson Paramount Center, Boston, MA
BLO presents the world premiere of Tod Machover's new opera that explores the moral and aesthetic challenges composer Arnold Schoenberg experienced after fleeing Nazi Germany. Omar Ebrahim sings the title role; David Angus conducts.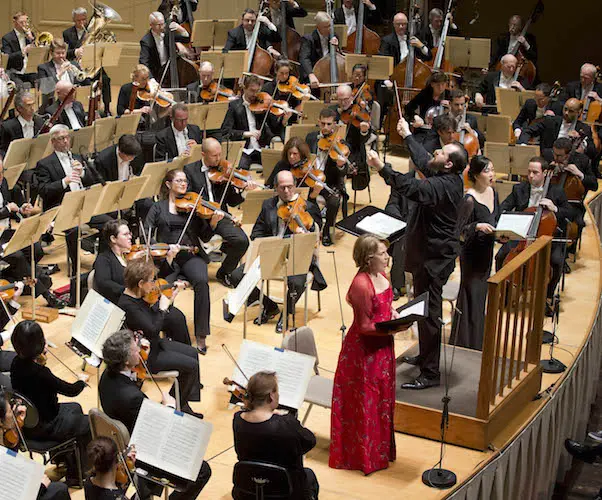 Nelsons conducts Mahler
Presented by Boston Symphony Orchestra
November 15-17, 8 p.m. (1:30 p.m. on Friday)
Symphony Hall, Boston, MA
Nelsons' autumn residency continues with Mahler's epic Fifth Symphony. Also on tap: trumpeter Håkan Hardenberger playing HK Gruber's Aerial.
Zander conducts Strauss
Presented by Boston Philharmonic Orchestra
November 15 (at 7 p.m.), 17 (at 8 p.m.), and 18 (at 3 p.m.)
Sanders Theater, Cambridge, MA (Thursday and Sunday) and Jordan Hall, Boston, MA (Saturday)
Zander and the BPO continue their celebratory season with a survey of three colorful scores: Alberto Ginastera's Variationes concertantes, Ravel's Suite no. 2 from Daphnis and Chloe, and Strauss's great tone poem Ein Heldenleben.
Mendelssohn and Mozart
Presented by Bach, Beethoven, & Brahms Society Orchestra
November 18, 3 p.m.
Faneuil Hall, Boston, MA
Stephen Lipsitt leads the BBBSO in a concert that culminates in Mozart's Requiem (which also features the New World Chorale). Before that come a set of Mendelssohn concert pieces for clarinet and basset horn, and some Bach Inventions.
— Jonathan Blumhofer
Mozart Requiem
November 10 at 8 p.m.
At Sanders Theater, Harvard University, Cambridge, MA
Masterworks Chorale's presents "Wolfgang Amadeus Mozart's powerful Requiem, in the version completed by musicologist and keyboardist Robert Levin, and the Boston-Cambridge premiere of Michael Schachter's Uriel. A native of Westborough, Schachter composed his setting of Ralph Waldo Emerson's poem as a dramatic complement to the Mozart Requiem.
Verdi Requiem
November 11 at 2 p.m.
At Jordan Hall/New England Conservatory, 30 Gainsborough Street, Boston, MA
Commonwealth Chorale performs this fall with the Metropolitan Chorale. Together "the 180-voice chorus and orchestra will perform, on the 100th anniversary of Armistice Day, Verdi's powerful requiem, whose dramatic and emotional intensity has made it one of the most popular and beloved works of the choral repertoire."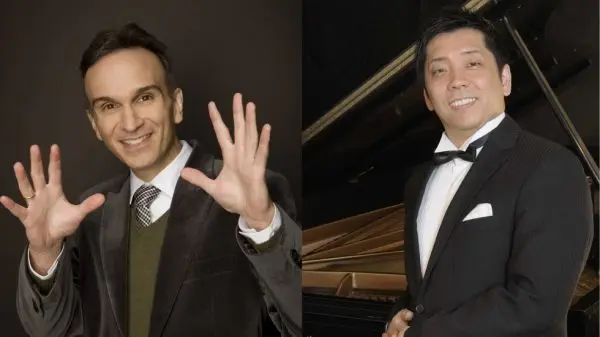 Gil Shaham, violin, and Akira Eguchi, piano
November 16 at 8 p.m.
At Jordan Hall/New England Conservatory, 30 Gainsborough Street, Boston, MA
Presented by Celebrity Series, "Gil Shaham returns for his sixth appearance, his fourth with longtime recital partner pianist Akira Eguchi. On the program: Jean-Marie Leclair's Sonata in D Major, Opus 9; Scott Wheeler's The Singing Turk; Sergei Prokofiev's Five Melodies; Fritz Kreisler's Praeludium and Allegro (In the Style of Pugnani); César Franck's Sonata in A Major.
Palestrina Revisited
November 17 at 8 p.m.
At that Harvard-Epworth Church, 1555 Massachusetts Avenue, Cambridge, MA
November 18 at 4 p.m.
At Christ Church, 33 Central Street, Andover, MA
A Convivium Musicum concert: "At times venerated, at times dismissed, the music of Palestrina has held a special, complicated place in the history of music performance and theory, from the composer's own time to the present day … Convivium offers a program of works by Palestrina that demonstrates his talent in a variety of compositional practices and styles, from the venerable cantus firmus mass to the sensuous Song of Songs motet."
The Rimsky-Korsakov String Quartet
November 18 at 3 p.m.
At the Kehillath Israel/Center Makor, 384 Harvard Street, Brookline, MA
Presented by the Ballets Russes Arts Initiative. On the program: Wolfgang Amadeus Mozart's Adagio and Fugue in C minor, K.546; Mieczyslaw (Moishe) Weinberg Quartet n.13 op.118; Dmitri Shostakovich Quartet n.3 in F major, op.73.
Bach and Schubert
November 18 at 4 p.m.
At the First Church in Boston, 66 Marlborough Street, Boston, MA
A Glissando Concert Series presentation. On the program: Bach's Aria "Schlummert ein" from Cantata BWV 82 and Schubert's Die schöne Müllerin.
— Susan Miron
---
Roots and World Music
Mamadou Kelly
November 4
Presented by World Music/CRASHarts at City Winery, 80 Beverly St. at One Canal, Boston, MA
Kelly was a mainstay of the Malian desert blues band led by Ali Farke Toure. Expect some entrancing African guitar grooves.
Kevin Burke
November 9
The Burren, Somerville, MA
There aren't too many fiddlers who can pull off a solo show, but Irish music mainstay Kevin Burke is certainly one of them.
Dominica Independence Gala
November 10
William E. Reed Auditorium, Boston, MA
The Caribbean island of Dominica was among those hardest hit by Hurricane Maria last year. But it's strong spirit and rich culture live on: the local Dominica Independence Association is throwing this event to celebration the country's 40th anniversary of independence.
Ryan Lee Crosby
November 16
City Winery (Haymarket Lounge), Boston MA
Boston songwriter and guitarist Crosby has been perfecting his raga-blues sound for a number of years, so it's about time he got his unique harmonica/tabla/drums combo into the studio. They'll be celebrating the release of their hypnotic new LP River Music and will be straight off a European tour.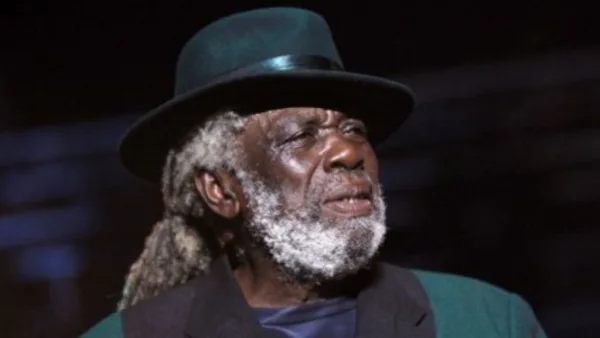 Tribute to the Mighty Shadow
November 17
Hibernian Hall, Roxbury, MA
The Caribbean music world lost a major voice recently with the passing of Tobago-born Winston Bailey, better known as the Mighty Shadow. He'll be celebrated at this dance event, which includes Wild Meat and the D Band. (Organizers suggest that attendees "Dress Like Shadow.") There will also be a collection of donations to help those impacted by recent flooding in Trinidad.
Stelios Petrakis Quartet
November 18
The Rockwell, Somerville, MA
Some of the greatest musical moments of the last two years have come from Cretan music master Ross Daly's visits to Boston. Now his torch is being picked up by Petrakis, whose group includes lyra, mandolin, cello, and the enthralling dancing of Thanassis Mavrokostas. Presented by World Music/CRASH Arts.
— Noah Schaffer
---
Rock, Pop, and Folk
Partner with Honey Cutt
November 7 (doors at 7:30, show at 8:30
ONCE Lounge, Somerville, MA
The Windsor, ON-based quintet Partner was formed in Sackville, New Brunswick, by best friends Lucy Niles and Josée Caron, who describe themselves as "gay but not for each other." Ween seems to be the most common point of reference in describing the band's sound and disposition, but Niles and Caron also cite Tegan and Sara, k.d. lang, Melissa Etheridge, and Prince as influences. Two years before the release of their 2017 debut In Search of Lost Time, a writer for The Globe and Mail was already calling Partner "the best new band in Canada." Celebrate or shake off the previous day's election results on Wednesday, when Boston trio Honey Cutt will open for Niles, Caron, et al at ONCE.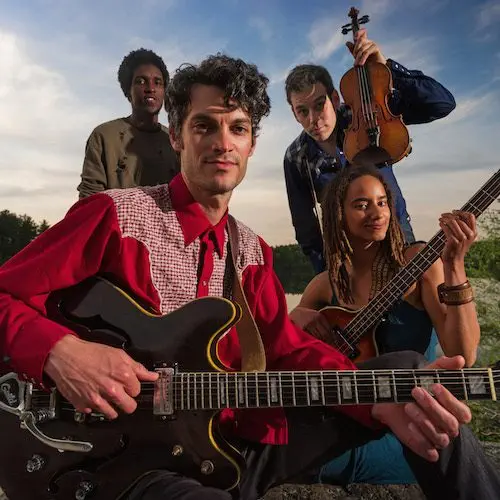 Billy Wylder with Simray
November 9 (doors at 8, show at 8:30)
Oberon, Cambridge, MA
The Cambridge quartet Billy Wylder released its second album, Strike the Match, on September 7. The album's 11 songs integrate elements of folk, rock, and world music and include appearances by Lake Street Dive's Bridget Kearney and Lula Wiles's Isa Burke. The band will play an official record release gig at Harvard Square's Oberon on Friday night.
Richard Thompson Electric Trio with Sisters of Slide
November 14 (doors at 7)
Paradise Rock Club, Boston, MA
As I have said about shows by a handful of other artists in this space, a Richard Thompson concert is something that I insist on rather than merely recommend. Sure, he won't be able to play at least one of your personal favorites, let alone all of his innumerable nonpareil compositions. Yes, he will play some subpar material, songs that give little indication of what an immense talent he is. Finally, the new songs that you may not have heard yet from this year's 13 Rivers will crowd out a few of the aforementioned individual preferences and indisputable masterpieces. Still, given what you know that he will perform and never knowing what surprises he might offer (including ones by Fairport Convention) make every RT performance with whatever resources one might expend on it. It's too bad that I probably won't make it to the Paradise on November 14, as it is the only venue in the Boston area that I haven't seen him at.
Robyn Hitchcock
November 16 (doors at 6, show at 8)
City Winery, Boston, MA
Many of the observations that I just made about Richard Thompson apply to his fellow sexagenarian and London native Robyn Hitchcock. Although Hitchcock is nowhere near the guitarist that Thompson is, he makes up in quirkiness and flat-out weirdness what he lacks in six-string wizardry. Both will demonstrate their inability to put on a bad show within two days of each other when Hitchcock captivates a City Winery audience on November 16. (Here is the interview that I did with him in 2017.)
Sarah Borges & the Broken Singles
November 17 (show at 10)
Atwood's Tavern, Cambridge, MA
Taunton, MA native and Emerson grad Sarah Borges won the 2008 Boston Music Award for Female Vocalist of the Year (Local) and the 2009 one in the Americana Act of the Year category as leader of The Broken Singles. This year, she is once again among the contenders for the latter honor. (She and the band were also nominated at the Americana Music Awards for Best New & Emerging Artist in 2009.) On October 12, Borges will add a fifth full-length album to her discography when Blue Corn Music releases Love's Middle Name. Borges and The Broken Singles, with whom she recorded the record, will show off selections therefrom at Atwood's on November 17.
— Blake Maddux
---
Author Events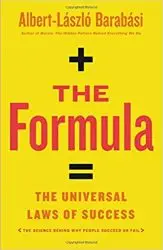 Albert-Laszlo Barabasi
The Formula: The Universal Laws of Success
November 6 at 6:30 p.m. (Free)
Brookline Village Library, 361 Washington St, Brookline MA
"Too often, accomplishment does not equate to success. We did the work but didn't get the promotion; we played hard but weren't recognized; we had the idea but didn't get the credit. We've always been told that talent and a strong work ethic are the key to getting ahead, but in today's world these efforts rarely translate into tangible results. Recognizing this disconnect, Laszlo Barabási, one of the world's leading experts on the science of networks, uncovers what success really is: a collective phenomenon based on the thoughts and praise of those around you."
Leva Jusionyte
Threshold: Emergency Responders on the US-Mexico Border
November 9 at 3 p.m.
Harvard Book Store, Cambridge MA
Free
"Ieva Jusionyte's firsthand experience as an emergency responder provides the background for her gripping examination of the politics of injury and rescue in the militarized region surrounding the US-Mexico border. Operating in this area, firefighters and paramedics are torn between their mandate as frontline state actors and their responsibility as professional rescuers, between the limits of law and pull of ethics. From this vantage they witness what unfolds when territorial sovereignty, tactical infrastructure, and the natural environment collide. Jusionyte reveals the binational brotherhood that forms in this crucible to stand in the way of catastrophe."
MassMouth Story Slam: Black Sheep
November 13 at 7 p.m. (Doors open at 6)
Trident Booksellers, 338 Newbury Street, Boston MA
Tickets are $12
"The second Trident story slam of the 2018-2019 season is on the theme "BLACK SHEEP" Bring your best true stories of being an outsider (or sheep herder) to Trident's upstairs cafe for an evening of engaging entertainment and dinner and drinks if you choose. A story slam is a contest of stories by known and undiscovered talent. Story slammers sign up on that night to tell a 5-minute true story on the evening's theme. Ten names are drawn at random from a box. A team of five volunteer judges evaluates how well each story is told, how well it is constructed, how well the story explores, connects and/or reveals some truth about the theme, and how well it honors the time limit. The top-scorer is awarded a prize and this winner, the runner-up and the audience-selected favorite earn an opportunity to compete to perform at the "Big Mouth Off" at the end of the slam season in the spring!"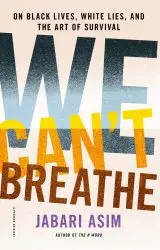 Jabari Asim
We Can't Breathe: On Black Lives, White Lies, and the Art of Survival
November 14 at 7 p.m.
Newtonville Books, Newton Centre MA
Free
"In We Can't Breathe, Jabari Asim disrupts what Toni Morrison has exposed as the "Master Narrative" and replaces it with a story of black survival and persistence through art and community in the face of centuries of racism. In eight wide-ranging and penetrating essays, he explores such topics as the twisted legacy of jokes and falsehoods in black life; the importance of black fathers and community; the significance of black writers and stories; and the beauty and pain of the black body. What emerges is a rich portrait of a community and culture that has resisted, survived, and flourished despite centuries of racism, violence, and trauma. These thought-provoking essays present a different side of American history, one that doesn't depend on a narrative steeped in oppression but rather reveals black voices telling their own stories."
Jeff Tweedy
Let's Go (So We Can Get Back): A Memoir of Recording and Discording with Wilco, Etc.
November 14 at 7:30 p.m.
Wilbur Theatre, Boston MA
Tickets are $72-$45
"Few bands have inspired as much devotion as the Chicago rock band Wilco, and it's thanks, in large part, to the band's singer, songwriter, and guiding light: Jeff Tweedy. But while his songs and music have been endlessly discussed and analyzed, Jeff has rarely talked so directly about himself, his life, and his artistic process. Until now. In his long-awaited memoir, Jeff will tell stories about his childhood in Belleville, Illinois; the St. Louis record store, rock clubs, and live-music circuit that sparked his songwriting and performing career; and the Chicago scene that brought it all together. He'll also talk in-depth about his collaborators in Uncle Tupelo, Wilco, and more; and write lovingly about his parents, wife Susie, and sons, Spencer and Sam."
David Priess
How to Get Rid of a President: History's Guide to Removing Unpopular, Unable, or Unfit Chief Executives
November 16 at 7 p.m.
Harvard Book Store, Cambridge MA
Free
"How To Get Rid of a President showcases the political dark arts in action: a stew of election dramas, national tragedies, and presidential departures mixed with party intrigue, political betrayal, and backroom maneuvers. This briskly paced, darkly humorous voyage proves that while the pomp and circumstance of presidential elections might draw more attention, the way that presidents are removed teaches us much more about our political order."
— Matt Hanson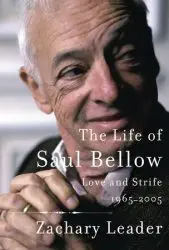 Zachary Leader
The Life of Saul Bellow: Love and Strife, 1965-2005
November 13 at 5 p.m.
Florence and Chafetz Hillel House
Second Floor Lounge, Boston University, 213 Bay State Road, Boston, MA
Leader reads from the second part of his biography of American literary giant Saul Bellow. Martin Amis believes that these volumes will be the "definitive" life of the writer: "Leader is respectful but unintimidated, balanced but never anodyne, and his literary criticism, like his prose, is unfailingly stylish and acute."
— Bill Marx