An Arts Fuse regular feature returns (temporarily): the Arts on Stamps of the World. We present the second of our three lapsed November 2017 installments, now being seen for the very first time anywhere!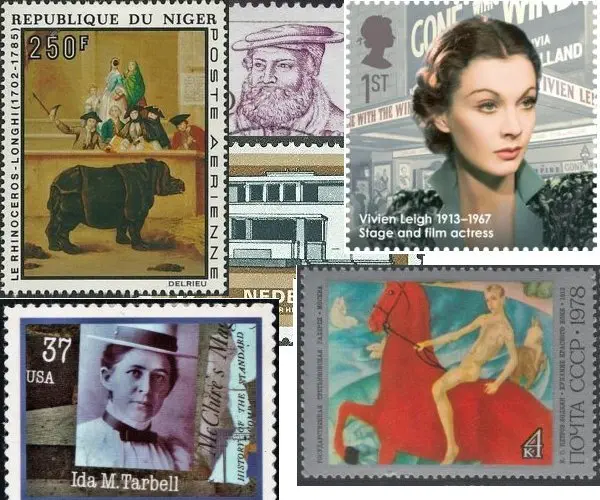 By Doug Briscoe
German meistersinger Hans Sachs (5 November 1494 – 19 January 1576) is better known to most of us as a character in an opera rather than as a poet, playwright, and shoemaker. But did you know that besides being one of the lead characters in Wagner's comedy Die Meistersinger von Nürnberg, he is also represented in another German opera, Hans Sachs by Albert Lortzing?
I must confess I was unfamiliar with the remarkable 17th-century Dutch polymath Anna Maria van Schurman (November 5, 1607 – May 14 or 15, 1678). Her parents were wealthy, her father from Antwerp, her mother German. Anna Maria spent her earliest years in Cologne, but the family went to Utrecht when she was still small. From the age of 11 she was taught on an equal footing with her brothers, a fact most unusual for the age. Anna Maria was not yet out of her teens when her father died, and she studied engraving and was permitted to attend university only by sequestering herself behind a screen so that the male students couldn't see her. Her astonishing mind took in literature, science, theology, and languages, of which she spoke fourteen! (Beyond the European languages and Latin, Greek, and Hebrew, she was conversant with Arabic, Syriac, Aramaic, and Ethiopian!) Her artistic inclinations also manifested themselves early. She excelled at engraving with a diamond on glass, modelling in wax, woodcarving, and embroidery. Her ability at painting was so accomplished that she was given an honorary admission to the St. Luke Guild of painters in 1643. Oh, yes, and she wrote poetry and essays, including one bearing the title Dissertatio De Ingenii Muliebris ad Doctrinam, & meliores Litteras aptitudine, published in Paris in 1638 and within about twenty years translated into Dutch, French, and English, as "The Learned Maid or, Whether a Maid may be a Scholar." As for theology, her questing mind found satisfaction in the theories of the Pietist Jean de Labadie, and she became not only his follower but also his personal assistant. (As it turned out, Labadism ended up in the ashbin of theological history after about 1750.)
Venetian painter Pietro Longhi may have been born on this date in 1701 or at some point in 1702. His father was a silversmith named Falca, and Pietro took on the name Longhi as soon as he began to paint. He painted an altarpiece and some frescoes in his youth, and by the late 1730s had begun to devote himself almost exclusively to genre pieces and portraits. As a composer of everyday scenes he has been compared to Hogarth. A very common feature of Longhi's figures, however, is that they are often—indeed, about half the time—wearing carnival masks, as we see in the pictures at lower left, The Tooth Puller (c1750) and upper right, The Charlatan (1757). The background painting on the Ivoirian minisheet is The Concert (1741), and the other stamp on the sheet, like the first of the two stamps from Burundi, is La Polenta (The Poultice, c1740). At bottom right are Longhi stamps from Upper Volta (as it was then called) and Niger: La Musica (aka The Family in Concert, 1752) and The Rhinoceros (1751). The story behind this one is that Clara the rhinoceros had been brought to Europe in 1741 and was exhibited in Venice ten years later. From 1763 Longhi was Director of the Academy of Drawing and Carving. He died May 8, 1785.
Our next artist was born almost a hundred years later. Russian painter Kuzma Petrov-Vodkin (1878 – February 15, 1939) had in childhood some lessons from icon painters and a signmaker, but did not embrace art wholeheartedly until happenstance brought a prominent architect across his path and he was encouraged to study at Saint Petersburg. In 1897, after two years, Petrov-Vodkin moved on to Moscow, where he received tuition from Valentin Serov, Isaak Levitan, and especially Konstantin Korovin. Some of Petrov-Vodkin's pieces were a little too much for officials of the Russian Orthodox Church, who actually destroyed the work he did for a chapel in Samara. Others found his paintings too erotic. Around  this time Petrov-Vodkin came up with a notion he called "spherical perspective", in which the viewer was placed so high relative to the subject that, with some manipulation and distortion of the image, the curvature of the earth could be seen. (This device does not occur in any of the paintings on the stamps.) His most famous work is Bathing of a Red Horse (1912), essentially the artist's signature piece, so it is first in a set of six stamps issued for Petrov-Vodkin's centenary in 1978. The others show Mother and Child, Petrograd, 1918 (1920), Death of the Commissar (1928), Still-Life with Fruit, Still-Life with Teapot and Flowers, and Self-Portrait (these last three all from 1918). (Clicking on the Self-Portrait link will take you a page of a great many of his works.) The earlier Soviet stamp from 1968 offers Alarm (1919). His 1922 portrait of Anna Akhmatova is also rather well known. After 1927, Petrov-Vodkin, afflicted with pulmonary tuberculosis, had to cut back on his painting and instead took up writing, with three semi-autobiographical volumes. He was also said to have been a capable violinist.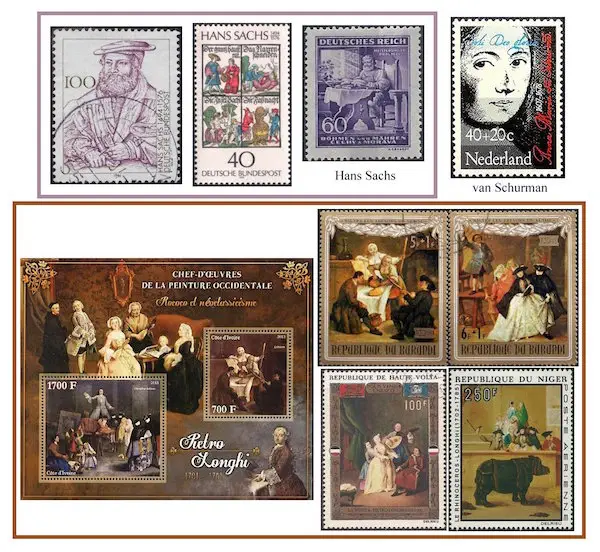 We give a nod to journalist Ida Tarbell (1857 – January 6, 1944), who, as a "muckraker", dug up dirt on Standard Oil and John D. Rockefeller in a series of articles published in McClure's from 1902 to 1904 and issued in book form as The History of the Standard Oil Company. Born in a log cabin in Pennsylvania, Tarbell worked as a teacher, covering topics as varied as geology, botany, geometry, trigonometry, Greek, Latin, French, and German! Tarbell was also the author of other important magazine series and several volumes of biography on Abraham Lincoln.
By pure coincidence, American painter Joseph DeCamp (November 5, 1858 – February 11, 1923) had an association with Edmund C. Tarbell (no relation, I think) on joining the older man's Boston School of artists in the mids-1880s. He was born in Cincinnati and studied with Frank Duveneck both there and in Munich. In 1897 DeCamp co-founded the Ten American Painters, a group of Impressionists. He taught at the Massachusetts Normal Art School (now Massachusetts College of Art and Design) for the last twenty years of his life, also leading painting classes at the School of the MFA. He lost several hundred of his early works to a 1904 fire in his Boston studio. He died in Boca Grande, Florida. On the stamp we see a detail from The Cellist (1907-08). A couple of other examples of DeCamp's work (not on stamps) are The Hammock (1895) and another musical item, The Kreutzer Sonata (1912).
French music critic and composer Henri Collet (1885 – November 23, 1951), despite having composed operas and ballets, an Alhambra Symphony, two concertos with the title Concerto flamenco (one for piano, the other for violin), chamber works, piano pieces, and songs, is famous for just one thing: coining the term Les Six in an article he wrote in 1920. The term was applied to a group of young musicians at the Paris Conservatory: Poulenc (French stamp), Milhaud (French and Israeli stamps), Honegger (French, Swiss, and German stamps), Tailleferre (French stamp), Auric (French and Monegasque stamps), and Louis Durey (no stamp).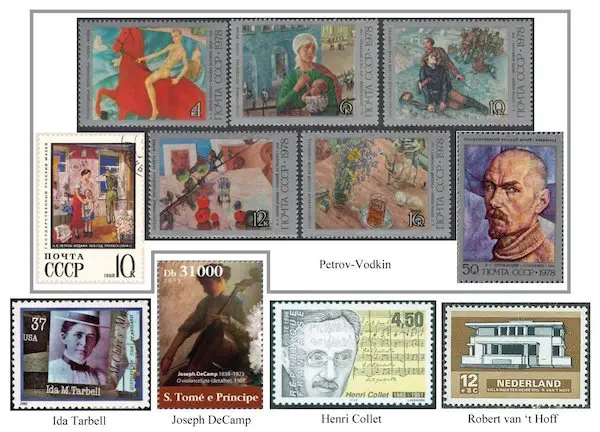 Dutch architect Robert van 't Hoff (1887 – April 25, 1979) was a man of rather firm opinions. Coming from a well-to-do family in Rotterdam, he was advised to take up the study of architecture in England, and in that country he built his first structures, including a house for the Welsh painter Augustus John. That was in 1913, the year in which van t'Hoff was introduced to the work of Frank Lloyd Wright, which made so strong an impression that van t'Hoff visited America to see some of it firsthand. In 1914, he built Villa Henny (aka Villa at Huis ter Heide), one of the earliest houses in the modernist style and one of the first to be constructed of reinforced concrete. It's this building that appears on the postage stamp. He joined Theo van Doesburg's De Stijl movement in 1917 but found after a couple of years that it lacked commitment to his Communist ideals, and he left the group. Soon thereafter he wrote an article in which he signed himself "Robert Van. ('t Hoff)., ex-architect." From 1922 he lived with his family in England, except for a period in Switzerland in the early 30s.
The versatile industrial designer Raymond Loewy (1893 – July 14, 1986) was born in Paris to an Austrian-Jewish journalist and a French mother. His first efforts in design were for model aircraft, and these childhood undertakings were good enough to win him prizes. After serving in the French army as a captain in World War I he moved to New York, where he worked designing window displays for department stores and as a fashion illustrator for Vogue and Harper's Bazaar. It was 1929 before he received his first industrial-design commission. This was for Sears-Roebuck's Coldspot refrigerator. It was the beginning of Loewy's long and successful career. Subsequent projects included a Schick electric razor of 1941 and a number of famous automobile designs: the 1946 Loewy Lincoln Continental and a series of Studebakers, the Champion (1947), the Commander (1953), and the Avanti (1963). Loewy was also responsible for TWA's Twin Globes logo (1959) and the Exxon logo (1966, but not introduced until 1972). None of these appears on the stamp, though, which is given over to a space-age pencil sharpener. When he was 87, Loewy retired and returned to Europe, dying in his Monte Carlo home at age 92.
Czech painter, graphic artist, and illustrator Jan Zrzavý (5 November 1890 – 12 October 1977) studied in Prague, first privately then at the Academy of Arts, Architecture and Design, from which, at some point and for some reason, he was expelled. He had a love affair with France from 1907 on, but always kept close ties to the land of his birth. He did not achieve much international fame until the 1950s and 60s, despite being remembered now as an important contributor to the modernist movement. His work is represented on two Czech stamps: Moon Searching for Lilies of the Valley (1913) and Cleopatra II (1942-57).
All of our last four personages are actors. Of course, Roy Rogers (1911 – July 6, 1998) was also a singer, but the "King of the Cowboys" acted in over a hundred movies. He had a radio show from the 1940s and then one on TV from 1951 through 1957. His birth name was Leonard Franklin Slye, and like the above-mentioned Joseph DeCamp he first saw the light of day in Cincinnati, Ohio. His introduction to music was the square dances that were held in his parents' home, for which he would sing and play mandolin. During the Depression, the family drove to California to rejoin with Len's sister Mary, and it she who suggested that he audition for a radio program. Just days later, he was asked to join a local country music group. A movie career followed in 1935, and he met wife-to-be Dale Evans in 1944 on a movie set. I'm not sure exactly when he met Trigger.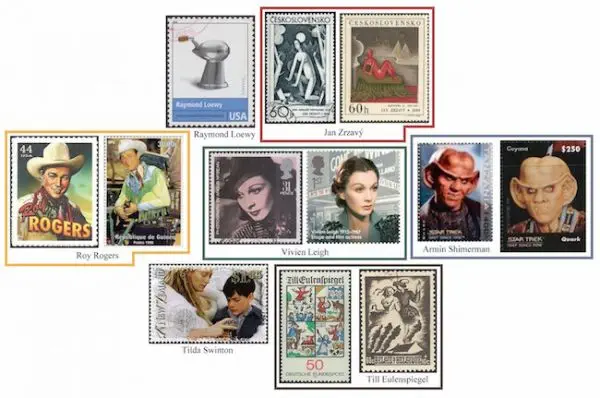 Born two years to the day after Roy Rogers was English actress Vivien Leigh (1913 – 8 July 1967). Like him she was born under a different name, Vivian Mary Hartley, but there I think the similarity ends. Leigh went to drama school before her first screen roles in 1935—her first lead was in Fire Over England (1937). Just two years later she won the Oscar for playing Scarlett O'Hara in Gone with the Wind. In 1940 she married Laurence Olivier in a union that lasted twenty years. Her second Academy Award was earned for her portrayal of Blanche DuBois in A Streetcar Named Desire (1951). Although largely associated in the American public's mind with movies, Leigh was first and foremost a stage actress. Unfortunately, she was haunted with two grave illnesses, bipolar disorder and chronic tuberculosis, from which she died at age 53. Vivien Leigh has twice been honored on stamps of the United Kingdom.
American actor Armin Shimerman (born November 5, 1949) suffers the irony of being best known for a role in which his face is virtually unrecognizable. You can see what I mean, if you're not familiar with Star Trek: Deep Space Nine, by looking at the stamps, where he is shown in costume, buried under the makeup he had to wear to portray the alien (Ferengi) Quark. You may also know him from Seinfeld or Buffy the Vampire Slayer.
British actress Tilda Swinton (born 5 November 1960) also appears on her stamp in a fantasy character, the White Witch Jadis, in a still from the Chronicles of Narnia films. (The boy is Skandar Keynes, a former actor who played the role of Edmund Pevensie in the films.) Swinton was a member of the Royal Shakespeare Company from 1984 and first appeared in cinema in Caravaggio (1986), directed by Derek Jarman, with whom she had a long professional relationship. She's also done memorable work with Wes Anderson (Moonrise Kingdom, The Grand Budapest Hotel, and the animated Isle of Dogs) and the Coen Brothers (Burn After Reading and Hail, Caesar!). She is known for having performed in numerous independent films and for having won the Best Supporting Actress Oscar in 2008 for Michael Clayton. The Swintons, incidentally, are one of only three British families that have documented lineage going back to before the Norman Conquest.
On this date in 1895, the young Richard Strauss's tour de force tone poem Till Eulenspiegel's Merry Pranks was first heard in Cologne, conducted by Franz Wüllner. The piece was inspired by the legendary folk hero of the 14th century, a practical joker who shows up the follies and vices of his unfortunate victims. His name appears in print for the first time in 1510, and he earns a mention in Ben Jonson's play The Alchemist. There is no stamp for the musical work, but Till himself, the rogue, has two, having somehow wangled one out of Belgium besides the anticipated German issue.
---
A graduate of the University of Massachusetts with a B.A. in English, Doug Briscoe worked in Boston classical music radio, at WCRB, WGBH, and WBUR, for about 25 years, beginning in 1977. He has the curious distinction of having succeeded Robert J. Lurtsema twice, first as host of WGBH's weekday morning classical music program in 1993, then as host of the weekend program when Robert J.'s health failed in 2000. Doug also wrote liner notes for several of the late Gunther Schuller's GM Recordings releases as well as program notes for the Boston Classical Orchestra. For the past few years he's been posting a Facebook "blog" of classical music on stamps of the world, and last year that project was expanded to encompass all the arts for The Arts Fuse.