Mother Butterfly's script shows genuine promise, but the Storm Warnings Repertory Theatre's premiere production falls short.
Mother Butterfly: A Daughter's Memoir, written and directed by Paul Dervis. Staged by Storm Warnings Repertory Theatre at the Brick Store Museum Performing Arts Center, Kennebunk, ME, through November 17.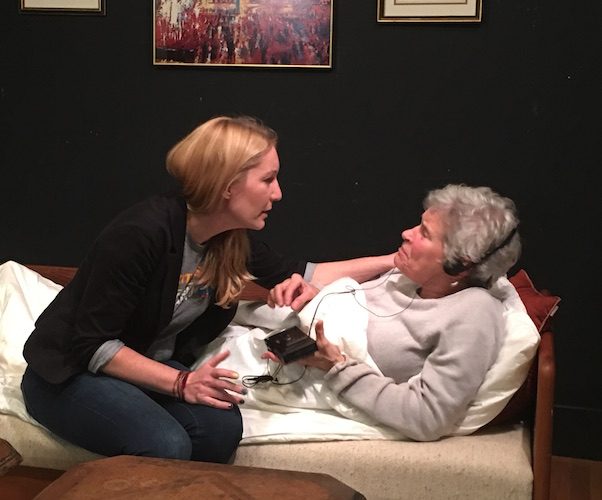 By David Greenham
Prolific Storm Warning Repertory Theatre Artistic Director (and Arts Fuse contributor) Paul Dervis is back with his newest work, Mother Butterfly. The script revolves around Amy Kelly (Elizabeth Freeman), a stand-up comedienne who uses her turn at the mic to share episodes about her late mother Joanne (Deborah Paley).
Set in Boston, the play tumbles out via a series of memories in random-seeming fashion, revealing Joanne's unique life and habits. A successful banker who rose through the ranks, we encounter her as an older woman who is riddled with cancer. Despite her illness, she has a proclivity for shouting obscenities and then laughing with pleasure. Joanne also loves classical music and opera. Her favorite is Puccini; strains of Madame Butterfly flutter about in designer Drew Hanson's soundtrack.
While the mother and daughter thread of the narrative is at the center of Mother Butterfly, it's really a play about dysfunctional families. Amy's father, Craig Kelly (Stephen McLaughlin) is emotionally detached and not much of a husband or a dad.
Amy's older sister Jane (Caron Murray) may have been wild when young. By the time Joanne's battle with cancer is being lost, Jane is married with children, and is living on the other side of the country. One poignant moment of the play comes when Jane cryptically announces to her sister and father that she has to leave and won't be able to schedule a return until the funeral.
We also meet the oncologist (and Craig's childhood friend) Jack, both played by Tim Wooten. Caron Murray takes on the roles of  a friendly waitress and a gold digging divorcee who dates Craig once Joanne has passed away.
Many of the brief scenes in Mother Butterfly are broken up via a set up in which we see bits of Amy's stand-up act at Yuk Yuk's, a local comedy club.
Mother Butterfly paints a familiar picture of domestic dysfunction. Memories of discomfort, love, closeness, anger, and every other emotion are all rolled together — Shakespeare's 'mingled yarn." As almost everyone's mom has said at one point or another, you can choose your friends but not your relatives. Dervis has created a family on stage that is convincingly true to life: the play elicits knowing smiles, if not many outright laughs, and also expresses the power and despair of loss.
Still, while the script and concept of Mother Butterfly shows genuine promise, the Storm Warnings Repertory Theatre's premiere production falls well short of offering what's needed for a full appreciation of its merits.
The company has been eagerly pursuing its mission to present new plays in Maine, but has yet to establish a firm footing. It's performance space, which is a generic meeting room at Kennebunk's Brick Store Museum, is a long way from being able to function successfully. The room is equipped with a tiny lecture hall type platform stage — there's only one entrance. The track lighting is too weak to be sufficient in terms of theater, and lacks flexibility. While Dervis and Storm Warnings Rep attempt to extend the tiny stage with a small platform down left (which serves as the stage at Yuk Yuk's as well as a setting for a small café), but location remains nebulous. Jay Weston Jones living room set feels generic rather than lived in; the actors never seem to look comfortable there.
What's more, the flow of Mother Butterfly is hampered by clunky and confusing transitions from scene to scene. There are moments when actors navigate the space as if they were trying to enter or exit a crowded bus. As Joanne, Deborah Paley supplies illuminating moments of clarity, especially when her character becomes aware that her body is giving up. She expresses frustration, anger, sorrow, and great humor along the way. As her daughter and husband, Caron Murray and Stephen McLaughlin are best in their cleanly written encounters with Joanne.
The most challenging role is Amy. Elizabeth Freeman struggles to make the difficult transitions from stand-up performer/narrator to Joanne's daughter. The actress is a Storm Warnings Rep regular and seemed to be fighting with the part. Dervis' premise of the stand-up comedienne as narrator might be workable — if there were jokes and/or punchlines. It feels as if Freeman is imprisoned at the mic, struggling to work out her issues — which I suppose is part of what happens at local comedy clubs.
In an episodic play like this, transitions become critical. Amy must slip with ease in and out of character. In Mother Butterfly the action jumps back and forth through the fourth wall. The family scenes are intimate snapshots: the audience watches in a traditional, if voyeuristic, fashion. The stand-up segments are presentational; the audience serves as the bar crowd at Yuk Yuk's. It takes considerable focus for a performer to seamlessly weave the two together, and Freeman doesn't pull it off.
I continue to applaud Dervis and his company for their ambitious experiment, and celebrate any and all the efforts in Maine to present new plays. (And there are many, chiefly led by Maine's only LORT theater, Portland Stage). But Mother Butterfly simply doesn't take flight. If bringing in a lighting system and using the space in a manner that doesn't feel cramped isn't an option, then presenting staged readings of plays with the house lights on might be a better. It would give the texts of the new plays a chance to be the sole focus. Or, a different space and adding members to the creative team might help. Since the company is only a half hour from both Portland and Portsmouth, NH, there are plenty of talented theater artists to draw on. It might be worth it to shake the trees a bit in order to give Storm Warnings' new plays a fighting chance.
---
David Greenham is an adjunct professor of Drama at the University of Maine at Augusta, and is the Program Director for the Holocaust and Human Rights Center of Maine. He spent 14 years leading the Theater at Monmouth, and has been a theater artist and arts administrator in Maine for more than 25 years.