The Ups and Downs of the biz. At this time of year it's easy to question your choice of residence in sun-deprived New England. The cold, the wet, and the absence of vitamin D in your skin rattles through to your bones and leaves you asking, can we just skip to June already? You are not the only one who has asked that question. The bands that I've picked for this month's listing have all been there too, although they can't wait for next year for a few different reasons.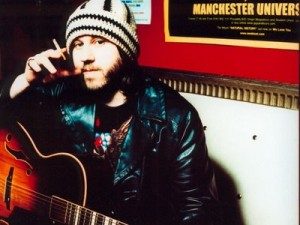 One rode the fame wave from a fantastic debut album only to be left washed up on shore with nothing to show for from the years spent surfing; another is on the brink of a breakout record; one has decided to pack up and start over elsewhere; and another has been consistently told they don't cut it even though they are more than content with their stature. Seasons, like bands and people, all have their ups and downs. So if going out to see a great show this winter doesn't pick you up, it will always get sunny again in June.
By Tom Samph.
December 1st,  Badly Drawn Boy at Paradise Rock Club
Musicians, like writers, write shitty first drafts, in the words of Ann Lamott. So when Badly Drawn Boy, or English singer/songwriter Damon Gough, sketched out the direction of his career after the huge success of his debut album, The Hour of the Bewilderbeast, he would eventually be forced to redraw his life path, albeit against his will. After the release of The Hour of the Bewilderbeast in 2000 (which was packed with beautiful songwriting), Gough released 5 followup albums; he has been criticized for failing to top the genius of his debut. Album reviews claimed that Gough, who started out with the promise of being the next great songwriter like a contemporary Bob Dylan or Nick Drake, had slipped into mainstream pop purgatory (aka, blah) after producing several TV and film soundtracks.
But Gough brought another draft to the table with the release of his album, It's What I'm Thinking Pt. 1 – Photographing Snowflakes, in October of this year. As part of a trilogy of albums to come, this album is Gough's attempt to redraw his career path towards the success of his debut and redraw the lines of honest emotion he found with The Hour of the Bewilderbeast. It's not that he is a bad drawer, he's just drawn badly, so far.
December 7th, Naked On Roller Skates at Church of Boston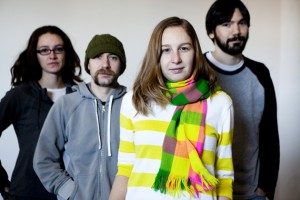 What's in a name? Those whom we call Naked on Roller Skates by any other name would sound as sweet. Yes, they would probably sound the same with another name. But really, we wouldn't want them to have gone with any other. Despite sharing their name with Maxwell Bodenheim's 1930 novel about beat life in Manhattan, the band gets two thumbs up for a great whimsical name. Musically they fit nicely into the power pop scene with melodies like those of singer Emily Haines of Metric. Fortunately, unlike Romeo and Juliet, Bodenheim's novel comes with a happy ending; as for Naked On Roller Skates . . . just keep skating naked.
December 17th, Weezer at the Orpheum Theatre
My tastes and musical experiences have come a long way from the weekend nights spent at school-sponsored gigs listening to friends' bands cover Weezer songs. For Weezer, though, not much has changed. They still churn out the same catchy, pop-punk melodies that teenagers everywhere want to blast from their speakers as they speed home from passing their drivers license test. It appears to have been difficult for the band though, because after taking a break between 1997 to 2000, they have desperately tried to hold onto their image by crafting a sound to fit their young audience with albums like Make Believe, The Red Album, and Ratitude.
Their latest album, Hurley, (yes, that Hurley) which features a portrait of the character from Lost on the cover, can be interpreted two ways: funny and ironic or cheap and contrived. Even so, I am still left with the question Why? It's not a bad thing to cater to a specific audience, just try not to get caught on anyone's braces in the mosh pit at this show.
December 20th, As Tall As Lions at Paradise Rock Club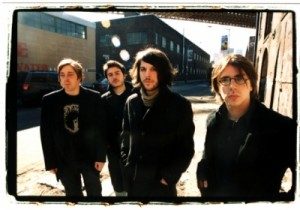 Breakups can be rough, especially for bands with short careers. However, maybe being As Tall As Lions gives you a leg up. Although the band is still breaking up, they are parting ways amicably after nine years. Fortunately for fans, the band is putting together one last set of shows, with a farewell stop in Boston. Hear vocalist Dan Nigro, who has been compared with Jeff Buckley and Matthew Bellamy, guitarist Saen Fitzgerald, bassist Julio Tavarez, and drummer Cliff Sarcona craft their model pop melodies for the last time . . .before they become Were As Tall As Lions.
December 26th, Mighty Mighty Bosstones at House of Blues
Besides "The Impression That I Get," it's difficult for most people to recall another Mighty Mighty Bosstones song. However, before relegating the 25-year-old group to the One Hit Wonder pile, consider that they have been around for almost three decades, released eight studio albums, and toured with the ska scene's elite. In reality, the army of musicians that make up the Mighty Mighty Bosstones consistently come up with music that typifies ska, even if one of the main reasons everyone knows "The Impression That I Get" is because it was just enough ska mixed with just enough mainstream pop to appeal to the unaccustomed ears of the general public. Bostonians in particular have a special reason to know this band; their career began on the stage of the Middle East in Cambridge.
Added Attractions

The Antlers – Dec. 2 – Paradise Rock Club, Boston

OK Go – Dec. 3 – Lupo's Heartbreak Hotel, Providence

Robert Randolph & The Family Band – Dec. 3 – House of Blues, Boston

Richie Havens – Dec. 4 – The Narrows Center for the Arts, Fall River

OK Go – Dec. 5 – Paradise Rock Club, Boston

Matisyahu – Dec. 6 – Paradise Rock Club, Boston

Minus the Bear – Dec. 7 – Wilbur Theatre, Boston

Fake Problems – Dec. 7 – Great Scott, Boston

Better Than Ezra – Dec. 9 – Paradise Rock Club, Boston

Fran Healy – Dec. 9 – Cafe 939, Boston

Dashboard Confessional – Dec. 11 – Paradise Rock Club, Boston

Southern Lust Club – Dec. 11 – Church of Boston

Trans-Siberian Orchestra – Dec. 15 – TD Garden, Boston

Liz Phair – Dec. 15 – Paradise Rock Club, Boston

Trans-Siberian Orchestra – Dec. 16 – Dunkin' Donuts Center, Providence

Steve Mason – Dec. 18 – Great Scott, Boston

Usher – Dec. 21 – TD Garden, Boston

Wu Tang Clan – Dec. 22 – Wilbur Theatre, Boston

moe. – Dec. 30 – House of Blues, Boston

The Roots – Dec. 30 – Showcase Live, Foxborough

Third Eye Blind – Dec. 31 – Wilbur Theatre, Boston