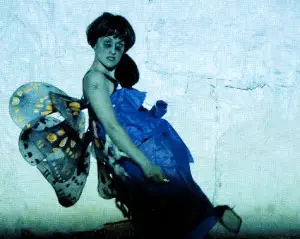 I figure you know where the killer Scrooges are, so this month I look for alternatives to the usual holiday fare. The American Repertory Theater and GAN-e-meed Theatre Project are serving up something different, and SpeakEasy Stage Company says it has found "hip" holiday fare. I have heard that one before, but you never know. New Repertory Theater says its cabaret will make "The Eight Days of Chanukah" snazzy.
By Bill Marx.
Holiday Shows in Repertory: The Best Christmas Pageant Ever, written by Barbara Robinson and directed by Chris Carcione, and Sister's Christmas Catechism, conceived by Maripat Donovan with Jane Morris and Marc Silvia. Presented by the Stoneham Theater, Stoneham, MA, through December 23. The Best Christmas Pageant Ever runs through Dec 23; Sister's Christmas Catechism starts up on December 1 and runs through the 19th. Somebody at Stoneham wants to double down on the Xmas cheer with two shows in rep.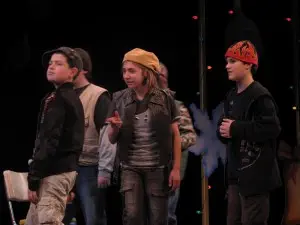 Best Christmas Pageant Ever sounds like Boys Town run riot: "A small-town Christmas Pageant gets hijacked by the roughest, loudest, rowdiest kids in town." I have a feeling it is all going to work out well, what with a cast of talented performers, including Dee Nelson, Stacy Fisher, Kathy St. George, Neil McGarry, and Sarah Jones, putting the kibosh on the pint-sized bandits. Sister's Christmas Catechism "is the latest installment in the Late Nite Catechism series, a hilarious unconventional tutorial in Catholic holiday traditions." The cast features Denise Fennell.
The Blue Flower by Jim and Ruth Bauer. Directed by Will Pomerantz. Movement by Tom Nelis. Music direction by Mark Rubinstein. Staged by the American Repertory Theater at the Loeb Drama Center, Cambridge, MA, December 1–30. An ambitious "musical play" that promises to combine 1920's Berlin cabaret music with the lyricism of American country and western. The show "rides the twisted rails of history and the tangled love interests of three artists and a scientist, from Paris during the Belle Epoque, through the battlefields of the Great War and beyond. The title of the piece is a reference to the symbol used by German romantic poets of the 18th and 19th centuries to signify the ongoing search for artistic perfection. Over time, it evolved into an emblem of hope and was adopted by other artists as a symbol for the simultaneous end and the beginning of all things, for reinvention and reincarnation."
The Santaland Diaries by David Sedaris. Adapted by Joe Mantello. Staged by Shakespeare & Company at the Elayne P. Bernstein Theatre, Lenox, MA, December 3 through 30. Artistic Director Tony Simotes is at the helm of this popular one-man Christmas show: "The occasionally subversive, alarmingly clever, engagingly poignant and always side-splittingly funny true account of Mr. Sedaris' time spent working as a Christmas elf at Macy's Department Store." S & C actor Peter Davenport plays Crumpet the unhappy elf.
Silence by Moira Buffini. Directed by SerahRose Roth. Staged by the GAN-e-meed Theatre Project at the Elizabeth Peabody House, Somervile, MA, December 2–18. Always a pleasure to suggest theatergoers take a chance during the holiday season, which is filled to the brim with elfs and Scrooges. Buffini's play won the 1999 Susan Smith Blackburn Prize for best English-language play by a woman. The show is a comedy set in the Dark Ages of England, and "tells the story of Ymma, a bitter Norman noblewoman banished to England and forced to marry 14-year-old lordling, Silence, who is worth far more than he seems."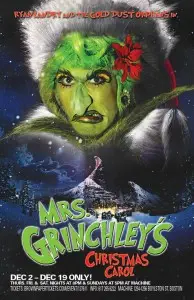 Mrs. Grinchley's Christmas Carol by Ryan Landry and the Gold Dust Orphans at MACHINE, Boston, MA, December 2–19. I remember seeing this years ago (well before the chic rise of charmingly anti-Xmas entertainment), and it was a campy hoot, with a cast that includes male strippers. "Based on Dickens' Christmas Carol, our villain, the old boozehound Mrs. Grinchley, steps into Mr. Scrooge's legendary seal skin slippers and reluctantly travels via Spirits through her grossly checkered past, her absolutely rancid present and finally, far into her most gruesome future." "Do be forwarned that Mrs. Grinchley's Christmas Carol is NOT for children . . . unless of course they're of drinking age! "
The Boston Typewriter Orchestra (BTO) presented by the Friends of the Charlestown Branch Library, December 6. Something different for the holidays—and a chance to show your children what people wrote with before computers. BTO "is a collective endeavor which engages in rhythmic typewriter manipulation combined with elements of performance, comedy and satire. BTO aims to entertain the masses while providing an outlet for the creative urges of its members." Founded in 2004, the group has "opened for Amanda Palmer of the Dresden Dolls and appeared on the Today show." "A festive holiday reception follows the performance."
Striking 12, Book, Music & Lyrics by Brendan Milburn, Rachel Sheinkin, and Valerie Vigoda. Directed by Scott Sinclair. Music Direction by José Delgado. Staged by the SpeakEasy Stage Company at the Boston Center for the Arts, December 12 through January 2, 2011. Billed as "A Hip Holiday Musical"—who knows, this time the description may be true. "Weaving a modern-day New Year's Eve into Hans Christian Andersen's classic fable The Little Match Girl, this unique hybrid of musical theatre and live concert tells the story of a grumpy, overworked New Yorker whose resolve to spend New Year's Eve alone crumbles when an unexpected visitor brings some much-needed cheer."
New Rep's Darling Divas Deck the Holidays, a "festive holiday" cabaret directed by Kate Warner. Music direction by Todd C. Gordon. Staged by New Repertory Theatre at the Arsenal Center for the Arts in the Charles Mosesian Theate, Watertown, MA, December 16–23. The cast features New Rep favorites Michele A. DeLuca (Hot Mikado, Cabaret, The Wild Party, and Ragtime), Aimee Doherty (Hot Mikado, Speed-the-Plow, Cabaret, tick, tick… BOOM!, The Wild Party, Ragtime, and Into the Woods), Kami Rushell Smith (Dessa Rose), and Bobbie Steinbach (The Clean House, Romeo and Juliet, A Girl's War, The Waverly Gallery, and Stonewall Jackson's House). "Four vocal divas jazz up your favorite sentimental and snazzy holiday songs, such as "Let It Snow," "Santa Baby," and "The Eight Days of Chanukah." Interwoven into the melodious and humorous festivities will be heartfelt readings from classic holiday stories like "The Gift of the Magi," "'Twas the Night Before Christmas," and "A Christmas Carol."' "The Eight Days of Chanukah"—snazzy? This must be some kind of a show . . .