Conductor Aapo Häkkinen explores Robert Schumann's writing for chorus; Andrew Manze caps off his three-volume Mendelssohn symphony survey with a glorious performance of the oddball Symphony no. 2.
By Jonathan Blumhofer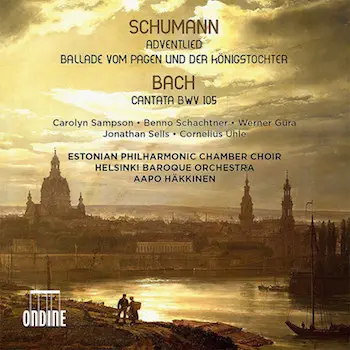 It's a strange irony that, for all of Robert Schumann's influence and popularity, a not insignificant amount of his orchestral music and nearly all of his writing for chorus remains obscure. To help remedy this situation, the Estonian Philharmonic Chamber Choir (EPCC) and Helsinki Baroque Orchestra (HBO), led by Aapo Häkkinen, step into the void with a new recording (for Ondine) of pieces Schumann wrote and arranged when he led the Dresden and Düsseldorf Musikvereins late in his short life: two pieces for chorus and orchestra, plus an arrangement of a Bach cantata.
The highlight of the disc would be the world premiere recording of Schumann's setting of Friedrich Rückert's Adventlied, a kind of humanistic Christmas-season anthem written in the aftermath of the revolutionary turmoils of 1848. It's a relatively short piece – just over a quarter-hour long – but marked by chromatic lyricism and grandiose gestures that allude pretty strongly to Schumann's model of Bach (perhaps channeled a bit through Mendelssohn's example).
From soprano Carolyn Sampson's floating, opening solo to the rousing final chorus, "Und lösch' der Zweitracht Glimmen," choir, soloists, and orchestra do the piece proud. Its vigorous contrapuntal writing is relayed with style and Schumann's sometimes-awkward vocal parts, with their occasional big leaps, hold no terrors for the EPCC.
Similar direction and energy mark the musicians' reading of Vom Pagen und der Königstochter, Schumann's 1852 cantata and the disc's opener, whose narrative is drawn from the same Grimm "The Singing Bone" legend that inspired Mahler's Das klagende Lied. An affecting, often evocative, setting of a grim tale that relates the demise of a page who loves the daughter of a king, is murdered by that king, and subsequently has his revenge on the whole of the king's court, it's a piece that draws out the best of Schumann's innate dramatic skillset while also hinting at the influence of Wagner (in its rustic evocations, rhythmic turbulence, and so on). On top of that, it boasts some simply lovely music.
In between comes Schumann's arrangement of J. S. Bach's cantata BWV 105, "Herr, gehe nicht ins Gericht."
For the Bach, the soloists are solid. Soprano Sampson delivers a radiant account of her aria, "Wie zittern und wanken." Tenor Werner Güra's "Kann ich nur Jesum mir zum Freunde machen" is similarly light and brimming with color. Countertenor Benno Schachtner turns in a forceful reading of "Mein Gott, verwirf mich nicht," and bass Cornelius Uhle's lyrical recitative "Wohl aber dem, der seinen Bürger weiss" is warmly done.
In Vom Pagen, Uhle's King sounds a bit brittle, though Jonathan Sells' Merman sings redolently and the dialogues between Page and Princess (Sampson and Güra, respectively) are thoroughly charismatic. Ülle Tuisk's brief turn as the Queen is likewise fine and Schachtner's account of the involved narration leaves little to be desired.
There are no complaints about the choral performances in either work: the cantata's chorales are nobly done and the many episodes of Vom Pagen feature ensemble work that bristles with energy.
Throughout the recording, the HBO plays with vim. Häkkinen's tempos are fluid and well-judged; he has a strong sense of the dramatic shape of each piece and capably draws out the subtleties of Schumann's orchestral writing. Yes, there are times – in the original works, especially – when a bit more tonal warmth and sonic heft would be welcome (like the last section of Vom Pagen). But the ensemble's playing is never scrawny and the big tradeoff of making Schumann's sometimes-thick orchestral textures lucid ultimately pays off. A fine album, then, on several levels, and strongly recommended.
---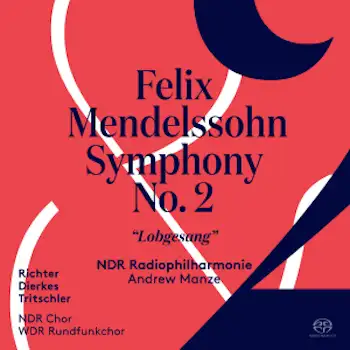 Conductor Andrew Manze, who's already in the midst of a terrific Vaughan Williams symphony cycle, caps off his three-volume Mendelssohn symphony survey with a grand and glorious performance of the oddball Symphony no. 2, Lobgesang ("Hymn of Praise"). Written to commemorate the four hundredth anniversary of Guttenberg's printing press, the Lobgesang falls into two parts: a lengthy, three-movement instrumental prelude, and a second half that incorporates two sopranos and a tenor soloist plus chorus singing biblical (or biblically-inspired) texts about the veil of darkness giving way to light, thanks to the gift of literacy.
It's a wonderful piece, if obscure and infrequently played, that Manze and his extended ensemble, anchored by the NDR Radiophilharmonie, play with gusto in a Pentatone recording. Tempos are lively throughout and there's a consistent, dancing energy that infuses the orchestra's playing in each of the purely instrumental movements: their sound offers plenty of weight but is, overall, graceful and light.
The vocal/choral portion that makes up the second half has all you could ask for in terms of spirit, textural clarity, and tonal blend. Indeed, the NDR Chor makes the most of its several big moments ("Lobe den Herrn, meine Seele," "Die Nacht ist vergangen," and "Ihr Völker!"), singing them with robust energy and excellent diction. Just as good are their softer numbers – the echo of "Er zählet unsre Tränen" and Mendelssohn's harmonization of "Nun danket alle Gott" – which glow with radiant warmth.
This Lobegesang's soloists are more than fair. Tenor Robin Tritschler sings his pair of arias, "Er zählet unsre Tränen" and "Stricke des Todes," with mystery and urgency. The two sopranos, Anna Lucia Richter and Ester Dierkes, weave a luminous duet in "Ich harrete des Herrn." And Richter's duet with Tritschler, "Drum sing' ich," is perfectly matched in articulation and tone.
Manze's is, in the end, a triumphant, passionate Lobgesang and a masterful conclusion to a series that, while not, on paper, the most imperative of symphonic cycles (given how many fine ones there already are), more than justified itself with each installment.
---
Jonathan Blumhofer is a composer and violist who has been active in the greater Boston area since 2004. His music has received numerous awards and been performed by various ensembles, including the American Composers Orchestra, Kiev Philharmonic, Camerata Chicago, Xanthos Ensemble, and Juventas New Music Group. Since receiving his doctorate from Boston University in 2010, Jon has taught at Clark University, Worcester Polytechnic Institute, and online for the University of Phoenix, in addition to writing music criticism for the Worcester Telegram & Gazette.