Colin Carr supplied an extraordinary performance of Bach's Six Cello Suites.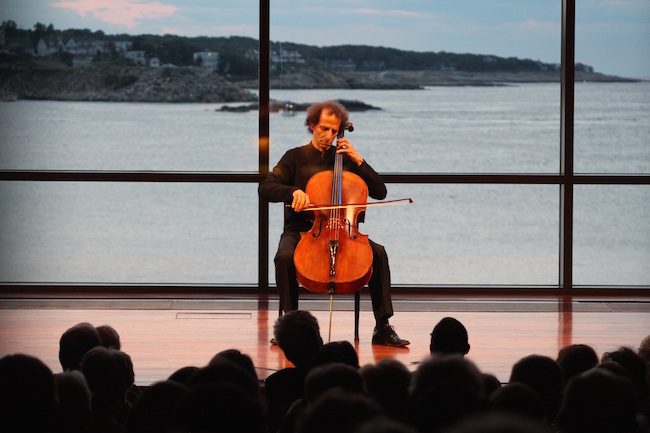 By Susan Miron
For nearly three hours on Thursday evening, audience members in Rockport Chamber Music Festival's exquisite Shalin Liu Performance Center experienced a trifecta of beauty. Bach's Six Cello Suites (BWV 1007-1012) were performed by the superb British cellist Colin Carr against the drop-dead backdrop of the beautiful ocean during a long summer sunset, a few birds and small boats passing by. For decades, Carr has toured (and taught) Bach's Six Cello Suites around the world. Throughout this extraordinary performance he appeared as relaxed and in control as one could while running in a wind-tossed marathon (Carr also runs daily).
Concerts of the Six Cello Suites by one player remains an understandable rarity. When they happen, people tend to remember them for decades afterwards. I heard the Six Cello Suites in a recent performance featuring six Boston Symphony cellists. Each cellist seemed ready to end his shift after making it through one Suite. Those who have heard Yo-Yo Ma perform the Six Cello Suites tend to talk about it as having experienced "a good dream." Bach wrote many of his best-known pieces in groups of six — the violin sonatas and partitas, the Brandenburg Concerti, the Keyboard Partitas, English Suites, and French Suites. Interestingly, none of the copies of the Six Cello Suites can be found in Bach's handwriting. Composed between 1717 and 1723 and initially conceived as didactic exercises, the Cello Suites were virtually "lost" until Spanish cellist Pablo Casals revitalized their performance in concert and on recordings. In a website, CelloBello, Carr sums up his trenchant thoughts about the Bach Cello Suites:
I have been playing and teaching the suites all my life. There have been countless performances, single suites in recitals, three suites in a concert, and often all six in one day. So it may come as a surprise that, whilst loving this music and feeling intimately connected, I will offer the provocative and (for a cellist) heretical premise that the Bach Suites are not the deepest, most profound music that the great man wrote. Sure the 5th and 6th are more complex and substantial, but the "cello bible" notion doesn't ring true for me. It is in fact the simplest of music that requires easy listening from its audience and easy playing from its performer. The catch is that there is a tremendous amount of hard work that must go into the easy playing. One thing is for sure: the music doesn't play itself. It is in constant need of the imagination and vision of its player, now more than ever, without which it struggles to come to life.

Anna Magdalena Bach (Bach's wife) helps us on our way in this respect. My infatuation with AMB began long ago when I realized I was bored by my Bach playing. With AMB there is never a dull moment, she challenges us to think beyond the notes, to extend our right hand expertise, and to live in a spirit of improvisation. I will explore this more in the chat when discussing use of the bow and many of the other topics, but I will say here that the issue of bowings is not limited to decisions of whether to play up bow or down bow, or how many notes to slur. It is much more complicated: varying the amount of bow to feel the direction of a phrase, varying the contact point as a reaction to different chords, particularly with reference to dissonance, tension and resolution, deciding in which part of the bow to play, defining the meaning of a slur (more than just the number of notes in a bow), and above all, takings risks!
So, what distinguishes Carr from the horde of cellists who are also touring with these pieces? For one thing, his unfussy stillness at the instrument — nothing except for his bow and fingers seem to move. There were no histrionics, no exaggerated gestures. Sitting on a chair, dressed in black, he refuses to be the focus — he wants to assist us in  concentrating more easily on the music. He's very much the vehicle, not the show itself. His playing featured beautiful intonation, rhythmic clarity, and a deep comprehension of Bach's style and how to achieve it on a modern-day cello. Most of the repeats were taken, but they never became tedious. It was as if, after decades, these Bach Suites have become part of his DNA, his soul. This was wizardly playing that never called attention to its virtuosity or the manifold difficulties it undertook, successfully.
Bach wrote these Suites for the gut-string cello of the mid 18th century. The instrument was supported by the player's calves or small stool. Each Suite consists of a series of dance movements — Allemande, Courante, Sarabande, Gigue — proceeded by a Prélude. The first three Suites are more lyrical, less complicated, than the second three — there is a enormous break in terms of complexity between the No. 3  and No. 4 Suites. The Fourth, Fifth, and the extraordinarily challenging Sixth Suites are far more declamatory and dramatic than the first three. Thus the second part of Carr's program, Suites No. 4, No. 5, and No. 6, set up a series of mounting challenges — which was particularly gratifying. Serene and thoughtful, Carr's performance supplied hours of beauty. If you didn't love Bach before this concert, this musician made the emotional case, gloriously. On behalf of those who already love Bach — great thanks.
---
Susan Miron, a harpist, has been a book reviewer for over 20 years for a large variety of literary publications and newspapers. Her fields of expertise were East and Central European, Irish, and Israeli literature. Susan covers classical music for The Arts Fuse and The Boston Musical Intelligencer.