Lionel Loueke is a unique voice, who has managed to bring a number of influences together without weakening or undermining any of them.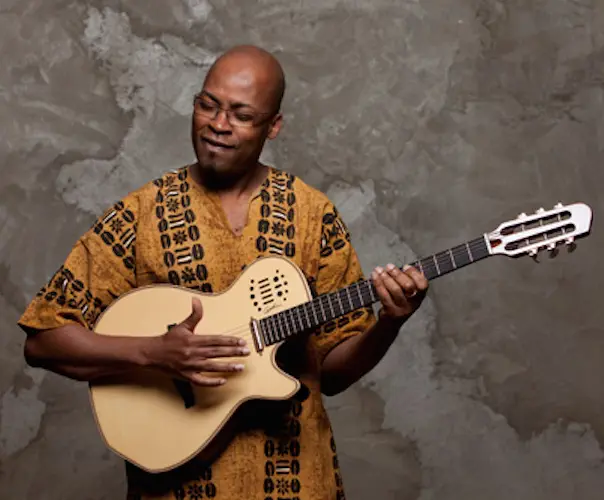 By Steve Provizer
Lionel Loueke's new release Close Your Eyes has inspired me to write kind of a two-fer. This record was released only on vinyl by Newvelle Records; in a separate article, I explore the vinyl resurgence phenomenon.
Meanwhile, let's talk about guitarist Lionel Loueke and this record.
Loueke grew up in Benin but, even without knowing that, I could hear how important Afro Pop, the tongue clicks of the Xhosa language used by South African singer Miriam Makeba and other African musics, was to his performances. Everything, from his note choice, phrasing, and tonality is informed by those influences. "That's why even today," writes Loueke, "I mute a lot of my strings to get that kind of dry sound, like a thumb piano or kora." By bringing African elements into a jazz context, he succeeds at the perennial goal of jazz musicians: to create an individual voice.
He left Africa to study at the American School of Modern Music in Paris, then went to the U.S. on a scholarship to Berklee College of Music, and from there to the Thelonious Monk Institute of Jazz. He began touring with Terrence Blanchard, then Herbie Hancock, who became an important mentor. More recently, he's toured with Chick Corea and with Blue Note's 75th anniversary all-star band with Robert Glasper, Derrick Hodge, Kendrick Scott, Ambrose Akinmusire, and Marcus Strickland.
Loueke is joined on this recording by Reuben Rogers on bass and Eric Harland on drums. Both are virtuosos on their instrument; the members of this group communicate on a very high level. A lot of odd meters are used in these tunes, but they are deeply imbedded in the texture of the music. It's all about pulse and feel. This can be achieved only if the musicians are comfortable with these meters to the point that they sustain them without conscious thought. The result is the attainment of the same kind of freedom that is more easily and commonly found in a straight ahead 4/4 time signature.
The first track, Footprints, the Wayne Shorter tune, is a good example of this re-invention. It's not performed in the usual 6/8 time, and there are lots of harmonic substitutions. The song usually uses a classic bass line, which is subtly noted here through an allusion on the guitar — not the bass. The timbre of the guitar sits somewhere between sharp and bell-like; sometimes it summons up African string players, other times jazz guitarists such as Kurt Rosenwinkel or John Scofield. You hear the same variety of influences when Loueke alternates single notes and flourishes — within a cascade of odd meters and chord substitutions. As I noted above, it's all about pulse and not about meter. As a listener, you have to just jump in; don't be particularly concerned where "one" is. The trio locks onto the rhythmic groove, no matter how uncommon and remains perfectly in sync.
In It Might as Well Be Spring, the bass sticks pretty much to outlining the chords. The guitar doesn't stray too far from the melody. The tune is taken in a recognizable 4/4, up tempo, rather than as a ballad. Bass player Rogers solos effectively, with the guitar offering accompaniment, mostly echoes and occasional counter-lines. The guitar then solos, keeping his notes clipped, hinting at the approach of more mainstream players. But Loueke never indulges in the patterns we have come to recognize from players such as Kenny Burrell or Barney Kessel. Yet his playing is more inside than guitarists like the late "Harmolodics" master Bern Nix and Blood Ulmer. In the end, the feeling the group achieves on this tune is one of quirky jauntiness.
Moon River starts with unaccompanied guitar using a fair amount of reverb. Some concrete sounds come in softly yet slightly jarringly — it sounds almost like a car with bad brakes. This sound adds a little burn to the tune's mellow melodicism. Drums enter with eclectic percussion — low tom, possibly tambourine — and then Loueke's vocal becomes a little more prominent, as the guitar repeats a series of chords. Then, back to a restatement of the melody that ends almost without warning.
Solar features an improvised first chorus by guitar and percussion, with bass eventually joining in. The bass walks and the drums shift time until the three instrumentalists kick into an up-tempo groove. All 3 voices are pretty equal at this point — there is no single center of gravity. Guitar picks up a more focused improv, but only briefly, then bass comes to the front. Finally, the guitar states the melody and then the bass drops out. When the bass returns, the melody almost completely vanishes. As in "Moon River," the guitar repeats a series of chords, with some variation — this time with a longer fade out.
The full band starts Blue Monk, with the guitarist using all the tools in his kit in order to come up with different ways of phrasing the melody. The guitar solos, and it is the blues — with a slightly jagged edge. The Bass solos and the passage has some of the same qualities as the guitar's interlude; namely, a blues resonance, but full resolutions or licks are generally avoided. The next section is a gentle dismemberment of the tune by all 3 members, leading to a slightly fractured conclusion.
A gentle guitar solo intros Body and Soul, with voice softly intruding. The melody is stated mostly as is, though there are some flickers of elaboration. Generally, the tune is handled straightforwardly. The trio puts its mark on the song via dynamic shadings and unexpected sections of solo guitar.
Close Your Eyes is taken in a medium 4/4. Here you can hear the difference between Loueke and other guitarists quite well. His phrases shift in length; he hints at resolution, but usually avoids it. Single notes and chords vary unexpectedly. As the tune goes on, the band as a whole becomes busier; bass and drums move up in the mix. Carrying less weight seems to alter the thrust of Loueke's playing; it becomes a little less idiosyncratic. The trio builds to an ending with a heavily Afro-pop tinge.
Loueke's clicking voice and guitar begin Naima, stating the melody in counterpoint. Loueke may be using words or just syllables, but it's difficult to tell. Then his voice becomes more overtly expressive, as does the guitar. When the performance is over, you realize how completely he's personalized this well known Coltrane tune.
The sensation I was left with after listening to Close Your Eyes is that I'd heard something new, but not jarringly so. The broad outlines of the music are familiar, but the landscape is fresh and rejuvenating. Loueke is a unique voice, who has managed to bring a number of influences together without weakening or undermining any of them.
As Loueke explains, he had to learn jazz by ear: "I slowed down the cassette by putting in weak batteries, then back to electricity to get the speed. That's how I started jazz."
The question can now be asked: Will slowing down cassettes replace conservatories as the way to pave new ground in music?
---
Steve Provizer is a jazz brass player and vocalist, leads a band called Skylight and plays with the Leap of Faith Orchestra. He has a radio show Thursdays at 5 p.m. on WZBC, 90.3 FM and has been blogging about jazz since 2010.