As long as we're sipping the truth serum wine, the biggest obstacle presented by the Storm Warnings Repertory Theatre production is — itself.
Elephant by David Gow. Directed by Stephen McLaughlin and Elizabeth Freeman. Produced by Storm Warnings Repertory Theatre at the Brick Store Performing Arts Center, Kennebunk, Maine, through May 28.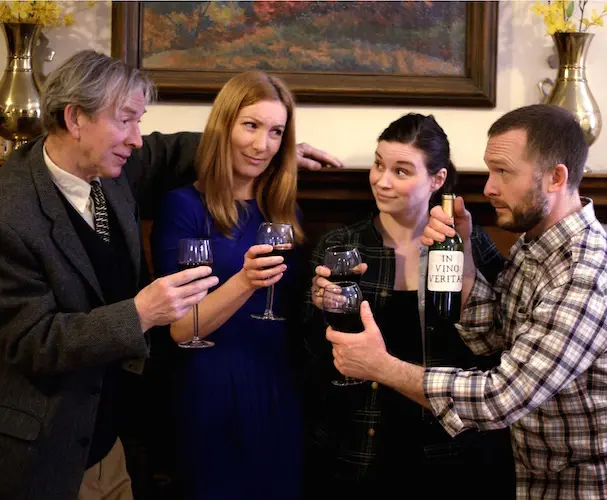 By David Greenham
Plucky Storm Warnings Repertory Theatre, under the Artistic Direction of Arts Fuse film writer Paul Dervis, is back with a script about truth, relationships, and the twists and turns of life. Elephant, by Canadian playwright David Gow, is the latest piece to be staged by a troupe whose mission is "to develop new work that challenges audiences."
The play takes place in the New York apartment of Sandra (Elizabeth Freeman), a professor and published author, and her husband Art (Stephen McLaughlin), the tenured Dean of Humanities at a local liberal arts college. They are preparing for a visit by a younger couple, Norma (Ashley Hamboyan), a lecturer at Art's college, and her husband Jonathan (Scott Marcoux), the creator of hard-hitting, political documentaries.
Gow's script starts off with some mild tension: Art knows that Norma's teaching position may not be renewed next semester due to budget cuts. Sandra thinks he ought to tell his co-worker that her job is on the chopping block. But Art disagrees: "Once you start telling the truth, it's difficult to stop," he warns, "it just goes on, and on, and on…."
So it's clear which way the evening will go when Jonathan arrives with a unique wine from Peru. The special mixture of grapes, flowers, and all the country's exotic elements acts as a kind of truth serum — "in vino veritas," he promises.
Gow's four-hander quickly banters its way through several truths before the first act ends. Jealousy, fear, mild deceptions, social class struggles, sex, risk versus reward, and even the concept of open marriage and non-traditional partnerships are fodder for the two couples. But, at the end of act one, when Jonathan is stricken with a sudden illness, their contentious positions change quickly. The couples were rivals as well as colleagues. But, in an instant, these duos from opposing backgrounds become friends, even family.
The second act is made up of a series of seven short scenes – each revealing a new layer of understanding (and complication) involving the characters and their new found relationships. Gow's drama means to spark discussion and thought, and it raises a number of provocative issues. The problem is that there are far too many questions to be resolved (or investigated in depth) to comfortably populate a two hour production. The elephant in the room, if that's what Gow's title refers to, turns out to be several elephants – each of which could take up a play of its own. There's not much air left for the performers.
Freeman (Art) and McLaughlin (Sandra), key members of the Storm Warnings troupe, make for an unusual couple. Art, who is perhaps a decade older than his wife, is in the twilight of his comfortable career as an academic. He claims to be anxious to retire but, in the hands of McLaughlin, it's unclear if he ever had any passions for his jobs as teacher and faculty leader. Sandra, who is also a professor of some sort, is mostly interested in her writing. Her newest book, Pleasures Past, seems autobiographical, but it's not quite clear what it, or she, is really about. There is little sense of them as a veteran couple; the brief glimpses we have of them when they are alone together are the least successful moments in the play.
Hamboyan and Marcoux as Norma and Jonathan are a more convincing pair. They seem united on at least one issue: Sandra's book has piqued their ire. They see themselves critiqued in the narrative. When Sandra protests that the volume isn't even published yet, Norma reveals that she has been given an advance copy to review (for the New York Times, no less). She too is a writer, but she has not yet reached Sandra's level of success. Jonathan is the only one of the four who doesn't teach. He's made several documentary films: none have found a distributer and he's broke, which makes Norma's job all the more important. Does all that this seem convoluted? Academic soap opera-ish? Well, a lot more goes on. Somehow, Gow pulls all of these hurting personalities through as Elephant marches to a pleasant and possibly hopeful ending.
As long as we're sipping the truth serum wine, the biggest obstacle presented by the Storm Warnings Repertory Theatre production is — itself. The tiny performance space in the Brick Store Museum is limited in too many ways to enable the willing suspension of belief this naturalist dramatic comedy needs in order to work. The set, Sandra and Art's NYC apartment, is more reminiscent of an efficiency than the large two-bedroom digs of a successful academic power couple with trust funds. The PARcan track lighting doesn't set the proper tone; what's more, it prevents the sharp blackouts the script calls for. And there is only one real entrance to the space so, especially in the episodic second act, each transition necessitates a clunky pause in the action.
Another challenge for the production is that two of its performers, Freeman and McLaughlin, are also credited as the show's directors. The blocking was satisfactory — it only rarely seemed as if we are watching four grown-ups crammed in tiny box — but their individual performances visibly suffered from having to take on dual responsibilities. There are no credits for the set, costumes, props, or music, so I assume both actors were deeply involved with those tasks as well. Tellingly, at points during the show both cast members seemed to be reaching for their lines or seemed to have drifted out of the scene. As the younger couple, Marcoux, and especially Hamboyan, provided moments of clarity and honest emotion. But overall this production of an unusual narrative about four mostly likable characters needed a director to sharpen the cast's performances and come up with some transition choreography.
The recent announcement that the Kennebunk-based Shakespeare company would be closing means that Storm Warnings Rep remains one of the few small theater companies operating between Portland and Portsmouth. Besides that service, the troupe's dedication to working on new plays is admirable. But this production of Elephant reveals a hard truth: if Storm Warnings is going to survive (and eventually thrive) the troupe needs to find a more amenable theater space for its performances. It also needs to attract more theater artists. Storm Warnings Rep has shown that it knows how to select interesting and distinctive plays. But with that talent comes an additional responsibility: the company needs to figure out how it can give good plays the quality productions that they deserve.
---
David Greenham is an adjunct professor of Drama at the University of Maine at Augusta, and is the Program Director for the Holocaust and Human Rights Center of Maine. He spent 14 years leading the Theater at Monmouth, and has been a theater artist and arts administrator in Maine for more than 25 years.