A listener's response to this album would largely depend on whether or not the sound of Jeff Denson's voice and the instrumentation strike a chord.
Outside My Window, Jeff Denson. Ridgeway Records.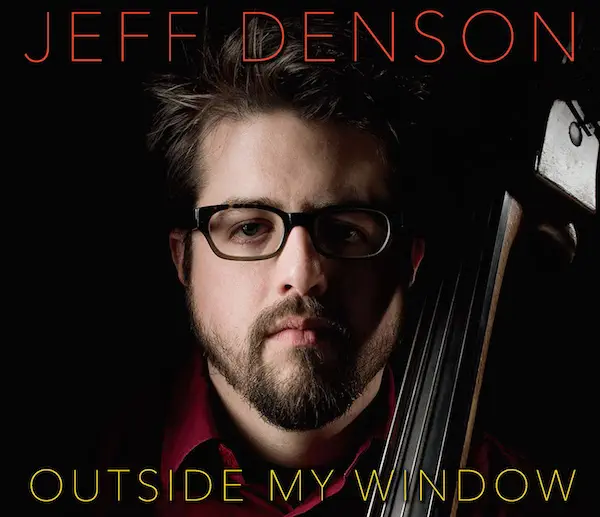 By Steve Provizer
Jeff Denson is a bass player and a vocalist and, although this is his 12th release as a leader or co-leader, I admit that, while I've seen his name, I've had no previous exposure to his music. That may be because his music exists on an end of the jazz spectrum I don't visit often. It's not easy to characterize that space. Elements that define it are the use of popular or rock music as source material, use of synthesizer, double-tracking of voice, more repetition of lyrics than jazz standards use and, most of all, Denson's vocals, whose sound can be found most often in a pop or rock context.
This is not to denigrate Denson's musicality or expressiveness — no. His voice is supple and wide-ranging. It's that his voice is more overtly emotional, with more vibrato than what one normally hears from jazz singers. Jeff Buckley and Chris Cornell of Soundgarden come to mind and, as it happens, he performs rearrangements of songs by these two on this album. Denson also re-imagines a tune associated with Abbey Lincoln and includes 4 of his own originals.
Denson is a skillful bass player and a creative arranger. His supporting cast on this album is strong: saxophonist Dayna Stephens, Finnish pianist/keyboardist Kari Ikonen, and Israeli drummer/percussionist Ronen Itzik.
"Grace" is the Jeff Buckley cover, and it begins with a synthesizer opening. A 6/8 tempo is kept steady by light drumming. Denson leans into his voice, pressing harder than jazz vocalists generally do. There's a falsetto interlude, then a tenor sax solo with electric piano accompaniment — a nice rhythm section contribution builds during the solo. Denson is back in a high voice register with a wordless vocal, which is more overtly emotional than most jazz voices. It is slightly easier to let it rip emotionally when the shape of the melodic line is less demanding, as it is here. Piano then solos, joined by tenor sax while the voice moves between the phrase "wade in the fire" and expressive vocalizations. Quietly, almost unexpectedly, the tune closes.
"In Your Eyes" starts with a quiet piano introduction. A rubato vocal enters with the piano providing sparse backing. The tune moves into a tempo with a Latin feeling. Denson double tracks his voice, intoning "your eyes" in the background. He contributes a dexterous bass solo. His vocal returns, and it verges on reaching a cabaret level of drama. Then, back to the double tracking of Denson's voice. Tenor sax solos in a more aggressive vein. The song moves into an elusive metric feel — 2's and 3's played against each other. It gave me the feeling of someone trying to keep their balance in a strong wind.
"For a Brand New Day." A marching feel from the drummer opens, with bowed bass and synth creating a dense texture under the vocal. Bass and vocal, in unison, makes a nice effect. There's a bit of the sound of an early Beatles audio experiment. Voices double-tracked in octaves move almost in a dreamlike way. Synth piano with a fair amount of wah-wah effect solos. This is not a sound I love, but it (kind of) fits in this sonic environment. Tenor sax solos and a 3 feel again dominates the rhythm section. Voices in octaves re-emerge, with the background more synchronously orchestrated. Voice in octaves collaborating with the bass comes back in. Voice repeats "For a brand new day" with the rhythm section churning more intensively and the sax blowing. Voices are overdubbed; at first together, then playing off each other. This track is much more the kind of thing we might expect in a highly produced rock record.
"Have We Really Gone This Far." This is an interesting idea for an arrangement. The rhythm section takes up a herky-jerky rhythm, while the melody and harmony are conventional. The bridge continues in a typical jazz standard–like way while the rhythm section continues in its own odd direction. Synth and soprano sax simultaneously solo while the rhythm section continues its herky- jerky-ness. Denson's vocal re-enters in a desultory way while the rhythm section does its own thing. Really, this is a very unusual approach; I can't say I've ever heard anything quite like it. Tom Waits is lurking somewhere in this mix, but this track has less rawness and bombast.
"Through the Mist." Sharper rhythm section timbres open the track, with a lot of near-tinkling percussion sounds. Denson's voice is elongated, singing along with synth almost imitatively. Very atmospheric, the song creates a misty mood. A wordless vocal — it's hard to tell if words are being used or syllables. Synth takes its most extended solo on the album, again in a wah-wah vein, along with a phased electric piano. Vocal wordlessly and moodily comes back in; the tune soon comes to a quiet close.
"Bird Alone." Bass solo starts. I'm not sure the very slow tempo, along with the heavy emotional weight of Denson's voice, really matches the lyrics. (As Abbey Lincoln's vocals do in her rendition of this song.) The group builds a pretty dramatic picture that isn't really warranted by the lyrics. As the song goes along, the approach lightens up. The piano solos with bass backing and very little percussion. When Denson's voice re-enters it's not with quite the same intensity as at the beginning — which is more satisfying.
"Fell on Black Days" is the Soundgarden tune. Bass intros and voice enters, again in an intense emotional mode. Denson's arrangement explores harmonic alterations with the rhythm section. Bass moves to the bow, bringing in a Middle Eastern tinge, and then the piano solos. The tempo and feel of the song evokes a vision of a man moving slowly in unfamiliar territory looking for a drink. Is he after water? Or possibly bourbon? You think the voice has concluded the tune, but it's a false ending. "How would I know this could be my fate" is repeated with increasing urgency. The ending's clout is rooted in the increasing emotionality of Denson's voice not, as it probably would be in more mainstream jazz, from an improvisation delivered over a repeated closing riff.
"Outside My Window" is the most straightforward tune on the album. The opening is almost dirge-like; its melody has an overtly bluesy quality. There are touches of synth and baritone sax. Bass solos, with synth making brief comments. Baritone solos in a  mood. The voice is sweet, almost too sweet to make this kind of semi-funky/soulful thing work.
Outside My Window is no throwaway project. Denson has put a lot of thought into the arrangements; the musicians are skillful section players as well as improvisers. A listener 's response to this album would largely depend on whether or not the sound of Denson's voice and the instrumentation strike a chord. They're unusual and creative enough so that they might. I was not turned around by it; or not completely. Let's say halfway turned around.
---
Steve Provizer is a jazz brass player and vocalist, leads a band called Skylight and plays with the Leap of Faith Orchestra. He has a radio show Thursdays at 5 p.m. on WZBC, 90.3 FM and has been blogging about jazz since 2010.