Kevin Leong is unquestionably an inspired choice to lead this chorus.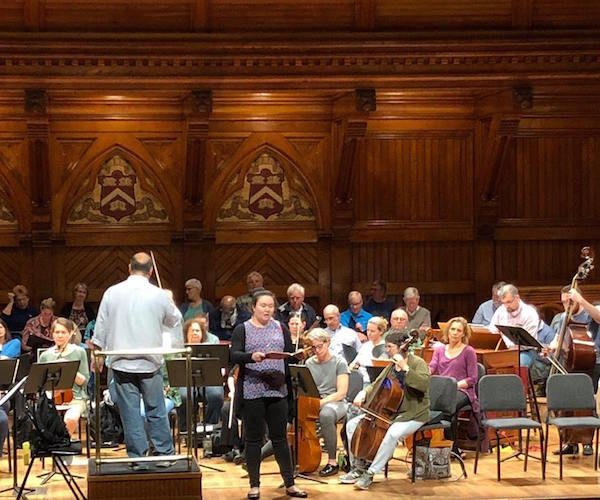 By Susan Miron
This critic is one of those musicians who cannot imagine — and would not like to live in — a universe without Bach. There can never be too much Bach. So I eagerly anticipated Masterworks Chorale's all-Bach program on May 12, which included pieces I hadn't, somehow, known before.
Masterworks Chorale's third and last concert of this season was also their first season under their new music director, Kevin Leong. I enjoyed their all-French program at Old South Church in March of this year. Not only did I enjoy this chorus and its new conductor, but on both programs I not only heard masterpieces (the Duruflé Requiem in March, the Bach Magnificat this time) but compositions that somehow had evaded my radar. The Masterworks performances served as excellent introductions.
Following Masterworks since the beginnings of my music-reviewing life, I had become accustomed to this commendable 78 year old chorus under the baton of Steven Karidoyanes, who served as its conductor for ten years. He had followed the unmatchable 53 year tenure of Allen Lannom, which lasted until the 2004-2005 season. I was hardly prepared for the change Maestro Leong's direction would bring. The chorus sounded exceptionally well-prepared; the sopranos' intonation was much better than I remembered. The men sounded strong and solid. Tempi were not rushed, but the proceedings moved nicely along. The singers seemed more focused than in earlier years, somewhat more professional. As they (now) say in politics, it all starts (comes from) at the top, and Leong is unquestionably an inspired choice to lead this chorus.
The big draw for many who attended this concert on Saturday was Bach's Magnificat, but before this astonishing composition, Masterworks performed three short, exquisite Bach pieces. Lobet den Herrn, all Heiden, BWV 230, a secular motet praising the Lord (setting of Psalm 117) for four voices and continuo was followed by the beautiful O Jesu Christ, Meins Lebens Licht (My Life's Light).
My favorite take-away from the concert's first half was the celebratory Tönet! ihr Pauken! Erschallet Trompeten! BWV 215. As its double exclamation marks indicate), this is a high-spirited, 9-movement birthday cantata, with sparkling solos for trumpet (Jesse Levine) and oboe d'amore The performance was superb. All of the winds played well, as did timpanist Jonathan Hess and organist Matthew Hall.
Bach's sublime Magnificat BWV 243 rests on the shoulders of really good singers. Done. Also good instrumentalists familiar with Bach's style. Yes. An agile conductor that the singers like and respect. That, too. Composed in 1723 when Bach was appointed Kantor of St. Thomas, Leipzig (he remained there until his death in 1750), the Magnificat was written for the 1723 Christmas Vespers. The original version was in E-flat and included several additional Christmas texts, which were later removed to make the Magnificat suitable to be performed anytime during the year. It was also transposed into D, a much more inviting key for trumpets. And the horns made this performance extra glorious.
The period orchestra made up of freelancers played with fire and delicacy.  The three trumpets, led by Levine, provided many of the afternoon's most memorable thrills. The solo cello, Sarah Freiberg, and bassist, Andrew Arceci, were excellent throughout. Masterworks Chorale has always used excellent singers and on Sunday a trio from the Blue Heron Renaissance Choir — the amazing soprano Sonya DuToit Tengblad, tenor Stephan Reed, and baritone Sumner Thompson — gave their customary stellar performances. Soprano Sarah Yanovitch and mezzo-soprano Julia Soojin Cavallaro were very good as well. And, oh yes, Leong appeared to be having a great time leading his well-prepared chorus and band.
---
Susan Miron, a harpist, has been a book reviewer for over 20 years for a large variety of literary publications and newspapers. Her fields of expertise were East and Central European, Irish, and Israeli literature. Susan covers classical music for The Arts Fuse and The Boston Musical Intelligencer.