An intriguing cross-disciplinary concept gave birth to a pallid, underrehearsed production.
Have You Seen Me, Boston Children's Chorus and Movement Art Is at the ICA, Boston, MA,  April 27 and 28.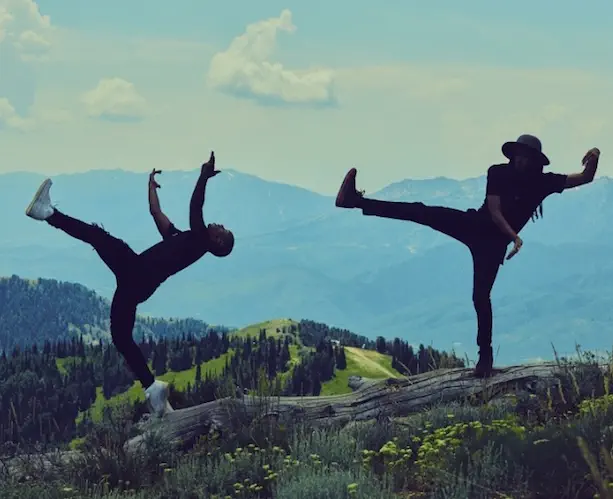 By Mary Paula Hunter
Have You Seen Me, a collaboration between the Boston Children's Chorus and Movement Art Is, an organization founded by dancer Jon Boogz, an expert in LA's Popping style, and Lil Buck, the Memphis-based Jookin dancer famous for his gliding, silken moves. Boundaries between the arts are being torn down at a furious rate these days, often to exciting effect. But this time around an intriguing cross-disciplinary concept gave birth to a pallid, underrehearsed production that was disappointing on nearly every level.
At first, the scant hour-long performance tantalized with a neat bit of audience/ artist reversal. BCC Director Anthony Trecek-King came in and faced the audience — he than began conducting the near empty center of the seating, as if the seats were his instruments. There were more than a few titters. Then a low hum, coming from behind the audience, grew in volume and there was silence. Before long, singers in everyday attire filed down the side aisles performing "Indonana," a complex world music piece from South Africa. Intricate rhythms, along with alternating tones and vocal parts, made for a mesmerizing weave of sound. The singers performed with precision as they descended slowly in the hall and scattered across the stage. This was a wonderful beginning: these young singers let the music speak for itself, resisting the awkward emoting that marred the rest of the evening.
Trecek-King broke the spell cast by "Indonana" by explaining that "Home," a subsequent vocal selection, dealt with the impact of a mother's depression on her children. This song proffered little of the intricacy of "Indonana" and the vocalizing became bland — it was an earnest treatment of an important topic. The singers, presumably left to their own devices, mimed sadness and despair while navigating haphazard staging and underdeveloped content. Even with Trecek-King's guidance, it was difficult to discern whose story was being told, parent or child. The result: a work of bewildering shifting perspectives, none of which were musically rich or compelling.
Without a transition, the performance suddenly shifted gears. Dancers entered, the choir moved upstage, and Lil Buck and Boogz, along with a handful of guest dancers, gestured their way through a story of kidnapping and human trafficking. Buck and Boogz struggled to communicate much beyond the outlines of the story: essential elements, such as a distinctive choreographic voice and an understanding of how to tell stories through movement, were missing. A teen dragged off the stage by an anonymous man in dark clothing, incompetent detectives consulting empty files, sobbing parents: these micro scenes were never fleshed out in dance terms. And the musical backdrop was too somber, too monochromatic, to aid in building a narrative arc.
Now and then Boogz and Lil Buck cut loose, exhibiting snippets of their respective dance styles. There was the dance equivalent of a flip book: isolated joints were frozen during nonstop extended phrases. Boogz' movements were at times cartoonish; at other times he generated electricity with one inside/out move after the next. Lil Buck sailed through space with the gliding elegance exhibited in his heralded duet of "The Swan" with cellist Yo Yo Ma playing the Camille Saint-Saëns composition. Alas, these bits of choreography were undercut by undernourished technical elements: they often performed in near darkness. One longed for more dancing and much less earnestness.
---
Mary Paula Hunter lives in Providence, RI. She's the 2014 Pell Award Winner for service to the Arts in RI. She is a choreographer and a writer who creates and performs her own text-based movement pieces.