It would have been wonderful to have seen either a faithful version of Threepenny Opera in German or a boldly conceived contemporary version.
The Threepenny Opera by Bertolt Brecht, music by Kurt Weill. Directed by James Darrah. Staged by the Boston Lyric Opera at the Huntington Theatre, Huntington Ave, Boston, MA, through March 25. (Running time: three hours)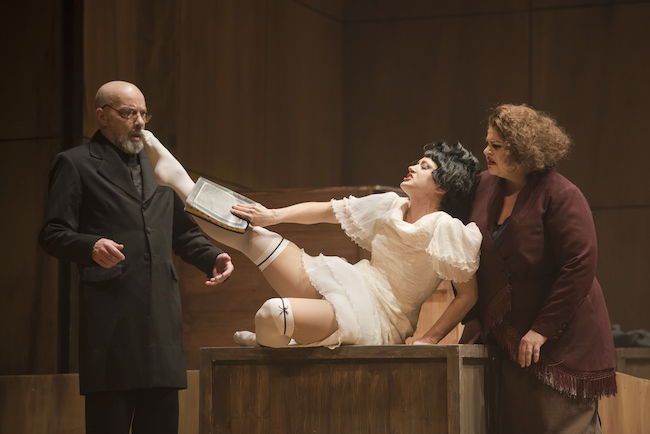 By Helen Epstein
Threepenny Opera, the famously problematic Weimar mashup of opera, vaudeville, ideology, and cabaret has been luring translators, directors, actors and singers to its treacherous shoals for 90 years now. Although everyone comes to hear Weill's jaunty orchestral music and haunting ballads, the music comprises a far smaller proportion of the work than Brecht's dialogue – maybe 30% to 70%. The Boston Lyric Opera's reverent production underscores that basic flaw — possibly not perceived as such in Berlin in 1928, but certainly in translation in 2018.
Die Dreigroschenoper, which had its premiere in Berlin in 1928 is a "play with music," adapted from John Gay's The Beggars Opera  that premiered 200 years earlier in London. That 18th-century English "ballad opera" was one of several conceived as a reaction to grandiose Italian opera exemplified by Handel with its casts of larger-than-life, mythological characters singing long arias and recitatives in a context of extraordinary and lavish spectacle. Ballad opera, in contrast, was working-class, spoken, interrupted by an assortment of (sometimes recycled) songs, sung by a cast of characters who had few heroic or high-minded preoccupations.
Brecht was introduced to The Beggars Opera in the 1920s by his lover Elisabeth Hauptmann, after she had started translating it into German. The playwright recognized in its takedown of  traditional morality and theatrical cliché a way to express his Communist critique of capitalism. Brecht then updated the story of serial murderer Mack the Knife, the Peachum family business of leasing begging districts and outfits to a company of beggars, and the collusion of a corrupt police force in London on the eve of Queen Victoria's coronation – a fascinating and then shocking prism through which to view his own Weimar Republic.
The 1928 production was an instant hit: a work of art for and of its time. Five years later, when Weill and Brecht fled Nazi Germany, the play had already been produced in 18 European countries and performed more than 10,000 times.
Of course, what audiences found timely, shocking, and innovative ninety years ago, often seems obvious and tedious today. Brecht's politics and vision of theater have both lost their luster, but the music has proved to transcend time and genre.
As a result, classical, jazz, and pop singers have performed countless adaptations of its songs, ranging from cabaret singers to Bobby Darin's and Louis Armstrong's best-selling recording of "Mack the Knife." Chamber groups and symphony orchestras have long performed arrangements, such as Leonard Bernstein's concert version of Threepenny at Brandeis University in 1952, narrated by Brecht's early English translator Marc Blitzstein.
The BLO decided against presenting the opera in its original language with super-titles as is its usual practice – a mistake in my view. Director James Darrah writes in the program notes, "We considered several of the available translations and chose the Michael Feingold version because we felt that the text of the scene-work was clear and driven from a character-centric point of view." Another mistake, I think. While Blitzstein's early translation has been criticized for sanitizing Brecht's language, it provided memorable lyrics that were easy for singers to sing. (I speak as a former high school production's Lucy Brown).  The Feingold translation, however appropriately raw and ugly, is also clunky and often unintelligible. While the BLO production indeed showcases its cast and music, as Darrah set out to do, much of the text gets lost.
The enduring glory of Threepenny,  however, is its music. The BLO's singers bring an across-the-board vocal authority and ease to their very demanding roles. They require a multitude of skills, including physical agility; the gift of conveying irony while speaking with the conviction and audibility of trained actors; to sing in various styles –- like sprechtstimme — that evoke the early 20th century operatic composers like Berg and Janacek, as well as jazz, and music hall.
It would have been wonderful to have seen either a faithful version of Threepenny Opera in German or a boldly conceived contemporary version, but this one was neither fish nor fowl.
Click To Tweet
I particularly liked Kelly Kaduce, who brought snark to the usually saintly role of virginal Polly Peachum along with her lyric soprano; baritone Daniel Belcher as satisfyingly ole-boy corrupt Police Chief Tiger Brown; mezzo Renee Tatum as a regally dignified Jenny Diver; and baritone James Maddalena as a subdued but still Dickensian tyrant Mr. Peachum.
Music Director David Angus completed a chamber ensemble of 12, playing more than 20 instruments including the usual staples but also accordion, banjo, Hawaiian guitar, and mandolin. The band played with great accuracy and brio, sometimes overpowering the singers.
Director Darrah encouraged his principals to find "a rich, personal journey for their character, leading to almost mythological figures colliding onstage, to create momentum, relevance, and urgency for the audience."
Alas, from the opening scene of cloaked figures with their backs to the audience, I experienced a static series of tableaux and frustrating mishmash of styles lacking a bold or cohesive directorial vision. As actors, baritone Christopher Burchett didn't provide the heft and formidable presence for the title role of MacHeath, while Michelle Trainor's Mrs. Peachum came across as a caricature of a harridan from the early days of television.
The abstract, polished wood-paneled set, designed by Julia Noulin-Mérat to demarcate four different stage areas for scenes, evoked a contemporary, sterile upscale corporate space: the lobby of a club or corporate headquarters maybe. It offered no obvious clue to either Brechtian theater or the historical settings of the work. The lighting design by Pablo Santiago helped maintain focus on the action in this abstract space, but seemed incongruent with the semi-historical costumes evoking Victorian times and England of the 1920s by Charles Neumann.
It would have been wonderful to have seen either a faithful version of Threepenny in German or a boldly conceived contemporary version, but this one was neither fish nor fowl. I found myself glancing at my watch whenever the music stopped. A missed opportunity, in my view.
---
Helen Epstein is the author of Children of the Holocaust and The Long Half Lives of Love and Trauma.