The White Card's examination of white philanthropy and racism stays well within the comfort zone.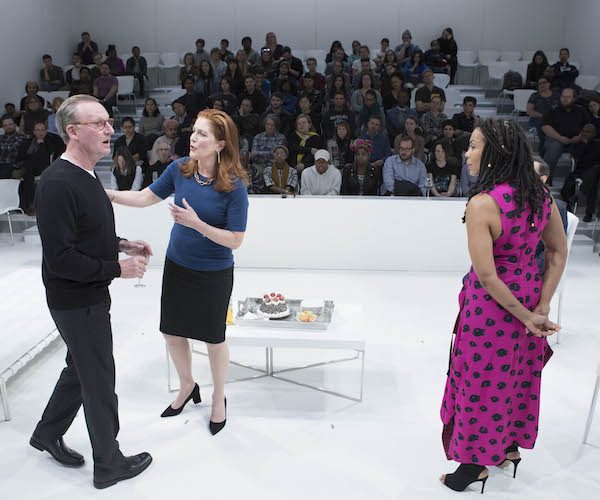 The White Card by Claudia Rankine. Directed by Diane Paulus. The American Repertory Theater staging presented by ArtsEmerson at the Emerson Paramount Center's Robert J. Orchard Stage, Boston, MA, through April 1.
By Bill Marx
And most of all beware, even in thought, of assuming the sterile attitude of the spectator, for life is not a spectacle, a sea of grief is not a proscenium, a man who wails is not a dancing bear … — Aime Cesaire
The quotation from Cesaire sits at the front of Claudia Rankine's 2004 volume Don't Let Me Be Lonely, and its powerful warning came to mind, often, during the world premiere production of the poet's drama The White Card. Of course, theater is always spectacle; it offers up a far different imaginative proposition than reading words on a page, puzzling out tone, meaning, and authorial intent. The challenge for a writer as talented as Rankine, who in this piece wants to reach the "sea of grief," is to go beyond standard theatrical voyeurism, to challenge the audience's "sterile attitude" of safety regarding racial issues. Unfortunately, she stays well within the comfort zone for a number of reasons, partly because of her inexperience as a dramatist. The White Card comes off as a surprisingly clunky, melodramatic, and bloodless interrogation of white privilege, a talky exercise in reassurance that rarely goes beyond the pieties of the feel-good.
Part of the problem is that American Repertory Theater director Diane Paulus is very much into spectacle, most often of the Broadway variety. The production's striking set, with its all-white motif (white chairs and walls, as well as projections of CNN news clips for that up-to-the-minute touch) underlines the 'invisibility' of whiteness theme. The visuals end up suggesting an antiseptic lab experiment in which the audience members (or is that observing scientists?) watch Rankine's mice scramble about in a sterile ideological cage of their own making — in this case a dysfunctional family of super wealthy white liberals blind to their complicity in American racial injustice.
As a poet, Rankine has been praised, justly, for her ability to mix-and-match genres, mingling mini-essays and lyricism. Alas, her play is mired in a venerable movie and theater plot device — the dinner party gone way wrong. Charlotte, a black artist who specializes in staging 'reenactments' of violent crimes against the black community, arrives to chow down with Charles and his family, son Alex and wife Virginia, and Eric, a high art tastemaker. A self-righteous art collector with a keen interest in images of black death, Charles is smitten with Charlotte's art. And he has ample means to support her and her creativity; he comfortably talks about handing over a cool million for a new studio.
So the goal is to make a connection with Charlotte. But the evening goes from bad to worse ("I know it is not P.C. to say this, but …"). The catch is that it is far too easy for white audience members to dismiss this crew; these sad cartoon figures wear the dramaturgical equivalent of 'kick me' signs on their backs. The round-up includes the neurotic mother, who frets about giving the black maid the evening off, the gung-ho a- go-go activist son, references to another bedeviled son who is in prison for financial crimes, and the hypocritical patriarch, a real estate mogul who profits from building private prisons. He is too smugly 'enlightened' about race to notice the problematics raised by his collecting images of black mortality. Charlotte's shifting reactions to the family's comedy of errors — puzzlement and anger, sympathy and disgust — are deftly conveyed by Karen Pittman.
Rock bottom arrives when a shocking artwork (on the theme of black death) is unveiled. The sight so traumatizes Charlotte that it makes her rethink her aesthetic stance toward 'reenactments.' (They invite the distanced spectator to stand outside the 'spectacle' of horror.)  Of course, her shocked reaction doesn't dent the cluelessness of Charles and company, given one-note performances by Patricia Kalember, Jim Poulos, Daniel Gerroll, and Colton Ryan. If the first part suggests an Ibsenite uncovering of bad faith amid the moneyed white establishment, the second scene becomes more of a debate, where, a year after the disastrous dinner, Charlotte exhibits new art work that looks directly (and uncomfortably) at whiteness — including Charles'. He comes into her studio for an explanation; the dialogue leads to a somewhat abstract conclusion in which the amorality of spectacle is assaulted.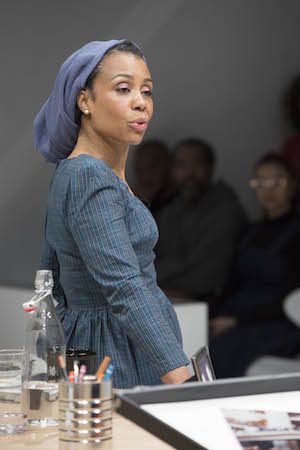 Additional clashing voices would have made the second scene more dramatically effective. Perhaps have a black artist who sincerely disagrees with Charlotte strolls into her studio? As it is, an enlightened Charotte spends most of her time trying to wake up the wooden-headed Charles. The earnestness of the play's narrative, while no doubt helpful in "teaching a lesson" or "furthering a conversation," smothers potential for theatrical complexity and power. James Baldwin aptly noted how whites' racism, "invented in order to safeguard their purity, has made of them criminals and monsters, and it is destroying them." How to convey that monstrousness? The stylization of an Edward Albee, Branden Jacobs-Jenkins, or Samuel Beckett might provide the artistic means.
Act Two continues a banal experiment in public dialogue that Paulus used in her 2016 production of Anna Deavere Smith's Notes from the Field. Audiences members are invited to stay after the performance, break into small 'buzz' groups, and answer a couple of questions raised by the show. Nothing critical of the production is welcome, mind you. What's asked for are reactions that might lead to individual actions, including joining reading groups online. The time allotted is 20 minutes, and I will repeat what I said after the earlier effort A.R.T. effort: "What of any substance can be said in such a short time?" This is an exercise in risk-adverse branding ("Art Ignites Empathy" ), a chance to involve university students in the staging, and an opportunity to convince skeptical foundations, mainstream media, politicians, and fat cat donors that art can make something happen, at least for their images.
Ironically, the talkback is symptomatic of the issue that dramaturge P. Carl and Rankine explore in the program notes: "the role of white philanthropy in addressing racism." The most interesting part of The White Card is the premise of its second scene — a black artist bites and then targets (aesthetically) the rich white hand that offered to feed her by funding her art. Charlotte's decision could generate the kind of conflict that makes for provocative political drama: disagreements among artists of color, white philanthropists staking out sides, pro or con. What would it mean if philanthropists among people of color shaped art and culture, rather than white corporate boards? (The biggest contributors to America's performing arts are our ethically challenged mega-banks — Wells Fargo, Citigroup, Bank of America, etc.) The human drama would be compelling: Charlotte's struggle to survive heated blowback from all sides. That is not the kind of turmoil we get in the cool and controlled White Card, but these volatile contradictions are there for those — artists, theater companies, philanthropists, etc —  who are willing to play a more dangerous hand.
---
Bill Marx is the editor-in-chief of The Arts Fuse. For over three decades, he has written about arts and culture for print, broadcast, and online. He has regularly reviewed theater for National Public Radio Station WBUR and The Boston Globe. He created and edited WBUR Online Arts, a cultural webzine that in 2004 won an Online Journalism Award for Specialty Journalism. In 2007 he created The Arts Fuse, an online magazine dedicated to covering arts and culture in Boston and throughout New England.