It is one of the enduring ironies of classical music that so much of today's repertoire was written by such a small number of people. This post is the seventeenth in a multipart Arts Fuse series dedicated to reevaluating neglected and overlooked orchestral music. Comments and suggestions are welcome at the bottom of the page or to jonathanblumhofer@artsfuse.org.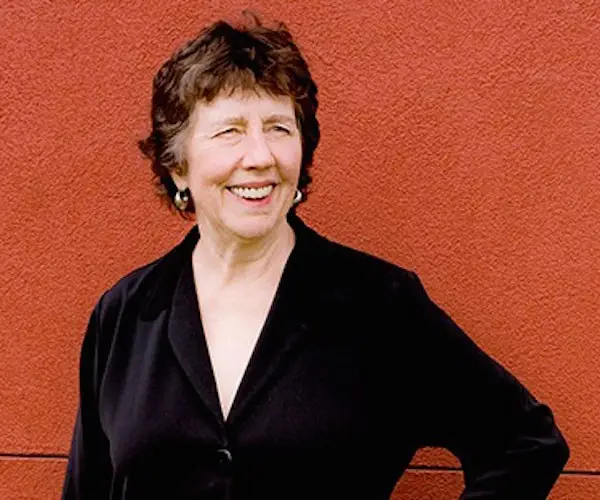 By Jonathan Blumhofer
For late-20th and early-21st-century American composers, 1938 was a good year. William Bolcom, John Corigliano, Harvey Sollberger, Frederic Rzewski, and Charles Wuorinen were all born during it. So was Joan Tower.
Born in New Rochelle, New York, Tower spent her formative years in Bolivia, where her father, a mineralogist, moved her family when she was nine. After studies at Bennington College and, later, Columbia, Tower became a founding member and pianist of the Da Capo Chamber Players, a position she held from 1969 to 1984 (she's also been teaching at Bard College in Annandale-on-Hudson, NY since 1972). She wrote several works for the ensemble and, following the success of her first orchestral score, Sequoia, turned increasingly to composing for larger ensembles.
Big scores or small, the hallmarks of Tower's style include an exceptional ear for sonority, a brilliant sense of rhythm, a strong understanding of the hallmarks of musical drama, and astute technique. It's often meant in a derogatory manner, especially towards women composers, to say that their music is "well-crafted" (the epithet was often directed at Amy Beach, to cite just one example from this survey). But I use the adjective here in the same manner as I would for Beach – or Beethoven or Bartók, for that matter: Tower's command of her materials is damn tight.
That's evident in nearly every work of hers, from the early Sequoia (written in 1981) to 2013's Red Maple. It cuts to the chase and says what it means to say in a direct, uncluttered way. Take Silver Ladders, her Grawemeyer Award-winning score from 1990. Built around the idea of a giant ladder reaching from the sky into space, its important gestures are concise – rising scales representing the ladder itself, various orchestral textures that allude to the various qualities of silver – and they play off of one another to create the music's powerful sense of drama and momentum.
Similar characteristics undergird Chamber Dance, Tower's 2006 score for the Orpheus Chamber Orchestra. It's not exactly a dance, in the traditional sense (though there's plenty of interest going on, rhythmically). And it's perhaps generous to consider a piece scored for double woodwinds, a pair of horns and trumpets, percussion, and strings to be chamber music.
But Tower has her reasons for the title, as she explains in her note on the composition:
Chamber Dance is dedicated to the intrepid and wonderful Orpheus Chamber Orchestra. It is chamber music in the sense that I always thought of Orpheus as a large chamber group, interacting and 'dancing' with one another the way smaller chamber groups do. Like dancers, the members of this large group have to be very much in touch with what everyone else is doing and allow for changing leadership to guide the smaller and bigger ensembles. Chamber Dance weaves through a tapestry of solos, duets, and ensembles where the oboe, flute, and violin are featured as solos and the violin and clarinet, cello and bassoon, two trumpets, and unison horns step out of the texture as duets. The ensemble writing is fairly vertical and rhythmic in its profile, thereby creating an ensemble that has to 'dance' well together.
From a compositional standpoint, too, Chamber Dance is an example of Tower at her engaging best.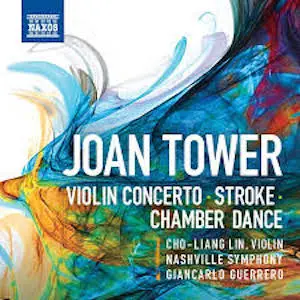 Its opening gesture – a short, rising scalar figure – lays out the basics of what's going to happen, thematically, in the piece. This upward-moving gesture is contrasted by a downward motive before the initial theme reasserts itself and the first fast section of the Dance begins.
This one puts the piece's opening motive through its paces – compressing it, stretching it – but always leaving it recognizably intact. The musical excitement in this part is largely driven by rhythm (it often hurtles and meters are frequently mixed to strong effect) and color (Tower draws out an array of shading, particularly from the brass).
A slower, lyrical section gradually emerges from the breakdown of the vigorous first part. This is largely focused on the introduction's second motive (the falling theme) and features several substantial solos for violin, clarinet, bassoon, and cello, respectively. A propulsive episode leads to one more meditative section that concludes with a pair of solo violins playing a rising melody. Then the opening motive returns, the tempo picks up, and the Dance lunges towards its conclusion.
Of course, it doesn't go in a perfectly straight line: references to themes previously heard (the last, rising figures of the central part, among them) crop up. And certain ideas from the first big fast section (like the swirling brass figures) return, now slightly altered or abbreviated. But the music moves with direction and purpose, building tension by a variety of means (pedal points, rhythmic agility, etc.) and driving headlong into a deliciously surprising (but satisfying) whole-tone final cadence.
"Chamber Dance" on Spotify.
---
Jonathan Blumhofer is a composer and violist who has been active in the greater Boston area since 2004. His music has received numerous awards and been performed by various ensembles, including the American Composers Orchestra, Kiev Philharmonic, Camerata Chicago, Xanthos Ensemble, and Juventas New Music Group. Since receiving his doctorate from Boston University in 2010, Jon has taught at Clark University, Worcester Polytechnic Institute, and online for the University of Phoenix, in addition to writing music criticism for the Worcester Telegram & Gazette.