The music on Accent's album is lovely and the singers render the arrangements with skill and commitment.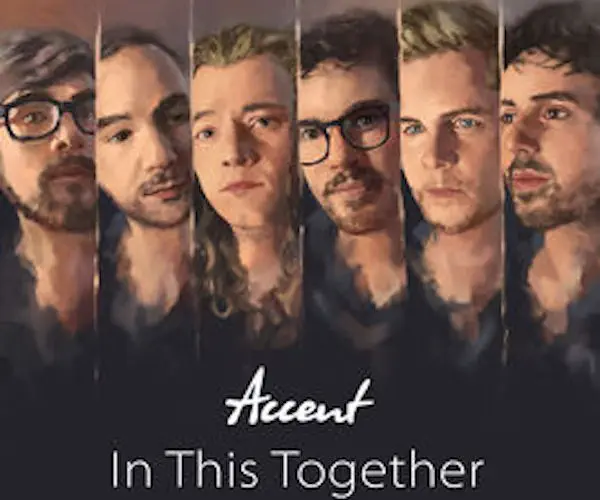 By Steve Provizer
I resisted vocal jazz music for a long time. Compared to instrumentals, vocals that I'd heard — especially group vocals — seemed watered-down or unappealingly archaic. But hearing Lambert, Hendricks & Ross, The Blue Stars of Paris, the Double Six of Paris and the Meltones, Singers Unlimited, and Manhattan Transfer eventually turned me around. Inspired by earlier groups such as Bing Crosby and the Rhythm Boys, the Boswell Sisters, and the Mills Brothers, along with big band-era staples like the Pied Pipers and the Andrews Sisters, these groups had snap and panache. The singers were fine musicians, and sprinkled among them were some of the best scat singers in jazz.
All the groups mentioned above performed in an instrumental context and did not work a cappella. Their songs contained occasional unaccompanied sections, but the musicians either played instruments themselves, like the Four Freshmen, or worked with musical ensembles of various sizes. Classical choruses and choirs have often performed a cappella and for many years a cappella has found a popular home in academia. The Whiffenpoofs from Yale were founded in 1909 and many college groups started up in the 1940's and '50s.
Since the '80s there's been a resurgence of a cappella singing both from college groups and professionals. The movement was led by Take Six, a group from Alabama whose approach has largely shaped the sound we hear now. The two groups Accent cites as its influences are Take Six and the Hi Lo's, a non-a cappella male vocal quartet popular in the '50s. It is Take Six that Accent most clearly emulates (although the openings of some songs on this album are very Hi-Lo's-like). In fact, a song on this album,"Love is Just That Way," was written by two members of Take Six.
The all-male members of Accent are from around the globe: Jean-Baptiste Craipeau (France), tenor 1; Simon Åkesson (Sweden), tenor 2; Danny Fong (Canada), tenor 3; Andrew Kesler (Canada), tenor 4; James Rose (United Kingdom), baritone; and Evan Sanders (USA), bass. The group has recorded two albums, although the first one was put together remotely, each member contributing his part separately. For In This Together, they came together to rehearse and record in Los Angeles.
The sound of recordings are often spoken of in terms of "dryness" and "wetness." A dryer recording uses fewer manipulations of the sound, such as reverb and compression. A wetter one draws on more of those effects. I would compare Accent's recording to those of Take Six and to those of Singers Unlimited, in terms of being fairly wet. I am less a fan of this approach that I am of dryer recordings. The level of reverb is fairly high, and the effect tends to take blemishes out of individual voices and to smooth out the sonic blend. There's no right or wrong regarding this, but I prefer a little more roughness in a recording. I find that it draws me closer to the emotional power of the music. The contrary point of view might argue that everything sounds very pretty.
As far as the music itself is concerned, the singing is impeccable. The group proclaims in the album notes that "none of us are vocal divas": the arrangements are structured so that no one has a sustained burden to carry. It's all about the arrangements, they say. Every member of the group plays piano and clearly understands the music from the inside out.
Stylistically, the musical lines — the melodies — are more pop than jazz. There are efforts to create "hooks" in some songs but, in general, there are too many tempo changes and varying sections to make the music serve as danceable pop. The most straight ahead songs are "Just Wondering," "Who You Are," and "Love is Just That Way." They use beat box in these songs (a singer making musical "effects" with his mouth), but the technique is used sparingly. Claps for rhythm are used, but they are unobtrusive in the mix. I can imagine college groups performing these songs, albeit using less difficult harmonic extensions.
"Aux Aurore" and "Twilight" are successful evocations of thoughtful, peaceful moods. "Aux Aurore" uses syllables, not words, which means that the music is the sole focus of attention. The lyrics in "Twilight" are more introspective than in the album's other songs, although it still carries an inspirational charge. In these slow tunes, the listener bathes in the overtones created by the group's ingenious use of harmony. It must be a dream job to arrange for so many excellent singers — this talented group can pull off difficult intervals and multiple part-singing with ease.
"Only One Love," written by members of Take Six, naturally reflects the sound of that Gospel-R&B-Jazz group (The song "Spread Love" was their breakout hit). It carries an uplifting message, puts more emphasis on rhythmic syncopation, and the lead vocals carry more gospel shadings than on the album's other songs.
Wrapping up, I'm not crazy about the wetness of the recording, which gives it a gloss that I find unnecessary. But the music is lovely and the singers render the arrangements with considerable skill and commitment. The self-professed goal of Accent is to "bring people together." Whether it will (ever) happen in the outside world, I don't know, but it certainly happened inside the recording studio.
---
Steve Provizer is a jazz brass player and vocalist, leads a band called Skylight and plays with the Leap of Faith Orchestra. He has a radio show Thursdays at 5 p.m. on WZBC, 90.3 FM and has been blogging about jazz since 2010.