Highlights include an excellent Tchaikovsky symphony cycle in modern sound, one of the year's best chamber-music albums, and a terrific album of William Walton Symphonies.
By Jonathan Blumhofer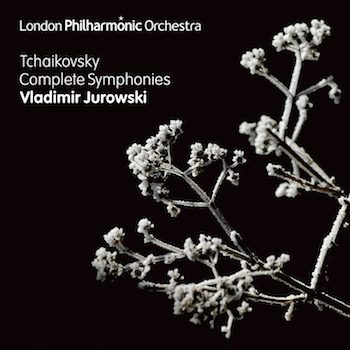 There's been plenty of praise for the individual installments of Vladimir Jurowski's Tchaikovsky symphony cycle. The whole set, taped between 2004 and 2016 but out now and consisting of the six numbered symphonies plus the Manfred Symphony, Francesca da Rimini, and the Serenade for strings, deserves its own, special accolade. All are played with persuasive rhythmic energy and Jurowski's consistent, appealing understanding of the music's inherent drama shines throughout.
The best individual performances – the Second, Fourth, and Sixth Symphonies – rival the finest accounts already on the market. All are played with captivating color, shapely phrasing, and visceral excitement.
And the rest aren't bad, by any stretch. Jurowski's First is as atmospheric and lively as any. And, if the "Polish" Symphony doesn't quite sound like the masterpiece Bernstein made it out to be, well, no other conductor's quite pulled off that feat, either. But the colors and phrasings Jurowski teases out of its swooning "Alla tedesca" second movement and the central Andante elegiaco more than compensate.
Perhaps best of all is Jurowski's Manfred Symphony. One critic labeled this performance one for the ages, and I'm inclined to agree. It's a reading that brims with passion and fire, not to mention breathtaking color and technique (the LPO's agile woodwind playing is second-to-none).
The LPO's engineering is largely excellent: well balanced and featuring a minimum of audience noise. If you want an excellent Tchaikovsky cycle in modern sound, look no further.
---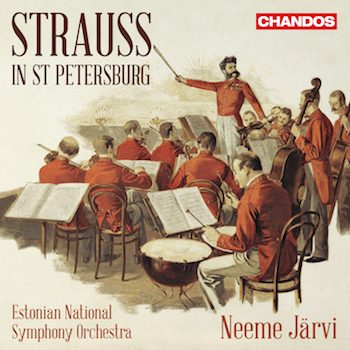 The list of composer Neeme Järvi won't conduct is extraordinarily short. The list of composers he perhaps shouldn't might be a bit longer. Järvi's Strauss in St. Petersburg, a survey of music by Johann Strauss II and his brother, Josef, written for their annual summer residencies in Russia, is a case-in-point.
Not that his readings of these twenty-odd marches, waltzes, polkas, and gallops lack for energy. Quite the contrary: often they provide too much, and that has the effect of killing any subtlety or nuance to be found in the music. And, indeed, these qualities are part of this repertoire, especially in several of the waltzes offered here, like the wistful Abschied von St. Petersburg and the extended version of Wein, Weib, und Gesang. You wouldn't necessarily know that, though, from Järvi's approach, which is almost entirely brisk and, as a result, expressively shallow.
Even the fast music suffers from a lack of refinement. Can Johann II's Russischer Marsch sound less like a march and more like a gallop than in Järvi's hands? I'm a bit scared to ask. At the same time, the quick-polka Auf zum Tanze lumbers; the charming Bauern-Polka lacks, well, charm; and the quadrilles (Hofball- and Alexander) are, generally, stiff, heavy, and wanting in character.
It's a shame, given that Järvi is one of the few major conductors to regularly advocate for underrepresented repertoire. And he's found a number of pieces here that are worthy alternatives to the usual recorded Strauss suspects.
But this music isn't his – or the Estonian National Symphony Orchestra's – cup of tea: your best bet for this repertoire is probably going to be either the Vienna Philharmonic or the orchestras on the Marco Polo/Naxos complete Strauss series, most of whom display far greater sympathy to the Strauss family's style than Järvi and his band do here. If you do go for this disc, it should be for Peter Kemp's excellent, thorough liner notes. Otherwise, you're (sadly) not missing much.
---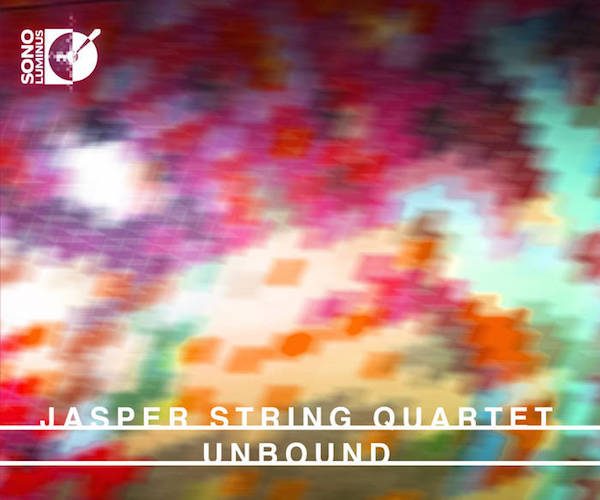 One of the year's best chamber-music albums is the Jasper Quartet's Unbound, a survey of substantial, recent pieces for string quartet by Caroline Shaw, Missy Mazzoli, Annie Gosfield, Judd Greenstein, David Lang, Donnacha Dennehy, and Ted Hearne.
What makes it so great? Phenomenal playing, for one: the Jasper's play with remarkable technical assurance, intense energy, and a level of expressivity that's simply commanding. You care about and are engaged in whatever they're playing because, well, they are.
On top of that, the Jaspers have chosen an appealing program for Unbound that, at some points, is quite thoughtful and touching and, at others, purely exhilarating. So one proceeds from the whimsical, glassy harmonics of Shaw's Valencia to the spunky rhythmic profile of Mazzoli's Death Valley Junction to the jagged, shifting textures of Gosfield's World War 2-resistance-inspired The Blue Horse Walks on the Horizon to the exuberance of Judd Greenstein's Four on the Floor and, somehow, the pieces' varied ideas and logic are, independently, gripping. Ditto for Lang's haunting almost all the time, Dennehy's intense Pushpulling, and a new quartet arrangement of Hearne's "Excerpts from the middle of something" (from Law of Mosaics).
More than that, despite no strongly unifying stylistic threads, these seven pieces relate, expressively, to one another in often striking ways (check out the Gosfield and Dennehy scores next to each other to see what I mean). Indeed, if there's one takeaway from this disc (and there's more than one, to be sure), it's the sheer versatility of expression still to be mined out of the already-heavily-explored genre of the string quartet. That may not sound like much but, if you're looking for inviting repertoire not by Beethoven, Schubert, Bartók, or Shostakovich, well, you need to check out Unbound.
---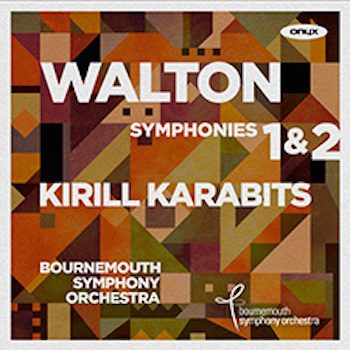 William Walton is, on these shores at least, something of the odd-man-out of 20th-century British music, eclipsed by Vaughan Williams, Elgar, Britten, Tippett, Thomas Adès, Helen Grime, and others. That's a pity, a reminder delivered by Kirill Karabits' new recording of the two Walton symphonies with the Bournemouth Symphony Orchestra (BSO).
Walton was an inconsistent composer, especially later in his career, and the two symphonies, separated by just over twenty years, sometimes require a sympathetic advocate. In Karabits and the BSO, they've got 'em.
Their performances offer moments of terrific brawn – the pulsing tattoos that dominates the First's opening movement are marked by incisive rhythmic energy while the Second's stern Passacaglia-finale offers plenty of brassy weight – but also delicacy and tenderness. The First's slow movement is played with serenity and pathos, while the Second's mysterious central movement comes over with cinematic clarity (especially the menacing, central interlude with snarling brass, tremolo strings, and glowing percussion). Karabits paces everything smartly while never losing sight of the music's overriding, lyrical voice.
It's a terrific album, one that complements and contrasts (in terms of overview and energy), Edward Gardner's also-fine cycle (on Chandos) from a couple of years ago.
---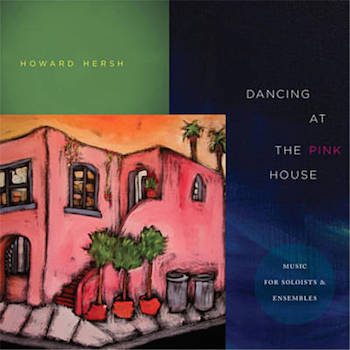 Composer Howard Hersh's new album, Dancing at the Pink House, picks up right where 2014's Angels & Watermarks left off: with music of breathtaking freshness, technical daring, and wit. It also reinforces Hersh's reputation as a composer who's stylistically unpredictable and versatile.
On the one hand, you have Madam's Tavern, a haunting piece for solo violin and a "phantom choir" of fifteen recorded violins (all played here by Mary Rowell). Yes, it channels Steve Reich's Violin Phase a bit, but then moves on and out: Hersh's recorded textures are more symphonic than Reich's, generally, and the whole piece offers more of a narrative argument.
Then there's the manic I Love You, Billy Danger, played with fearless bravura by Brenda Tom, whose thunderous chords and driving rhythms marries the fearless virtuosity of Liszt with the spastic energy of Ligeti by way of Bill Evans (and maybe Gershwin). It's a blast.
On the flip-side are a pair of Lou Harrison-esque piece, Loop and Night, in which Hersh's numinous percussion writing (some masterful scoring for vibraphone in the former and marimba in the latter, both excellently realized by Patricia Niemi) evokes fantastical, imaginary realms.
And then there's the title track, with its conjurations of swing and quotations of "America the Beautiful," that wraps up this album on a decidedly benevolent (and somewhat nostalgic) note.
Through it all – even the most aggressive moments of Billy Danger – Hersh's strongly lyrical voice shines brightly. The performers, who include cellist Jonah Kim (on Loop), clarinetist Jose Gonzalez Granero and percussionist Nick Matthiesen (on Night), and clarinetist Patricia Shands and pianist James Winn (on Dancing at the Pink House) deliver invigorating, rhythmically and melodically incisive performances of their respective works. In all, everything here cooks.
---
Jonathan Blumhofer is a composer and violist who has been active in the greater Boston area since 2004. His music has received numerous awards and been performed by various ensembles, including the American Composers Orchestra, Kiev Philharmonic, Camerata Chicago, Xanthos Ensemble, and Juventas New Music Group. Since receiving his doctorate from Boston University in 2010, Jon has taught at Clark University, Worcester Polytechnic Institute, and online for the University of Phoenix, in addition to writing music criticism for the Worcester Telegram & Gazette.