Russian poet Gennady Aygi wrote as an outsider, an ethnic outlier as well as a free-verse stylist of his generation.
Time of Gratitude by Gennady Aygi. Translated by Peter France. New Directions Press, 144 pages, 16.95.
By Jim Kates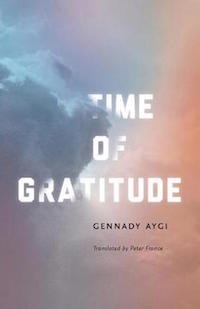 This review must begin with the admission, under oath, of personal Russian connections. Arts Fuse asked me to review Time of Gratitude, a collection of essays, notes, interviews, and poems by Gennady Aygi, translated by Peter France. At the end of his translator's preface, France acknowledges my own Zephyr Press for publishing an "evocative little volume [of Aygi's poems] Salute — to Singing." In addition, France and I have been guests in each other's houses. I owe him the generosity of his acquaintance.
It was through preparing a comprehensive 1997 anthology In the Grip of Strange Thoughts: Russian Poetry in a New Age that I first became acquainted with the poetry of Gennady Aygi.
ROSE OF SILENCE

and the heart now
or perhaps only absence
is in such — emptiness as if hushed
in waiting
the place of prayer
(pure — abiding — in the pure)
or — pain that begins by starts
to be there (as perhaps
a child — feels pain)
weak nakedly-living
helplessness
like a bird's
We have a low tolerance for cultural diversity and complexity; we tend to know foreign cultures through emblematic figures, reductive examples. The American understanding of Russian poetry at the end of the twentieth century is generally restricted to a couple of figures — Joseph Brodsky and Yevgeny Yevtushenko — both of whom followed up their original achievement and notoriety in the Soviet Union with time spent in the United States.
Gennady Aygi is a fine example of the kind of poet who is, unfortunately, lost in the process of  cultural reduction. He fits neither into our Western categories nor into the dominant St.Petersburg-Moscow axis of Russian poetry. He wrote as an outsider, an ethnic outlier as well as a free-verse stylist of his generation. Little known outside of literary circles, his poetry earned him enough of a reputation in Europe to put Aygi in the running on at least one short list for a Nobel Prize in Literature before his death in 2006. He brought to his poetry the breadth of a Tatar and Chuvash background. In fact, he wrote his first poetry in Chuvash, and only in 1960 switched to Russian, encouraged, as Aygi tells us in this book, by Boris Pasternak.
His poetry has been much translated by France. Examples are available in the United States: not only from Zephyr, but more comprehensively with several volumes from New Directions, along with a handsome bilingual Selected Poems 1954-1994 available from the English publisher Angel Books.
Time of Gratitude is a slender introduction to Aygi's work. The book includes about a dozen poems, most of which have appeared in English in earlier collections, others woven into the prose, like these in an essay celebrating Velimir Khlebnikov:
and it gleams the blue-eyed soul
from the net of spectral 'laws of time'
and the face is ever clearer: nearer more transparent
of one who loved ears of corn like a child
All of the prose pieces are tributes to other writers thanked or celebrated. Two of the poems, however, are translations of translations, one from the Chuvash poet Mikhail Sespel and one ("Baudelaire") of a poem Aygi himself originally wrote in Chuvash.
As for the prose in this book, divided neatly between ""Russia and Chuvashia" and "The Wider World," I find it hard to imagine that the pieces in the first part will be of interest to anyone who does not already read Russian, except for the initial essay on Pasternak, and another on Sespel. Some come off as sketchy notes: "Kruchonykh the critic. Let us at least mention his style, his sharp, brilliant prose; his only rival in this field was one of his favorite disciples, Igor Terentyev." That's it regarding Kruchonykh the critic. Aygi's writing presumes a considerable depth of acquaintance with Russian art and literature. But, ironically, this  deep focus becomes the most valuable part of Time of Gratitude; if we can let the conversational, personal interpretations of Kruchonykh, Yakovlev, and Shalamov serve as exactly the kind of introduction that the book as a whole provides for Aygi himself.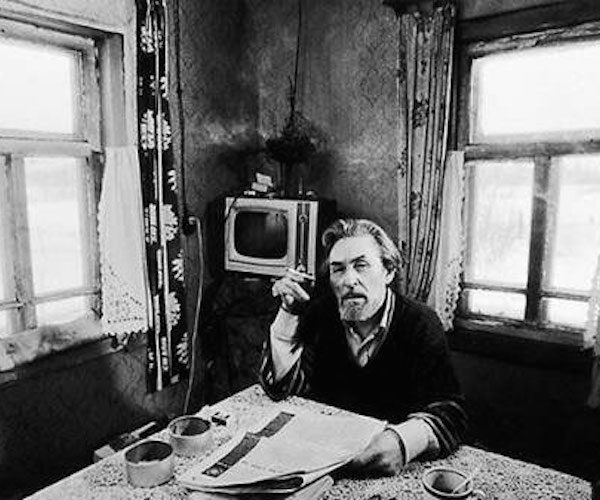 (I had already written this paragraph when I chanced into a conversation with a friend who had also received an advance copy of Time of Gratitude. Having no previous knowledge of the poets Aygi wrote about, she found herself immediately drawn to them by his introduction. So I guess it's not as hard as I had thought.)
In addition, the volume contains the poet's appreciation of his better known predecessors Khlebnikov and Mayakovsky.
The essays in "The Wider World" address writers more familiar to Western readers — Kafka, Celan, Norwid, Baudelaire, Jacob, Char,  Tranströmer — and they turn out to be sketchier and even more personal than in the previous section. These pieces are far more illuminating for what they tell us about Aygi than about the writers he's comfortable with.
I have lost the purity of solitude and the chastity of being unknown (even so, I knew something of this chastity). I wanted to be "necessary," but what quiet happiness and honesty there is in being unnecessary! These are the lessons of Kafka … ("O Yes: Light of Kafka")
The same friend of mine whom I invoked parenthetically above is a better testament to the value of Time of Gratitude than anything I could write here. She immediately set herself to find everything available of Gennady Aygi's in English. Go thou and do likewise.
---
Jim Kates is a poet, feature journalist and reviewer, literary translator and the president and co-director of Zephyr Press, a non-profit press that focuses on contemporary works in translation from Russia, Eastern Europe, and Asia. His latest book is Muddy River (Carcanet), a translation of verse by Russian existentialist Sergey Stratanovsky. His translation of Mikhail Yeryomin: Selected Poems 1957-2009 (White Pine Press) won the second Cliff Becker Prize in Translation.