With this superb production of Harold Pinter's The Caretaker, Wilbury Theatre proves that an arts organization can grow while pushing an experimental agenda.
The Caretaker by Harold Pinter. Directed by Steve Kidd. Staged by the Wilbury Theatre Group at 40 Sonoma Court, Providence, RI, through October 7.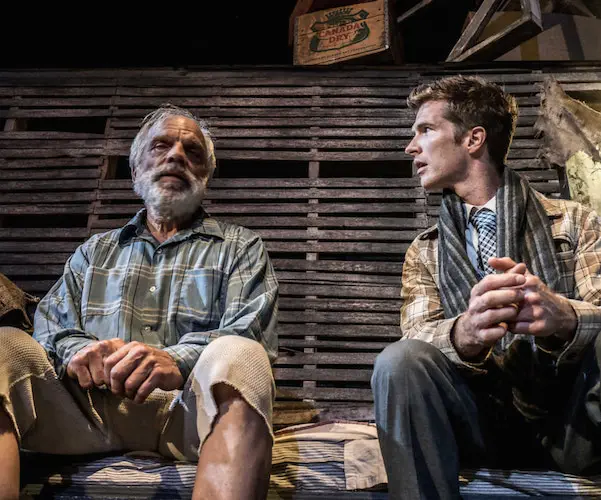 By Mary Paula Hunter
So much good news coming from Providence's risk-taking Wilbury Theatre Group, the most exciting of the city's Off-Trinity theater companies. With its Fringe Festival, its new home, and its splendid season opener — a superb production of Harold Pinter's The Caretaker — the company proves that an arts organization can grow while pushing an experimental and thought-provoking agenda.
Leaving behind the acoustically-challenged theatre at Trinity Church, The WTG has wisely decamped to a cavernous garage in Olneyville, Providence's burgeoning arts district. Surrounded by mills, and situated on the Woonasquatucket River, the flexible space reflects its industrial past though it has been elegantly repurposed, a revitalization of one of the many underused or abandoned buildings found throughout RI
As an opener to the company's seventh season, The Caretaker Pinter's first commercial success (1960) fits perfectly into the small, almost mini-, theatre space tucked away in a corner of the building's new (and expansive) black box. Pinter, the master spinner of the spare, is often compared to one of his major influences, Samuel Beckett, but in the Wilbury's two-level set — full of junk and dominated by a rickety staircase — his similarity to another contemporary, the great choreographer Merce Cunningham, is particularly evident. Like Cunningham, Pinter is a keen observer of instinctual human behavior. The trio in this production of the play move around each other — physically and verbally — in a stripped-down, uneasy dance that Cunningham would have admired.
In a bit of magic, brothers — Josh and Joe Short — play Mick and Aston, brothers who have nearly ceased talking to each other until Davies, a homeless man played by the dependable Richard Donnelley, enters their lives, taking on the role of a devious intermediary. That the siblings eventually circumvent Davies's desperate attempt to divide and conquer suggests that, for Pinter, blood is thicker than water. But the overriding theme is less a sentimental testament to the strength of family bonds than it is about the will to power and the urge to dominate.
Indeed, older brother Mick doesn't reject Davies's desperate attempt to play him off against his brother because Aston is mentally incapacitated. Protectiveness has little to do with it. Mick would rather live in isolation than relinquish his dreams of running a Trump-like real estate empire as the boss, the ruler. When Davies admits he actually has no skill as a decorator, Mick is incensed, realizing that Davies has no interest in playing an underling role.
Pinter's brothers begin the play as polar opposites: Aston is quiet, halting in his speech; Mick is volatile and explosive. By the end, however, the difference between them is merely stylistic. Both prefer isolation to community; both dream of a fiefdom. Davies, the beggar who interrupts these fantasies, is out to take what he can; poverty has not diminished his compulsion to drive his own agenda, even if it is just a matter of demanding shoe laces of a different color.
No one will back down in Pinter's standoff. Aston may have been subjected to electric shock therapy — in a disturbing monologue he describes being coersced into treatment of an specified illness (a nod to the authoritarian mental asylum in Pinter's early play The Hothouse — but he's still committed (in his stilted way) to building his shed in the backyard of the derelict room his brother has provided him. When Davies pulls a pathetic pen knife on Aston, informing him that the room is now his, Aston finds the strength to stand his ground. He works himself up to a moment of fearlessness in which he points to the door. Cooperation among humans is impossible, Pinter suggests.
In the end, language is all we have, yet words are not to be trusted. In The Caretaker pauses are as meaningful (and more threatening) as utterances. The only exception to this linguistic slipperiness are the lists of home furnishings that Mick describes, the grandiose interior designs he envisions. Objects — in a hilarious rant Josh Short runs down a list of tiles, paint, and flooring — and the detritus scattered all over the set are dependable because they are real. Everything we say, Pinter argues, masks meaning, hides our intentions. Words are what we, wily animals in the Darwinian competition, use to win, dominate, and destroy.
---
Mary Paula Hunter lives in Providence, RI. She's the 2014 Pell Award Winner for service to the Arts in RI. She is a choreographer and a writer who creates and performs her own text-based movement pieces.