Director Julianne Boyd is faced with a difficult challenge — dramatizing an outdated psychological travelogue.
Company, book by George Furth; music and lyrics by Stephen Sondheim. Directed by Julianne Boyd. At the Barrington Stage Company on the Boyd-Quinson MainStage, 30 Union Street, Pittsfield, MA, through September 10.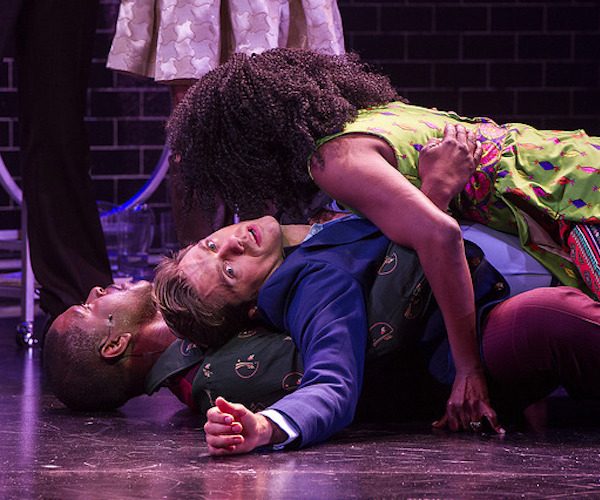 By Helen Epstein
If you are a Sondheim enthusiast and can't get enough of his music, lyrics, and sensibility, you will be pleased to know that Julianne Boyd has cast a strong production of Company, with an excellent Bobby (Aaron Tveit) and vibrant band and ensemble. If you are not a fan, or have never seen a Sondheim musical before, you may find this multiple-award-winning, ambivalence-ridden musical puzzling, as well as needing a major update.
Company was revolutionary when it opened in the spring of 1970, three years after Hair broke the mold of narrative musical comedy with its raucous and loosely-scripted celebration of drugs, rock, and free love. The anti-war, civil rights, and feminist movements were then upending long-established American institutions, especially heterosexual marriage. "Marriage may be where it's been, but it's not where it's at," as a quintet of Company husbands sings.
Gay marriage was unimaginable when Sondheim and Furth, at the time both closeted gay men, were writing Company in 1969, the year of the Stonewall rebellion. The first no-fault divorce law in California was a year away, and Company was seen as an angry, provocative (if not anti-American) attack on marriage, registered through the eyes of Bobby, a commitment-averse "bachelor" turning the age of what was then considered a sell-by date: 35!
This musical had a most unlikely genesis. Playwright Furth acted on a suggestion from his therapist to write a series of one-act plays featuring married couples and a third, single person, what author Laurie Colwin once termed a "house pet." Director Harold Prince then suggested that Furth transform the one-acts into a musical. Working with Sondheim, the playwright created a character named Bobby, a single man who uses the storyline's couples for company when he's not seeing one of his three girlfriends.
A sampling of recorded messages on Bobby's answering machine open Company; one friend blurts out the secret of Bobby's surprise birthday party. That celebration, with its birthday cake, candles, and Bobby's inability to blow them out and make a birthday wish, becomes a coming-of-age symbol and narrative device for the musical. Manhattan is the backdrop and, as in Bernstein's On the Town, a constant reference point.
The show-stopping songs ("Marry Me a Little," "Ladies Who Lunch," "Being Alive") have become standards and those tunes that are performed less frequently ("Sorry/Grateful," "Another hundred people") remain powerful. But while the Barrington Stage musicians and actors are excellent, Boyd is faced with the inherent challenge of dramatizing an outdated psychological travelogue.
Furth's script depicts members of a specific sub-culture: the upper-East Side upper-middle class of 1960s Manhattan. In this all-white world, men have meaningful work and women don't. Non-Caucasians, "career" women (except for a stewardess), homosexuals, and children are invisible. The dress code was subdued suits and ties for men; skirts and dresses in expensive fabrics are de rigueur for  the women.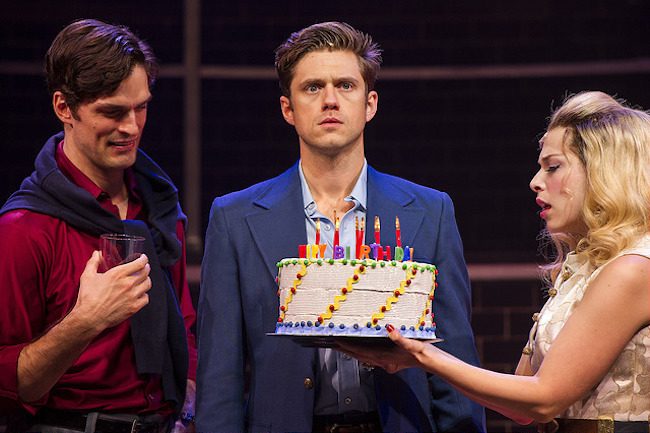 Boyd re-imagines Company in a generic and classless America of the 1970s. Kristen Robinson's exposed brick multi-level set looks like anywhere, USA, aside from five narrow windows of tall gray buildings that block a view of the East River. The director has made the production bold and colorful – with a bright red leather couch and loveseat for Bobby's flat, and orange bean-bag poufs for his friends. This felt totally wrong to this former New Yorker, much like an Archie and Veronica comic book version of Manhattan. The costumes, by Sara Jean Tosetti, mix 1970s patterns and styles in vivid hues incongruent with the social world of the play and serve to confuse the relationships between characters. The director has cast Sarah and Harry (an engaging Lawrence Street and Jeanette Bayardelle) as African-American and girlfriend Marta (the charismatic Nora Schell) as a woman of color. That works, but there is not much the director can do about the absence of any gay couples or the question of Bobby's sexual orientation, which seems more pertinent to his situation than an aversion commitment.
Slender and likeable Aaron Tveit delivers Bobby's songs in a lyric tenor; the performer does his best to put some flesh on this stick figure as he ponders the passage of time and lack of human connection on his 35th birthday. Like Ellen Harvey as "Joanne," Kate as "Susan," Paul A. Schaefer as "Peter," Jane Pfitsch as "Jenny," James Ludwig as "David," Lauren as "Amy," Joseph Spieldenner as "Paul," Peter Reardon as "Larry," and Mara Davi as "April," Tveit is a consummate performer, speaking, singing, and dancing with equal élan. The ensemble brings a wonderful energy to this world-weary, cynical piece of theater.
Despite the cast's talents, Company left me unmoved. An update of the musical is planned in London next year, with Sondheim assisting in making the protagonist a woman named Bobbie. That should inject some relevant new life into this antique war horse.
---
Helen Epstein reviews books and theater for artsfuse. She is the author of Joe Papp: An American Life and nine other books. Her work can be found at Plunkett Lake Press.