The Emerson Quartet is as restless and curious as ever; pianist Simone Dinnerstein is featured on a treasure of a disc.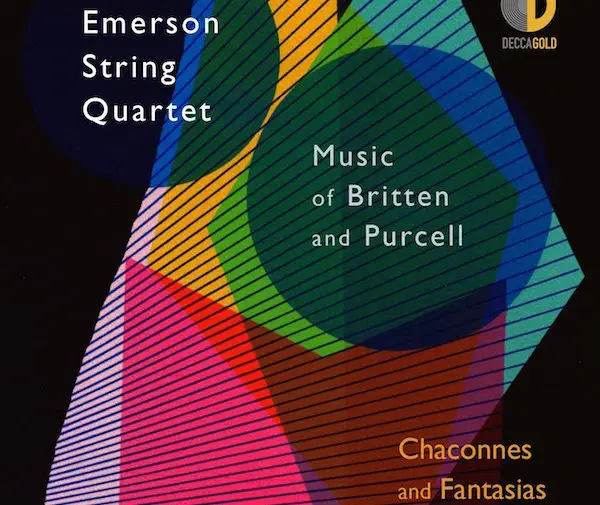 By Jonathan Blumhofer
On the surface and in practice it makes lots of sense to pair the music of Benjamin Britten with that of Henry Purcell. In addition to being widely regarded as Purcell's belated successor, Britten borrowed freely from Purcell's forms and edited publications of his music. So the Emerson String Quartet's new album (Decca Gold), Chaconnes and Fantasies, has a lot going for it before the first note is even played.
And, once it's been heard, the wisdom of the concept is thoroughly apparent.
The Purcell selections – the G-minor Chacony plus four Fantazias (nos. 6, 8, 10, and 11) – are gloriously odd. Their weird, unpredictable shifts of harmony; use of cross-relations; asymmetric turns of phrase; and the like remain plenty jarring and contemporary-sounding three centuries on.
And they balance very smartly with Britten's sound world, especially his String Quartet no. 2. This one has a big "Chacony" movement of its own (the finale) that's modelled on Purcell's (though three times longer). But its blend of familiar gestures and harmonic progressions with surprising, dissonant turns is thoroughly of the 20th century, as are the score's technical demands.
The Emersons give the piece a warm, vivid reading, especially its big last movement. And the earlier ones, with their echoes of Bartók and Shostakovich, spring to life, too. The first is all chiaroscuro: brilliant bursts of sun contrasted by mysterious shadows. If the second isn't quite as manic as it could be, its controlled fury still speaks strongly.
In the Quartet no. 3, there are similar moments of holding back, particularly over the first two movements. But the latter three are suitably brisk and the recorded sound in all of them is great. Particularly fine from an interpretive standpoint are the last two odd-numbered movements. The third brims with playfulness and invention, from the aleatoric choruses to the natural harmonics that frame the last iteration of its recurring verse. And the final passacaglia on La Serenisimma sings with touching beauty and, at the very end, a startling twist of an ending.
It says something quite laudable about the Emersons that, after more than forty years on the professional circuit, they don't just give themselves over to repeat performances (or recordings) of Schubert, Beethoven, and the like. Along with their recent Berg-Wellesz-Zeisl disc, Chaconnes and Fantasies reveals an ensemble as restless and curious as ever. Of course, maybe that's something we've come to expect from the group, who have been championing everything from Ives and Bartók to Schumann and Shostakovich for more than four decades. Still, it's nothing to take for granted.
---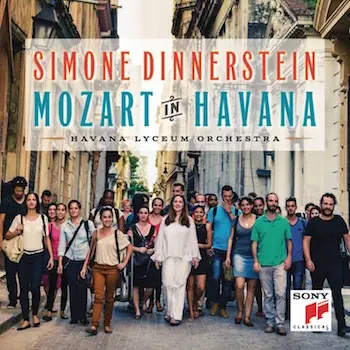 Between Isabelle Faust, Mitsuko Uchida, and Kristian Bezuidenhout, there have been a spate of great Mozart concerto recordings to hit the market of late. Now there's Simone Dinnerstein's Mozart in Havana (Sony Classical). A collaboration between the pianist and the Havana Lyceum Orchestra (HLO), these are non-period performances of Mozart that are about as fresh, lively, and overflowing with youthful energy as they come.
Both works on it – the Piano Concertos nos. 21 and 23 – show Dinnerstein in fine form. Her playing is crisp and spontaneous-sounding, especially in the concertos' quick outer movements. The slow ones sing with profound beauty and sadness. It's all beautifully voiced, too, and, on the whole, winsomely lyrical. None of her interpretive choices are prosaic. Phrasings are expressively done and always made to relate to the larger architecture of each piece. In sum, Dinnerstein's are shapely, stylish, and brilliant readings, brimming with warmth and zest.
The HLO matches her step-for-step. Dinnerstein's short essay in the liner notes mentions the intensity of the recording sessions – players insisting on multiple takes even as the tapings wound through the wee hours of the morning late last June in Havana – and the ensemble's playing is anything but commonplace. There's some lovely woodwind playing in the slow movements (the middle of no. 23's Adagio is a particular delight), though everything is well-balanced and energetic. Conductor José Antonio Méndez Padrón's tempos all fit naturally and he guides the group in a sensitive accompaniment.
In all, a treasure of a disc.
---
Jonathan Blumhofer is a composer and violist who has been active in the greater Boston area since 2004. His music has received numerous awards and been performed by various ensembles, including the American Composers Orchestra, Kiev Philharmonic, Camerata Chicago, Xanthos Ensemble, and Juventas New Music Group. Since receiving his doctorate from Boston University in 2010, Jon has taught at Clark University, Worcester Polytechnic Institute, and online for the University of Phoenix, in addition to writing music criticism for the Worcester Telegram & Gazette.