Dancer/choreographer Maureen Fleming's highly distinctive style of movement is unforgettable.
B. Madonna, performed by Maureen Fleming. Presented by CRASH Arts at the Institute of Contemporary Art, Boston, MA, April 21 and 22.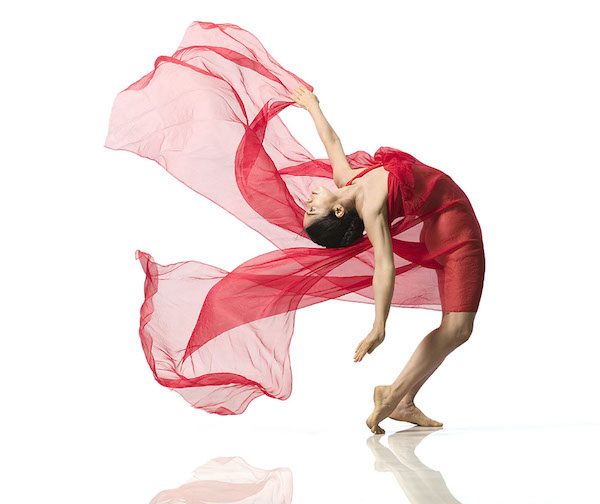 By Mary Paula Hunter
The list of collaborators involved in choreographer Maureen Fleming's latest evening-length work, B. Madonna, is long and illustrious. David Henry Hwang, Philip Glass, Bruce Brubaker, and the late Mabou Mines acting legend Ruth Maleczech lent support to Fleming's ambitious effort to project her sculptural movement style into the stories of the Black Madonna and the Persephone myth. Unfortunately, what she needed most, a director, was missing, making for a somewhat muddled production with a brilliant dancer at its core.
The evening began on a high note — literally with Fleming's spotlighted torso suspended fifteen feet in the air surrounded in darkness. In a perfectly timed solo, Fleming moved as if her body was a Rodin sculpture set in motion. An extreme backbend looked like a ribbon flowing towards a circle of infinity. Throughout her solo, Fleming, through the use of fluent energy, drew curving lines, creating compelling new shapes before our eyes. Body sculpting falls short of describing Fleming's seemingly effortless ability to morph, as well as her exploration of an innovative blend of Butoh inspired movement and modern dance.
Ironically, the connection between the Persephone myth and the Black Madonna never materializes. But throughout the show 's two acts Fleming fashioned a choreographed journey that examined personal freedom. In her program notes she credits a childhood trauma (a car accident that resulted in a serious spinal cord injury) as the catalyst for a dance style that is based in astounding flexibility and otherworldly imagery. In "Dialogue of Self and Soul," Fleming was encased in a floor-to-ceiling swath of blood red fabric; she resembled a butterfly about to emerge from a chrysalis. At first glance, the piece is reminiscent of Martha Graham's masterpiece Lamentation but, unlike Graham, Fleming struggles to find the right structure for her compositions. Like so much of B. Madonna, "Dialogue of Self and Soul" went on too long. There was no clear sense of evolution or purpose.
Fleming then inserted a display of martial art. "Mandala" featured performer and designer Christopher Odo, and it felt out of place. He performed a sword dance in an oddly perfunctory display of an Asian art form. Perhaps the piece was there to break up the show's long periods that focused on adagio movement accompanied by voiceover and music that too often felt obligatory. (Philip Glass is the go-to composer of far too many choreographers.) Odo also contributed video projections of Fleming dancing that lacked the intensity of her live performance.
The second half began with Fleming in a pool of a water, but this time, via an awe-inspiring slow-motion folding and unfolding of torso and limb, she eventually rose to an upright position. With her back to audience, she grasped branches, transforming herself into a half human/ half tree figure. This was a succinct picture of evolution that alluded to the Persephone myth of spring and rebirth. Unfortunately, Fleming didn't develop the idea – she repeated herself,  muddying the impact of a strong image. The result was boredom.
Fleming ended the evening emerged in a swath of airy fabric. Spinning and disappeared before our eyes, she resembled a modern-day Loie Fuller. But this piece, once again, was overlong, marred by trite screen projections of an Isadora-style dancer moving back and forth in undulating fabric.
Layering on theatrical devices (to the point of piling them on) does not make for a coherent evening. Still, Fleming's highly distinctive style of movement is unforgettable. If B. Madonna is a representative example of her work, she needs to trust in the concentrated lyrical power of her solo artistry.
---
Mary Paula Hunter lives in Providence, RI. She's the 2014 Pell Award Winner for service to the Arts in RI. She is a choreographer and a writer who creates and performs her own text-based movement pieces.