Terrence Malick attempts to liven up this hackneyed soap/rock opera with his signature swooping camera moves, jump cut editing, and stunning cinematography.
Song to Song, directed by Terrence Malick. Screening at Kendall Square, Coolidge Corner Theatre, and Loew's Tremont.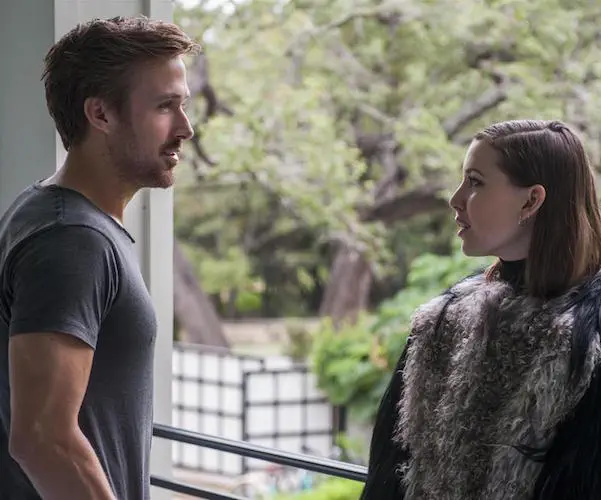 By Tim Jackson
Terrence Malick's new film Song to Song is chockfull of beautiful faces and gorgeous spaces. As in his several previous efforts, this movie eschews dialogue to focus on images that reveal (and judge) passing moments of behavior and fleeting emotions. The narrative is set in Austin, and this time around the rock and roll business is the target of the director's ethical scrutiny. The beautiful faces are Ryan Gosling, Michael Fassbender, Rooney Mara, Natalie Portman, and Kate Blanchett, with pop-up cameos by Val Kilmer, Iggy Pop, and John Lydon. Patti Smith steps in occasionally to provide effusions from a spiritual center. That is useful, because this is a morality tale that revolves around a wealthy rock producer, Cook (Fassbender), his best friend, a musician named BV (Gosling), BV's (or is it Cook's?) girlfriend Faye (Mara), Cook's eventual wife, Rhonda (Portman), and BV's second lover, Amanda (Blanchett). In this rock universe, filled with parties and concerts, attachments are loose and relationships are fickle. What this world needs is love. Therein lies the latest Malick sermon.
The love triangle powered by Cook, BV, and Faye becomes complicated once Cook marries Rhonda and BV has a hot affair with Amanda. I'm not sure what Amanda does, but she is very rich. In fact, it is hard to tell what anyone contributes to the art of popular music in this film, but Malick doesn't seem to care. Through it all, the wealthy Cook can't squelch his taste for prostitutes. His marriage is a wreck. Will BV stop canoodling with his groupies and finally realize that Faye is his true love?
Malick attempts to liven up this hackneyed soap/rock opera with his signature swooping camera moves, jump cut editing, and stunning cinematography. Talk takes a backseat to the display of delicate and frolicsome emotional intimacies. The decadent behavior of Austin is confirmed via rock concerts (brief) and cameos by members of real bands. The rock stars stand in stark contrast to the movie star cast. Unlike the beautiful people, there's hard mileage on their bodies. A shirtless Iggy Pop exhibits his aging hide of toughened flesh, every wrinkle deepened by years of authentic hard-ass rock and roll. Hey man, Iggy is the real deal, get it? Patti Smith steps in several times out of the blue (yonder?) to talk turkey about life and rock and roll to our attractive performers. Smith ditches glamor, but not bohemian style. She speaks from the heart of a poet. Iggy and Patti are the only characters worth listening to in this glittery constellation of one-dimensional people who are having sex when they should be looking for love.
Song to Song, like its stars, looks great; every composition is a stunner. Given the melodramatic circumstances, the cast is compelling. But nothing really catches fire here: each scene feels as if it was improvised, yet the result is an oddly formulaic and embarrassing experience. Malick is out to capture the nuanced physical gestures that illuminate the psychological depths of relationships. He has been reasonably effective in the past, but his angle of attack is beginning to wear thin, the quest for spontaneous significance overloaded and forced. Actors are required to provide playful, but revelatory, emotional moments. The upshot is that the performances look like what you would find in a group acting class. Rooney Mara holds a guitar at a rock concert. She's moping again. Why doesn't she play the guitar? Fassbender is always professional, but this role is awfully close to a reprise of his sex addict turn in Steve McQueen's Shame — without the soulless resonances. Gosling dabbles on piano. The actor can play — so why doesn't he? The women leap up and wrap their legs around the men: passion in action? Lots of hands are touched and caressed. All the couples play affectionate little games with each other. Don't we all? This is how we fall in love. Supposedly. Exhausting. I grow weary of connecting the dots.
Held together by the thinnest of storylines, Song to Song is a self-indulgent exercise: its visuals are superb, but the improvisational approach is problematic. It isn't painful to watch, but the seams in Malick's didacticism are beginning to show. It is time for director to stop preaching and get back to storytelling.
---
Tim Jackson was an assistant professor of Digital Film and Video for 20 years. His music career in Boston began in the 1970s and includes some 20 groups, recordings, national and international tours, and contributions to film soundtracks. He studied theater and English as an undergraduate, and has also has worked helter skelter as an actor and member of SAG and AFTRA since the 1980s. He has directed three feature documentaries: Chaos and Order: Making American Theater about the American Repertory Theater; Radical Jesters, which profiles the practices of 11 interventionist artists and agit-prop performance groups; When Things Go Wrong: The Robin Lane Story, and the short film The American Gurner. He is a member of the Boston Society of Film Critics. You can read more of his work on his blog.