A less skilled playwright might have gone for the obvious and focused on mercy-killing and the ravages of Alzheimer's.
Trick or Treat by Jack Neary. Directed by Carol Dunne. Staged by Northern Stage at White River Junction, VT, through February 5.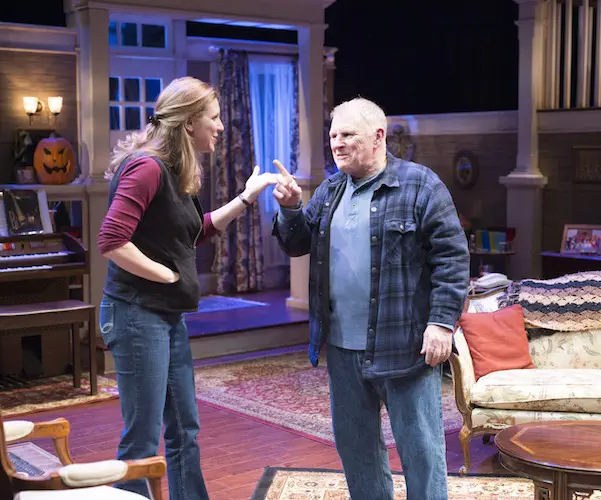 By Susan B. Apel
Timing is everything when it comes to family breakdown. Veteran dramatist Jack Neary wisely picks Halloween — with its clash between the comforts of chocolate and the fear of things that go bump in the night — as the date for domestic reckoning in his play Trick or Treat, which is receiving its world premiere production at the Northern Stage.
Michael Ganio's set pretty well tells you everything you need to know about the characters before they make their entrance. The couch with the folded handmade afghan, a yet-to-be-finished jigsaw puzzle with only the corners filled in, a bowl of walnuts waiting to be cracked. Though the play takes place in the present, a makeshift man cave in the corner of the living room hosts a 1970s-era TV console with a generic Barcalounger. We hear the vocals of Bennett and see Sinatra in a vintage album cover. In a nod to the spooky season, a carved jack-o-lantern shines with an expression that could be either a grin or grimace. Johnny Moynihan (Gordon Clapp) shuffles in with a bowl of candy and turns on the porch light.
Johnny has obviously been worn down: the result of decades of sweeping floors at the VA and taking care of his wife Nancy who, at the age of 64, is suffering from Alzheimer's. Trick or treaters arrive; the Moynihan house is famous for, as Johnny notes with pride, "giving out the big bars, not that cheap Walmart shit." He tries to be jovial, but more often than not misses the mark with his young visitors. His conversation with an unseen child about who the kid is supposed to be is representative. What's a Justin Bieber?, Johnny asks.
Johnny has summoned his daughter Claire (Jenni Putney) to help out with the Halloween chores. Claire arrives and, via a maddeningly halting conversation, she lays out brochures about nursing homes. It is time to have that long postponed and most unwelcome talk with her father about the inevitable. Johnny finally cuts her short and blurts out: "I killed your mother."
Levity evaporates. The remainder of the first act is brutal, and it belongs to Clapp. Johnny recounts how he fell asleep and woke up to find his wife in a state of panic. She didn't recognize her husband of 48 years. He decided to finally put her out of her misery, and assures Claire that her mother was killed with tenderness. Claire and Johnny try to figure out what to do next, disagreeing about whether or not to call Claire's brother, Teddy (David Mason), a thuggish cop who is rumored to be up for the position of chief of police. Meanwhile, they have to deal with irritating interruptions of the trick or treaters. Claire's annoyance with the kids draws in a nosy neighbor, Hannah (Katie Bruestle), who sniffs out that something is amiss in the Moynihan household.
A less skilled playwright might have gone for the obvious and focused on mercy-killing and the ravages of Alzheimer's. But, with the surprising doings of the second act, Neary takes an unpredictable direction. Plot twists uncover long-held family secrets. Johnny and Teddy end up hunkering down in the kitchen; Claire wonders why and from what she is being excluded.
The role of Trick or Treat's Johnny Moynihan was written for actor Gordon Clapp. He gives a near-flawless performance as the fatigued patriarch of a family whom he has sought to protect at any cost. Tired, angry, out of touch, not always the brightest bulb, he is driven by his need to guide his family through an impossible situation. Clapp does it all — he is the kind husband, the beleaguered caretaker, the father who wants to clear himself in his children's eyes, the take-no-prisoners homeowner who does not hesitate at casting out a nosy neighbor.
Putney's Claire evokes her character's awkwardness, dealing with the insanity of her childhood home as she handles the realities of her more upscale life via phone conversations with her journalist husband. She gives a compelling portrait of a helpful but sheltered daughter who is made to face the pain of lost innocence. Mason's Teddy is a cop who is constantly simmering, flashes of violence a distinct possibility. Katie Bruestle is just right as an entitled busybody whose deafness to the entreaties of the Moynihans to "get the hell out" would try the patience of a saint.
Neary mixes in some ironic humor, often through quasi-malapropisms and Johnny's amusing confusion about American cultural icons. For example, he keeps mixing up Kevorkian with Kardashian. Most of the comedy revolves around grotesque juxtapositions: somehow, despite the horror, the responsibility to keep up some semblance of normalcy remains. As the clan ponders the weight of what has happened, Claire fusses about the fact that her father isn't using a coaster under his drink.
Family uber alles. Its secrets are supposed to protect, but they always come back with bite, followed by unimagined consequences. Dramatist Arthur Miller said that tragedy was when the chickens come home to roost. And the birds are always in flight — even on Halloween.
---
Susan B. Apel is a writer and law professor whose creative nonfiction and poetry has appeared in Vine Leaves Literary Journal, Best of Vine Leaves 2015, Rhizomes, The Vignette Review, Siren Literary Magazine, Woven Tale Press, Image, and Bloodroot. A short memoir, Metamorphosis, has been recently published by the Fredericksburg Literary and Art Review. Her blog, ArtfulEdge, in which she writes about arts in the Upper Connecticut River Valley, appears regularly on the dailyUV.com. She lives in Lebanon NH.