The Christmas Revels is very much a celebration, and one with a lovely spirit.
The Christmas Revels, written and directed by Patrick Swanson. Music Direction by Megan Henderson. Scenic Design by Jeremy Barnett. Costume Design by Heidi A. Hermiller. Lighting Design by Jeff Adelberg. Sound Design by Bill Winn. Projection Designs by Garrett Herzig. Choreography by Gillian Stewart. Staged at Sanders Theatre, Cambridge, MA., through December 27th.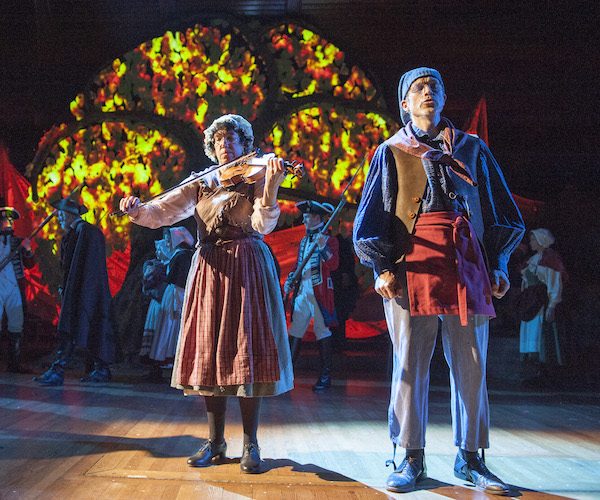 By David Greenham
"Tradition is quite right," Winston Churchill told the House of Commons as the war in Europe was winding down, "A love of tradition has never weakened a nation, indeed it has strengthened nations in their hour of peril." For 46 years The Christmas Revels has been a venerable Boston tradition, an eclectic holiday mix of narrative, music, dance, comedy, and gentle spectacle. The show is so nestled in tradition that long-time Master of Ceremonies David Coffin's very first words to the audience were "You're back."
Newcomers were warmly welcomed, of course, but much of Coffin's friendly introduction to the show was about beloved traditions. He mentioned that there was material producers tried to take out in the past, but the audience protested. And he reminded us that our favorite things were right where we wanted them, nestled at the ends of the acts as they have always been. But consternation still rears its ugly head. It seems that this year the audience must sing "Dance, then…" as opposed to "dance, dance…" in the chorus of "Lord of the Dance." It took three tries for us to get it right. Tradition is tough business.
Based on the poll that Coffin held, the first Saturday night performance of the Revels had a fair number of first timers in the lovely and intimate Sanders Theatre. For a newcomer, it turns out, it doesn't really make all that much difference what's new or what's old.
Performances like Christmas Revels are an age-old holiday tradition in many cultures. It takes the form of a "regular folk and ringers" mix of community members and professionals. Sometimes there is narrative and sometimes not, but there is always a sense of festivity. Christmas Revels is very much a celebration, and one with a lovely spirit. Most of the audience seemed to be swept up in that spirit even before the show began. Friendly ushers were everywhere; raffle tickets were being sold for a big trip to Italy; anticipation was high as the musicians warmed up their instruments and tiny snippets of song emerged: it all serves to build up excitement.
The conceit of The Christmas Revels is that each year highlights the music and history from a different part of the world. This time around Acadians/Cajuns are in the spotlight. It is a classic story: the struggles of the descendants of French settlers after they were pushed out of the Canadian Maritimes. And when groups of people are driven out by governments and profiteers, much of the narrative is tragic. Thus the inevitably rousing Christmas Revels provides more of a historical brush stroke than a full-fledged drama.
The lovely songs performed by well-known singer Josée Vachon, multi-talented musician Keith Murphy, fiddler Lisa Ornstein, and The Grand Pré Traveling Band are a gathering of authentic tunes. What narrative there is rests primarily on the shoulders of Noni Lewis. She seems to have traveled to this "Acadia" from last year's Revels visit to "Wales." But the producers made the right choice to bring her back because she's wonderful; a chronicler with a warm heart. Lewis is a voiceover artist in addition to being a performer; her voice and diction are crystal clear throughout the show. Her bio in the program points out that she's thrilled to be performing in the show with her eldest son. In a nutshell, that's what the spirit of the Christmas Revels is all about.
In 2016, the story of refugees caught in a political tug-of-war over land has the makings for a much more moving and relevant script than the one provided by long-time Artistic Director Patrick Swanson. Still, there are stirring moments: The Acadian Maritimes version of "Partons, La Mer Est Belle" is lovely; Murphy, Vachon, Ornstein, are joined by Tom Pixton for a simple and soulful rendition of the PEI tune, "Le Voyageur"; and singer Jamie Jaffe belts out the Cajun two-step "Les Veuves De La Coulée."
Jeremy Barnett's leafy tree fills the stage and that sets the tone for both the Nova Scotia setting and the later suggestion of the Bayou. Combined with Jeff Adelberg's agile lighting and Garret Herzig's projections, an effective mood is created, and everyone looks zesty in Heidi Hermiller's costumes.
The music and singing are generally spot on, thanks to Megan Henderson's music direction, although more variation in tempos would kept some of the Acadian and French songs from sounding similar.
Director Swanson manages impressive stage pictures with the giant cast (more than 80), who are (mostly) engaged and clearly doing its best. You are reminded of the old adage that there is a fine line between director and traffic cop. The group members are happiest when they're singing, which they do often. And the Revels obviously loves to give the children's chorus its moments. Les Petits Voyageurs, as they're called here, provide plenty of fun.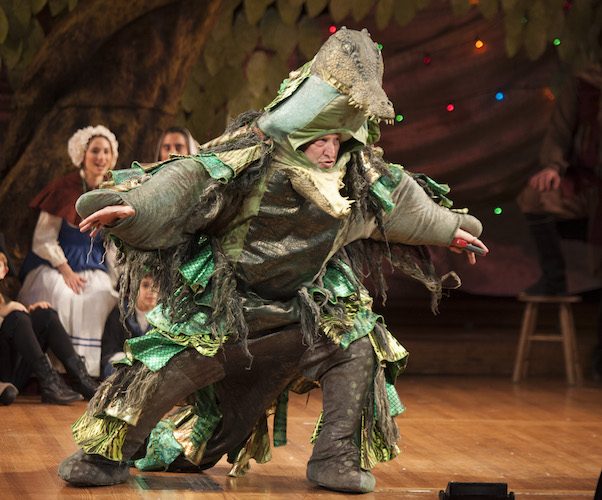 In both acts, tradition barrels rather then creeps onto the stage, pretty well elbowing the previous proceedings aside. These transitions tend toward the clumsy. The most abrupt moment in the show comes when the audience is guided into singing "Dona Nobis Pacem" in a round. It's surprising that this classic anthem, literally meaning "grant us peace," couldn't be seamlessly woven into a narrative about people looking for peace. There were enough "seasoned" audience members who would pick right up and lead the rest of the crowd in singing.
Another old standby is the silly Mummers Play. Again, the transitions in and out of the number were fuzzy, but the performance was entertaining, albeit possibly a bit odd for the world of the overall production. There are even some Trump references; his absurdity will now become a staple of nearly every form of satiric or improvised comedy for the foreseeable future. Somehow, the Mummers Play was tied into New Orleans and the Creole culture. Maybe "de old dialect" could have been toned down a bit because it came off as pretty forced.
When Dr. John appeared the Revels morphed into a different show altogether. Nevertheless, the audience members seemed to love it. And they know what they like and will fight for it. In that same speech to the House of Commons, Churchill addressed the need to welcome the future, "the new view must come, the world must roll forward," he said. Hopefully, this great Boston tradition, under the watchful eye of its loyal patrons, will continue to roll forward for many years to come.
---
David Greenham is an adjunct professor of Drama at the University of Maine at Augusta, and is the Program Director for the Holocaust and Human Rights Center of Maine. He spent 14 years leading the Theater at Monmouth, and has been a theater artist and arts administrator in Maine for more than 25 years.