All in all, Allyn Burrows has assembled a solidly entertaining production of a perennial Shakespearean favorite for the winter season.
The Tempest by William Shakespeare. Directed by Allyn Burrows. Presented by Actors' Shakespeare Project at Willet Hall at United Paris. Brookline, MA, through January 8.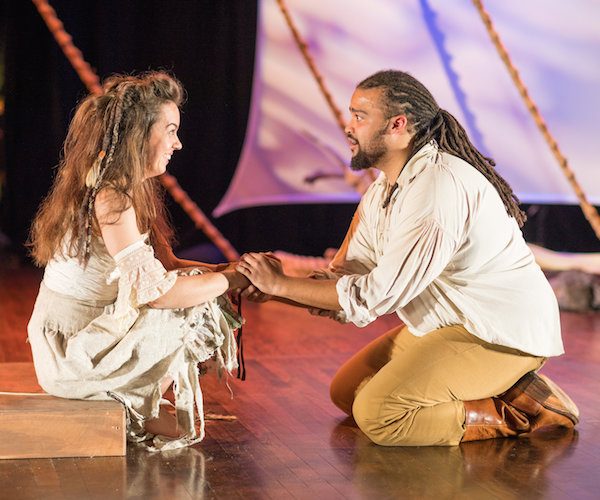 By Ian Thal
The Tempest may not be Shakespeare's last play, but it is his final solo effort. The rest of his scripts were completed with a collaborator. It is also among his most original plots; for all the poetic gifts he brought to his comedies, tragedies, and histories, this play is a rare example of the Bard lavishing his poetic gifts on a story and characters that were not derived from another source.
Actors' Shakespeare Project last tackled the story of Prospero's final days in exile in a 2008 production directed by Patrick Swanson, featuring Alvin Epstein as the master magician and Duke of Milan. This production, helmed by Allyn Burrows, casts Mayra Lowry as Prospero.
As best as I remember, it's been several years since ASP cast Lowry in a lead role (she supplied a fierce Macbeth a ways back). She does not supply the arrogant, demiurgic figure served up by a number of recent approaches to the role. Lowry's Prospero, once past the expositional speeches in the first act, is equal parts manipulative and affectionate towards both daughter Miranda (Lydia Barnett-Mulligan) and supernatural minion Ariel (Samantha Richert). This Prospero is not particularly obsessed with revenging herself on her usurping brother Antonio (Thomas Grenon) and ally Alonso, Queen of Naples (Mara Sidmore). She seems to be searching for an excuse to forgive them. Indeed, it is these nuanced moments of humanity that shape Lowry's interpretation. This Prospero has trouble being cruel, except when absolutely necessary, and this reluctance to do harm, reinforced by her desire to forgive her trespassers, makes it easy to see how a sorceress, even with effortless command of the elements, might have been deposed through such casual treachery.
As Ariel, Richert supplies a distinctively otherworldly performance: often stepping on the balls of her feet, smoothly shifting her weight from one leg to another, then, once her weight rests completely on one foot, moving into a cantilevered pose. Even her exercises in sphere-play (or contact juggling as it is known in some circles), however rudimentary, seems to defy gravity, if only because she invests it with such earnest intentionality.
Barnett-Mulligan's Miranda is a refreshingly feisty departure from the oft-forgettable ingenue of countless other performances. Perhaps, when younger, she almost fell victim to Caliban's attempted rape, but now she's a young woman who is more than capable of standing up to him, to the point that she is more than capable of knocking him to the ground (no fight choreographer is listed in the playbill). She is not merely enamored with Ferdinand (Kai Tshinkosi) but actively playful – even lustful – towards him, restrained only by her mother's insistence on pre-marital chastity.
Mara Sidmore makes for a stately and ultimately penitent Alonso, saving her entertaining chops for her turn as the tippling and foppish Trinculo. Michael Forden Walker' Stephano approaches his drunkenness — having libertated a large butt of sack from the ship — as if inebriation is a professional obligation. Jesse Hinson's Caliban is agreeably bestial, but his creature has been broken down by Prospero's subjugation to the point that he is not the threat his backstory indicates – his rage turns into booze-fueled camaraderie once he falls in with the castaway clowns. The trio's slapstick antics – especially those sparked by Stephano's barrel of wine – are as much of a crowd pleaser as the magic of Prospero and Ariel.
Antonio, as played by Grenon, provides a provocative thematic counterpoint. Having failed to persuade Sebastian to assassinate Alonso and claim the crown of Naples, he seems to resent that his sister is offering him her mercy. Still, this Antonio recognizes and reluctantly accepts the reality of the situation. After all, he has no defense against Prospero's magic; and he has no power base given that the Queen has realigned her temporal power to the once and now restored Duchess of Milan. He must content himself, reluctantly, with his demotion; thus Burrows adds an interesting touch of bitterness to his generally sweet take on the play. Grenon takes the opportunity to invest pathos into a normally lightweight villain.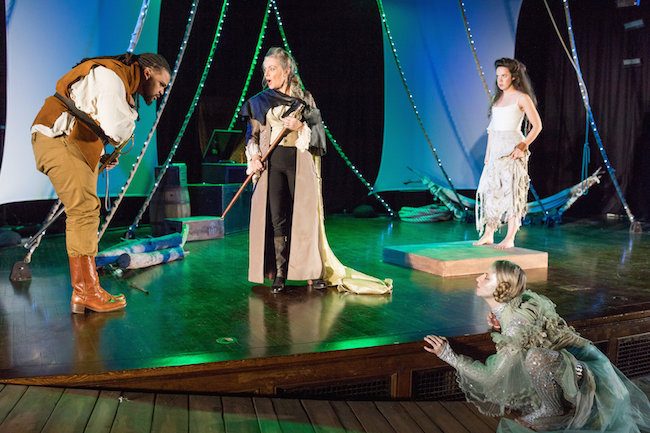 Tyler Kinney, who has often thrilled with his costumes in past production, steps out as a scenic designer. His vision of the island makes it look like a deconstructed sailing vessel. Tackle extends from pulleys in the deck to some point far above the proscenium arch; sails become screens on which shadows and light are projected (courtesy of Chris Bocchiaro).
Amber Voner takes an anachronistic approach to the costumes. Sidmore's Trinculo is attired in the fashionable "pumpkin pants" and hose of the Tudor era but, as Alonso, she wears a simple yet elegant green Victorian sleeved bodice with a hoop skirt. Attired in rumpled top hat and tails, Stephano looks like an extra who could have stepped off the set of a Charlie Chaplin two-reeler. Prospero, garbed in a well-tailored waistcoat, seems less of a wizard than a 19th century dandy. Antonio sports a flamboyantly super-sized cravat. Voner's most outlandish work is reserved for the island's natives. Caliban's brown leather costume contains strange asymmetrical shapes on its back and shoulders — as if hinting that the moon-cow has a radically different anatomy than the rest of us. If the other costumes recall the past, Ariel seems gussied up for the far future (or at least the far future as it was envisioned in the 1970s) with a silver mesh body suit and Princess Leia-style hair buns (silver, of course).
All in all, Burrows has assembled a solidly entertaining production of a perennial favorite for the winter season. This is far from the ASP's most adventurous rendition of the Bard, but this production has many fine moments – and especially winning performances.
---
Ian Thal is a playwright, performer, and theater educator specializing in mime, commedia dell'arte, and puppetry, and has been known to act on Boston area stages from time to time, sometimes with Teatro delle Maschere. He has performed his one-man show, Arlecchino Am Ravenous, in numerous venues in Massachusetts and Rhode Island. One of his as-of-yet unproduced full-length plays was picketed by a Hamas supporter during a staged reading. He is looking for a home for his latest play, The Conversos of Venice, which is a thematic deconstruction of Shakespeare's The Merchant of Venice. Formerly the community editor at The Jewish Advocate, he blogs irregularly at the unimaginatively entitled The Journals of Ian Thal, and writes the "Nothing But Trouble" column for The Clyde Fitch Report.